New Zealand South Island Cycling Tour 4-26 March 2010
The plan was to fly to Dunedin from Melbourne, take the Taieri gorge tourist train to Middlemarch which is the start of the Central Otago Rail Trail, and start cycling from there, making an anti-clockwise circle down to the southern coast via Queenstown and Invercargill, and back to Dunedin. I wanted to be travelling west to east when down south in case of bad weather, since the prevailing winds are westerly. That turned out to be the single best decision of the entire tour.
From Dunedin, we would rent a car and make our way up the west coast to Auckland on the North Island where Connie spent her early childhood.
Day 1: Travelling to Dunedin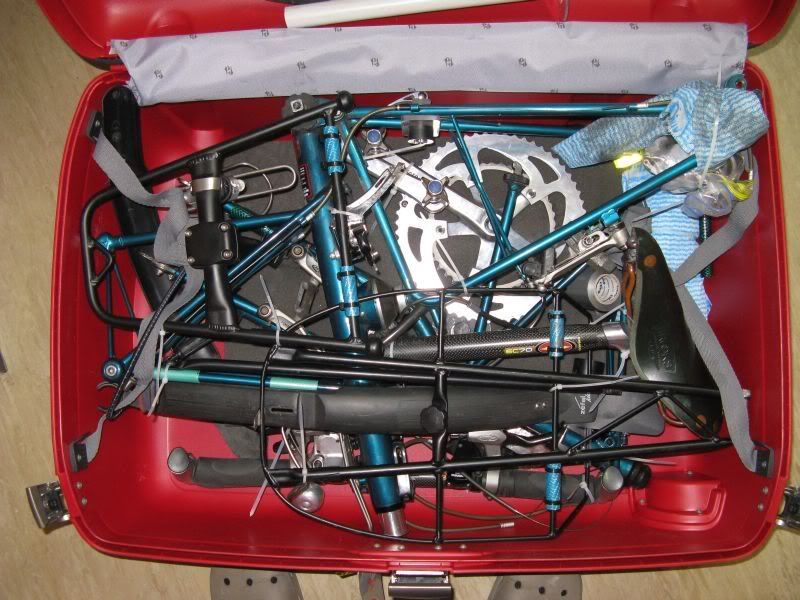 The Moulton packed in its suitcase. I tied everything together with cheap cable ties so the whole works could be lifted out while staying together in a nice package, in case airport inspectors wanted to mess with my bike. That way there would be little difficulty getting it back into the suitcase.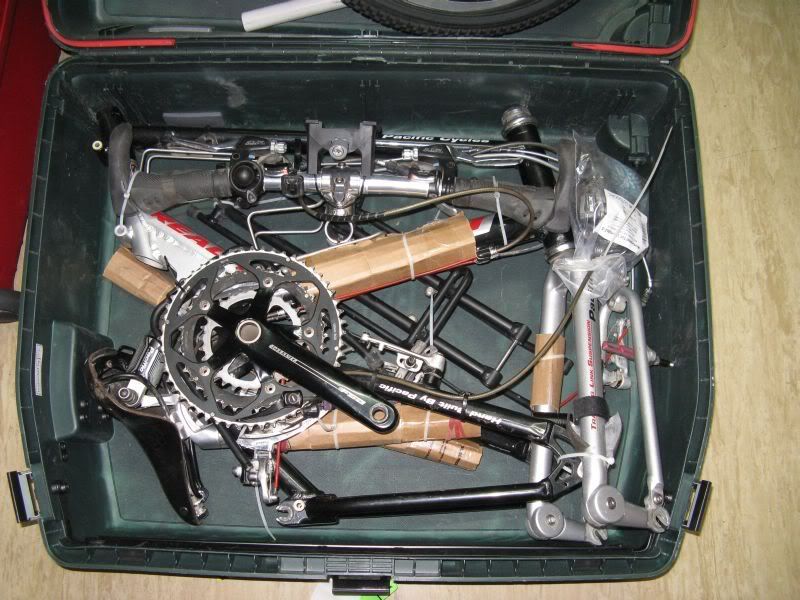 The Reach. After several fruitless evenings me trying to shoehorn the Reach into the suitcase, Connie found the only orientation to fit it into the suitcase, in one easy go. *jur red-faced* I had to remove even the seatclamp to make it fit. And it wouldn't fit in the red suitcase.

Ready to go, just the panniers!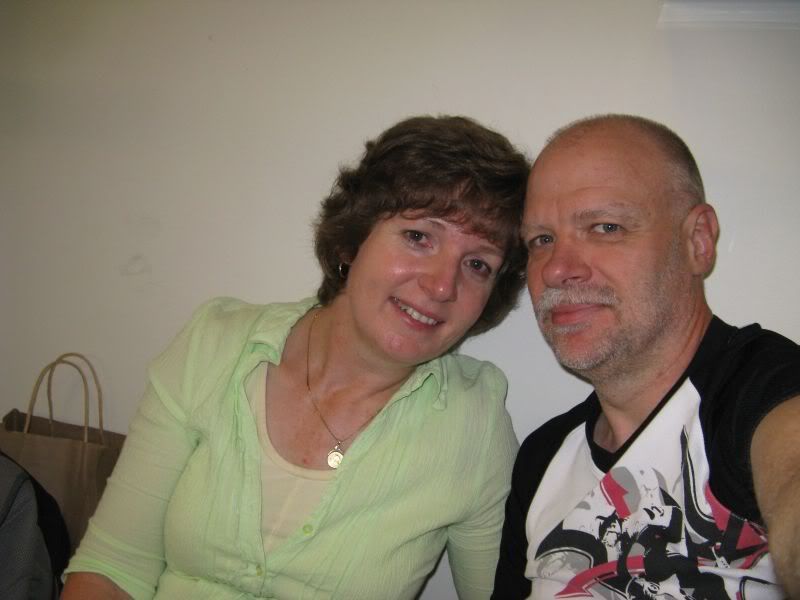 Loitering at the airport, me shaven short for 4 weeks of growth.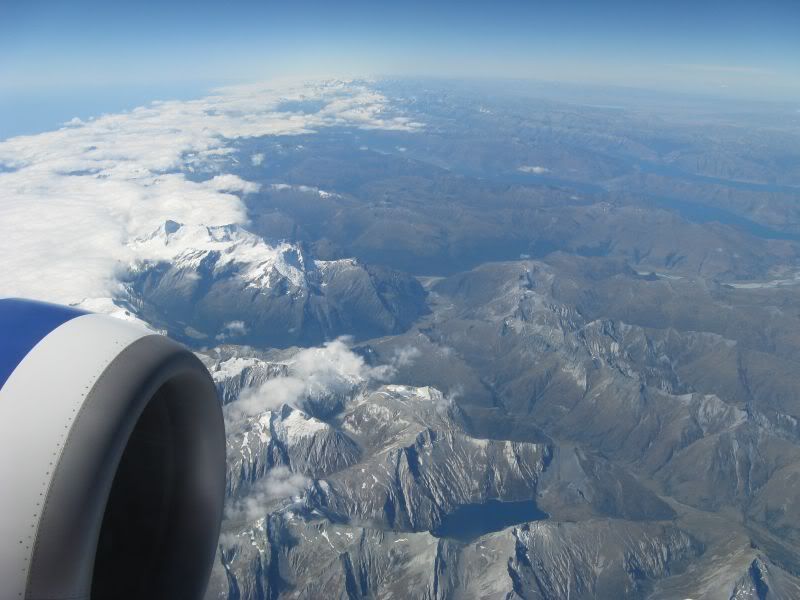 Hello New Zealand!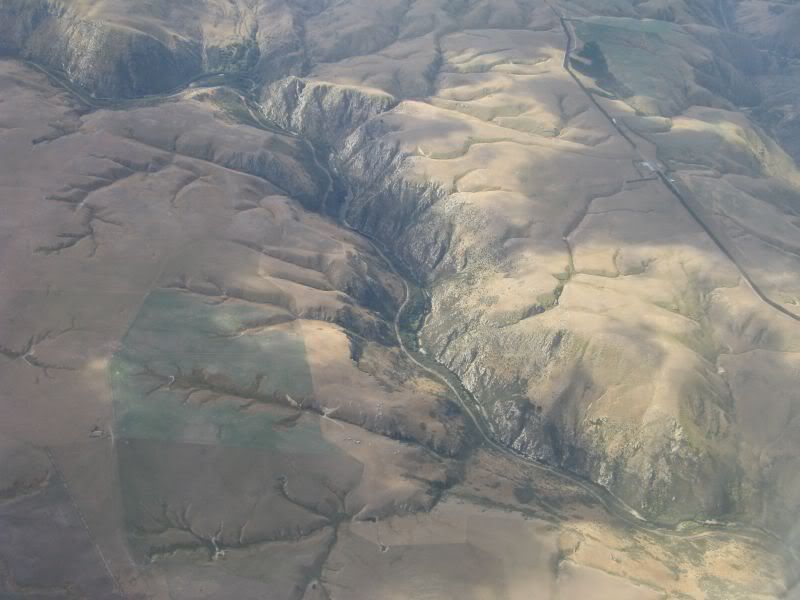 That's the Taieri Gorge Railway which will be the first leg tomorrow morning.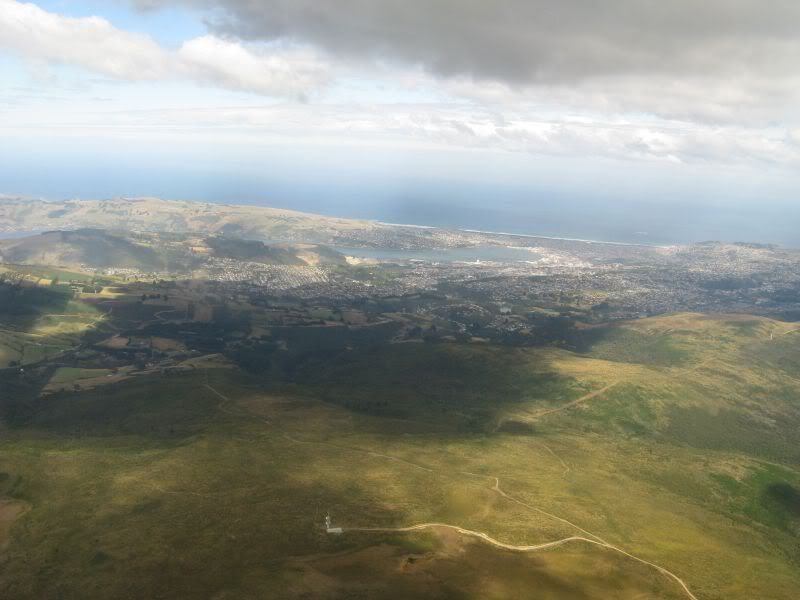 Dunedin! I can see the world's steepest street.

This backpackers must on be the world's second steepest street. A slightly portly chap stumbled into the place a bit later, blowing like a loco on steroids after walking from the bottom. He looked ready to chuck his cookies.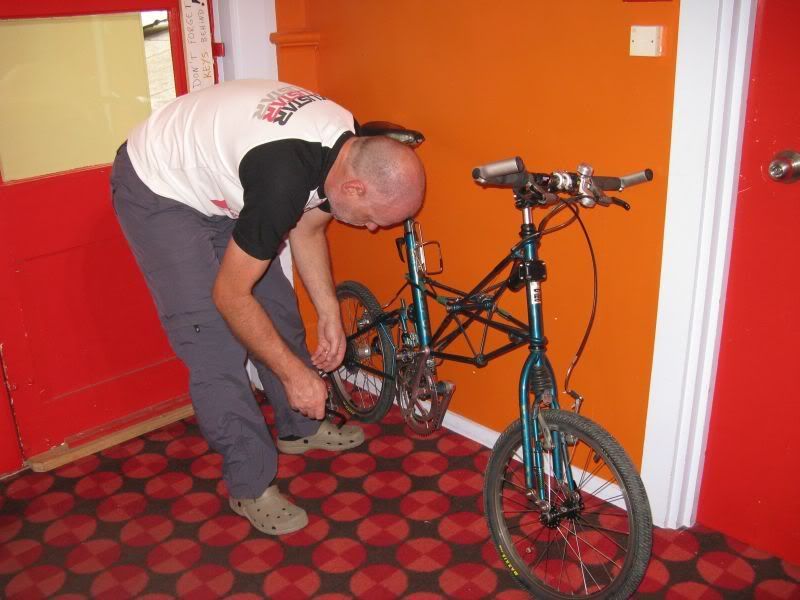 Assembling the Moulton... chain, mudguards and racks still to go. I'm not sure I will take the Moulton overseas like that again, too much work. It might be easier if I have a set of clips to clip everything together for the suitcase package.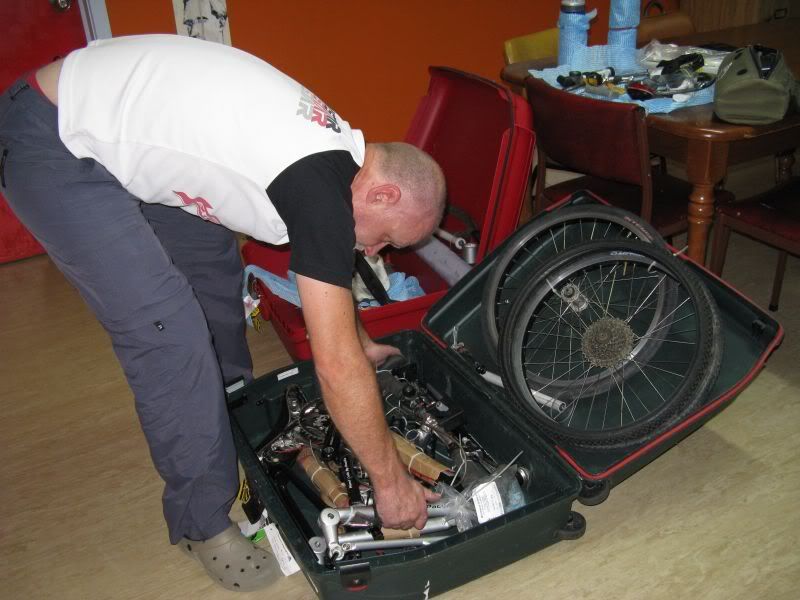 Reaching for the Reach... no wonder my back muscles were buggered.
Day 2: Dunedin to Middlemarch (train) and Middlemarch to Waipiata (56km)

We're off! I rode down but Connie decided walking is safer.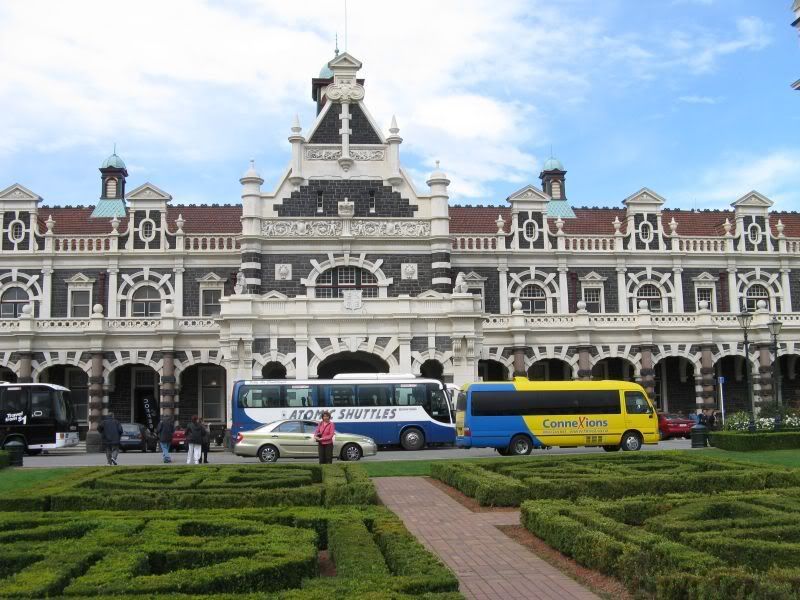 Station buildings are often very ornate things, from the days when rail travel was the most important way. Pity about the buses spoiling a nice view.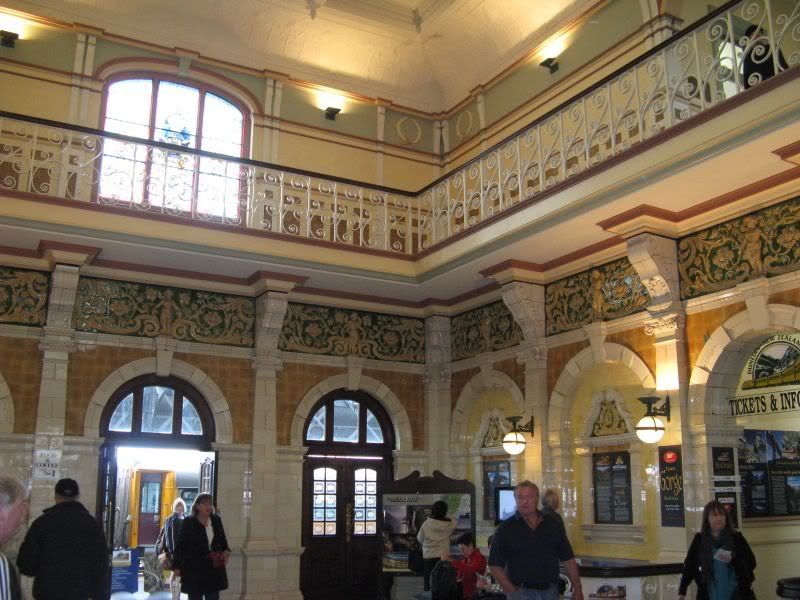 The entire inside was done with glazed tiling. No re-painting needed, ever.

I wonder how long it took to do the floor. Still in pristine condition after, what, a century? What a pity rail travel is obsolete except as tourist attraction.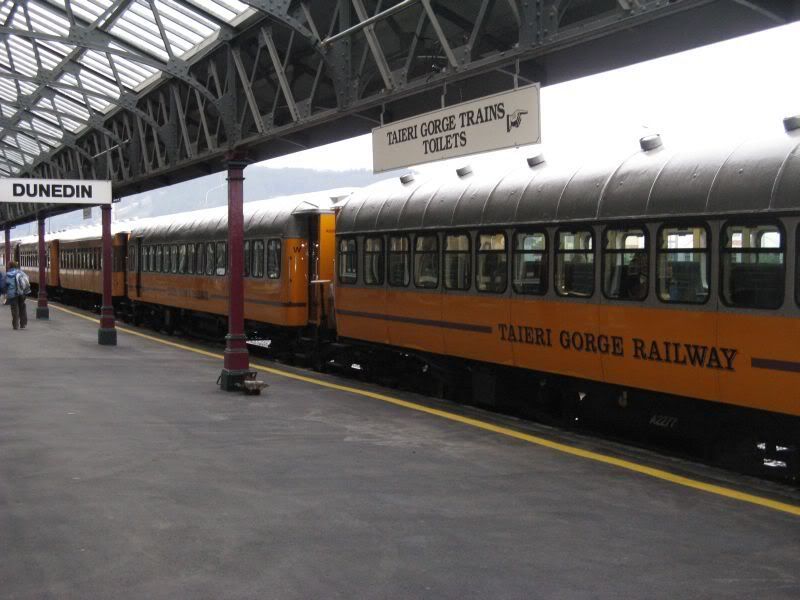 Our carriage awaits!

Just making sure the bikes are securely stowed...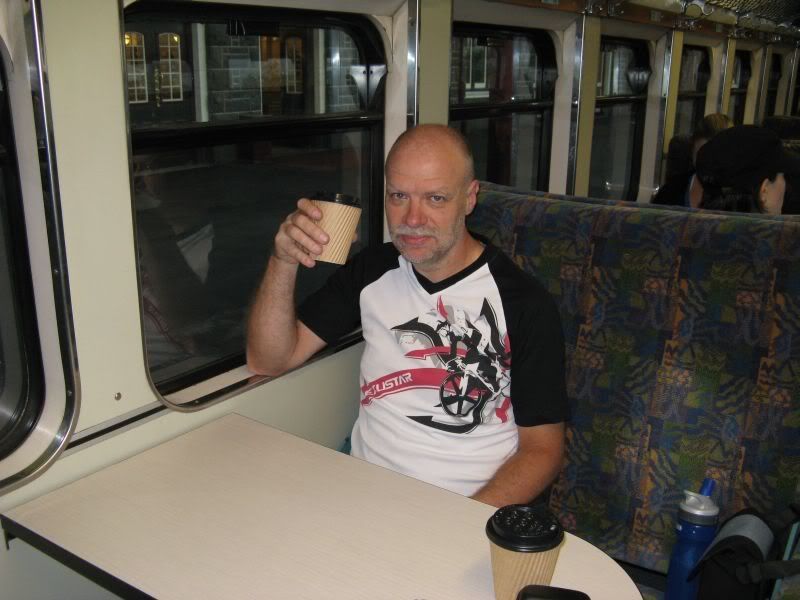 Connie making sure I am securely stowed.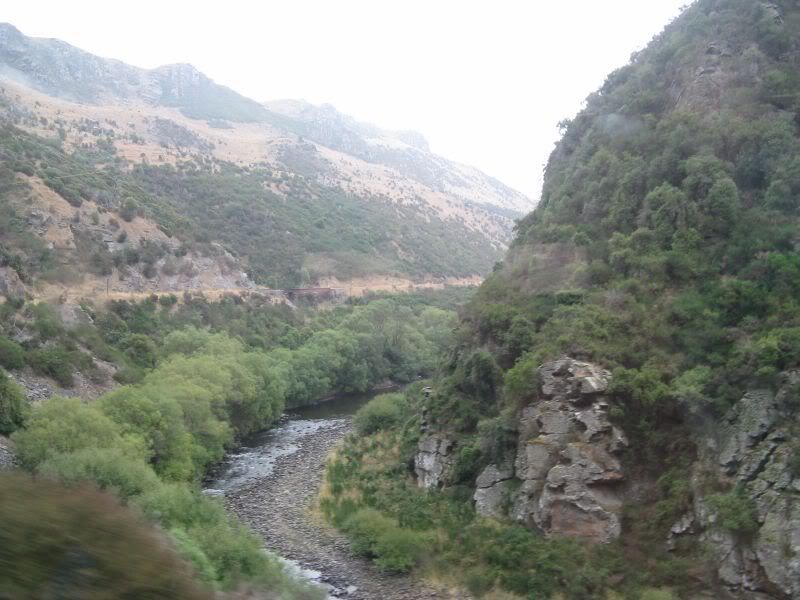 We have reached the Taieri gorge.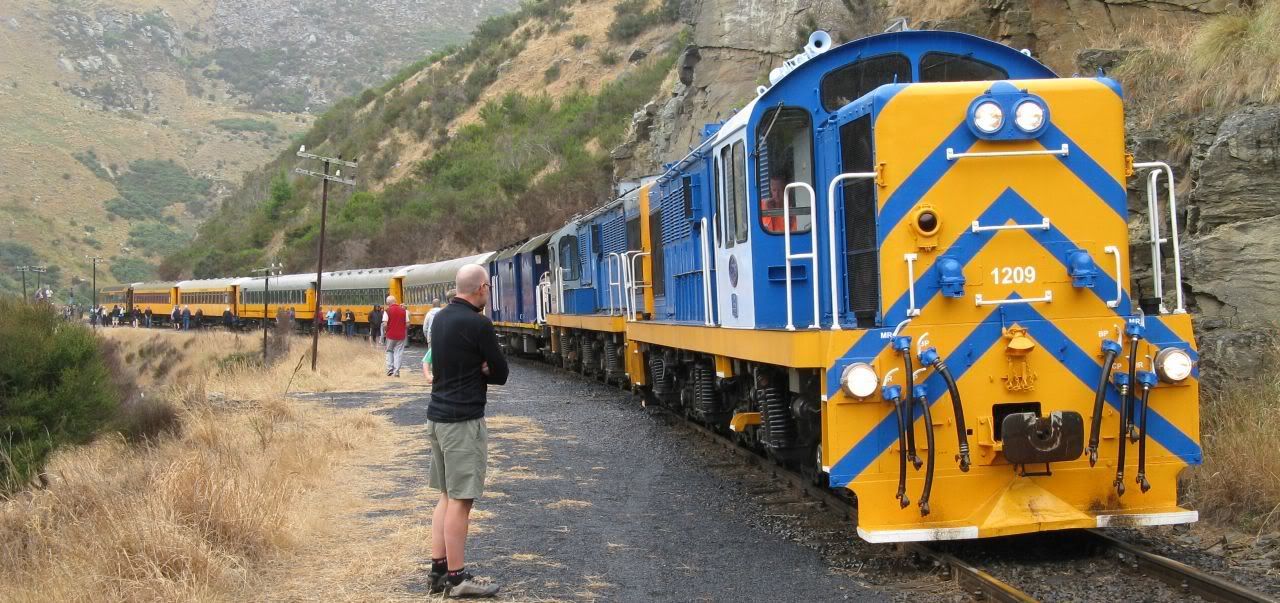 It drizzled a bit at this scenic stopover.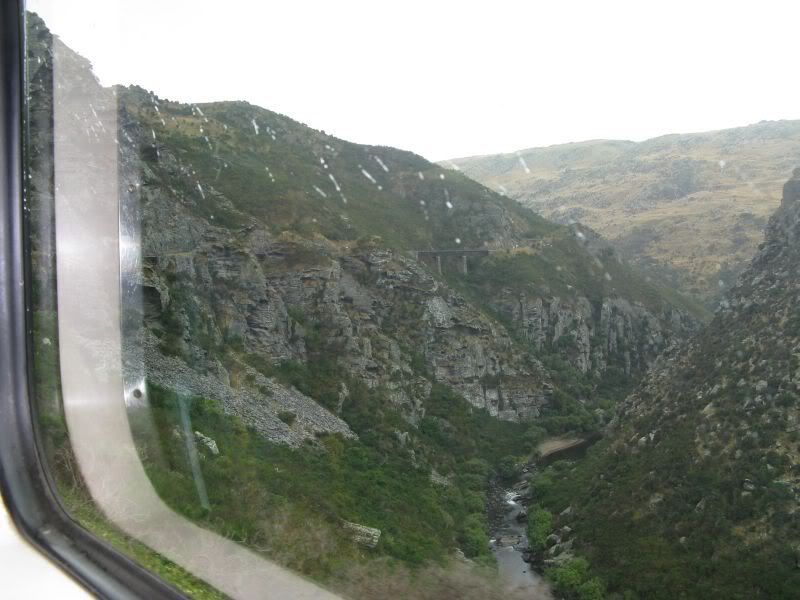 Climbing ever higher... I saw this spot from the air yesterday, it's in the middle of the pic above.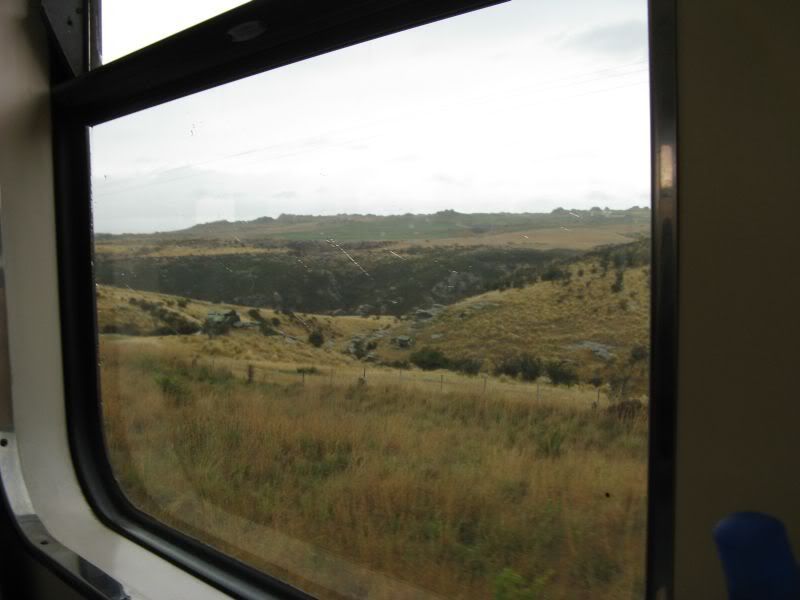 We have now left the gorge, approaching Middlemarch, the start of the cycling leg for the day, some 56km.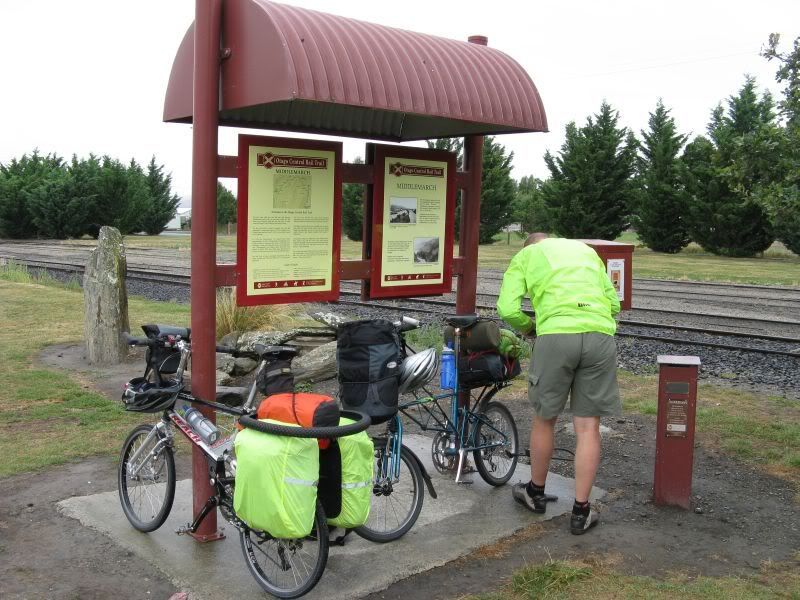 Fussing over my Moulton under the only shelter to be found...

And we're at the start!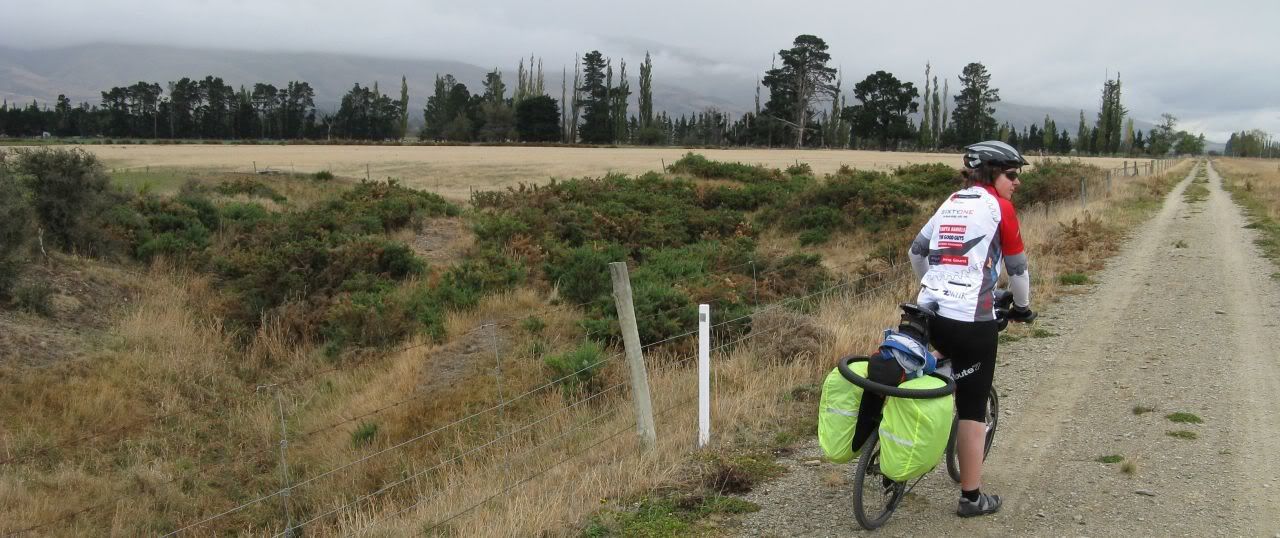 Drizzly weather, and the low clouds obscured the Rock and Pillar Range.

Hmmm. A crash. Hope that won't be happening to us.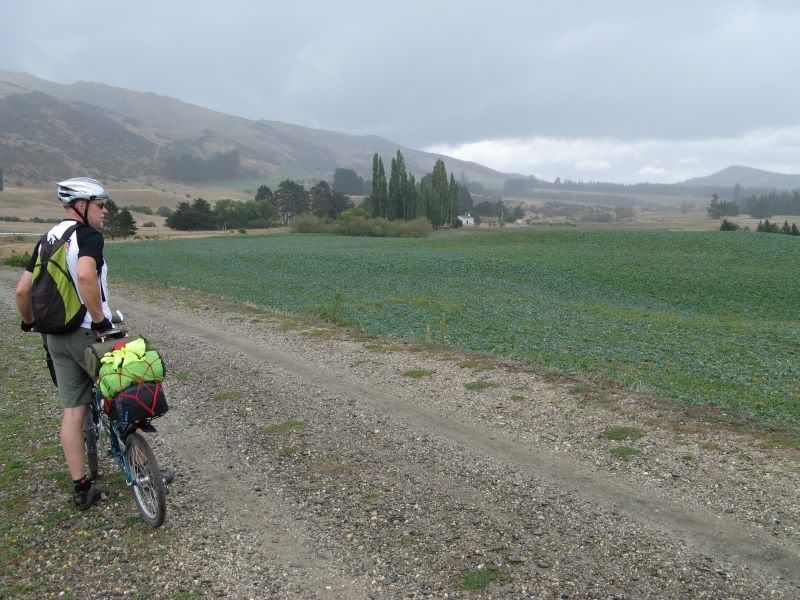 Nice rural scenery. These veggies stank terribly. We found them regularly on this tour and they always stank.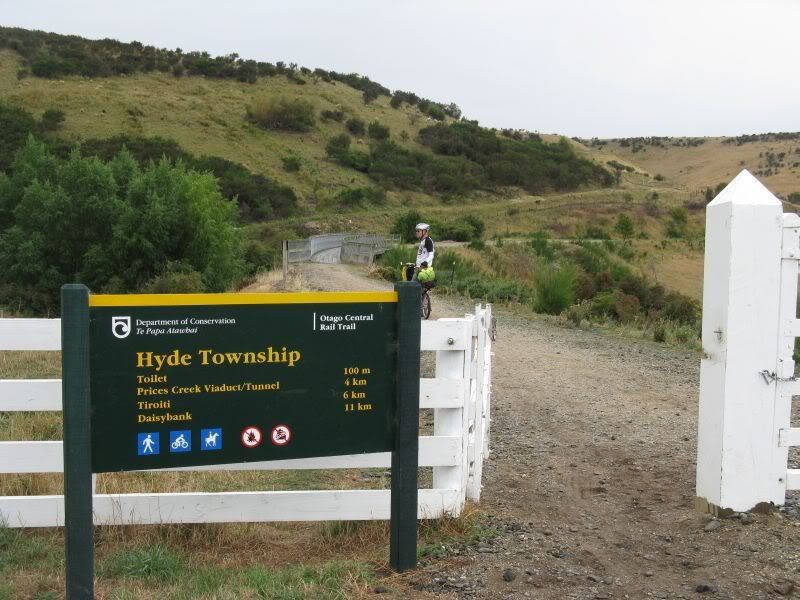 At Hyde drizzle threatened again but we managed to miss most stuff. They had severe water restrictions - only patrons were allowed to use the toilets.

Still following the Taieri river upstream...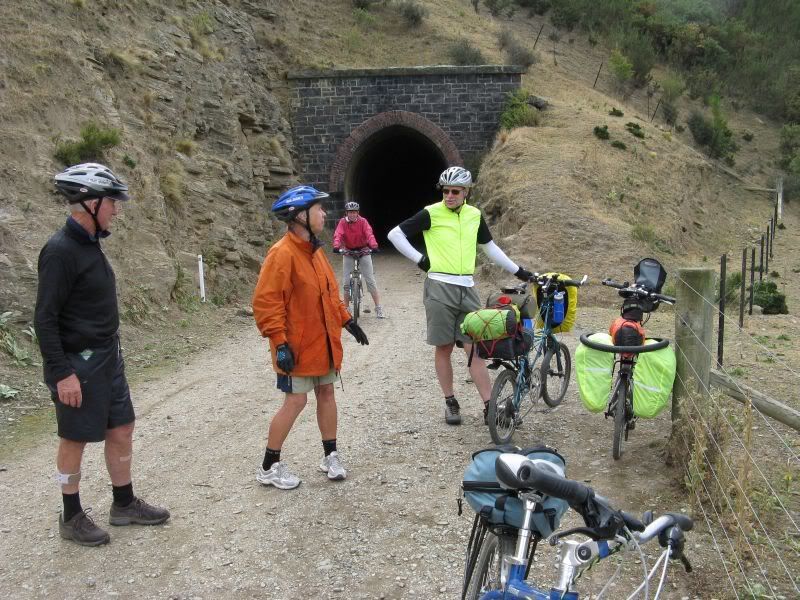 At tunnels on rail trails you are likely to have company. I like the way the tunnel builders had the minimum impact on the mountainside, just an opening tucked away neatly.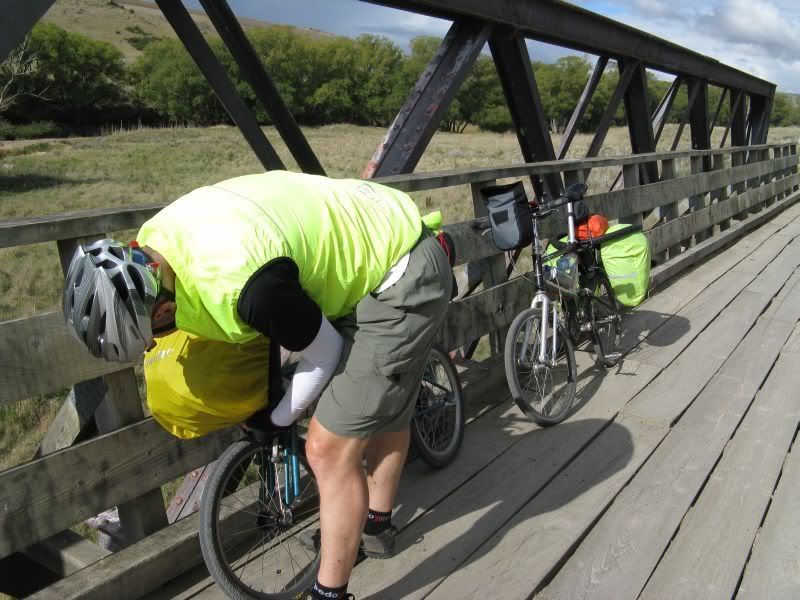 Just checking the clearance between front pannier and wheel. Standing on the pedals made the front suspension depress enough to make things almost touch.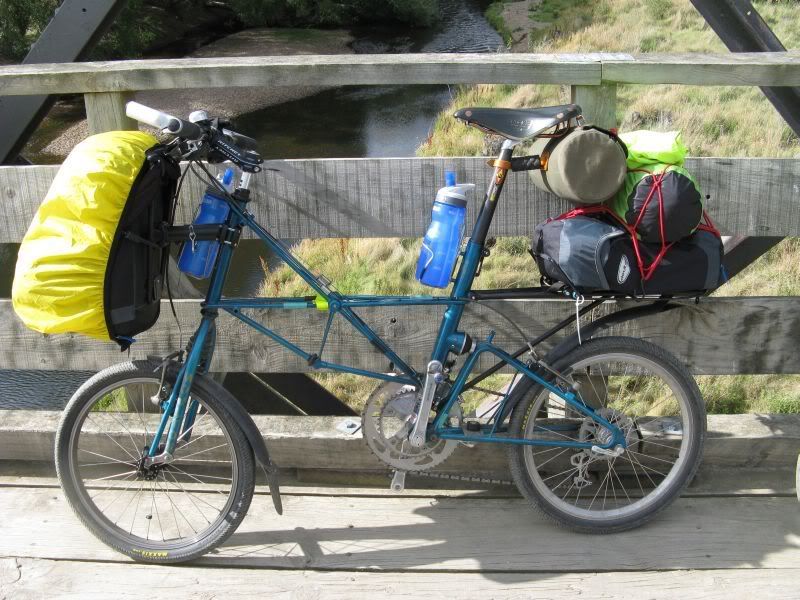 I had 2 small panniers, one on the standard Moulton APB rear rack, one on a Xootr cross-rack mounted on the head tube. Nice streamlined setup with fully suspended luggage. At this point the backpack was also hanging on the front, under the yellow rain cover. I refined the setup right till the end.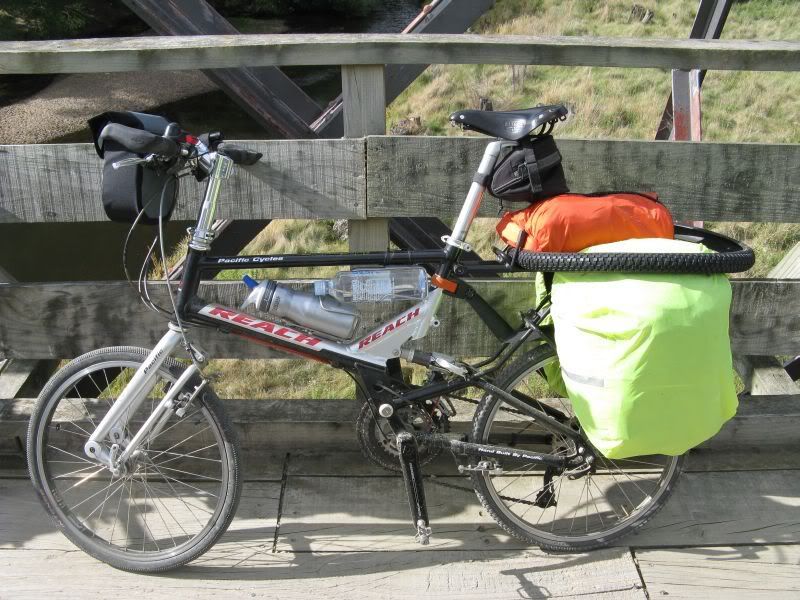 The Reach had 2 large panniers hanging on the standard Reach folding rack. An Ortlieb small handlebar bag served as Connie's handbag, very convenient. She used this identical setup till the end.

We each use a rear view mirror mounted on the helmet. When you get used to it, you never want to do without it again. It allows you to take to the shoulder when big vehicles approach, or to wave thanks to drivers after waiting patiently behind you for a safe passing opportunity.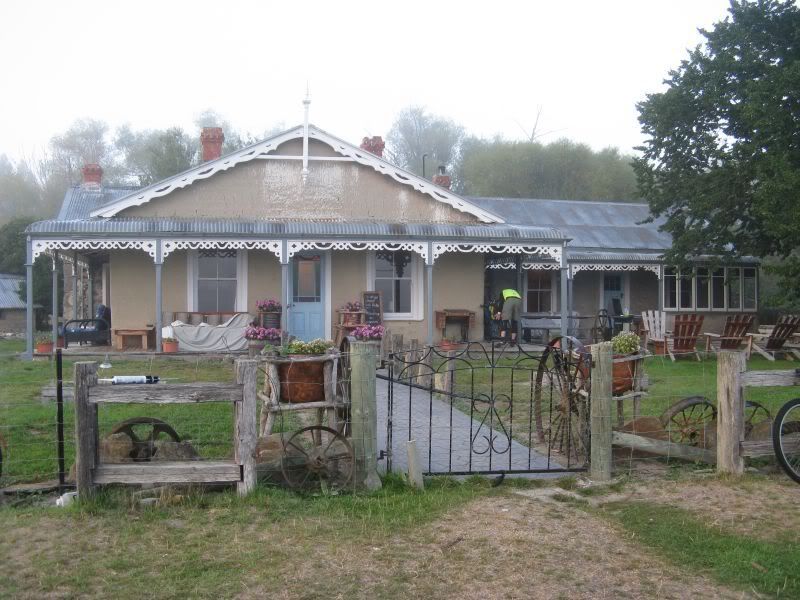 Here we are at the first stop, Peter's Farm Lodge in Waipiata. I found it on Peter's Otago Rail Trail website.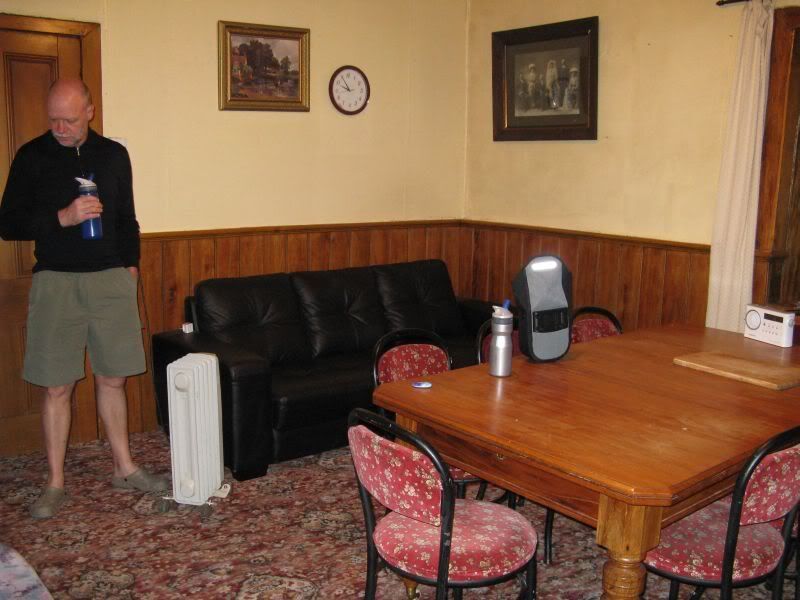 Pretending to enjoy a beer in Peter's lounge. Actually I did enjoy a beer or 2 with Peter. And we had the whole place to ourselves. Just the previous night the place was packed.
Day 3: Waipiata to Alexandra (98km)

It's dawn and we're preparing to head off. About 100km planned for today, which Peter thought a big bite. Peter's horse cropped Peter's lawn on this foggy morning.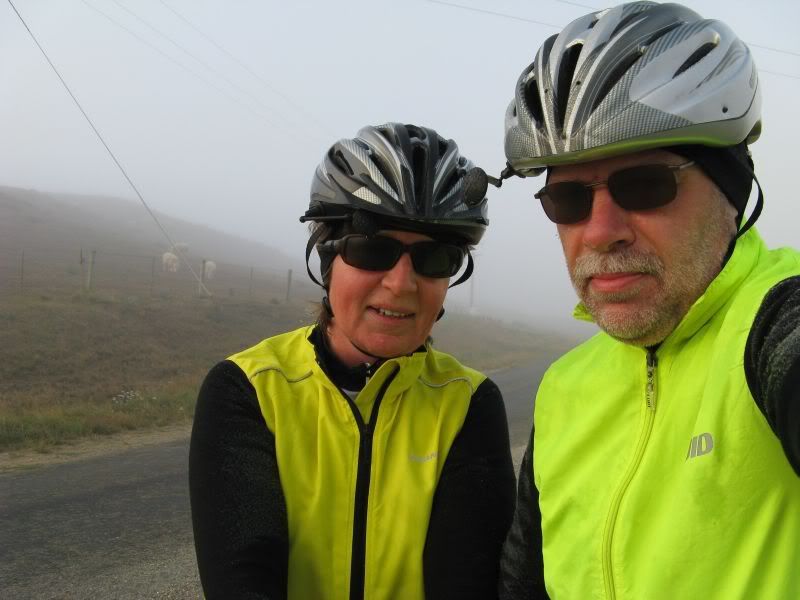 The fog condensed on our woollens and glasses, and the tip of my nose. Not to mention hid the scenery.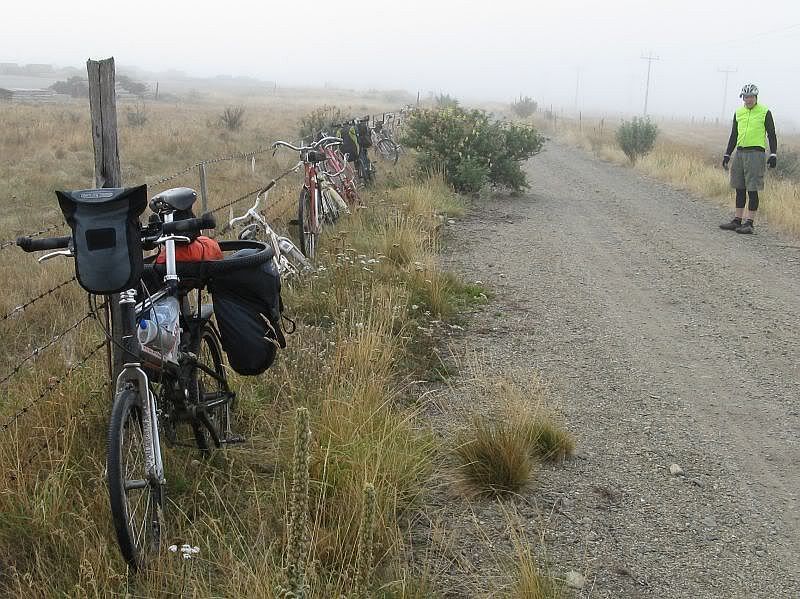 "Dearie, I'm just gunna check if there is a better small-wheeler here than my Moulton."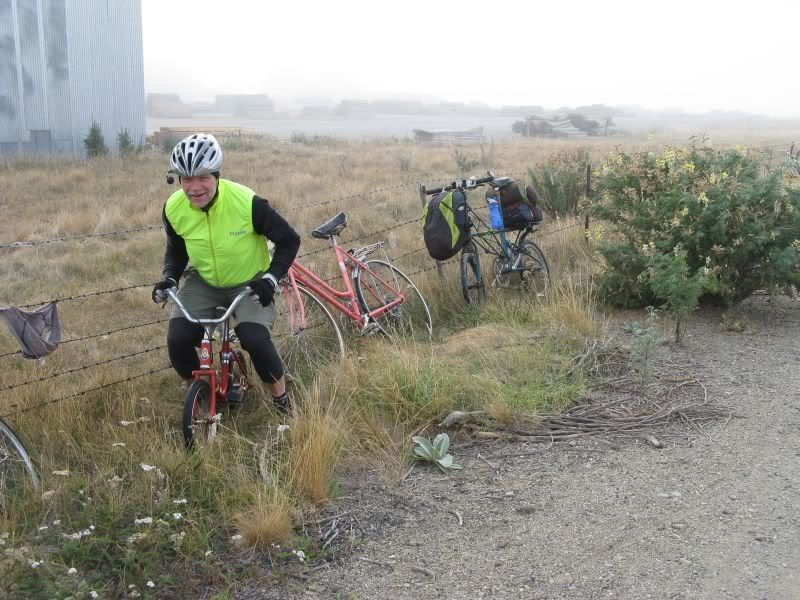 "Found one! Solid tyres, too, no punctures!" However I couldn't find a way to hang my panniers so was stuck with the Moulton.

"Dude, how do you see much in this fog?" Ranfurly and a nice coffee. The little towns along the railway were virtual ghost towns when the railway closed, but the rail trail caused a renaissance. There are quite large numbers of riders on the trail, all drinking coffee and overnighting somewhere.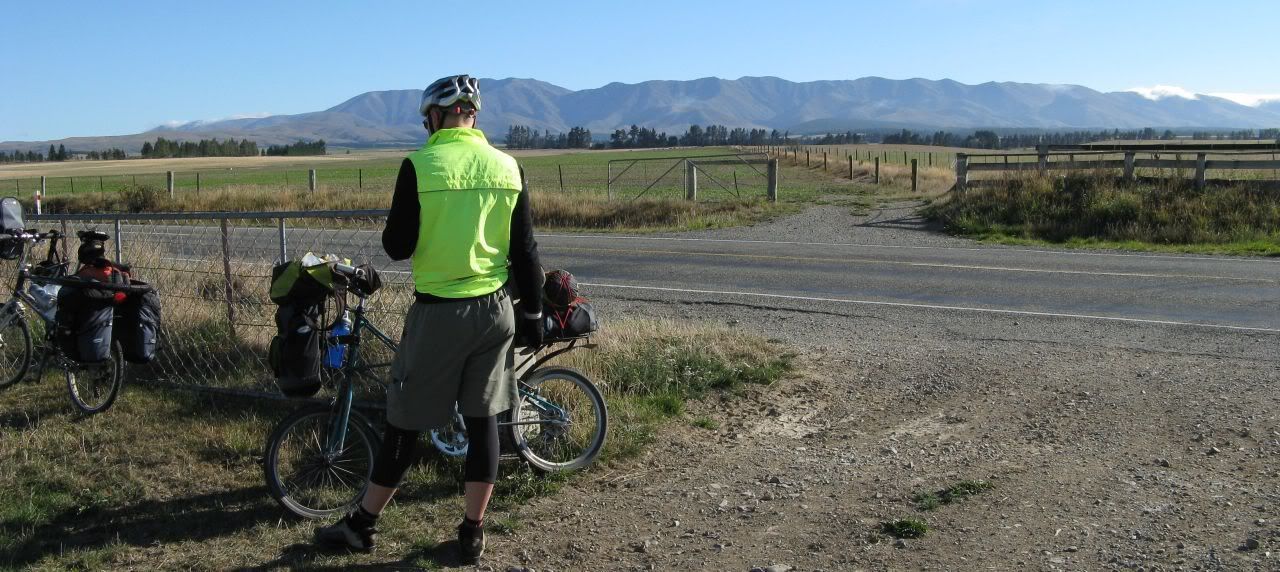 After the coffee, the sun burned the fog away and a brilliant day is revealed. Plus some scenery. Between Ranfurly and Wedderburn we used the road.

Wedderburn, near the middle of the trail. Here we returned to the trail. Connie made me pose at anything that deviated from ordinary rail trail stuff. That old green railway shed was found in someone's pasture from where it was moved back to its rightful spot and restored.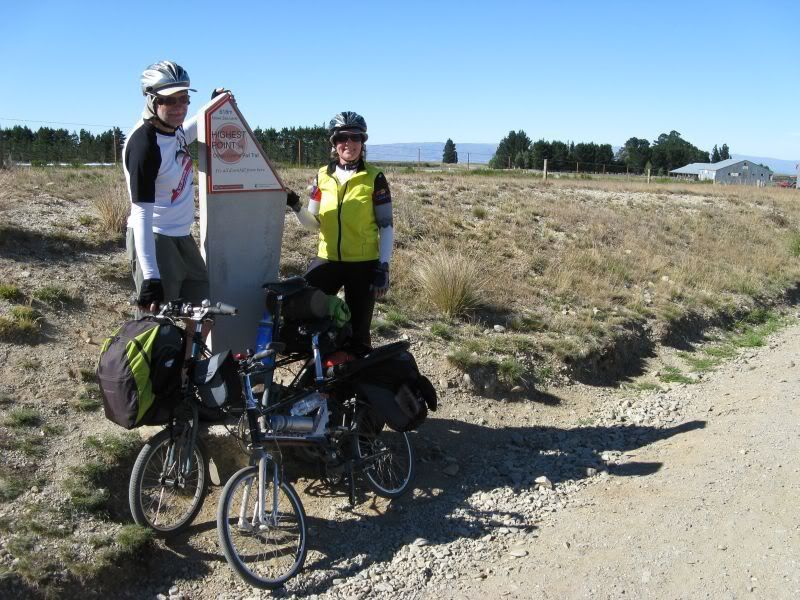 Just after Wedderburn, we reached the highest point. The sign proclaims "It's all downhill from here." Riiiiiiiight.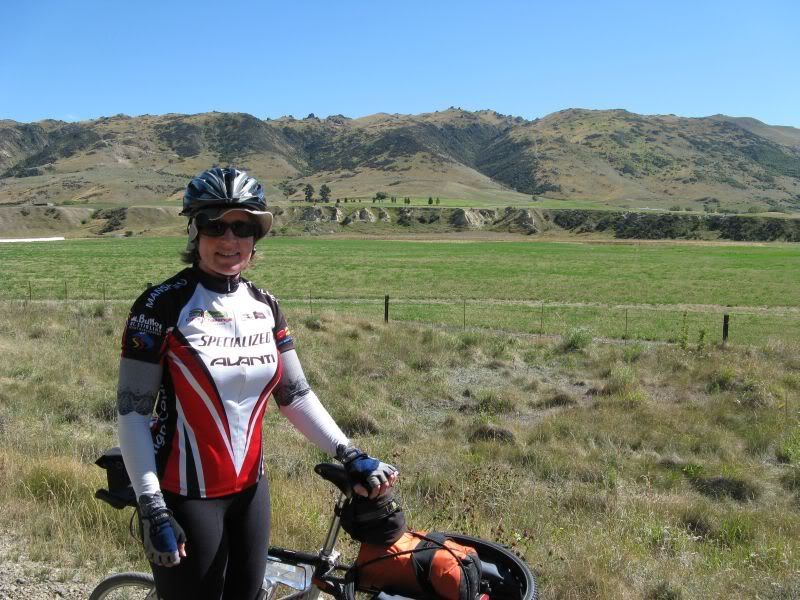 Connie in a posing mood.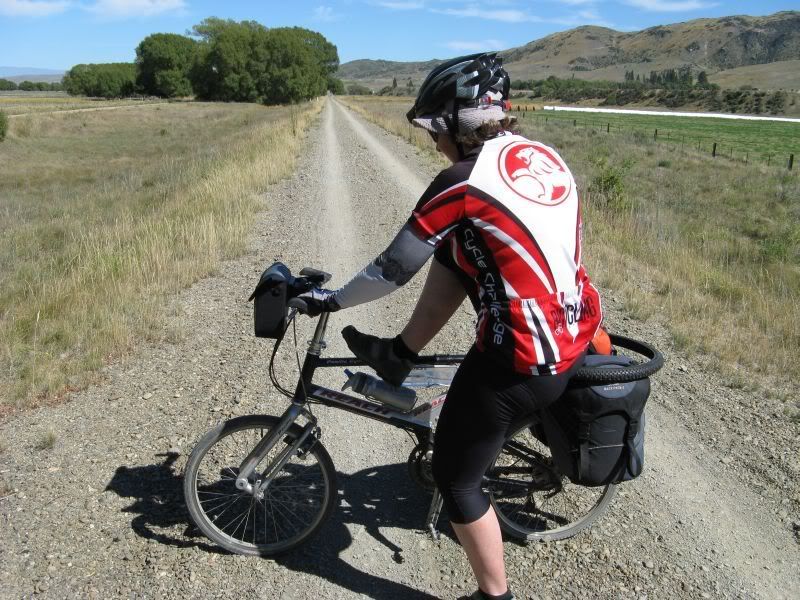 I don't like poses so snap these sort of things.

Quick banana to replenish the sugar levels...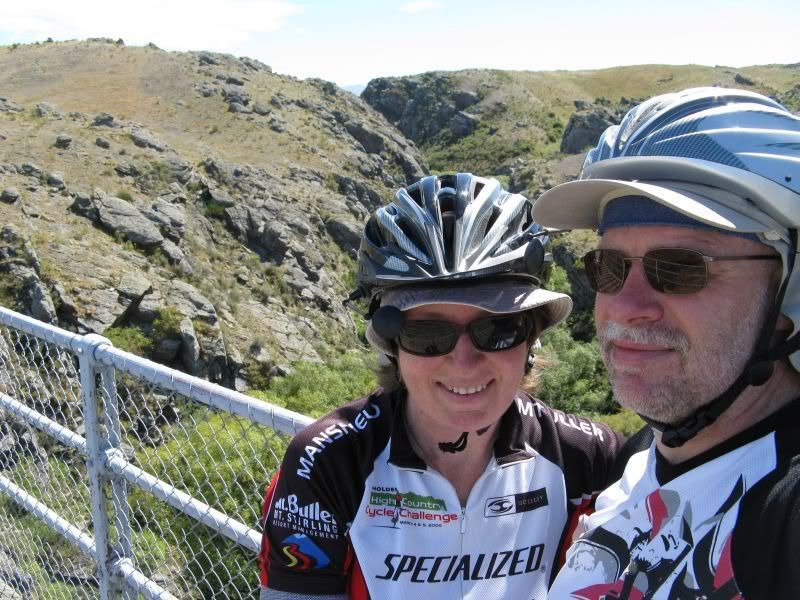 We donned hats under the helmets for sun protection.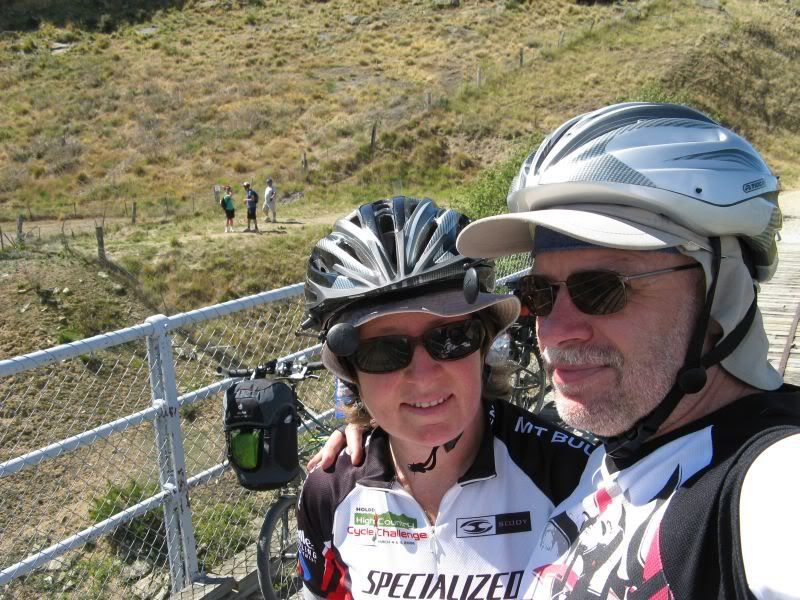 The trail passed through a gorge here. We met the 2 helmeted people in the background again and again over the next few days. They took our picture at the highest point just a while back.


"Shall we go, Luv?"

Another tunnel. These required bike lights. Smoke from long ago stained the stone-work.

Long ago some guy thought it would be nice to have a Crack willow next to a stream, now the whole country is infested with Crack willows next to the rivers; male plants only, propagating via pieces breaking off and carried further.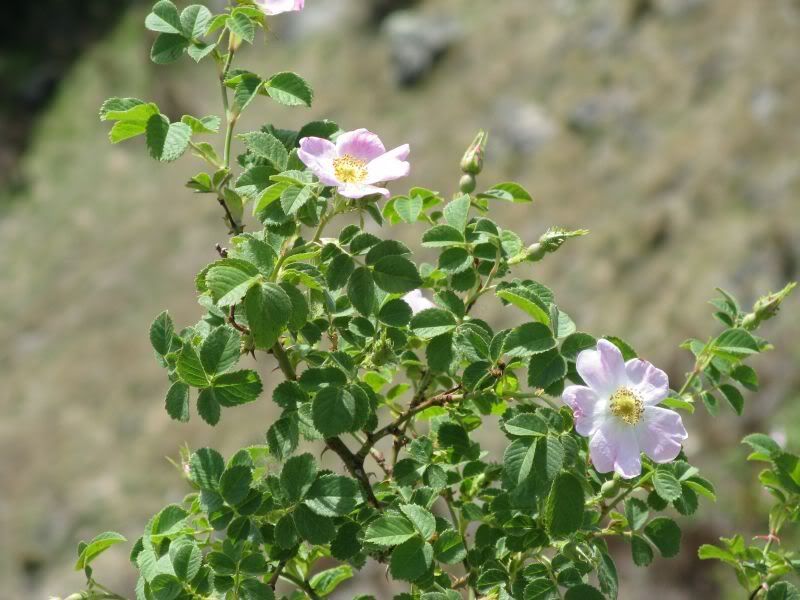 And Connie manages to find a rose. The railway builders had a camp here.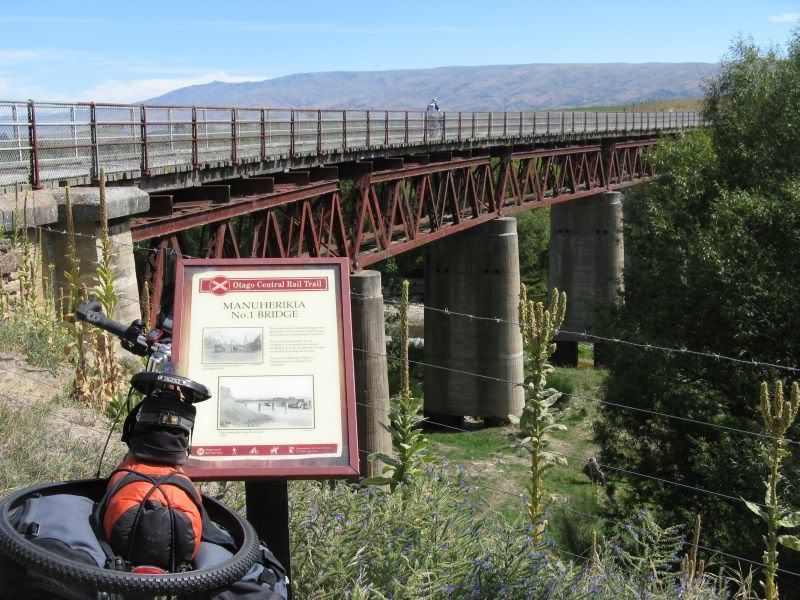 There were lots of these large viaducts making our passage nice and level.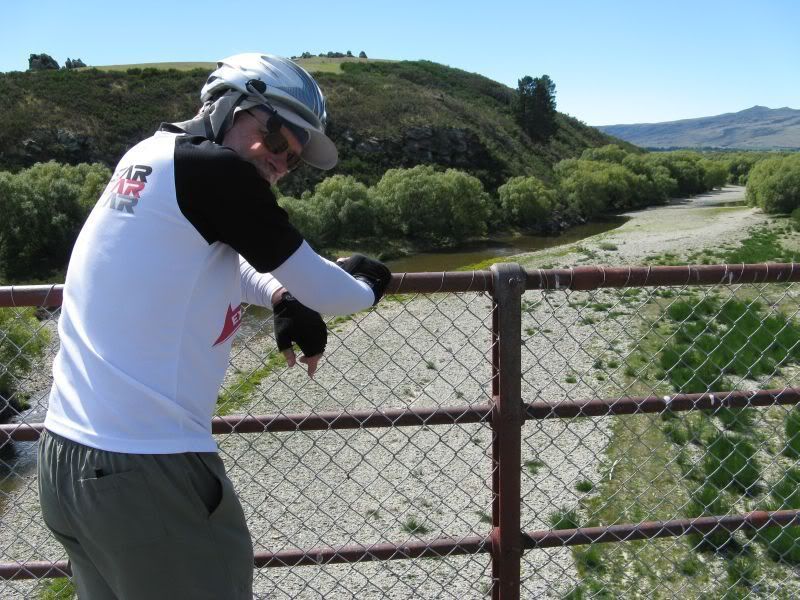 I was worried about wind as we were travelling opposite to the prevailing winds direction. However, not a breath stirred. Plus it was indeed mostly very nicely downhill.

All this cycling is thirsty work. I downed a whole litre of juice. Plus half a litre of milk.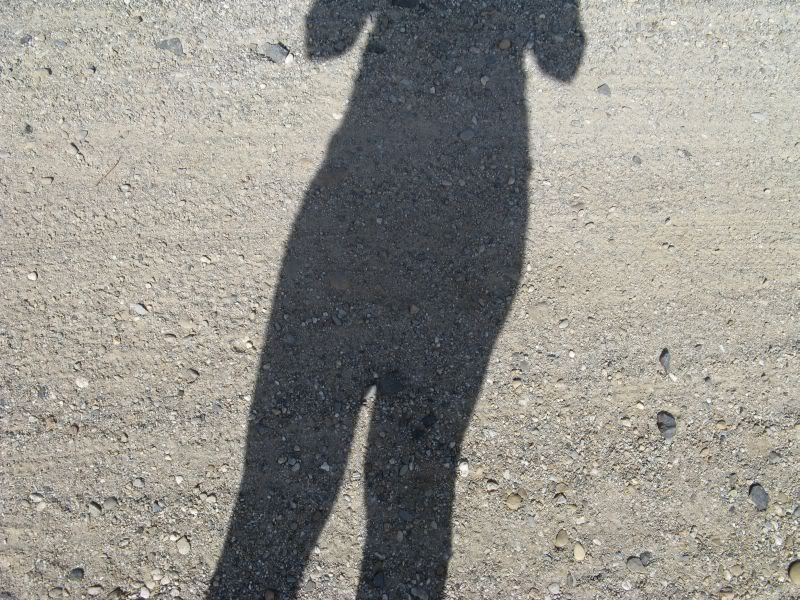 "Hold my bike dear, while I snap a piccie of my shadow." The trail surface was quite decent, mostly.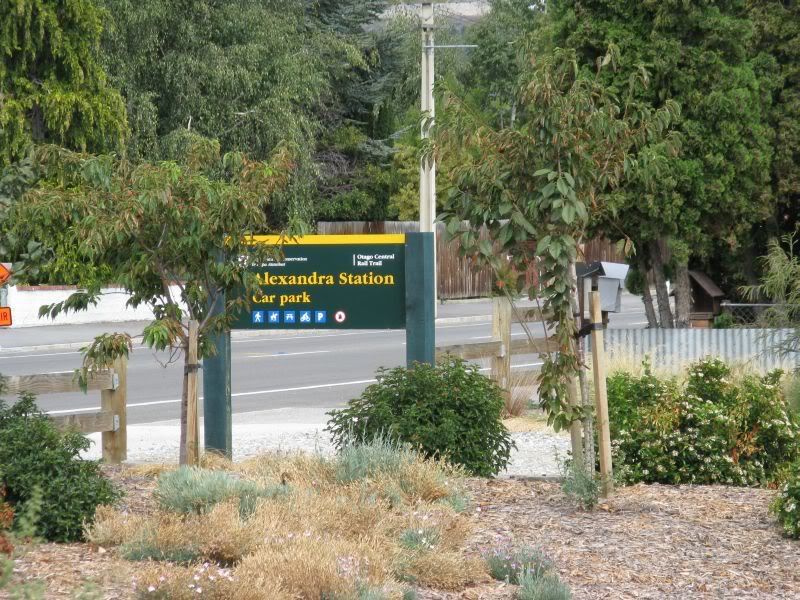 Alexandra, our overnight stop. We met the other cycling couple yet again who also overnighted in the same camp - Olivia and Ashleigh, also from Melbourne.
Day 4: Alexandra to Cromwell (42km)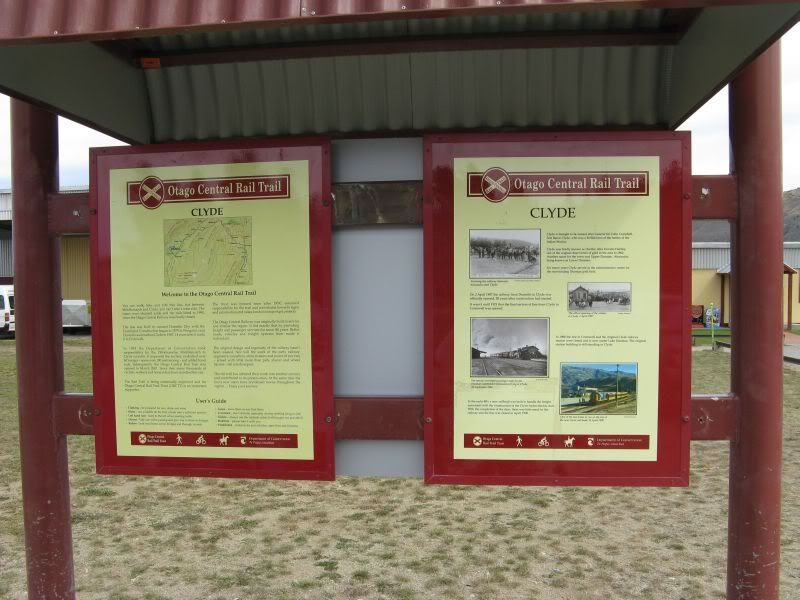 After attending a church service we reached Clyde, first town after Alexandra. The rail trail ends here due to being submerged under a hydro scheme dam.

So we take to the road from here.

Connie forgets to stand behind the camera when taking pics...


The old Clyde rail building is what she wanted to snap.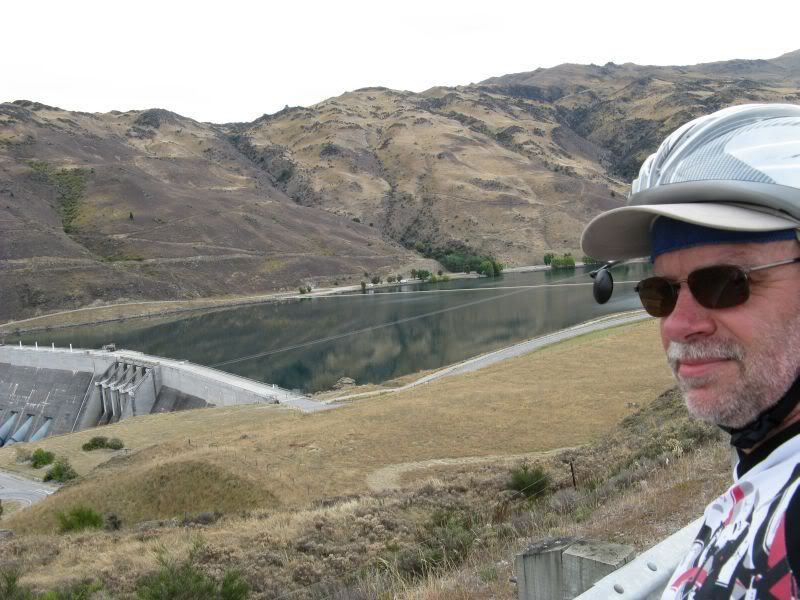 The dam wall where the old rail embankment dips under the water.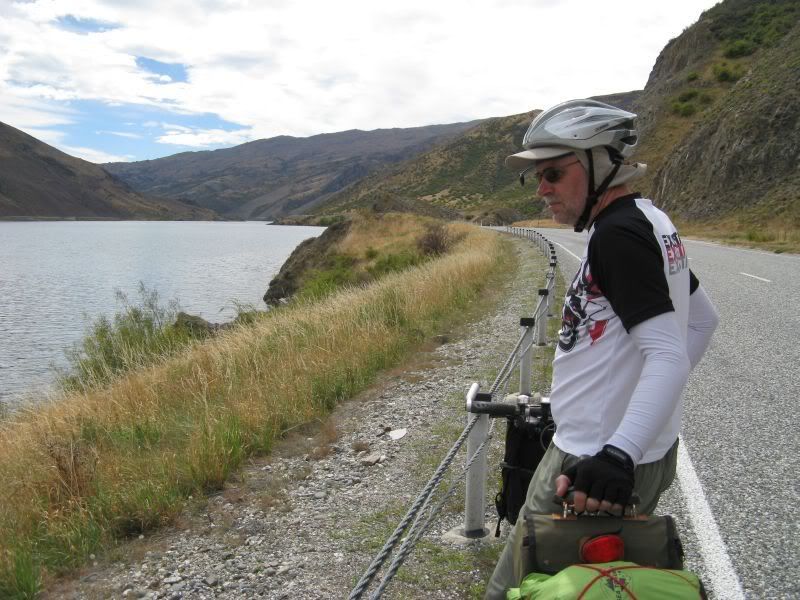 The dam is in a narrow gorge all the way to Cromwell, 30km away.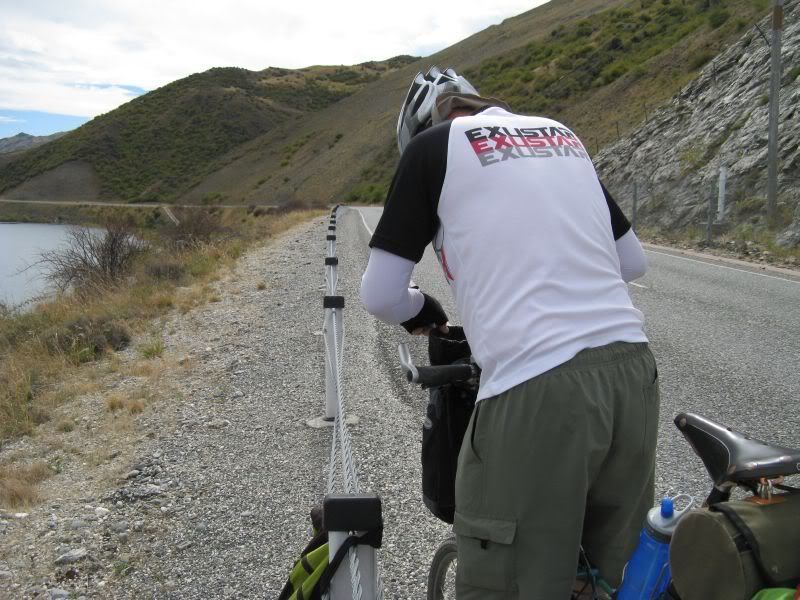 So we have a nice ride ahead, but Connie wants a snack first and I am carrying all the food in the front pannier.

We met another lone cycle tourer, Tom from the US who took this pic.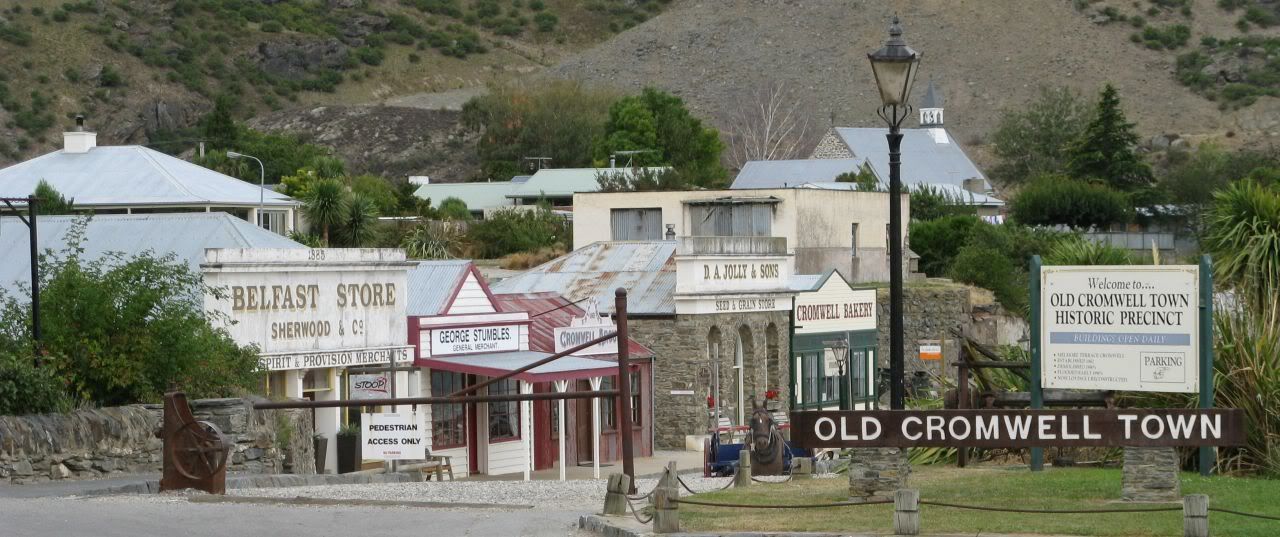 This is what was left of old Cromwell after the dam filled up.

We took lodging in old dam builder dormitories, now a backpackers.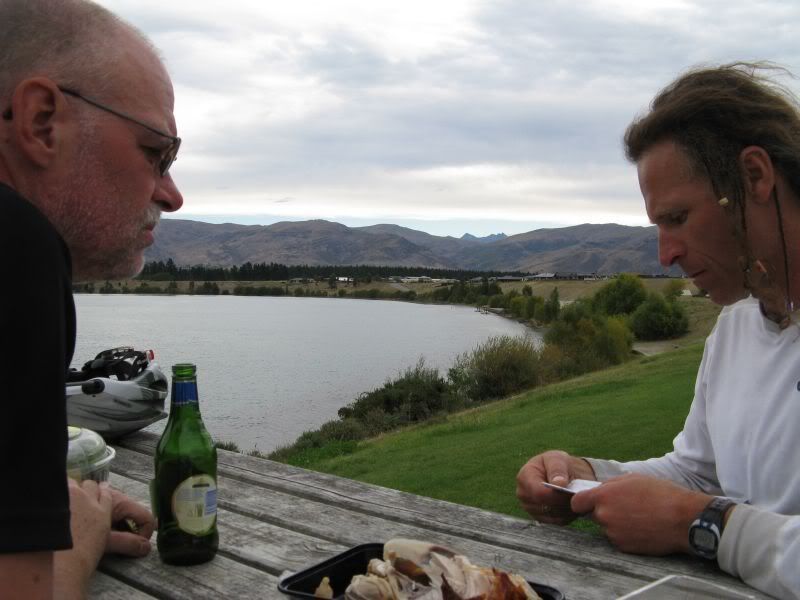 Tom pursuaded me to buy a sixpack of beer and share it with him. I didn't need any pursuading at all.

Tom was touring on an old Raleigh steel bike with quite nice lugging.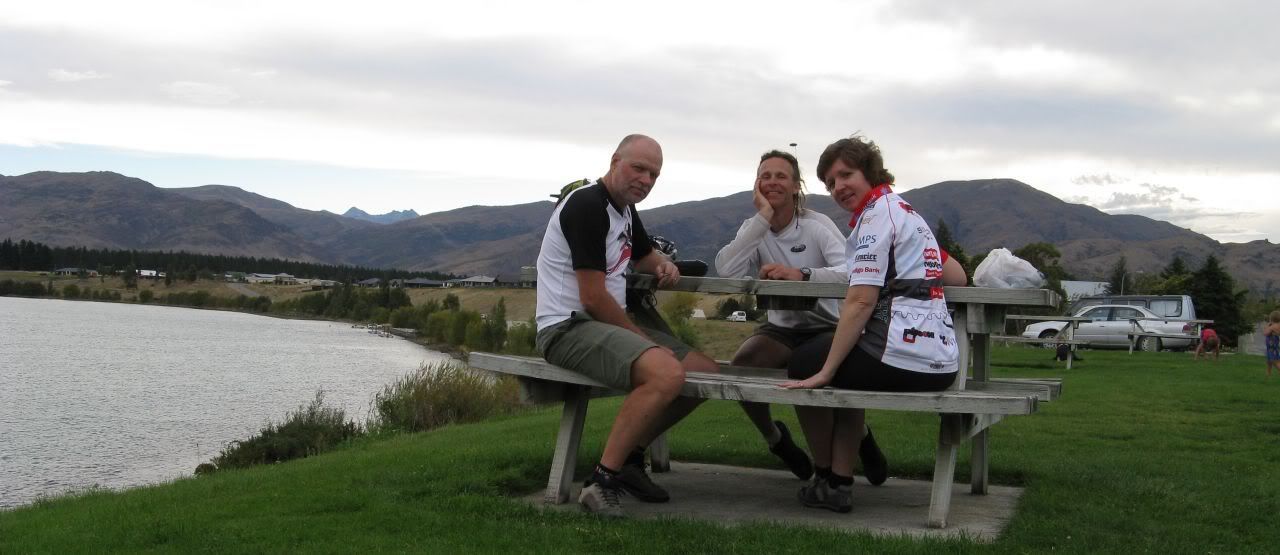 He used to be a mechanical engineer, got fed up with society and is now a lifestyle coach. Not sure what that might be.
Day 5: Cromwell to Queenstown (77km)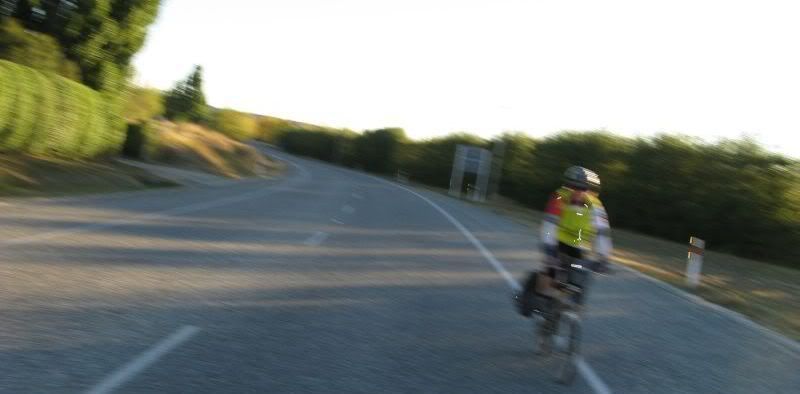 Next morning I just manage to snap Connie as she sprints away full of vigour.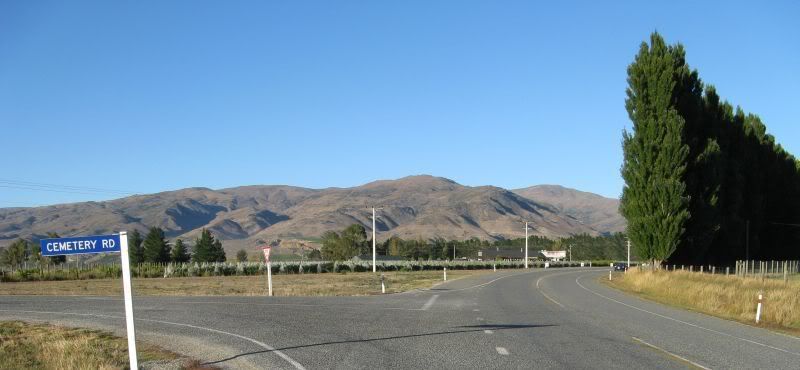 Brilliant weather again.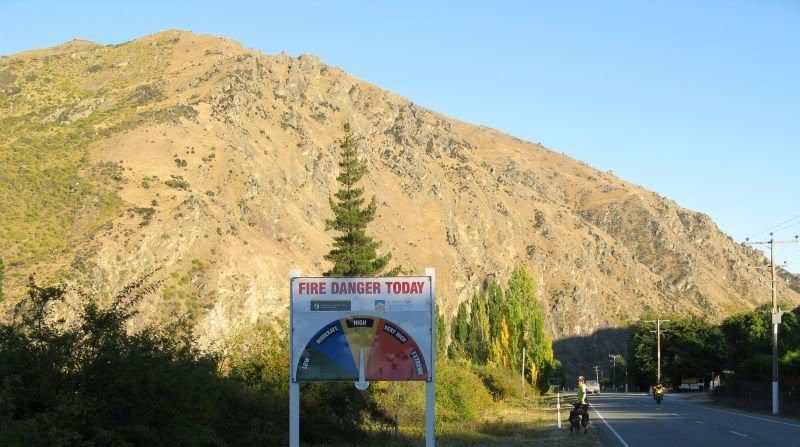 It is quite dry in this region and fire danger is set to "high."

We are riding up the Kawarau Gorge today, sharing the road with cars who can pass us 5km ahead.

Just reading the instructions for riding up the gorge...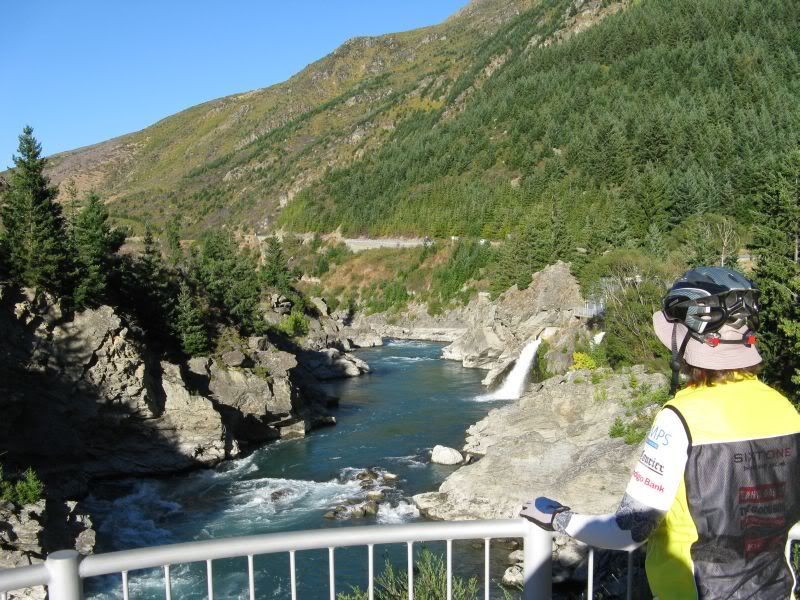 Dulcet Connie stares at Roaring Meg, a small hydro-electric scheme.

Just beyond Roaring Meg was this steep little tester.

We were wearing full sun protection again.

Bikes get to jump the queue, heh heh.


The gorge widened a bit and we found some wineries. Just the sort of place for having the first coffee of the day.

"Let's go to this one, dear."

Ha! Apple thief caught red-handed!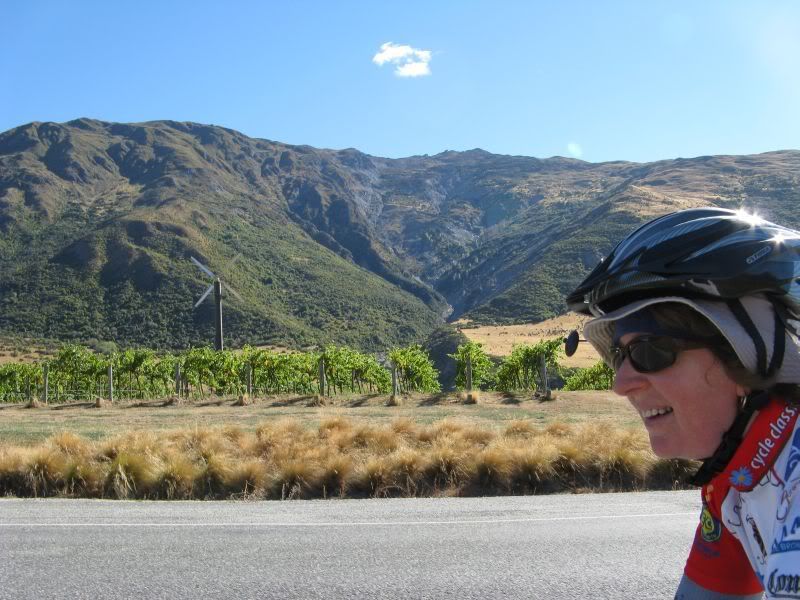 That apple must have tasted nice because she is all smiles.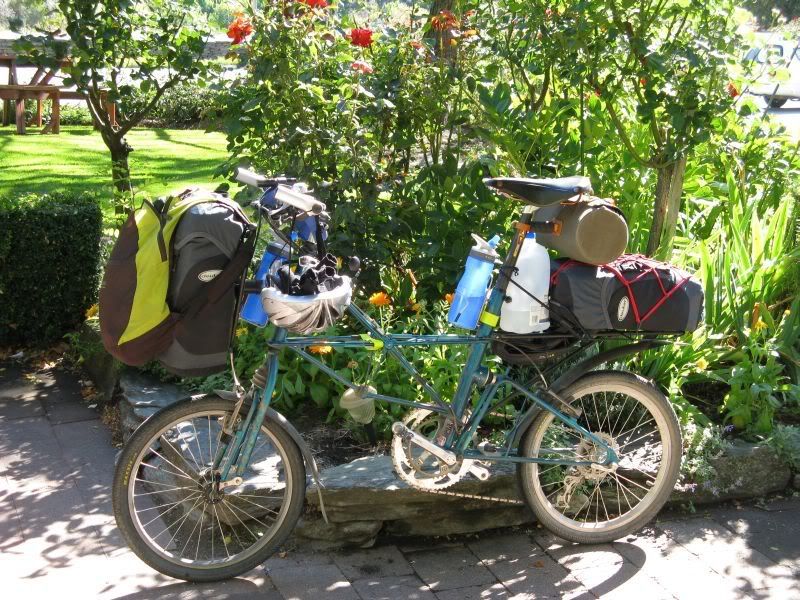 Right, stopped for coffee. I had 2 water bottles. Connie, who forgot her second bottle in Melbourne, made me carry a milk bottle with water for her.

This winery is making loads of cash.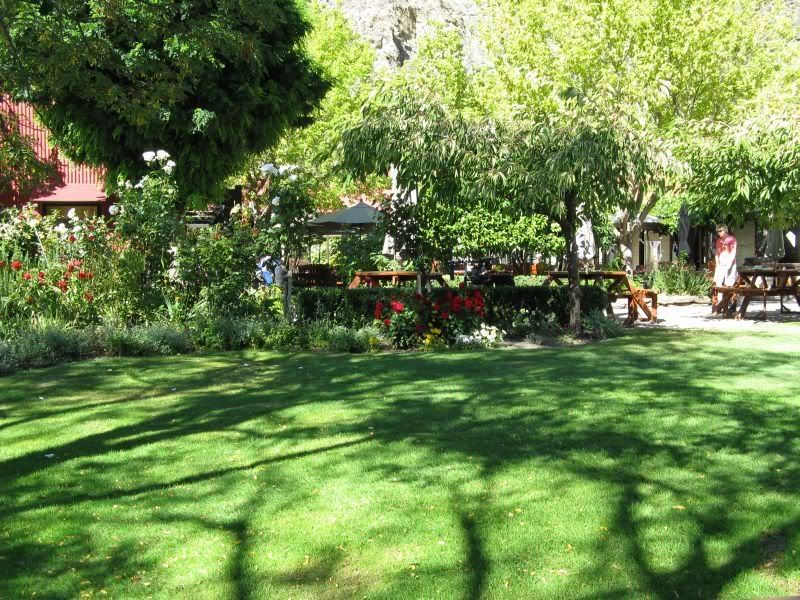 Very nice garden, too.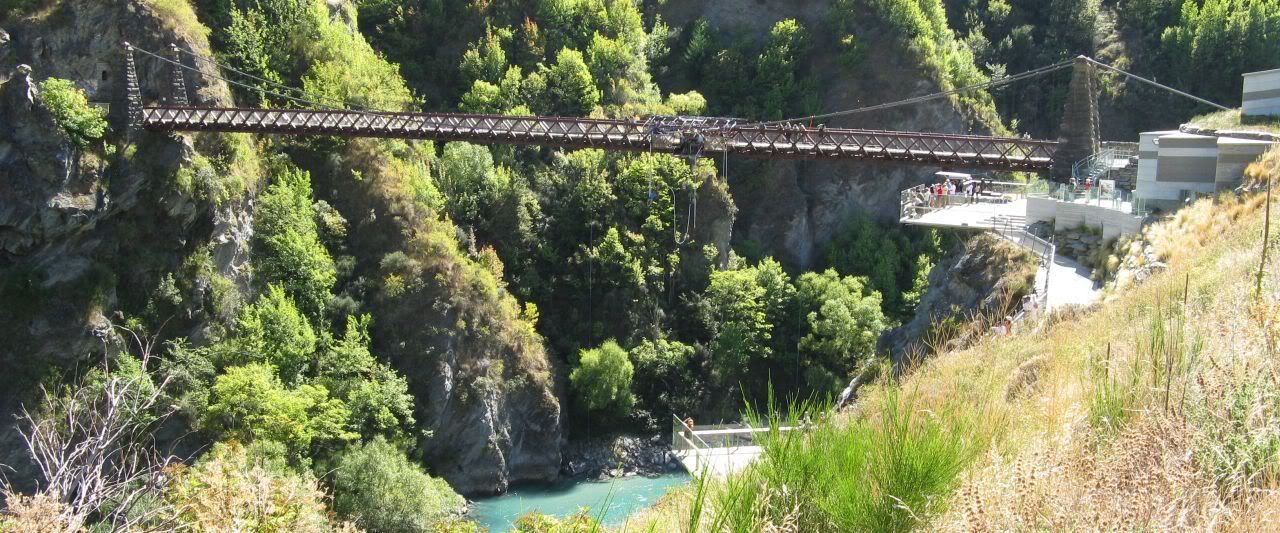 At the Kawarau river crossing is an old suspension bridge with the "world's first" commercial bungy jumping enterprise.


There he goes. We didn't go. At a price costing more than our air fare, I decided to save the money for another tour in Middle Earth.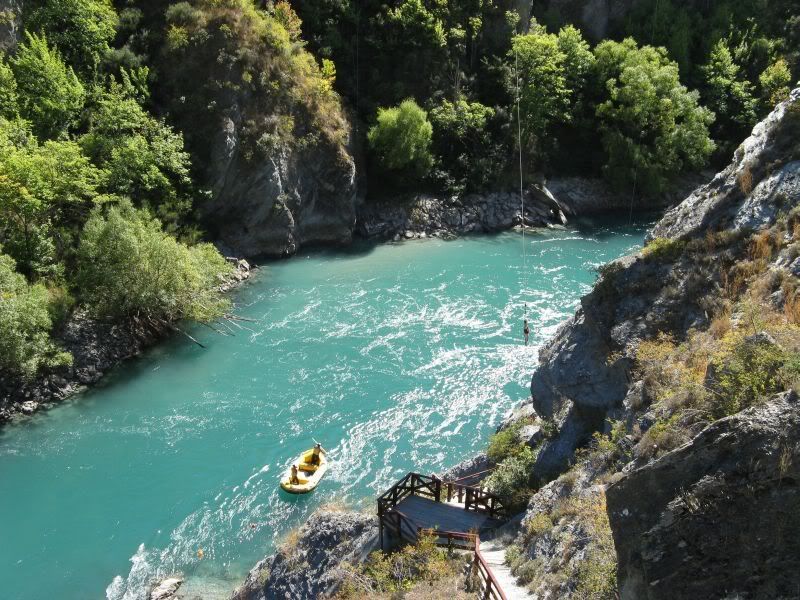 He dunked into the water and the force of the water stripped his T-shirt right off. The guys in the dingy rescue jumpers once they hang still. Jumpers are very quiet when they first emerge from the water. I suppose getting yanked upside down from a river puts a lot of water up one's nose.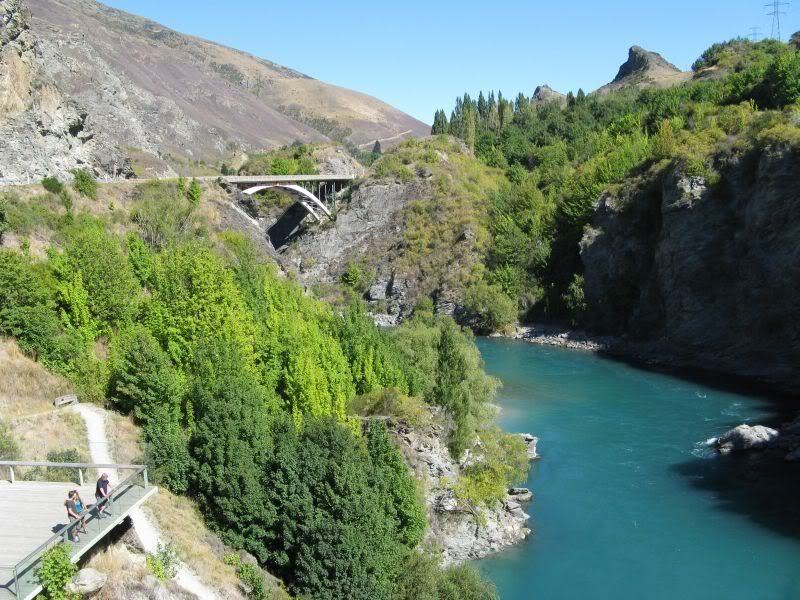 The water is coloured this fantastic blue colour by suspended rock particles washed down from snowmelt.

Heading to Arrowtown, a nice little goldrush village.

Very hip little town with two hip cyclists on hip little small-wheelers.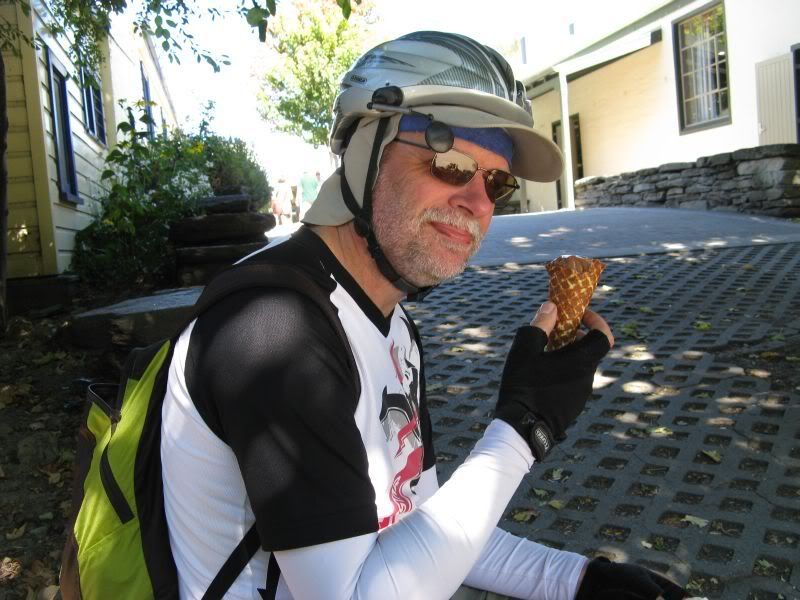 Making short work of a chocolate ice cream, just the thing for the burning sun. I am wearing my white sun arm protectors, better than slathering on sunscreen all day.


After taking a wrong turn we find this little gem of a lake.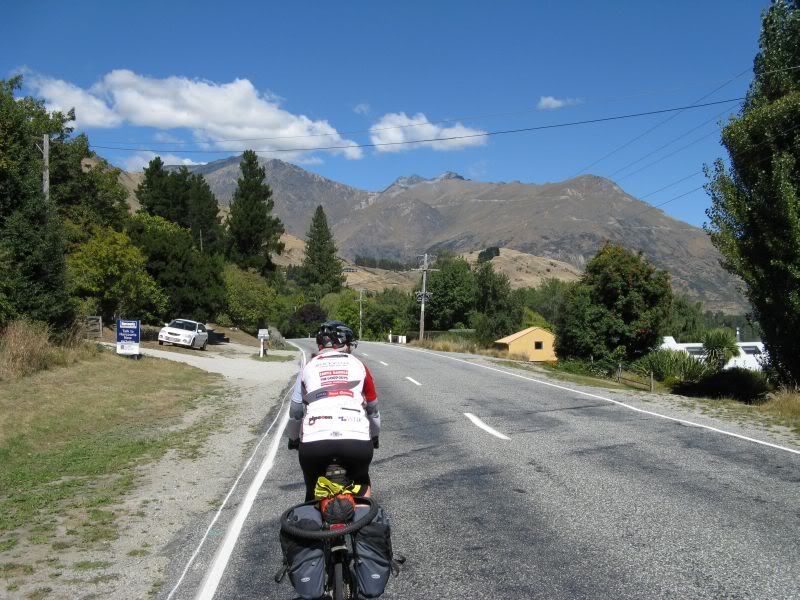 I wonder if I can find a job here.

Finally after much strife and an extremely steep little climb after crossing the Shotover river, we arrive at Shotover camp.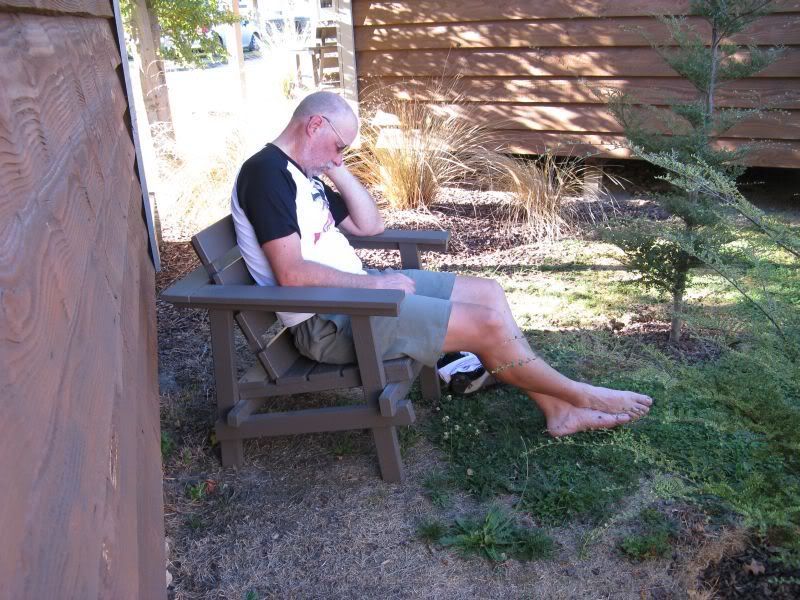 I felt like a potato chip at the end of a full day in the hot sun. I moved a chair into the shade and fell promptly asleep.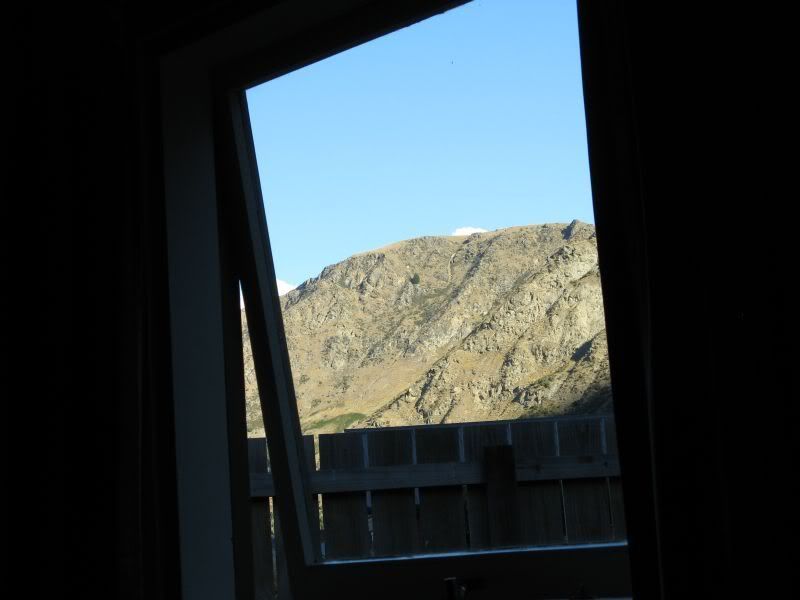 This was the view through the window of our cabin.

And this was the view through the door. I found myself enjoying this view more often. Weird, huh?
Day 6: Rest day near Queenstown (21km)

Yet another sunny day dawns brilliantly.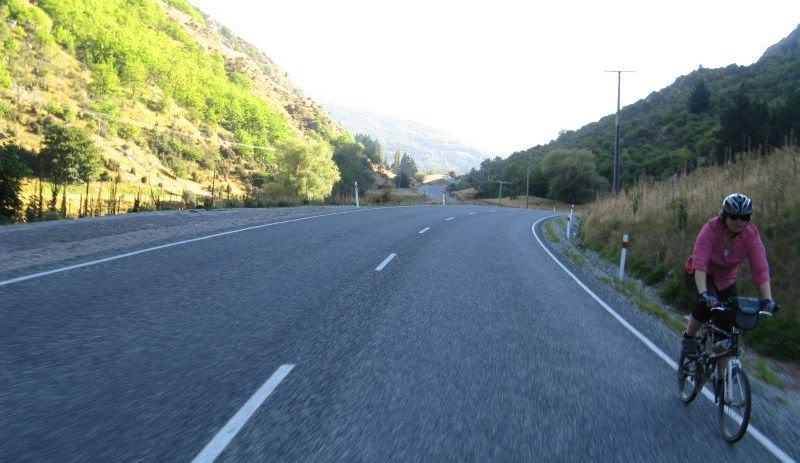 Barreling down the gorge 7km to Queenstown. We headed straight for the cableway.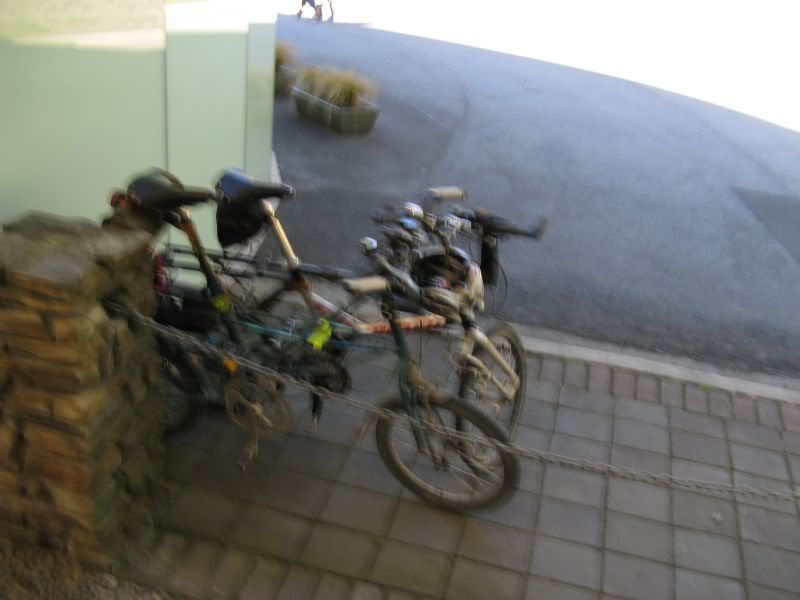 Managed to snap the bikes as the cable car whizzes past. Bikes are securely chained to that chain.

Car drivers have to park a long way away and hoof it to the terminal, but we get to park the bikes right at the door. *smug*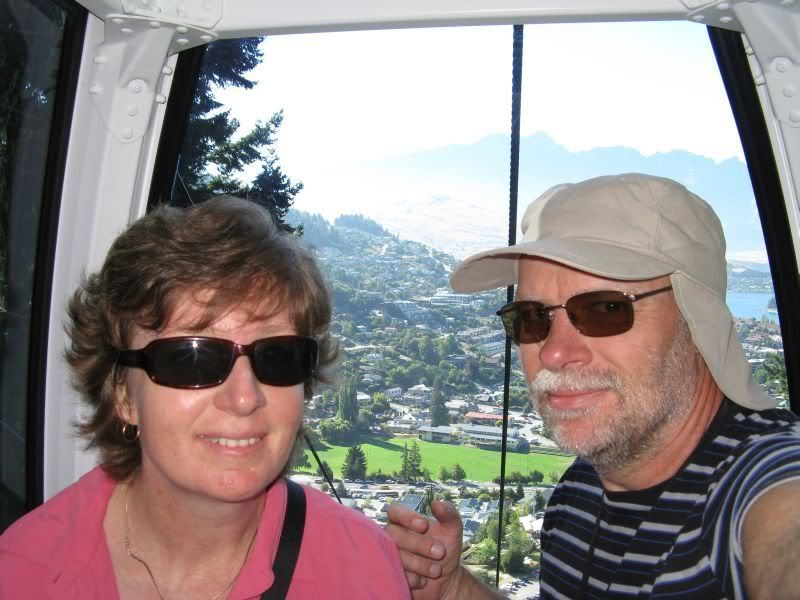 I expect stunning views at the top.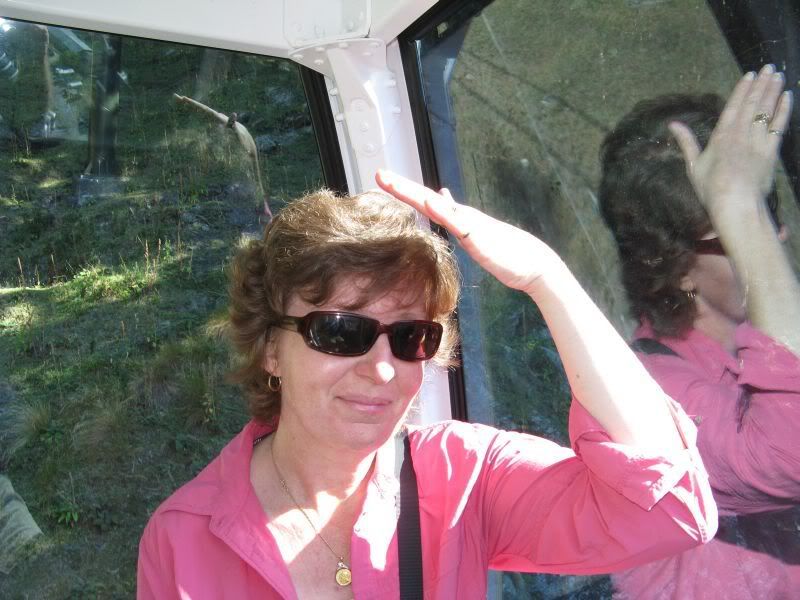 But meanwhile there are stunning views right next to me.


Queenstown must have one of the most breathtaking settings in the world. Tomorrow we head south all along the southern arm of the lake, just left of the middle in this panorama.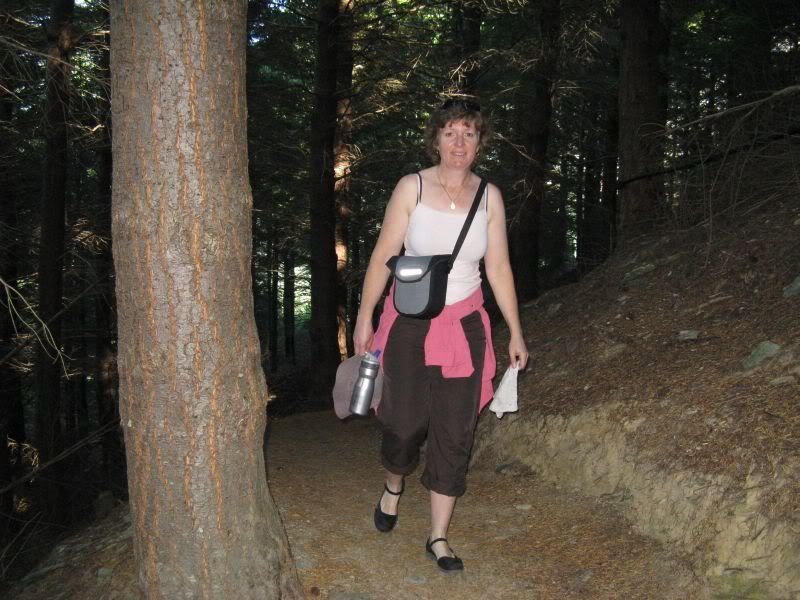 I wanted to walk to the summit, several hours of climbing, but Connie was having none of that, being fatigued from yesterday's long haul. So we just had a short walk at the top of the cableway. That turned out a waste of time - no views, just dark pine forest. Plus it was very hot.

I wanted a luge ride. She also thought it a blast.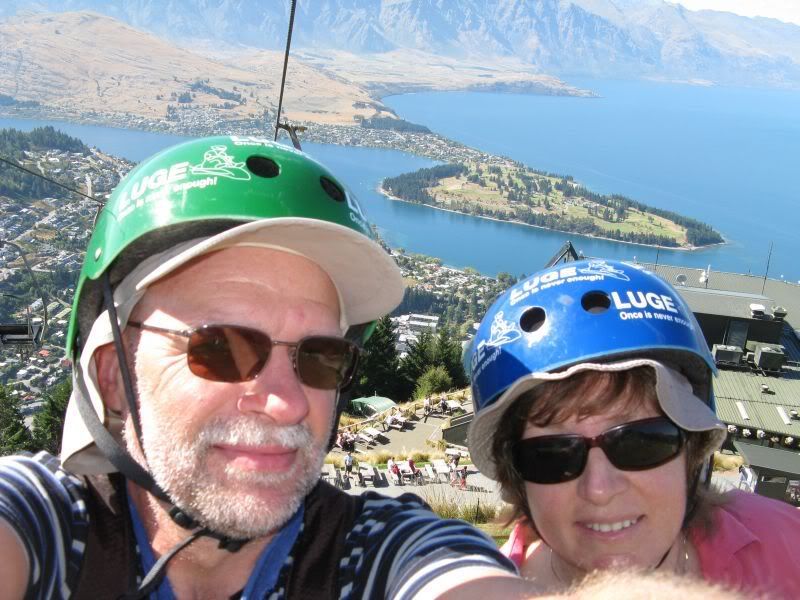 Of course once is not enough so here we are taking a small ski lift back to the top of the luge track.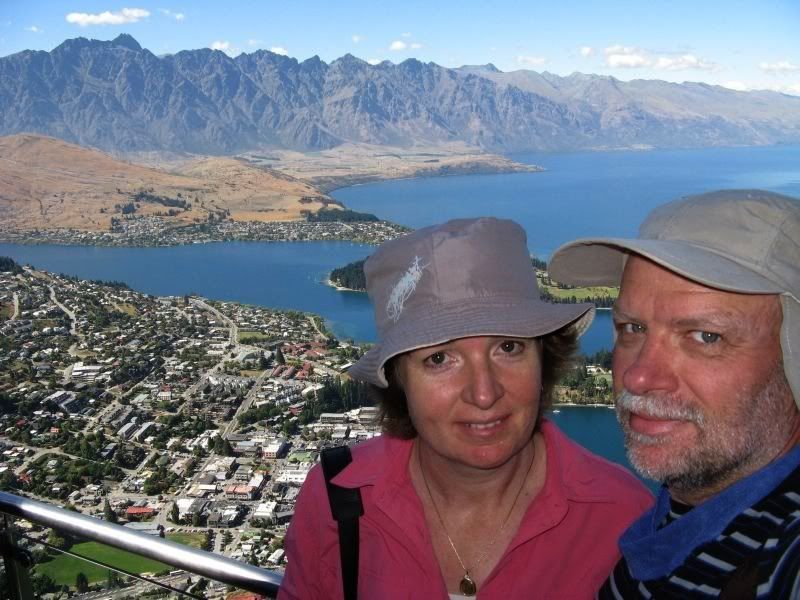 If you can't snap nice piccies here you can't blame the camera. That's the Remarkables range in the background.

Back at the bottom it's lunch time - fish and chips at the lake edge.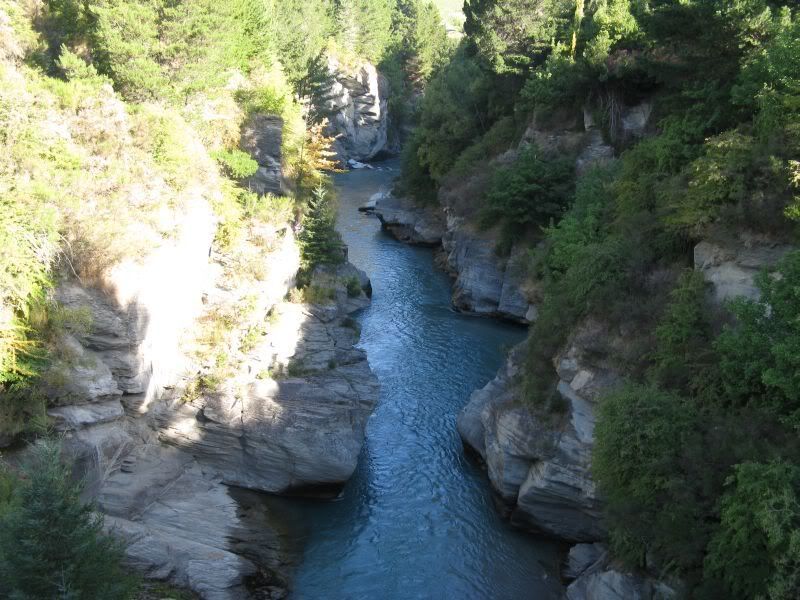 After buying groceries, we headed the 7km up the gorge back to camp. This is the Shotover river gorge.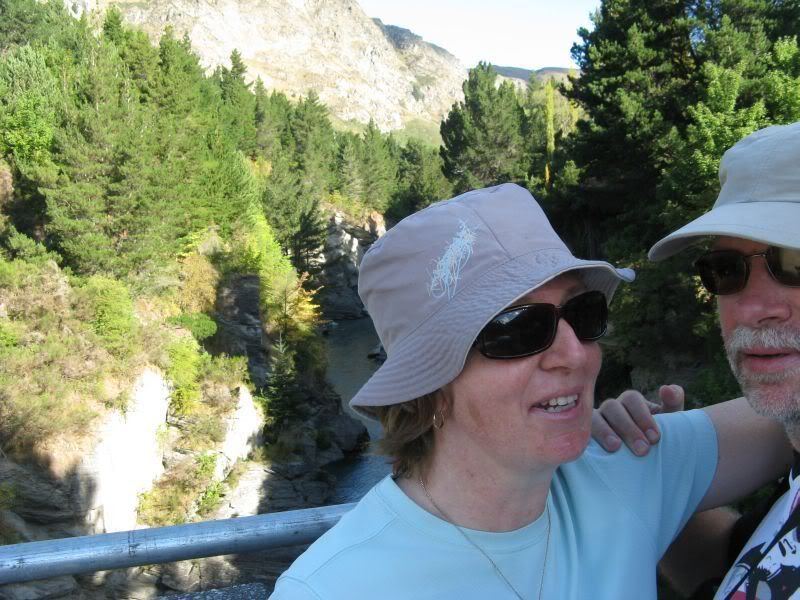 "Oh Luv, let's go on the Jet boat!"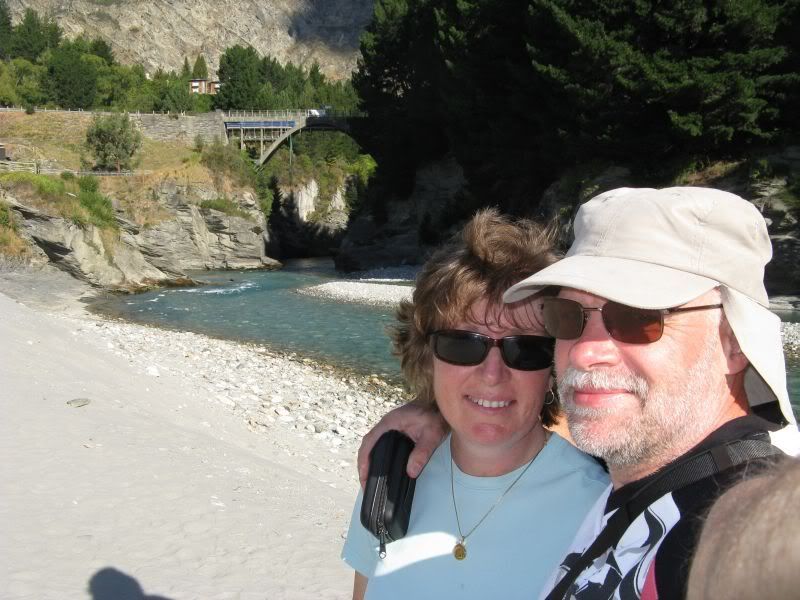 So here we are at the riverside awaiting our turn on the famous Shotover Jet.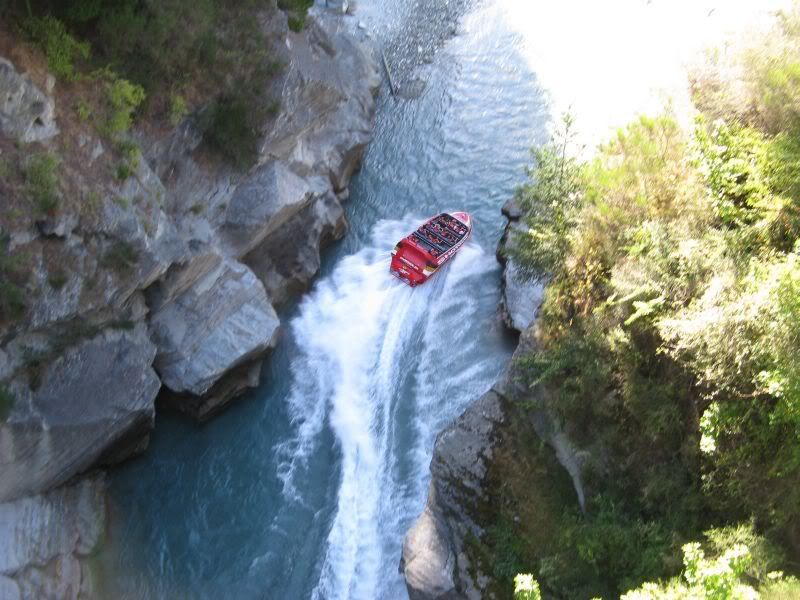 Amid fantastic scenery, the jet is piloted literally inches from rocks and cliff faces at dizzying speed. Quite a buzz. I asked the pilot if he ever crashed into the rocks before and he said yep, a few times. That was comforting actually, because he's had that experience.

Relaxing at the waterside afterwards and, unbeknown to us, getting bitten something horrid by sandflies. Itchy little buggers.
Day 7: Queenstown to Kingston (54km)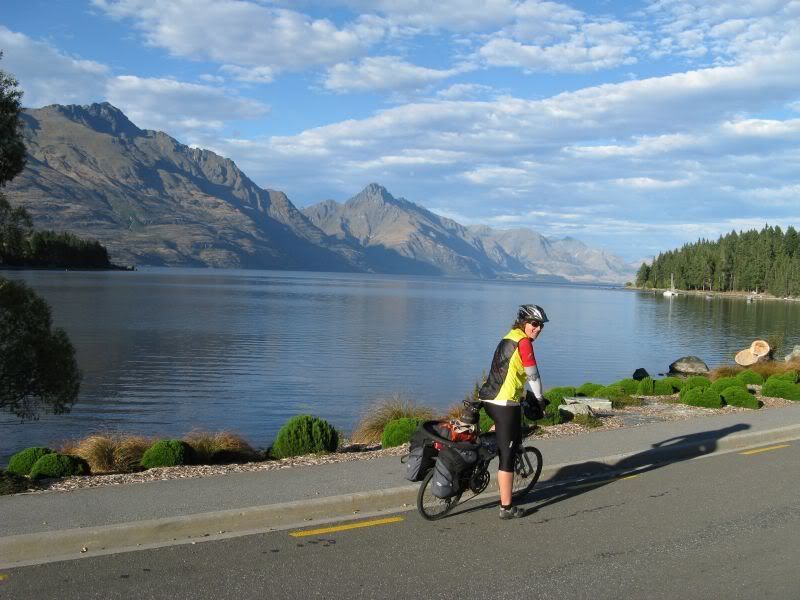 "Uh Dearest, we're going the other way!"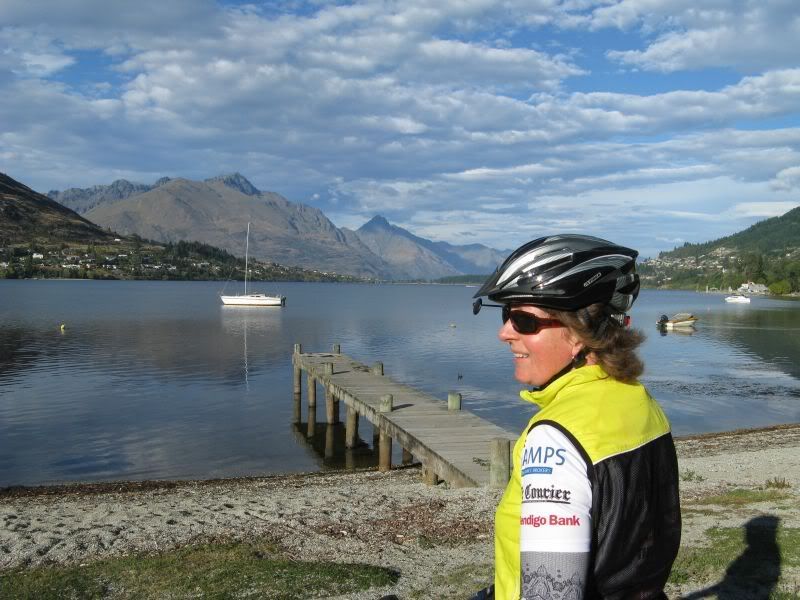 "Ah, that way. No worries mate."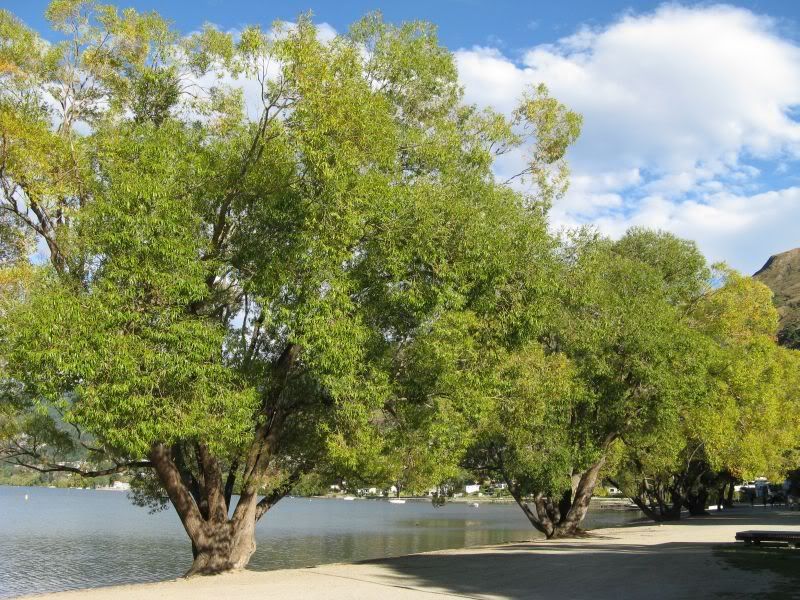 As usual the weather was simply brilliant. The locals informed us (a bit grumpily) it is extremely unusual to have calm, windless, sunny weather a whole week in a row.

The bikes waiting patiently while we visit the facilities inside...

The outflow of lake Wakatipu. This is a single lane bridge with traffic lights to regulate traffic each way.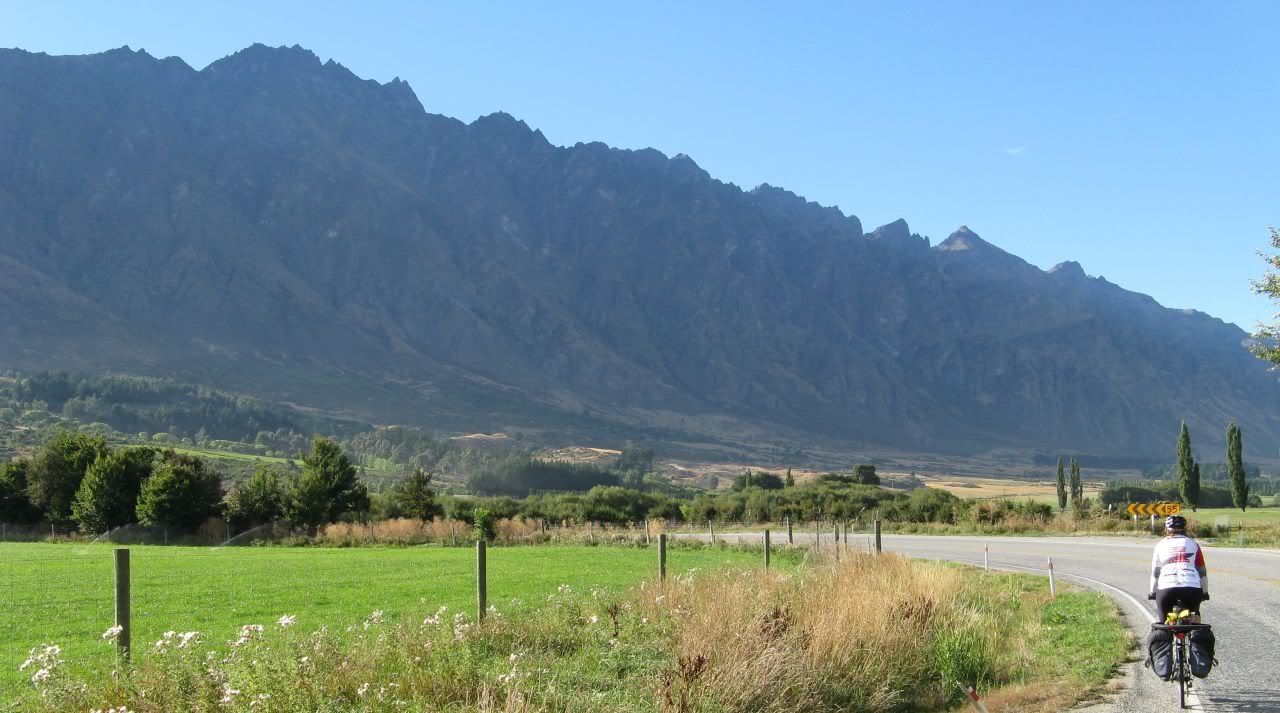 These are the Remarkables, The legs pedalling that bike were pretty remarkable too, mate!

Heading south, a few clouds are drifting in.

Quiet roads, dizzying scenery, great company, riding my freedom machine... what a holiday!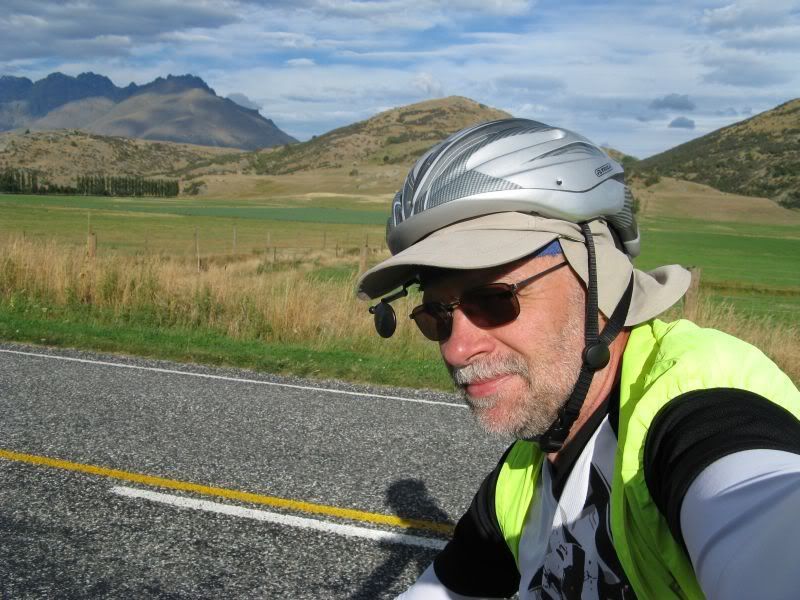 That cap made from thin synthetic material with sun shroud at the back, was easily my most useful garment. It provided protection agains sun, warmth around the ears, and as I was soon to find out, kept my head dry in the rain.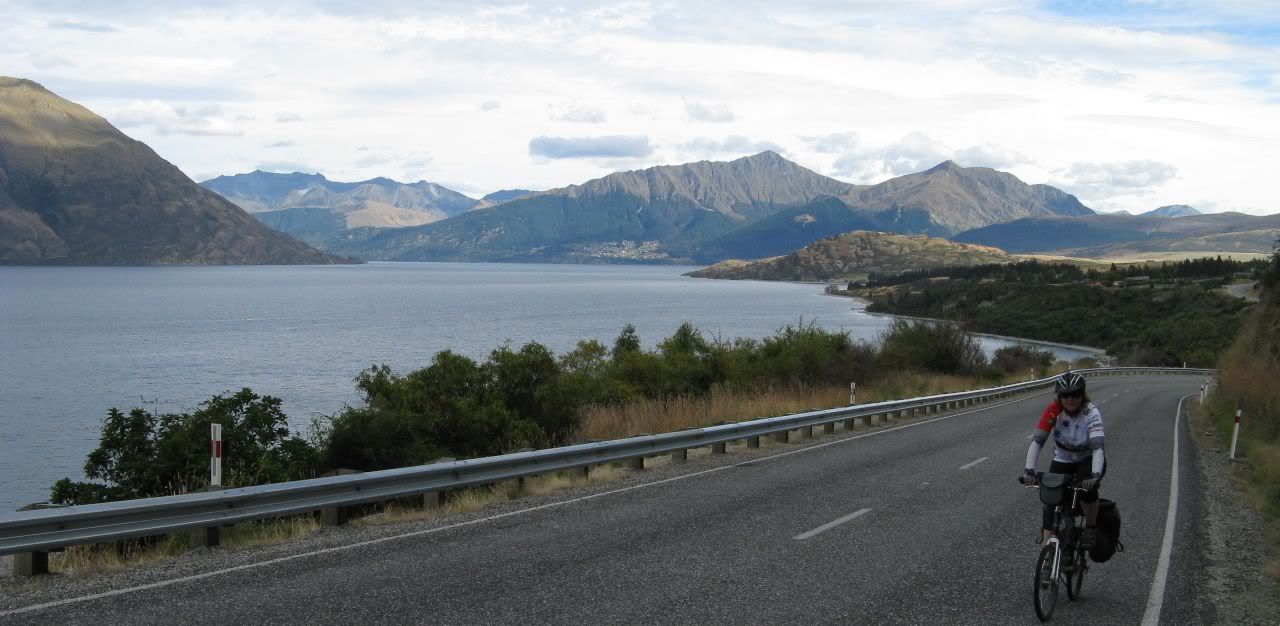 Arriving back at the lake edge after going around the hill at the lake corner near Queenstown.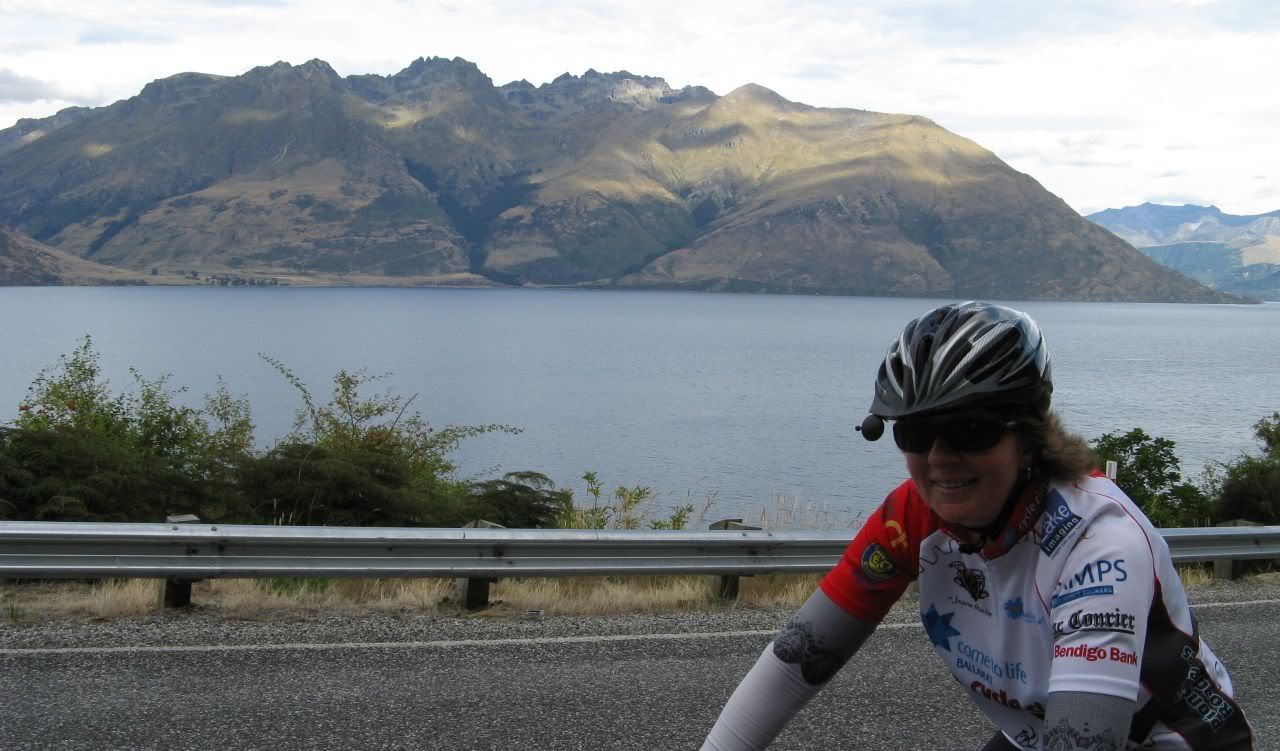 The wind picked up but behold, a tail wind!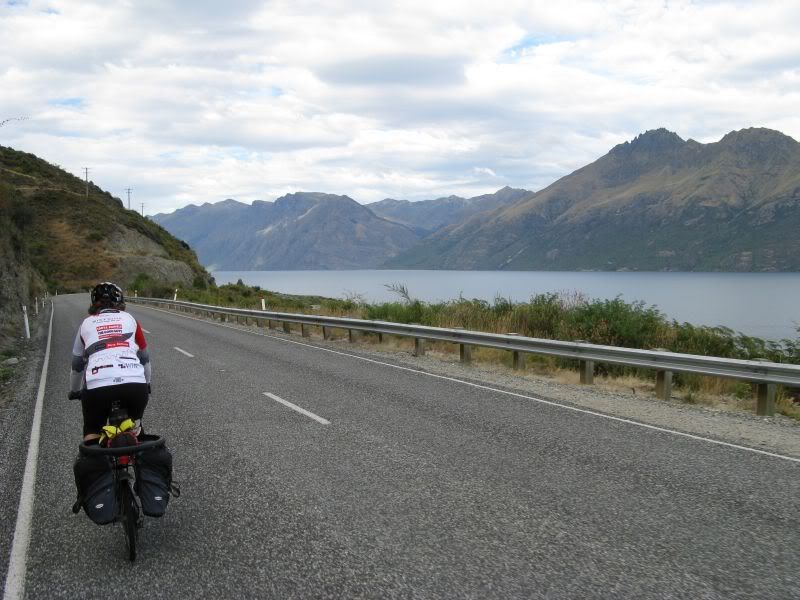 While the roads were mostly empty, vehicles would arrive in batches. Must be something to do with the single-lane bridge over the lake outflow.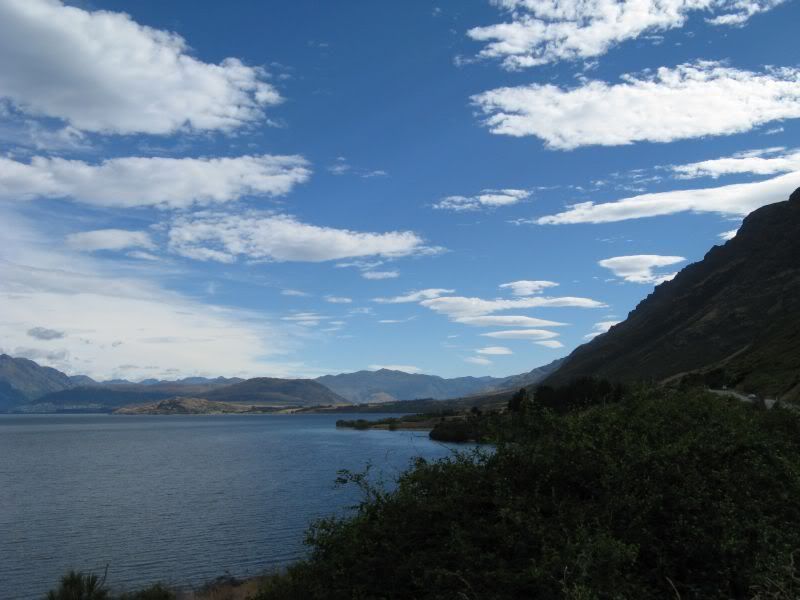 We had to put up with this stuff all day.


Final glimpse of Queenstown behind... I am definitely coming back here, God willing.

Having a bite halfway down. Opposite is a break in the mountains called Halfway Bay.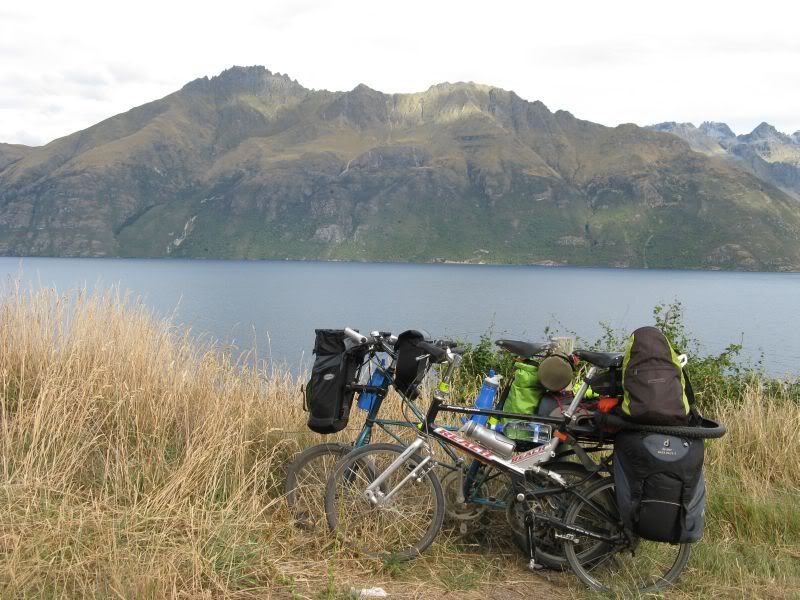 The bikes enjoyed the scenery too.

Tiring of the magnificence all around us, Connie stares at the road shoulder for a while.

This is one of those pics Connie wants framed.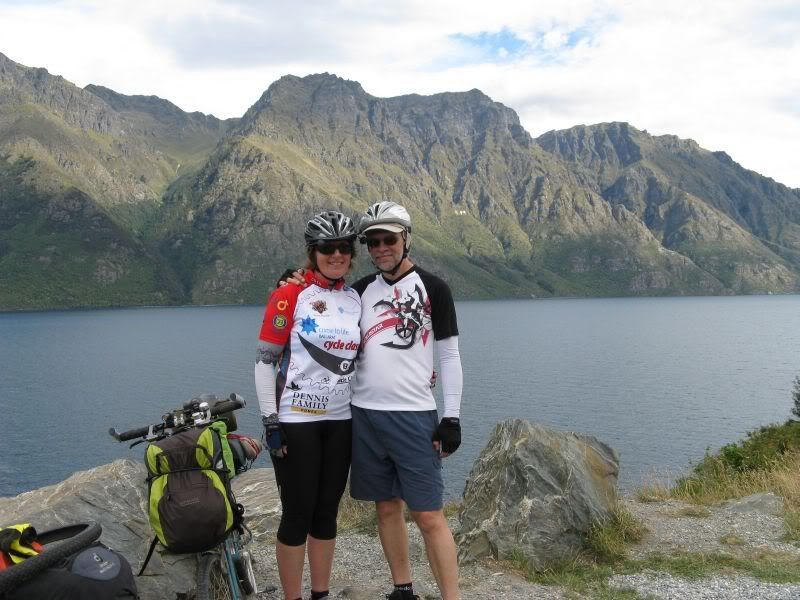 I wore the same shirt every single day as I was able to wash it at the end of every day - I never wore my 2 other cycling shirts. Not Connie who was cycling through her cycling tops.

The weather was turning slightly gloomy towards mid day. Not Connie who remained very sunny.

We've had our lunch break and it's time to go.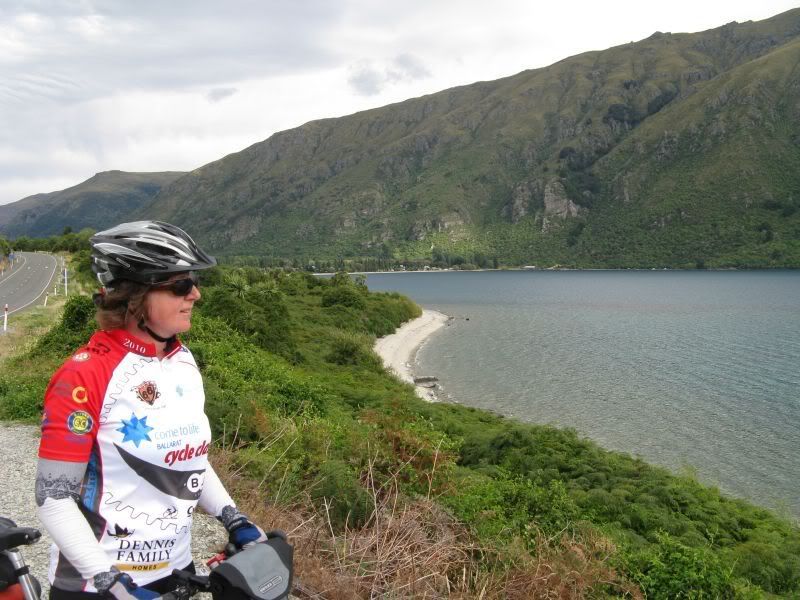 That's Kingston at the bottom end of lake Wakatipu.

Southwards, ominous-looking clouds were roiling overhead.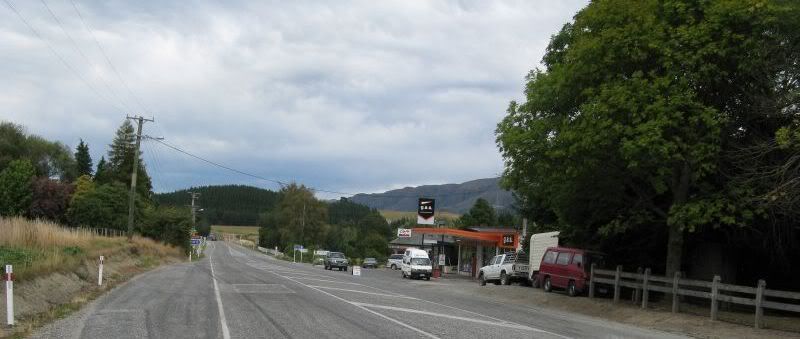 Kingston ahead!

Hmmm... maybe I should get a spa bath unit...?

Instead we took up residence in this modest little shack.

Kingston is a little jewel. No grocery shops though. That there in the distance are disused railway buildings.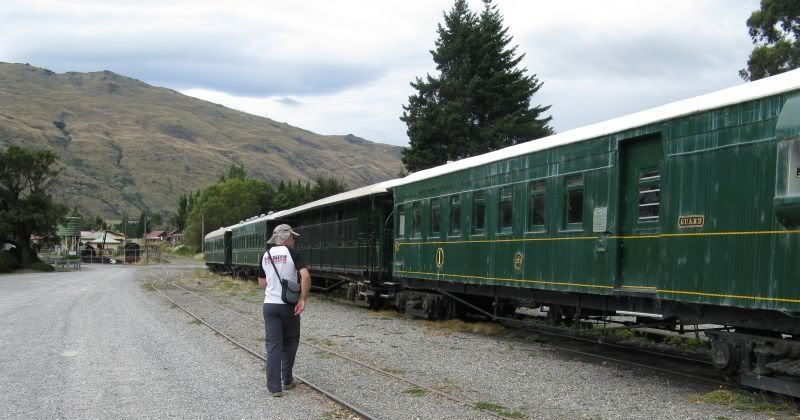 This is the disused Kingston Flyer.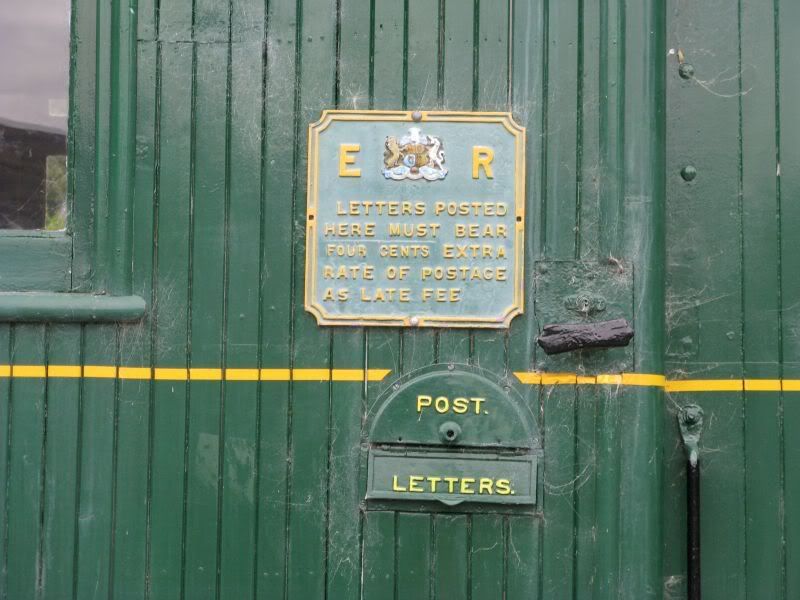 Cobwebs and an Elizabethan cast iron plaque tell the story.

There are on-going plans to restore it. If it had been a going concern, I would have made a leg of our journey on it.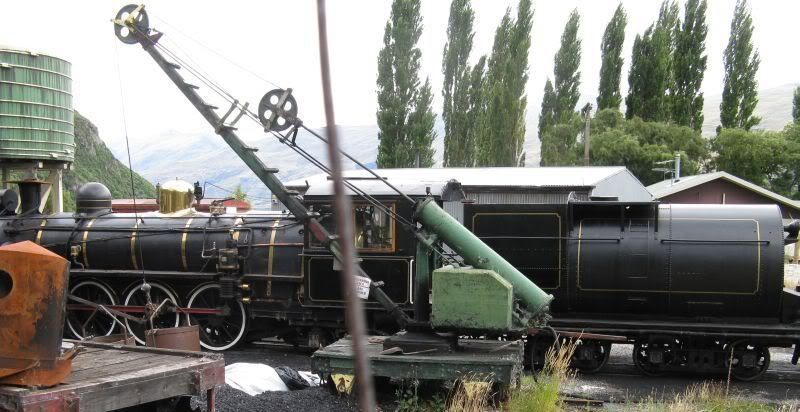 One loco was dusty and dirty while the other was clean and brightly polished.


"Do we need any wheels, dear?"

With no shops in Kingston, we had a meal at the pub which was the only thing still working in the disused railway buildings. The girl serving at the pub counter was also the chef and cooked really fantastic dishes. Highly recommended.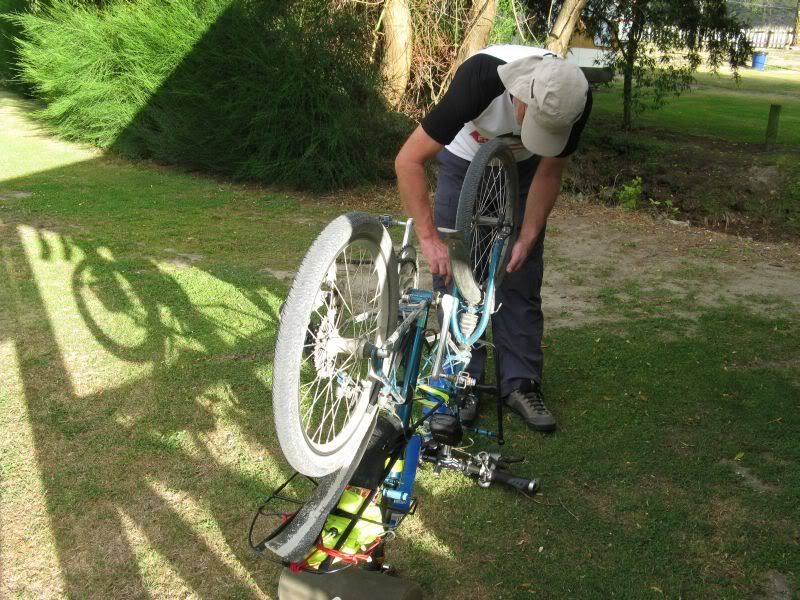 The front wheel had a persistent click with each revolution sounding like a loose spoke. I checked speedo magnet, spoke tension, bearings... nothing. I think it was the pinned rim hoop joint making the sound. I decided I would fix it when it falls off.
Day 8: Kingston to Mossburn (64km)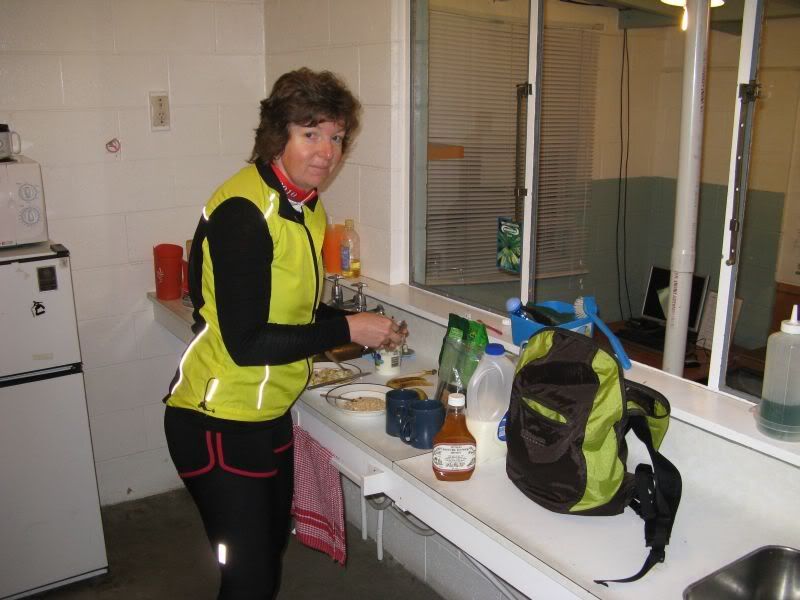 A little bleary-eyed, Connie is preparing brekkie while I make tea.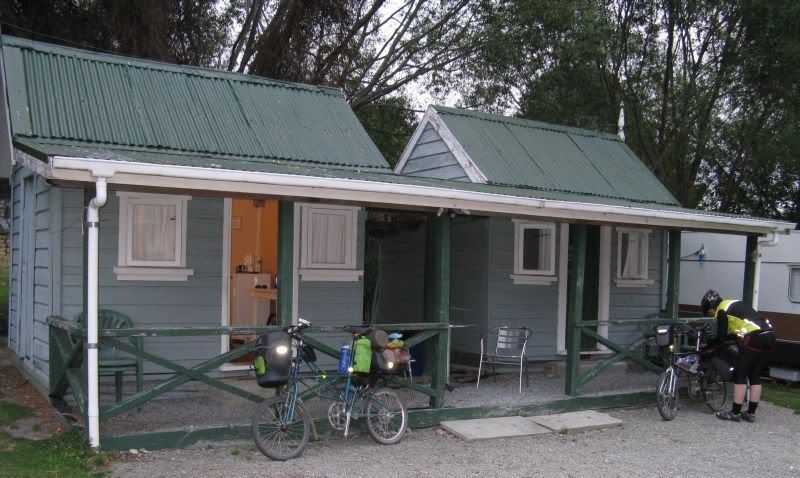 It's just after dawn and we are ready to go.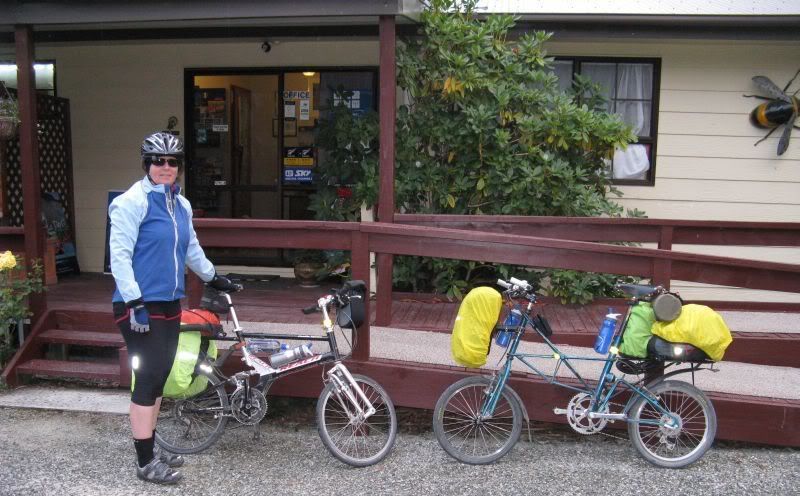 We barely made it to the office when it started raining lightly. On with the pannier covers and rain gear. A bumble bee is taking shelter under the eaves.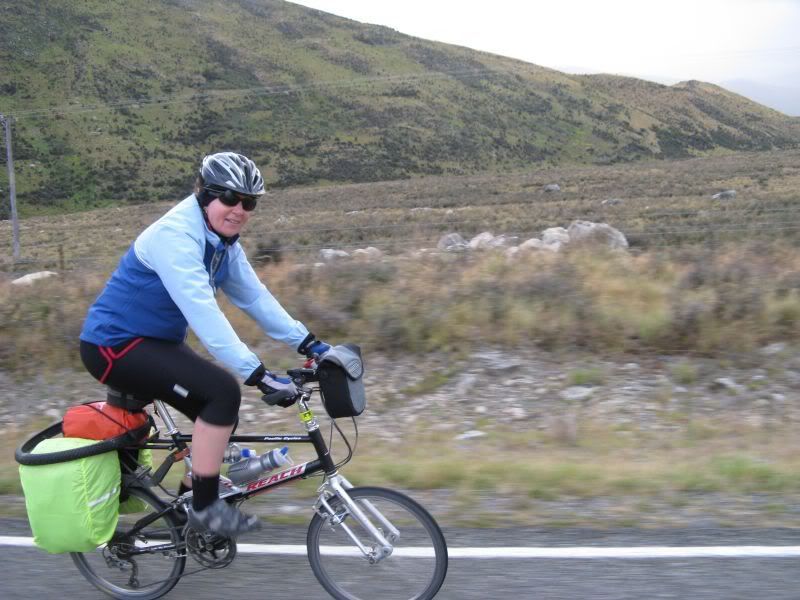 It rained lightly on and off but Connie just kept on smiling.

At Garston ("NZ's most inland village" at 129km) the rain started in earnest. And a headwind which we thought was quite fresh but the locals said, "That's not wind!"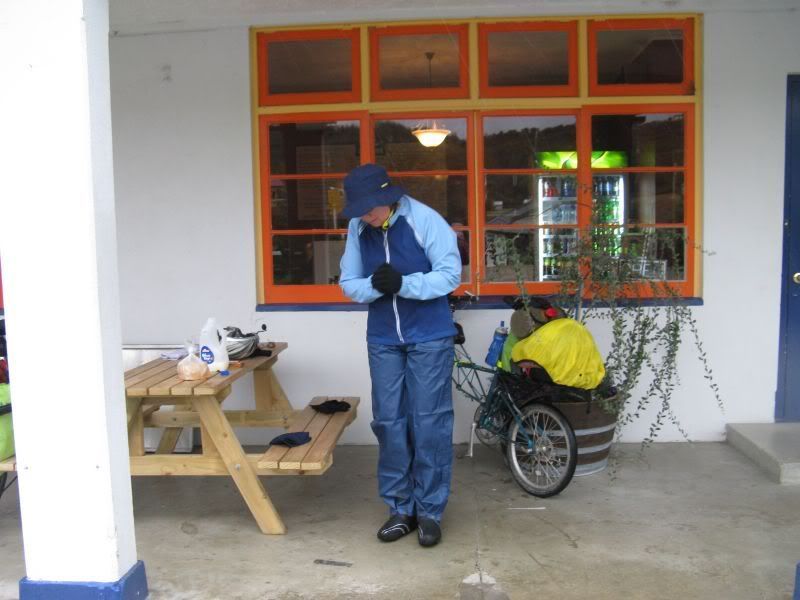 Connie donned all her rain gear and said a little prayer for coffee. The pub remained closed though.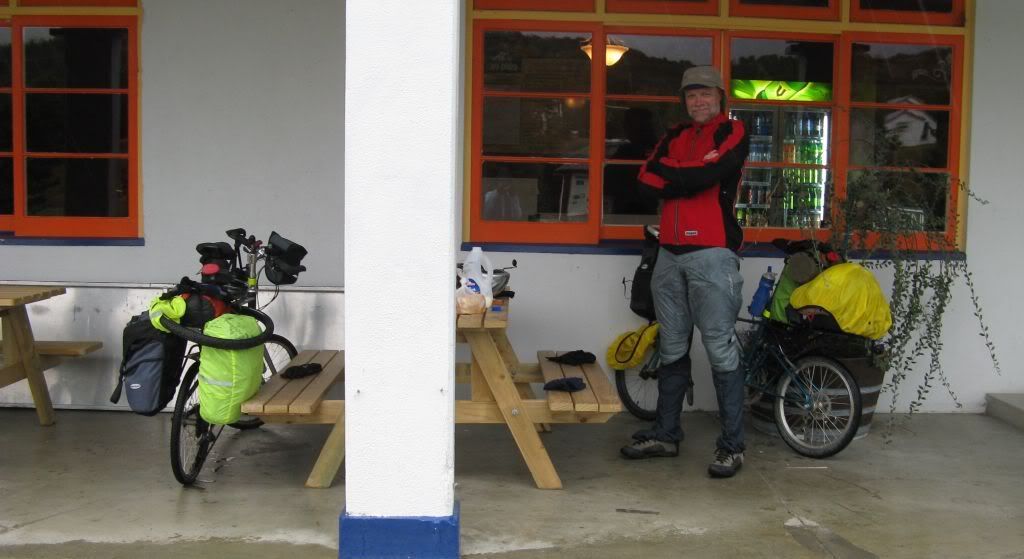 I don't need no stinking coffee.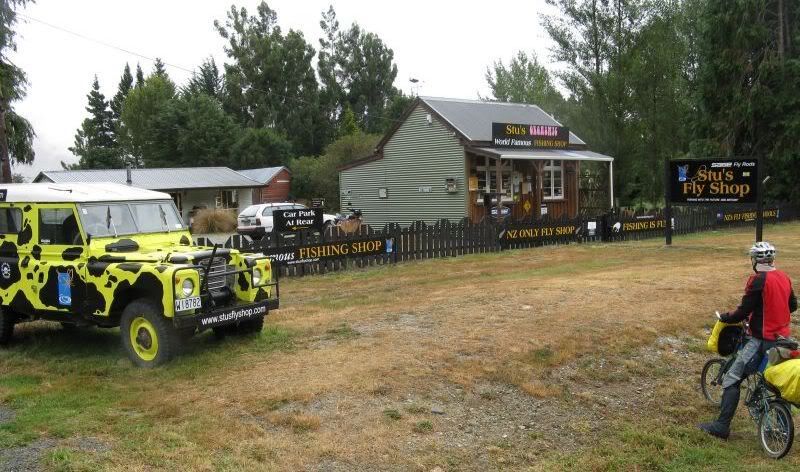 I wonder what this shop sells... "Sorry, dear, I don't see any coffee!"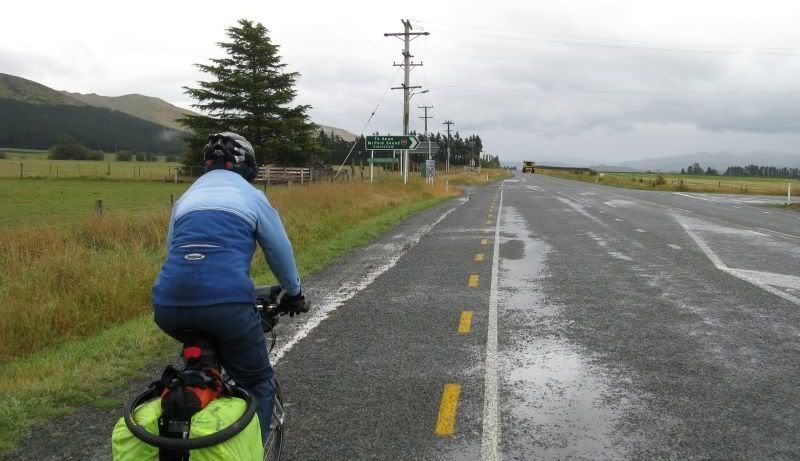 Ah, there's the turn-off to Mossburn.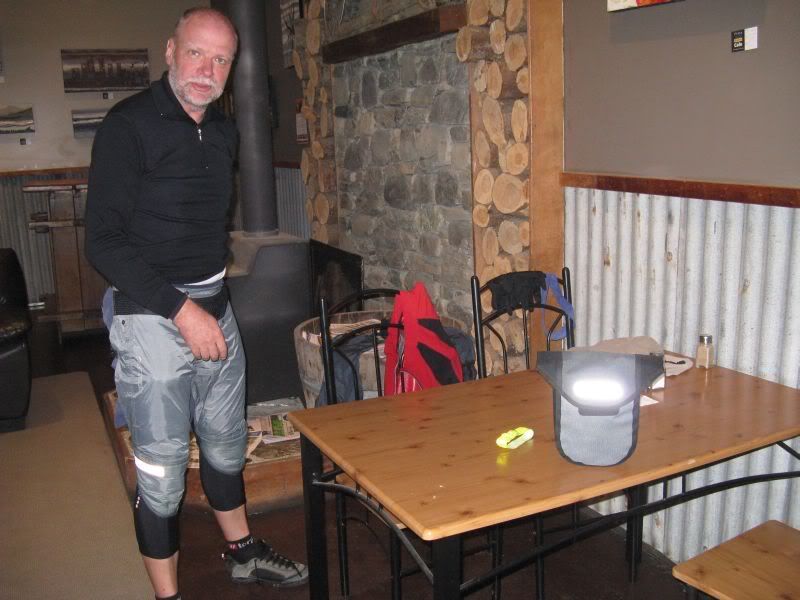 Coffee at last in a disused garage turned into a nice coffee shop. I am wearing Rainlegs which just cover the front of the thighs so you don't become sweat-soaked.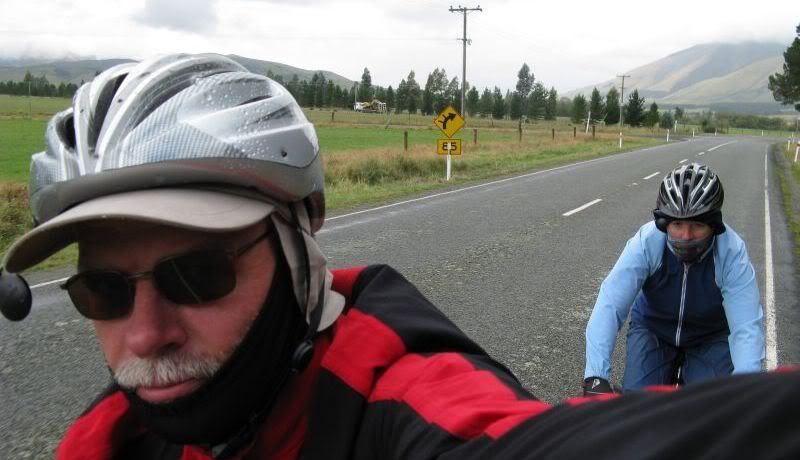 With the weather turning icy, Connie nicked my buff for face warmth. I turned my ear warmer band around and placed it over my chin which I discovered made all the difference to warm my face without obstructing breathing.

Nearing our overnight stay at Mossburn Country Park. Today was our coldest day.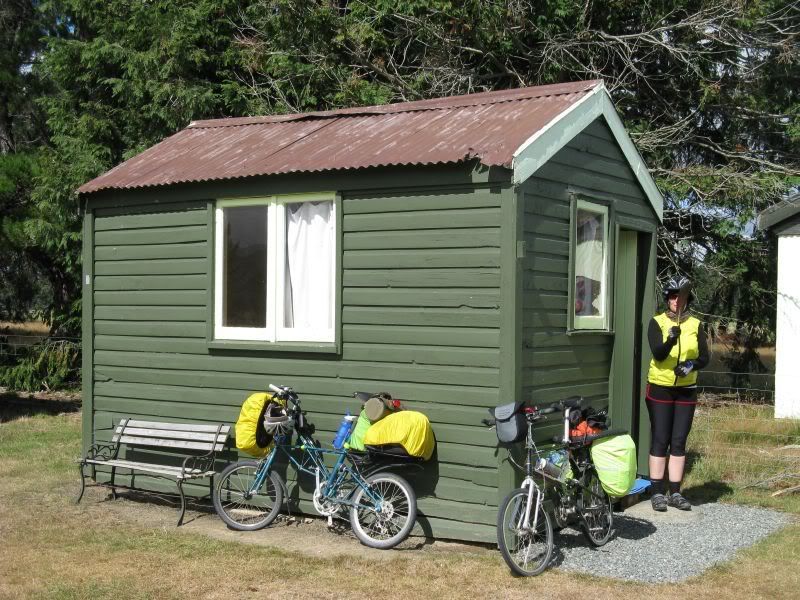 Another modest little cabin. When we got there, the sunny weather had returned. It was still quite chilly.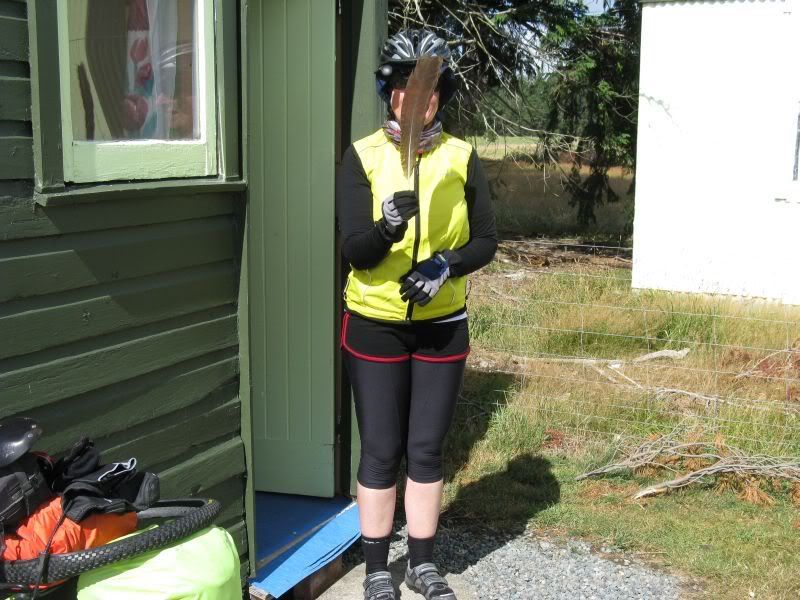 "Yes dear, I can see you behind that feather..."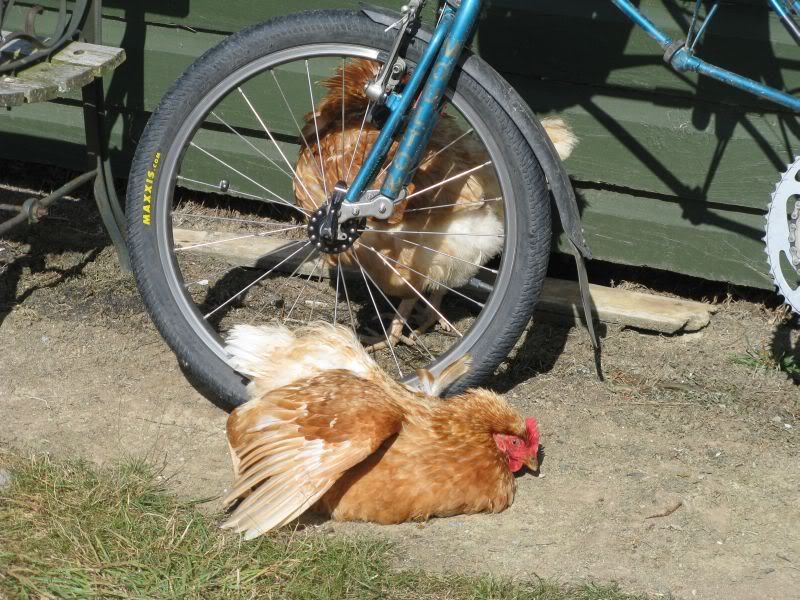 These chickens took an instant liking to my Moulton.

This one snuggled up to the front wheel.
Day 9: Mossburn to Te Anau (71km)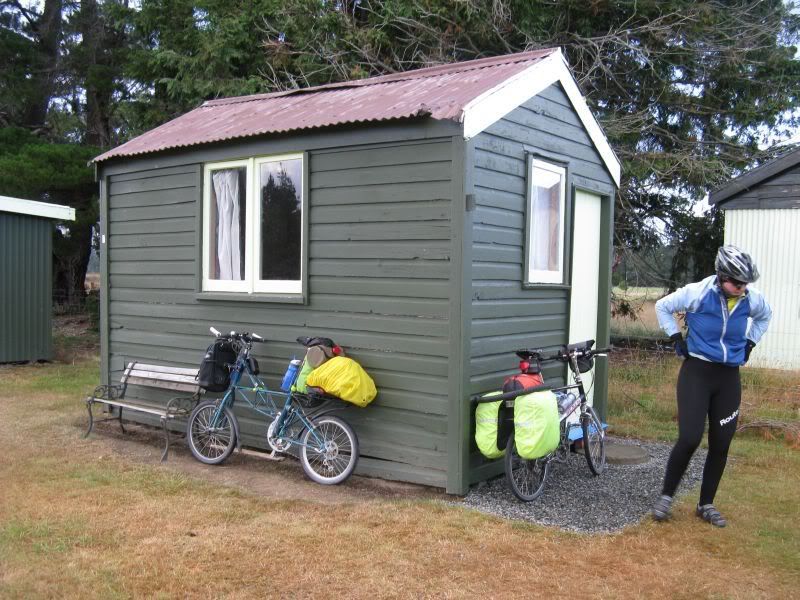 It rained when we woke up and Connie refused to go out so we slept a bit longer.

It was mostly dry when we started out but the fresh little headwind was still there. First, brekkie at Bracken Hall. (Locals pronounce it Brecken Hole.)

The weather brightened as we progressed but the wind strengthened.


It'll be a while before they use up all the sheep...

We put our heads down against the wind and made a run for Te Anau in four 16km dashes, Connie drafting me closely. First stop.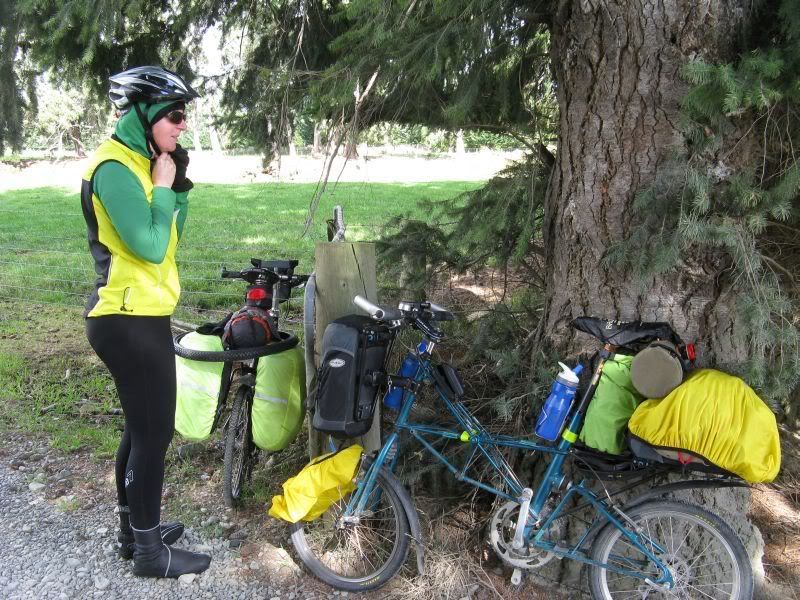 Second stop.

Third stop. And what on earth is making that screaming roar...?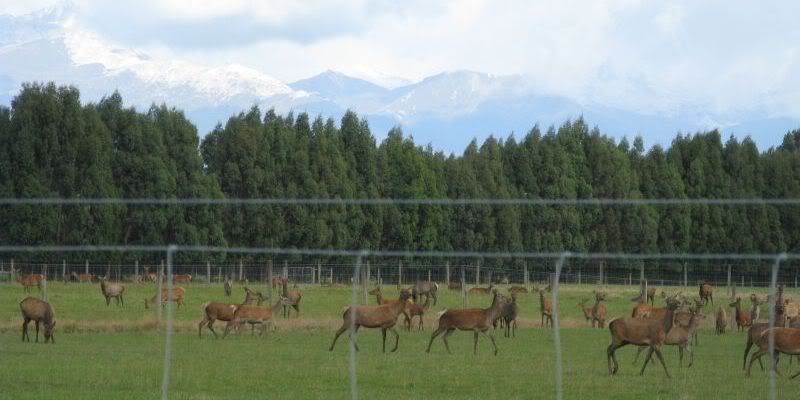 Oh I see - these deer. We passed lots of deer farms today.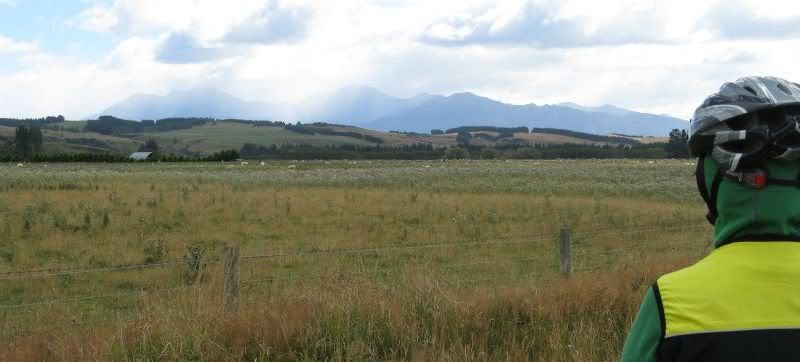 Rainy spots were all over.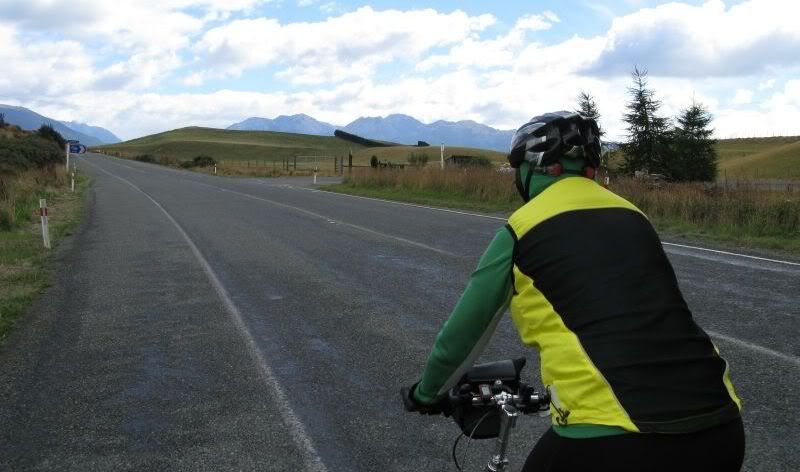 However we stayed dry.


We're there! Places with nothing to offer often dub themselves "gateways" to something more glamorous. Te Anau are a bit hard on themselves - they have a fantastic lake.


Stunning Lake Te Anau. "The largest freshwater lake in the southern island in surface area" and "the largest freshwater lake in Australasia in volume." (Wow fancy that. I feel real important now.)
Day 10: Bus & boat tour to Milford Sound and back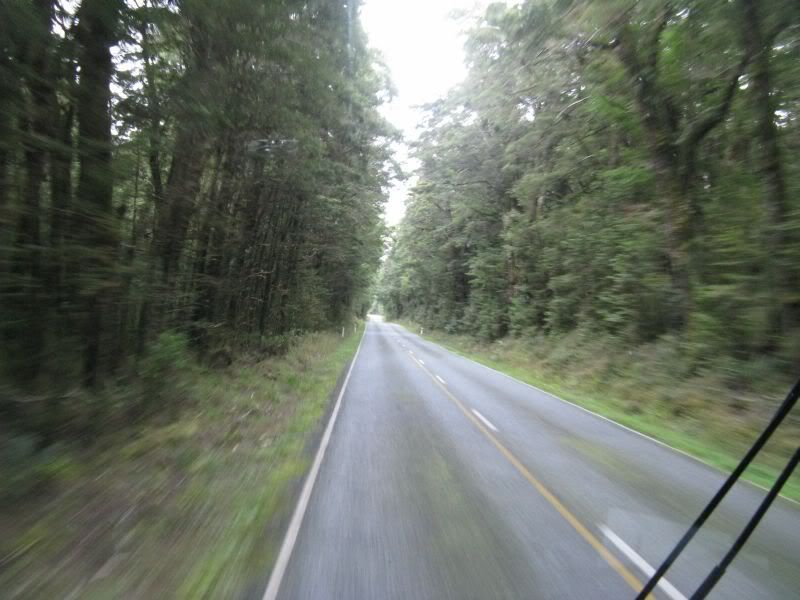 Having a rest day in Ta Anau, we took a tour to must-see Milford sound. We were the first to be picked up so got front seats, yay!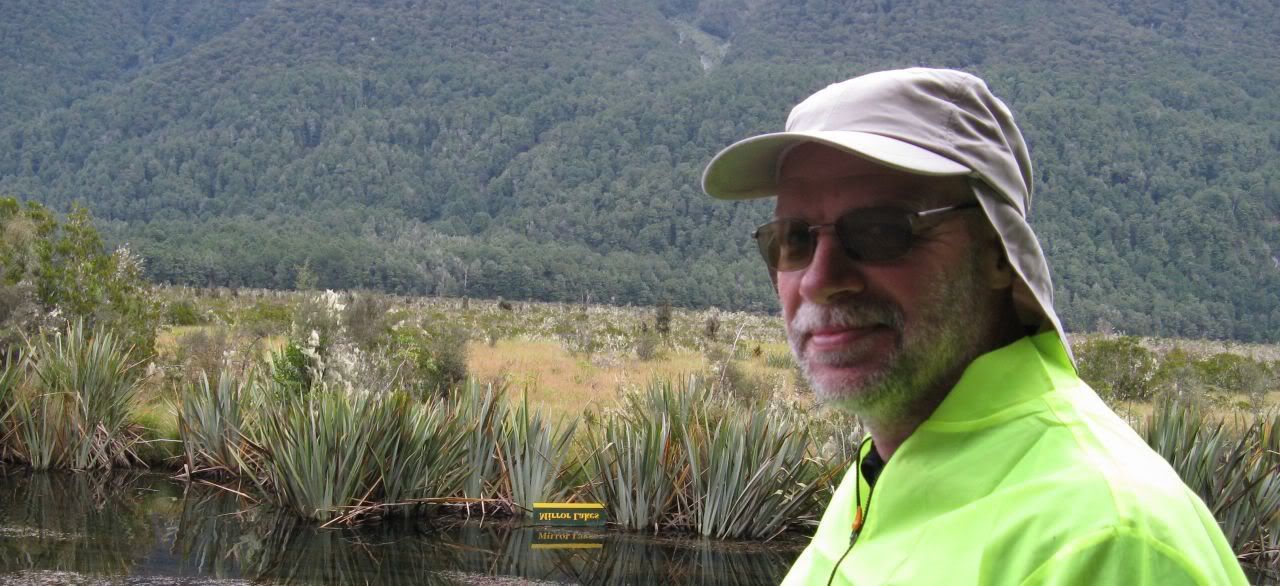 Typical of tour operators, it stopped at a number of free scenic places. Can you see the name of this scenic spot? Clever.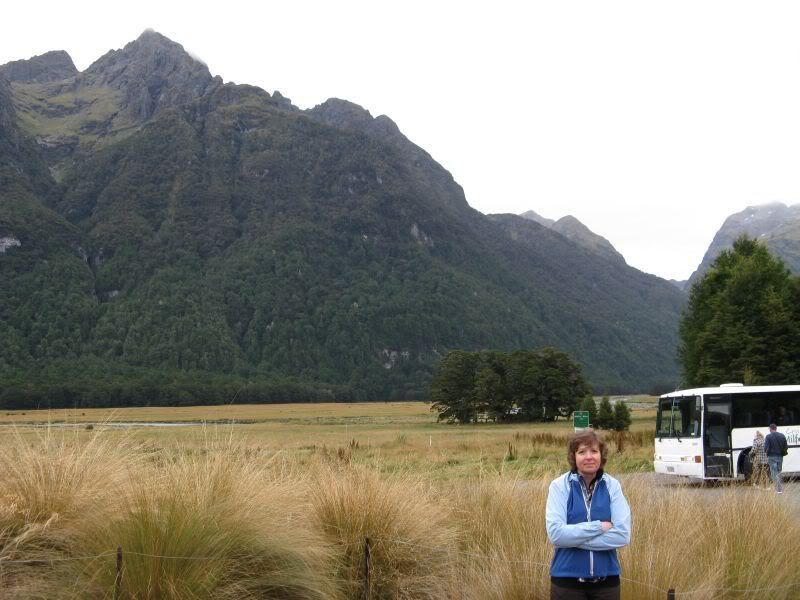 This toilet stop was free, too.

The glacier valleys were simply breathtaking. It's not that high in altitude so the snow surprised me. Not all that suitable for easy cycle touring, the road to Milford Sound is over 100km long with no coffee stops, has mostly no shoulders and is packed with traffic especially buses and camper vans.

It also climbs a lot to this, the Homer tunnel. One way traffic.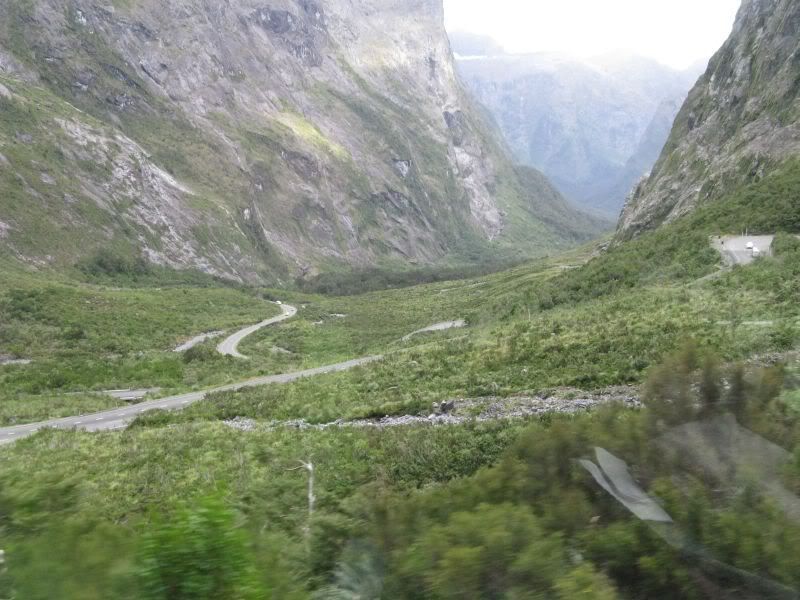 One the other side, the road plunges down the glacier valley in a bunch of steep switchbacks.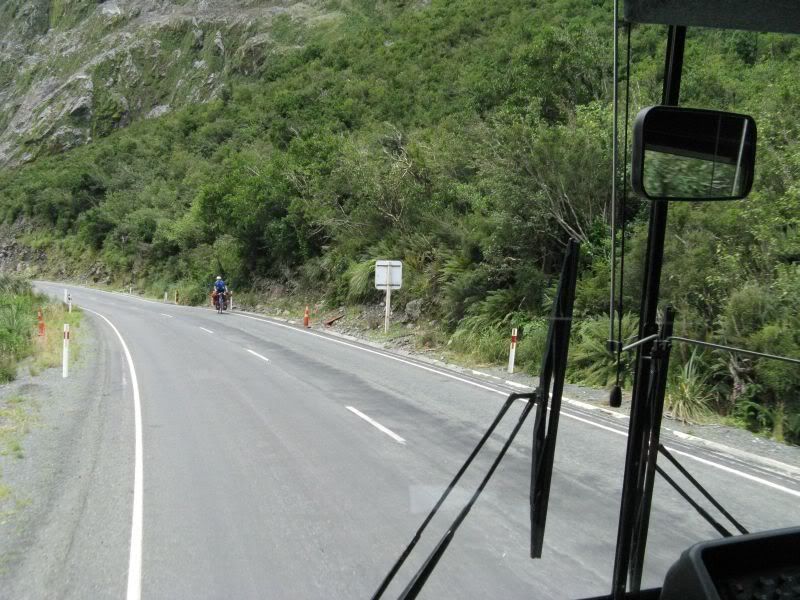 A lone cyclist... makes no money-sense... the bus trip was included in the boat tour fee. On a bike, you still need to overnight at the Sound plus see to meals besides taking a boat trip.

They have tree avalanches over here... never knew of something like that. One tree gets too heavy, topples and causes all vegetation below it to join the avalanche, stripping the rock bare.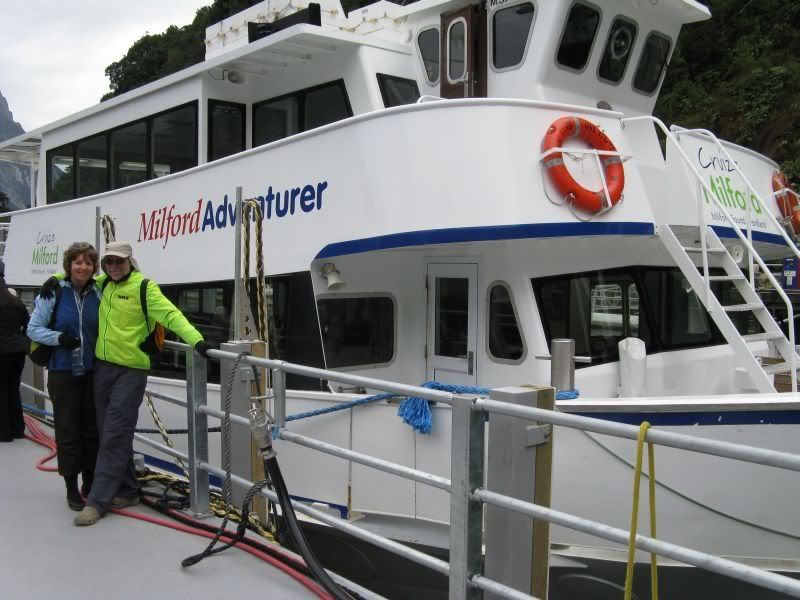 Our boat awaits!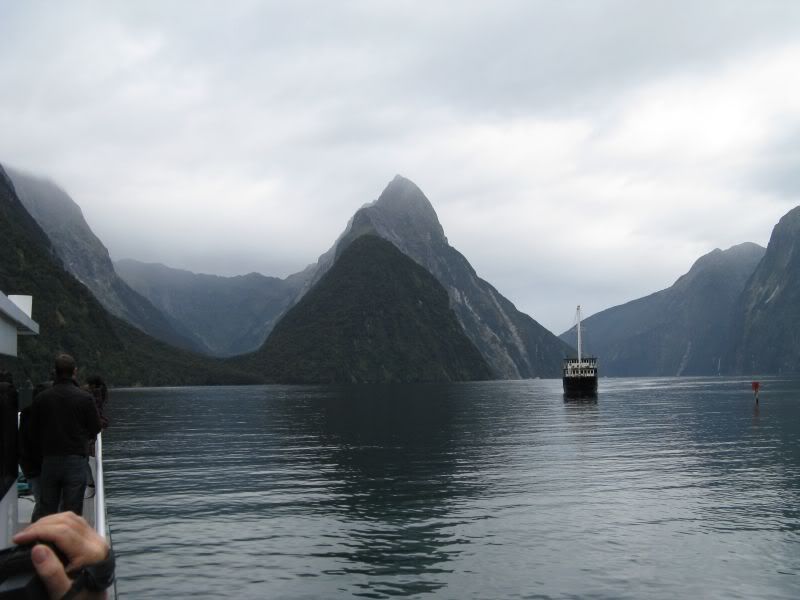 Iconic Mitre Peak... I thought Milford would be a bit crowded with lots of tour boats but there are only a few boats and the Sound is very large.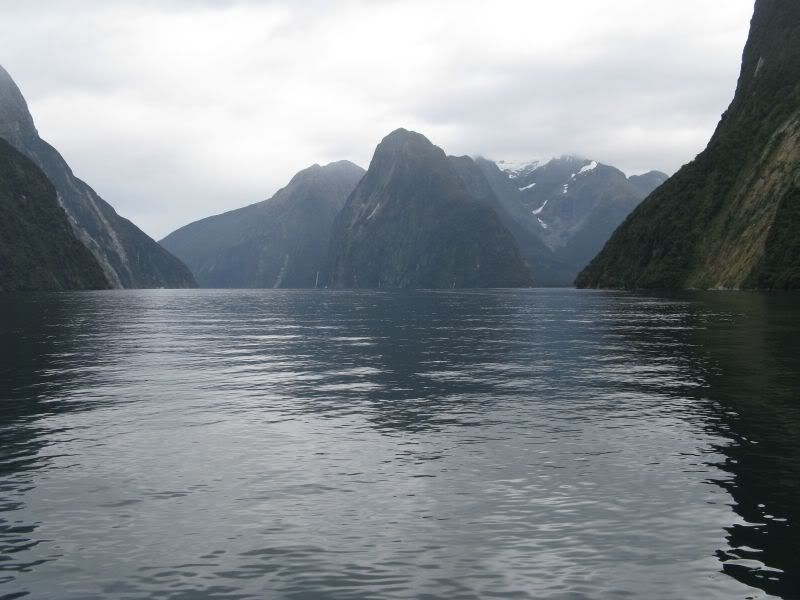 Heading to the mouth...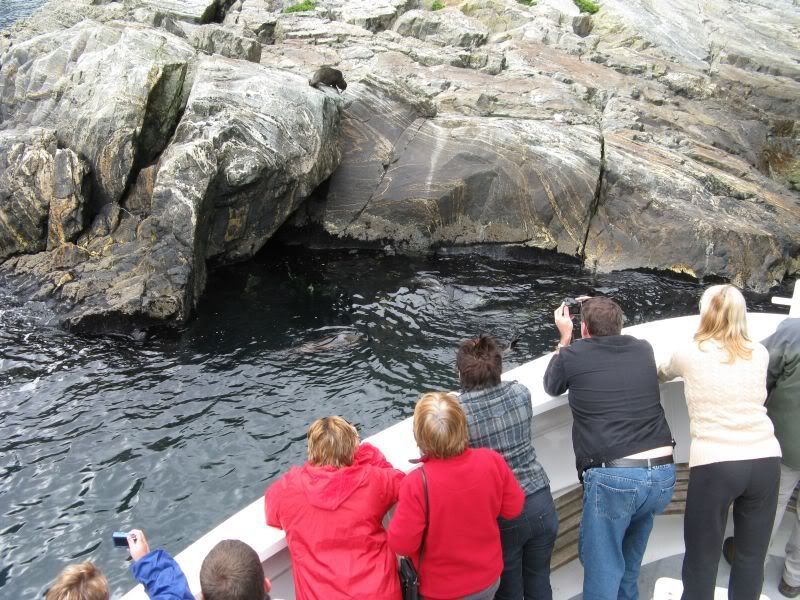 The fjord walls plunge so steeply that the captain could take his boat right next to the rock to observe some playing baby seals.

The Sound's mouth, right behind Connie's mouth. 200 years ago, Captain Cook mistook the fjords for sounds and mis-named them.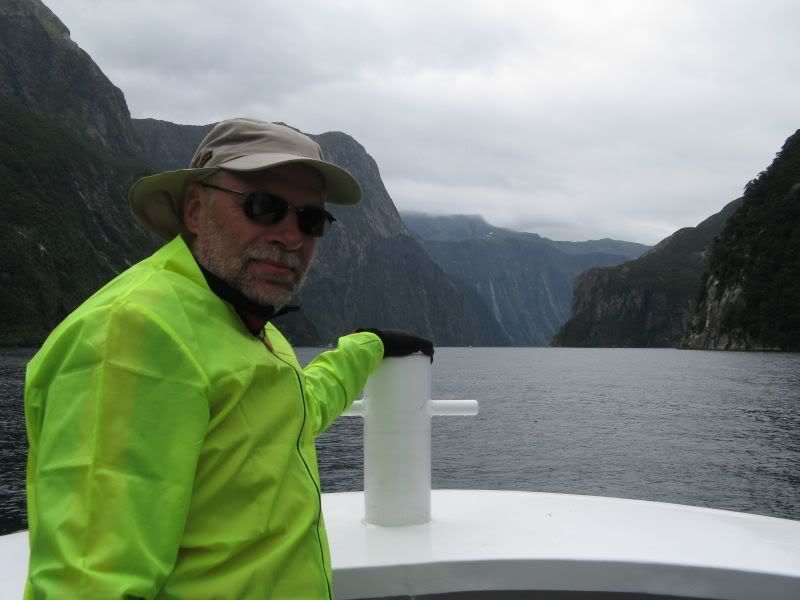 It was quite chilly so I wore all my layers of clothing including 2 jackets.

"Oh come look at all those silly people pointing their cameras at us! Never fails!"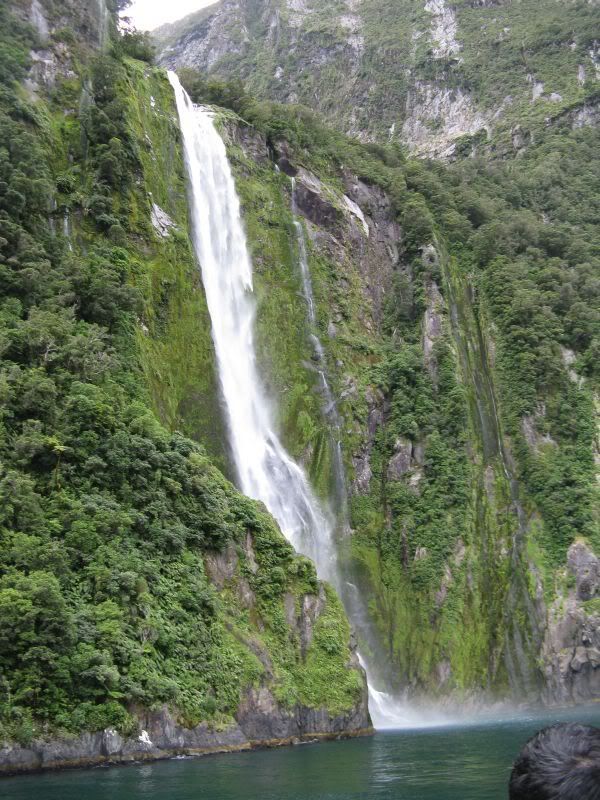 This place gets huge amounts of rain so waterfalls are common.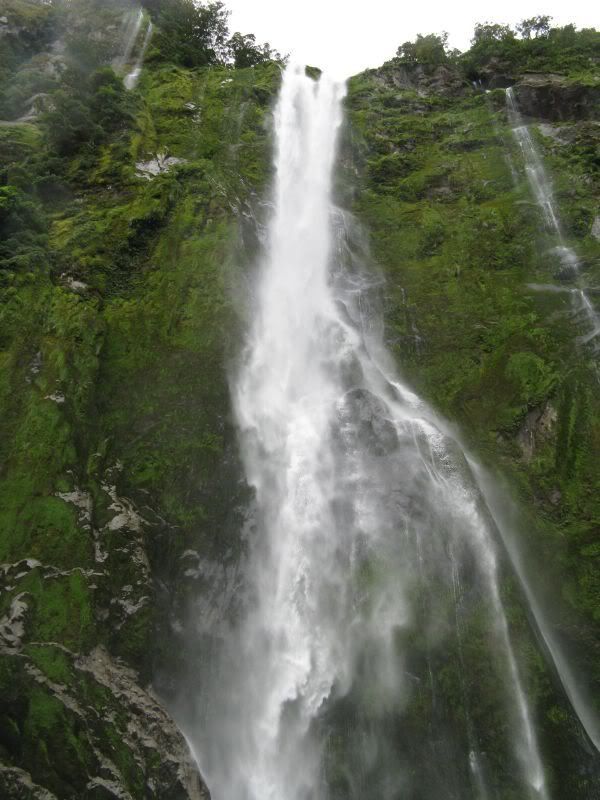 The captain maneuvered the boat right under the falls...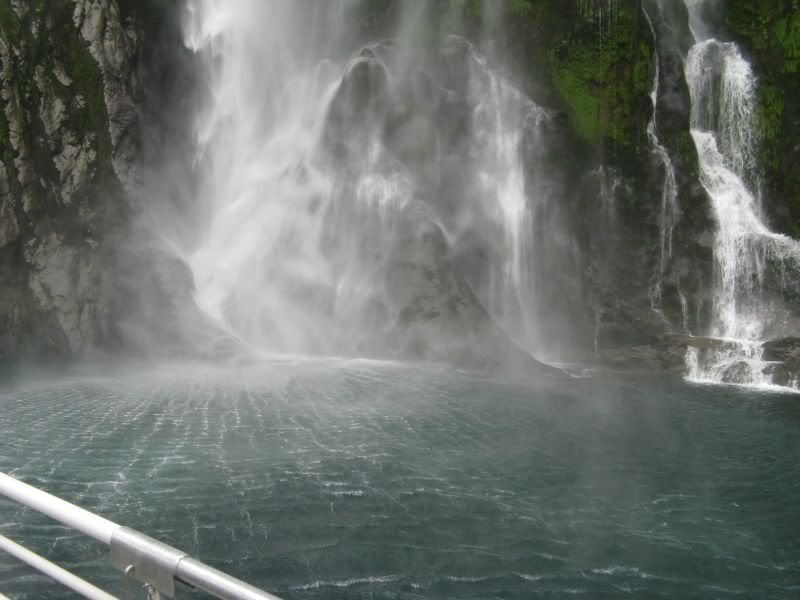 ...so we got a drenching a la Maid of the Mist at Niagara...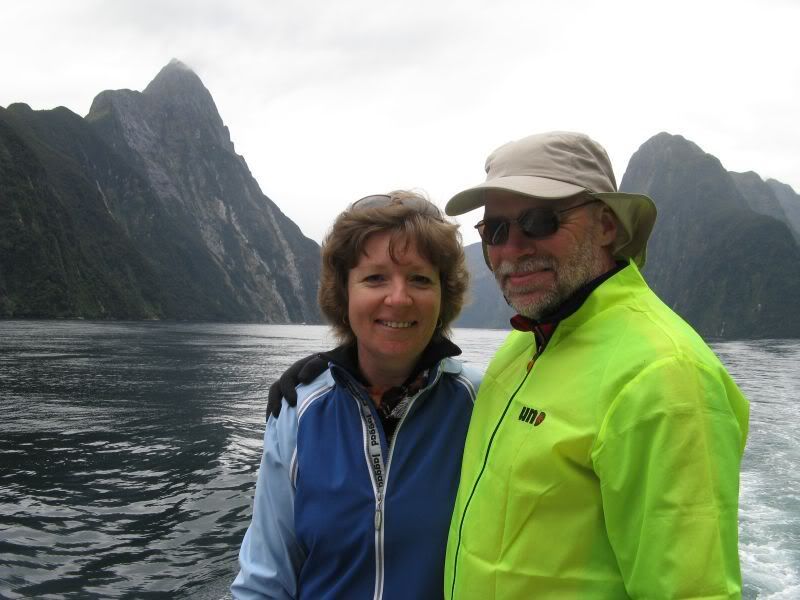 And Connie manages yet again to brighten a gloomy day.

Soaring peaks...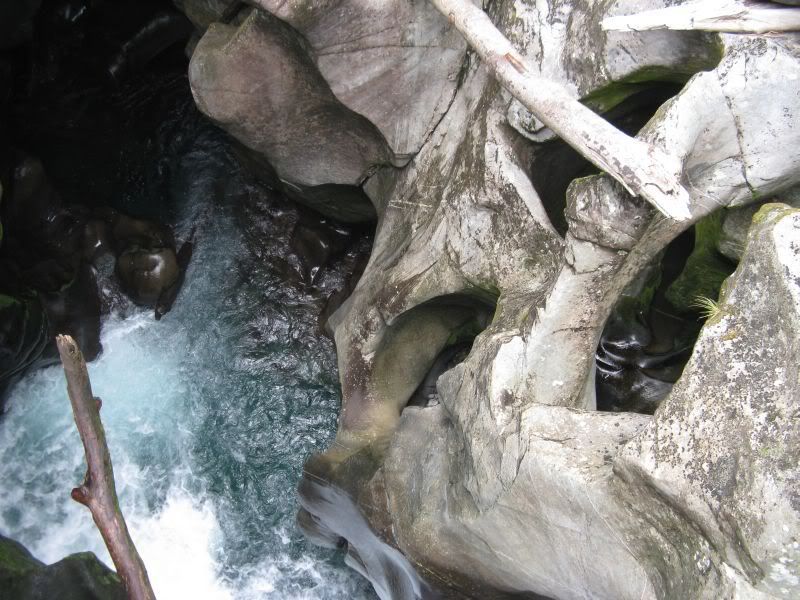 plunging streams...

Permanent ice field at Homer tunnel.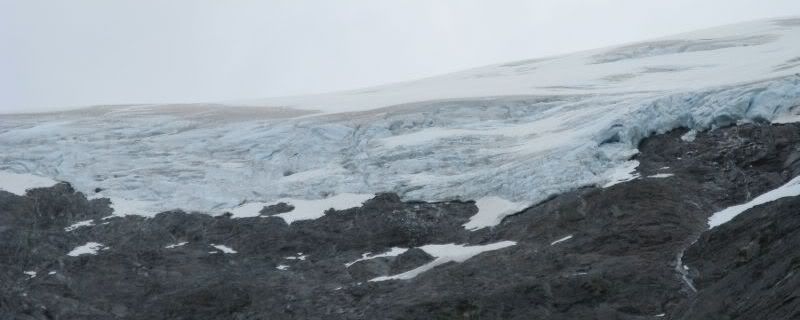 That ice field is stained from soot all the way from the Melbourne bush fires from last year.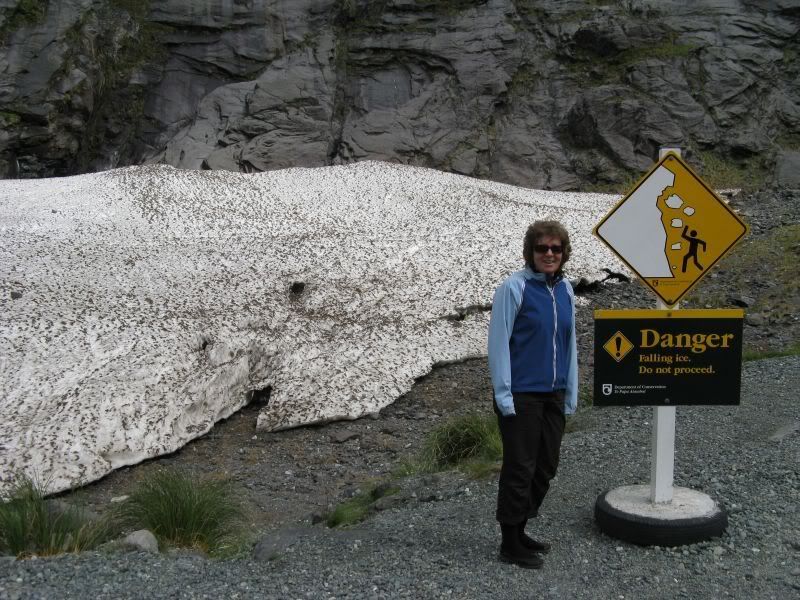 The left-overs of an avalanche from last winter which blocked the tunnel with snow 20m deep.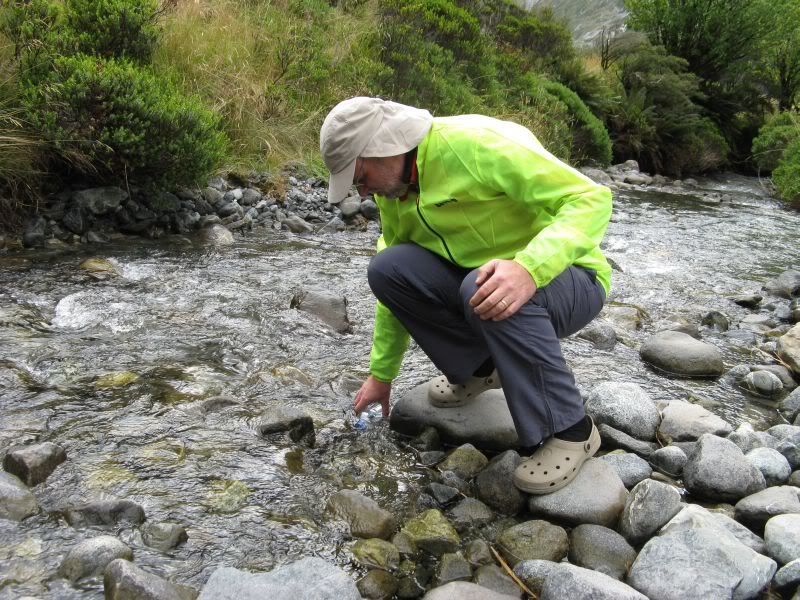 Replenishing Connie's bottle from a pure mountain cascade...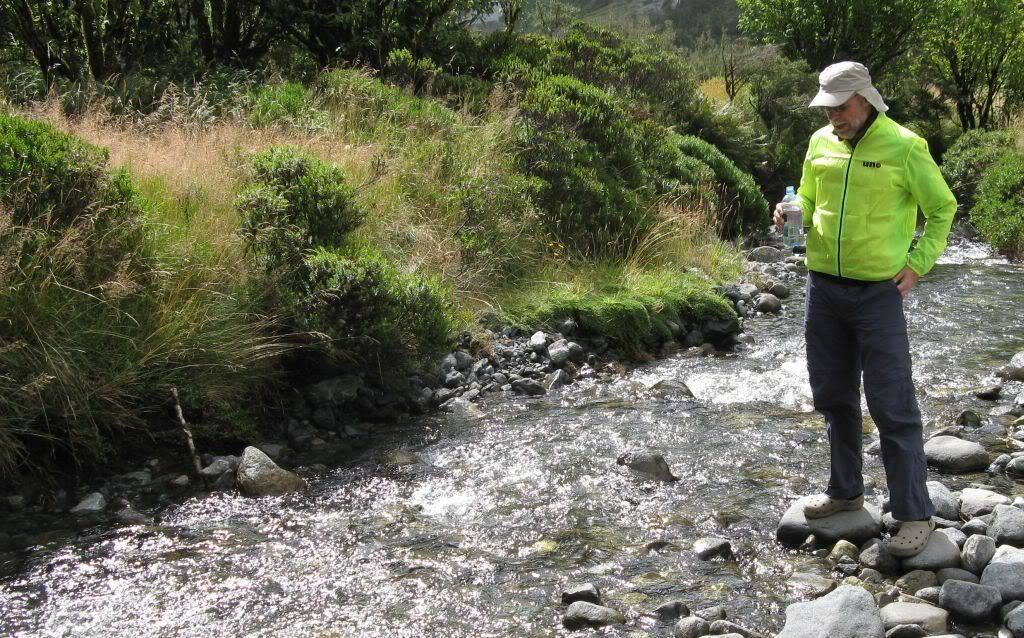 Aahhhh... 99.9% pure water. Beer is only about 95% pure.
Day 11: Te Anau to Manapouri (24km)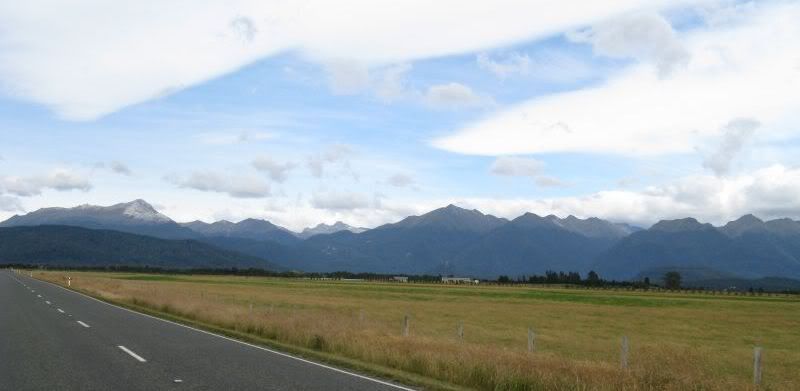 This day we only did a short hop to Lake Manapouri. The plan was to attend church but I wasn't feeling well at all, so we hopped on the bikes and rode off.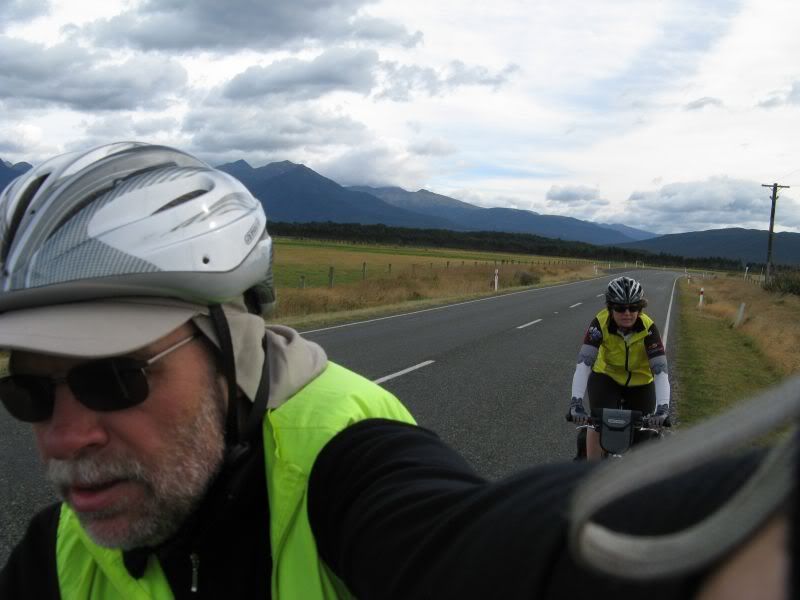 As we approached Manapouri the wind was reaching gale force from our right. And at Te Anau not a leaf stirred! We were almost blown off our bikes.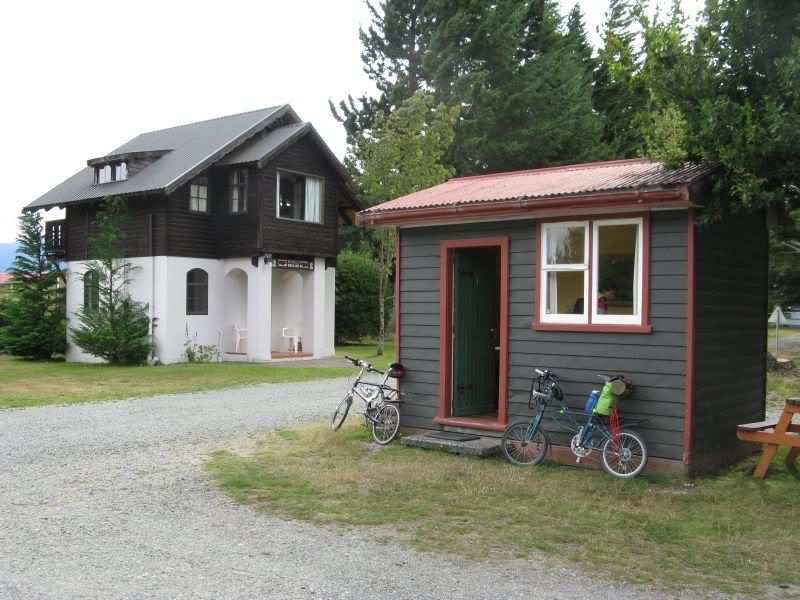 We reached Manapouri before 12pm. What an intersting camp that was. As usual, we had a modest little shack.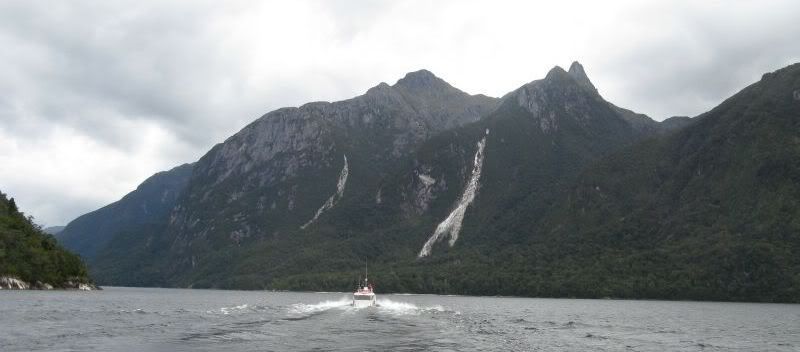 We were in time to take a tour to the hydro power station on Lake Manapouri. (Check out that huge scar from a tree avalanche.)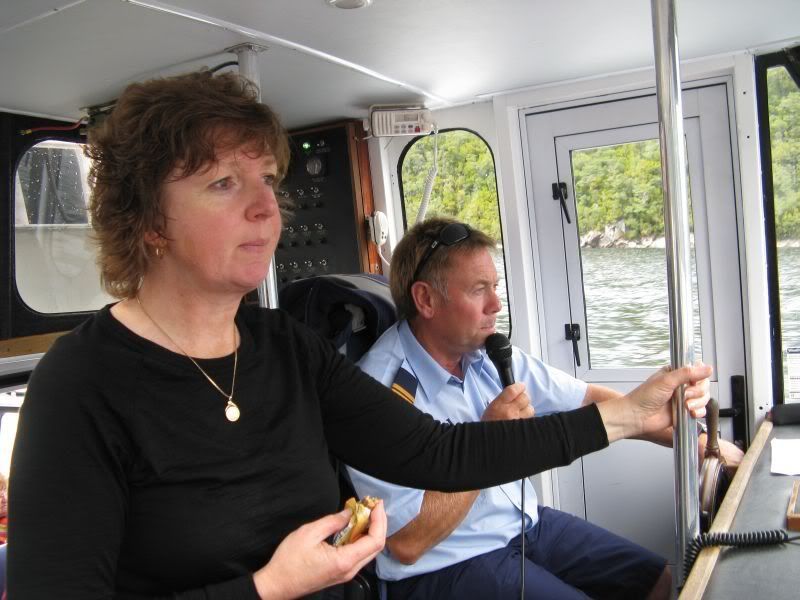 Connie chewed on a sandwhich while the captain nibbled on a microphone.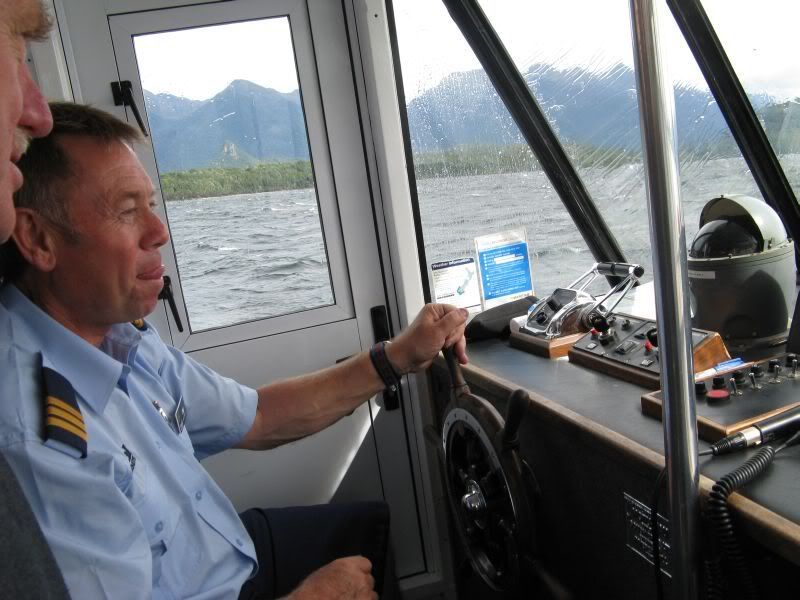 "Mmmmm, nice microphone, that..."

"Lake Manapouri is the loveliest lake in NZ." I found the Kiwis were fondest of the letters "est."

With the boat cruising directly into the gales, all the spray on the windows made viewing impossible.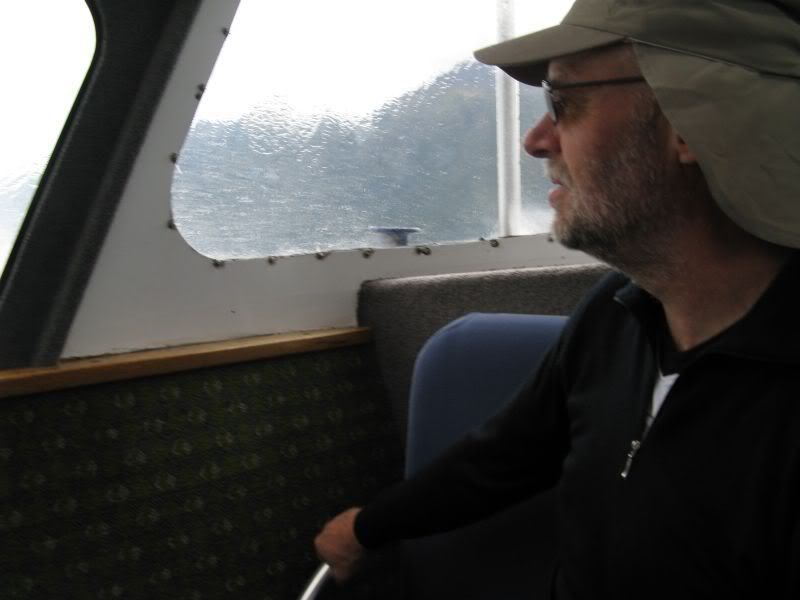 Now I know what a piece of clothing in a washing machine feels like.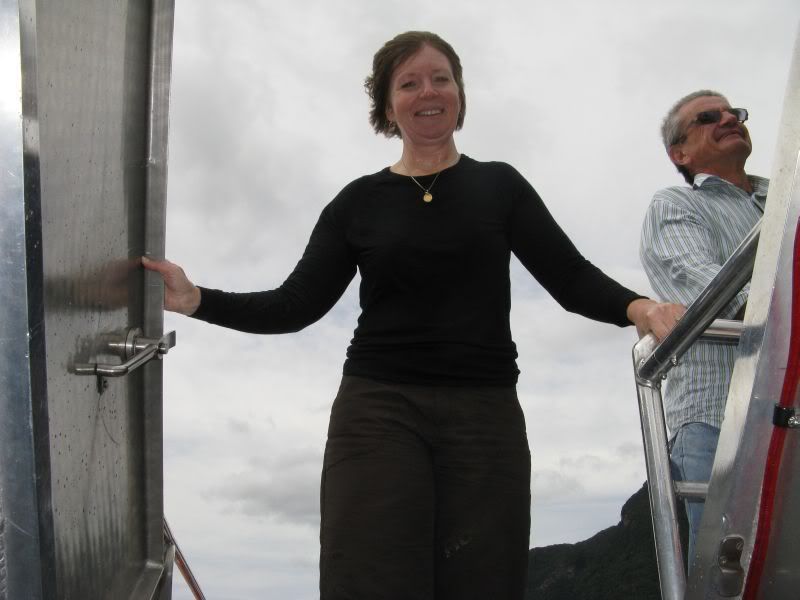 Connie went on the upper deck for a nice view and got instantly drenched.

It IS a rather pretty lake...

The hydro power station water inlet. The power station is deep underground which is reached by bus in a long spiral tunnel.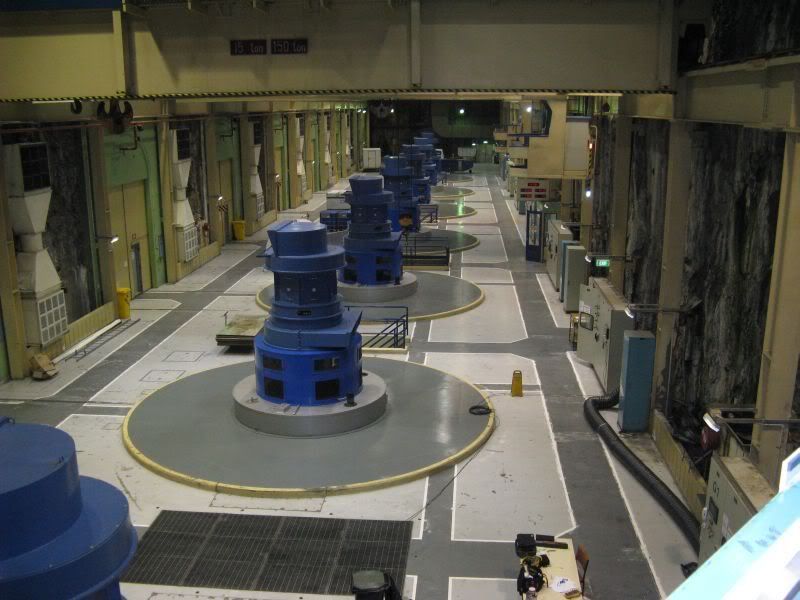 Seven generators generate power from the water flow, mainly to supply an aluminium smelting plant in Invercargill.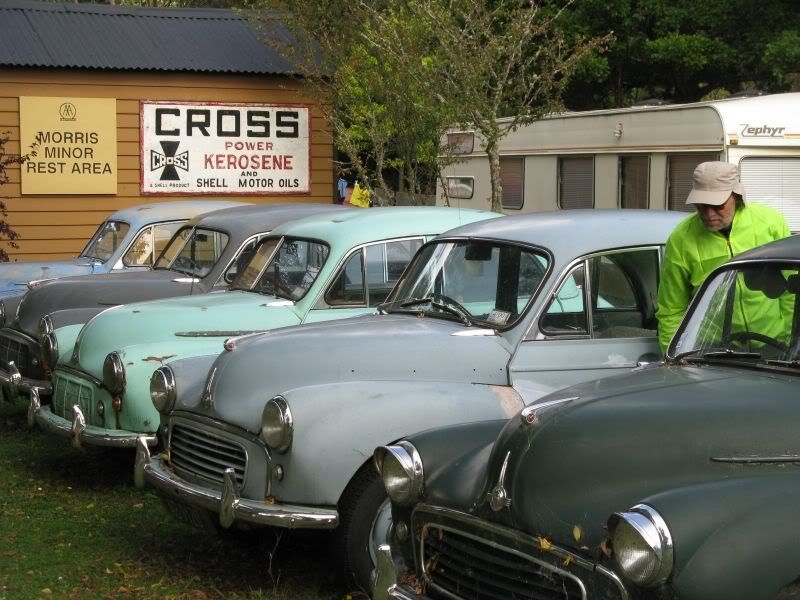 Later back at the camp, we walked around to find the grounds are littered with, well, junk. The Morris Minors were in the majority.

An ancient motor home... "Anybody home?"

Well well. A home-made wheel truing stand. Just the thing to fiddle with my clicking front wheel.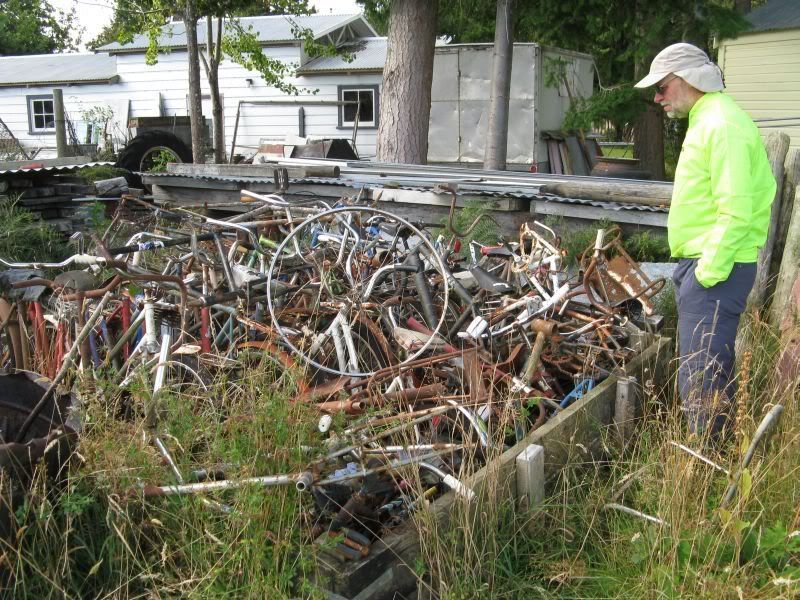 And a pile of bicycles.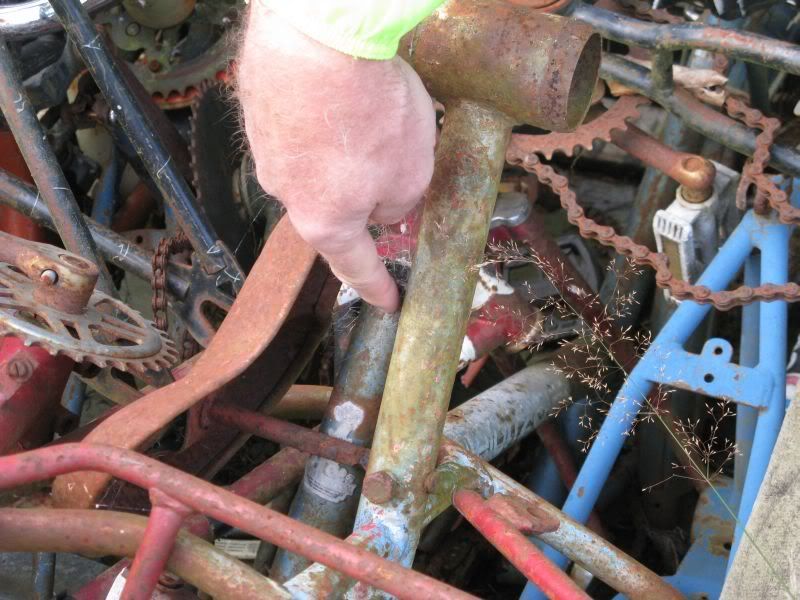 Oh look! A Raleigh Twenty! No Moultons though.
Day 12: Manapouri to Tuatapere (80km)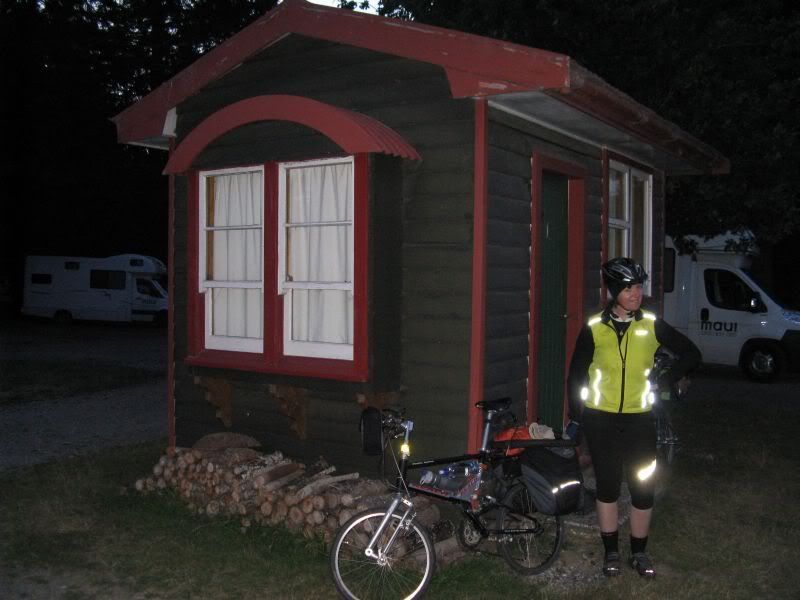 We were ready to go by dawn. Today a long leg, and the winds were still howling. I thought we would probably have side winds or from right front, making progress painful.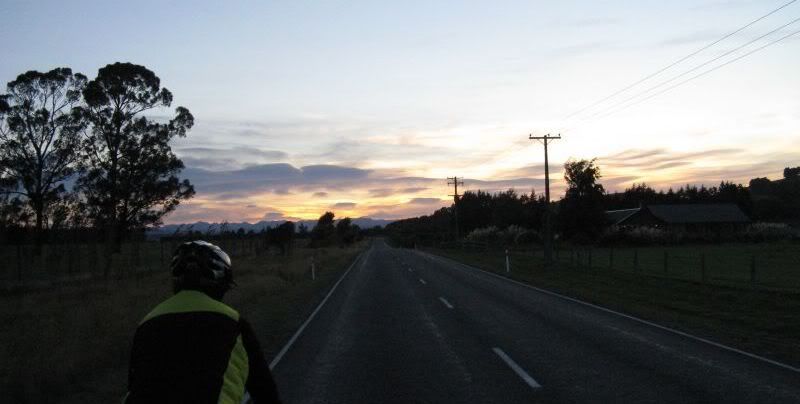 The first few km were away from the lake so we had a nice strong tailwind.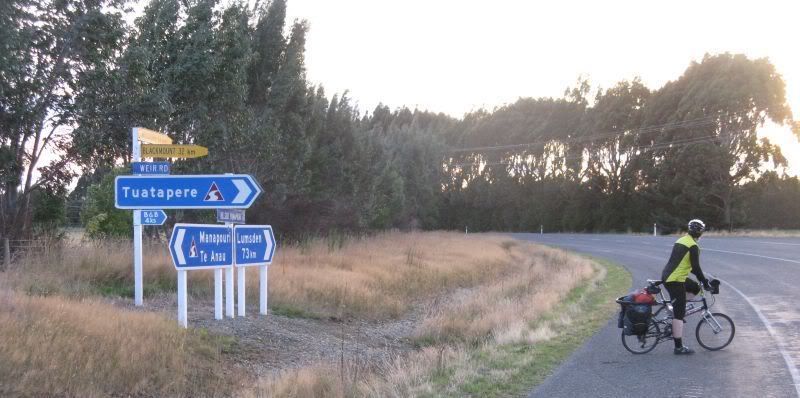 As we reached the turnoff to Tuatapere, the winds were north-westerly, so I thought well looks OK actually.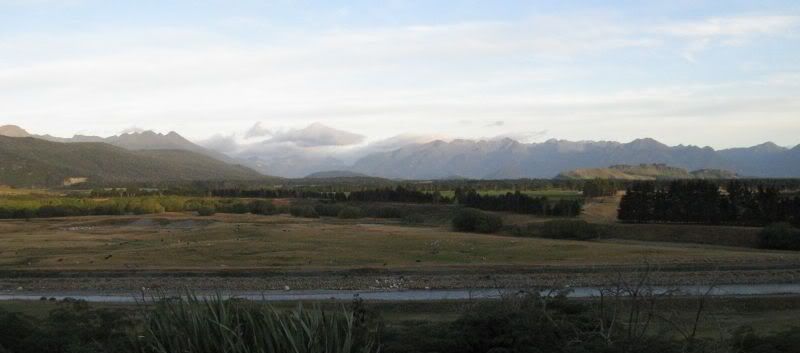 As usual, killer scenery followed us everywhere.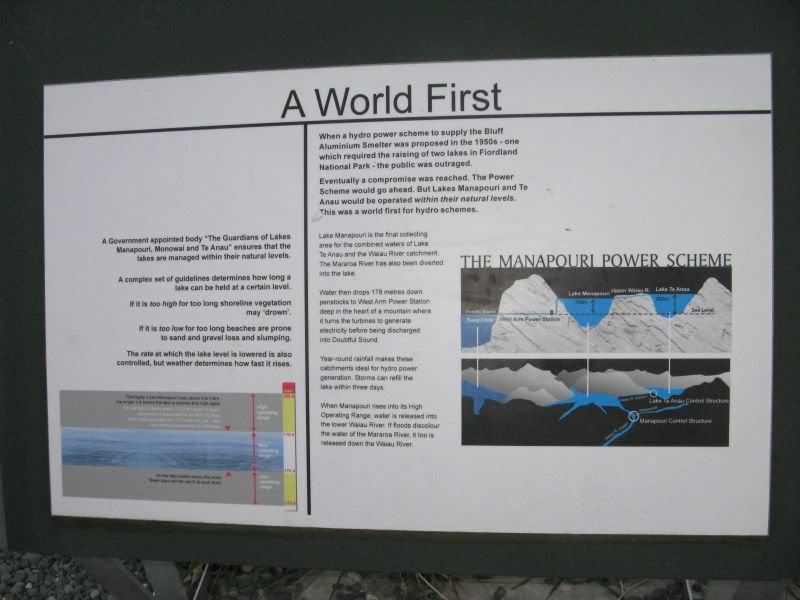 Couple of signs explained the world's first hydro power station which had no impact on lake levels.

Just the river flow was reduced as the water was diverted through the power station instead.

Not much flow was left... still I agree, a good result overall.

Just checking everything is still where it should be...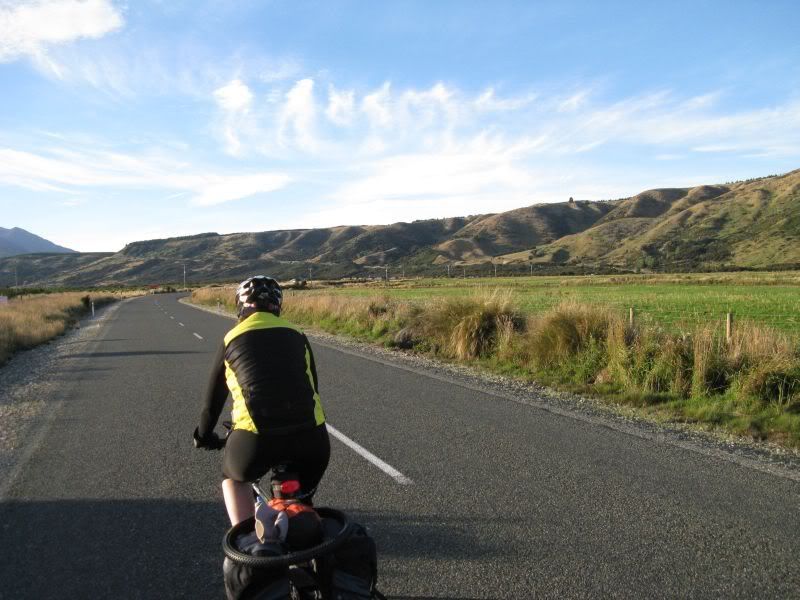 A modest climb looms ahead. I was very pleased with the wind; somehow the mountains funneled the winds into a nice strong tailwind - great!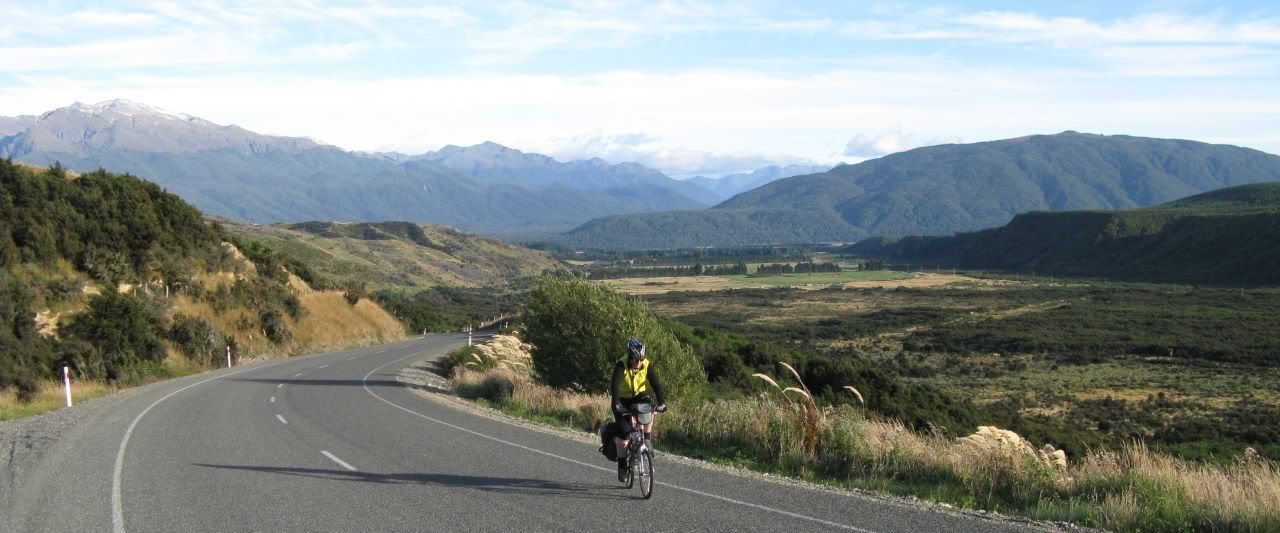 Connie labours up the hill... you can see the stalks bending strongly in the wind.

Almost there luv!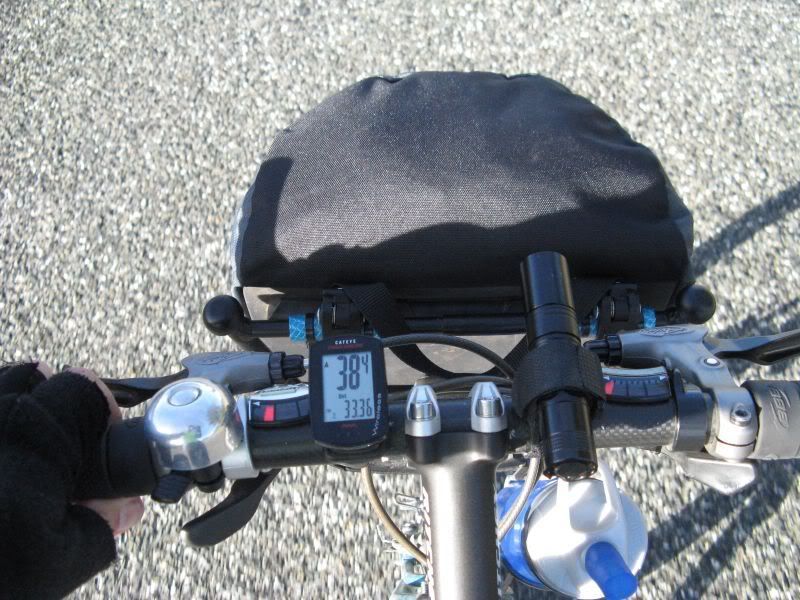 On the flat on the other side of the hill, the wind was stronger still. We were cruising at 38km/h with very little effort!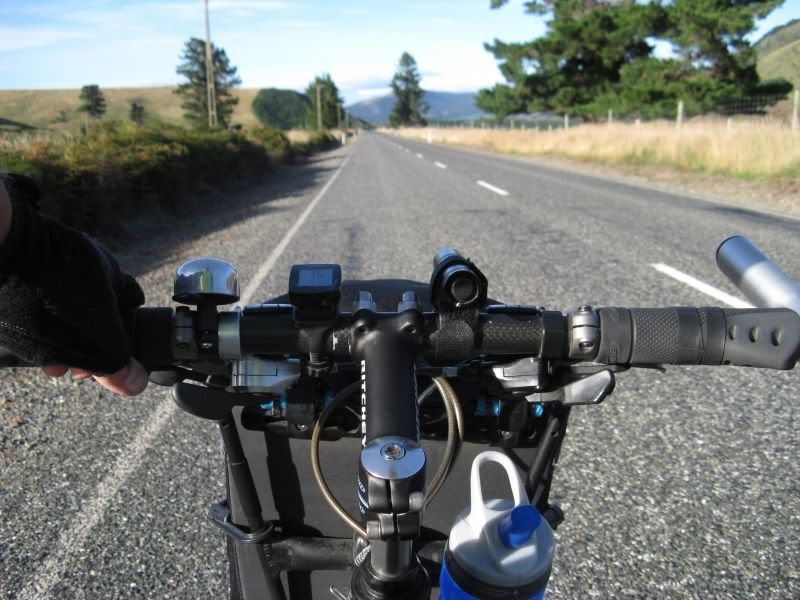 Here you see it - flat road but 36km/h on the speedo.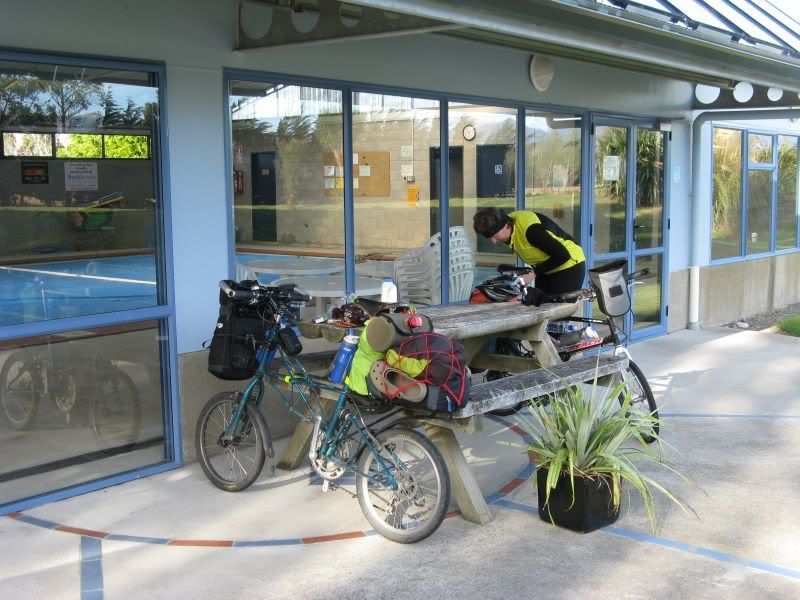 No coffee shops on today's stretch, so this swimming pool at a school served as a shelter from the wind for a snack.


As we pulled away, this looooong convoy of mostly antique tractors rolled up.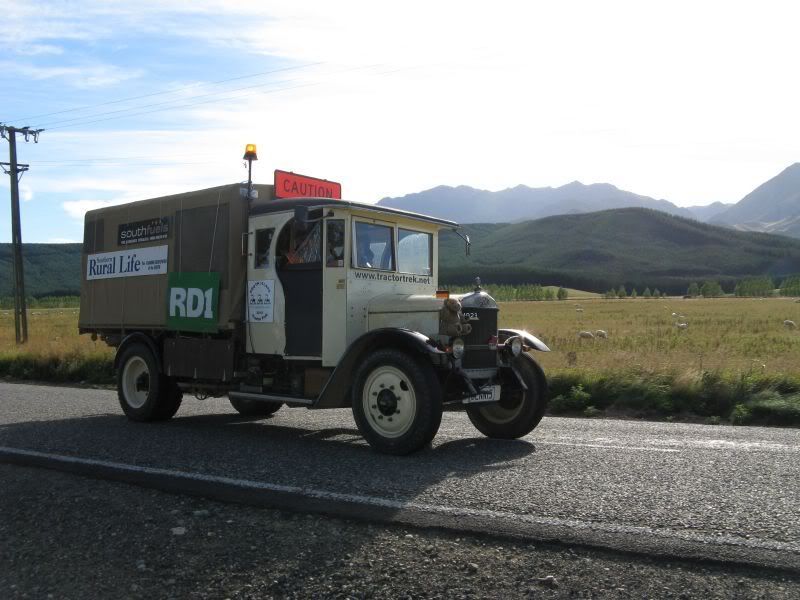 They were going slower than us due to the tailwind so we jumped on and sped away from them.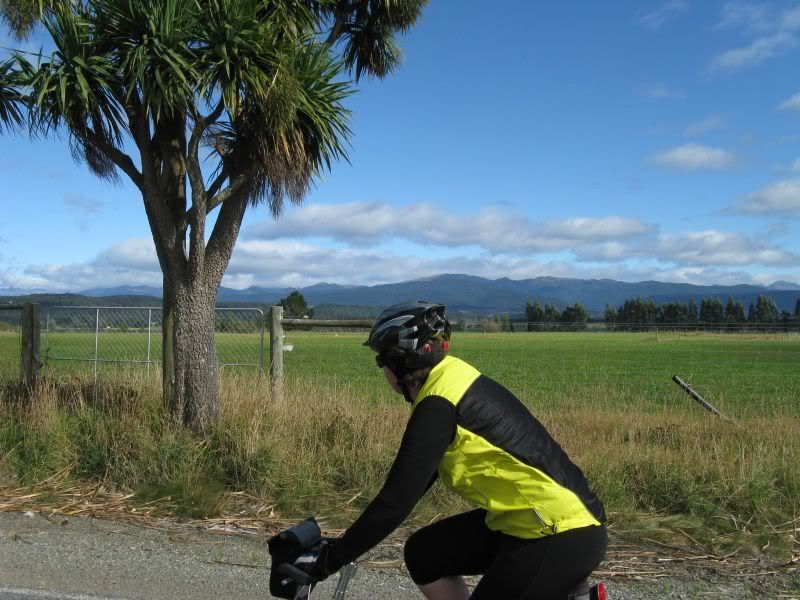 Connie admires a cordeline.

Snacking yet again... At about 60km into the ride, the wind finally turned to front right and slowed us down to 15km/h.

The tractor convoy soon caught up and we pulled off to let them pass. There must have been at least 50 tractors as it took 10 minutes or so for all to trundle past. They were on a fund raising trek for kids with cancer.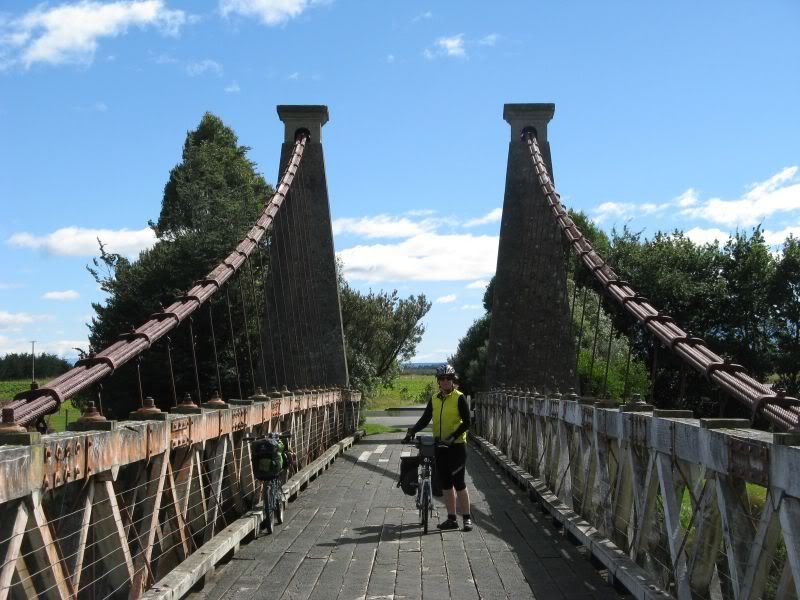 Nice old suspension bridge at Clifden...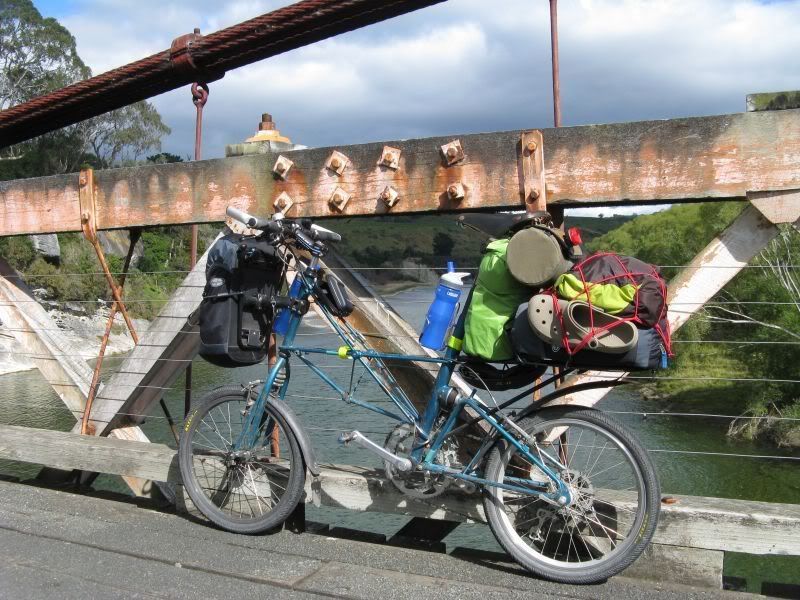 The Moulton comparing notes with the bridge about space frames and such...

Connie pointed out that we needn't ride back to the road, we could simply carry on and meet the road ahead again.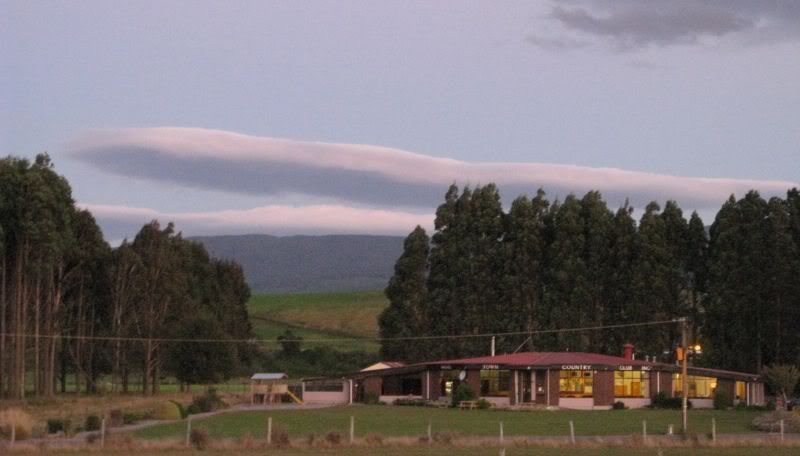 Tuatapere at last. There is a fantastic forest walk next to the river, a real gem straight out of The Lord of the Rings. Plus this interesting-looking cloud. We forgot the camera during the forest walk.

"I can explain this mess, Dear - my pannier exploded."
Day 13: Tuatapere to Riverton (50km)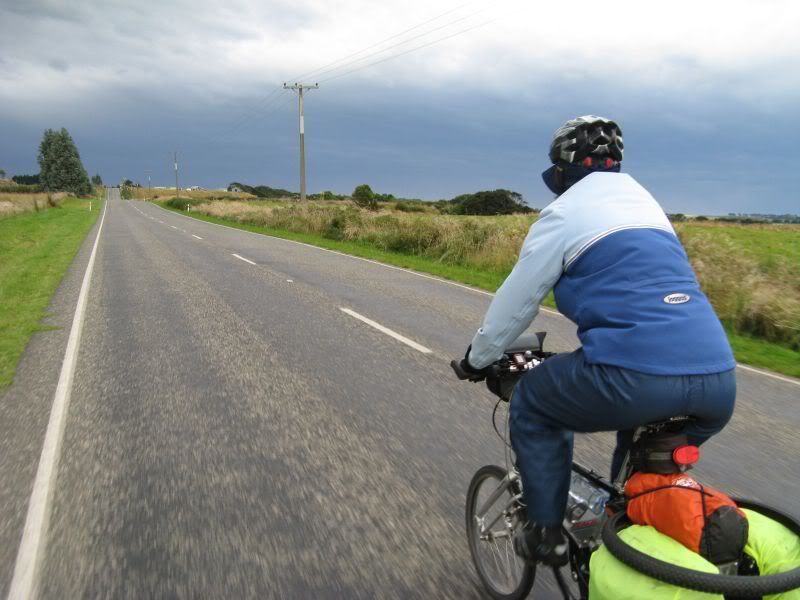 The forecast for the day was lots of rain with gale force winds. The sky ahead certainly looked nasty. Connie decided she wasn't getting wet so donned all her rain gear in advance.

Of course in rain gear you quickly overheat, so off it all came again.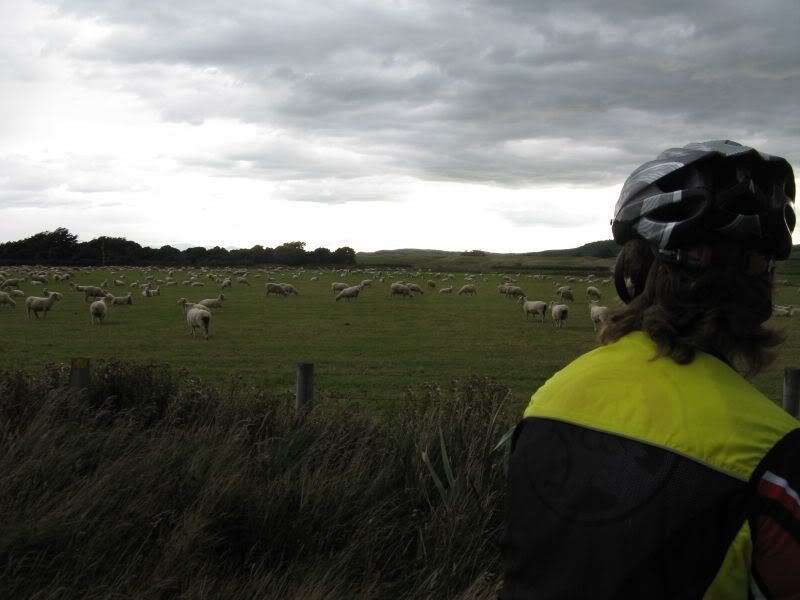 To the north the sky was still looking OK.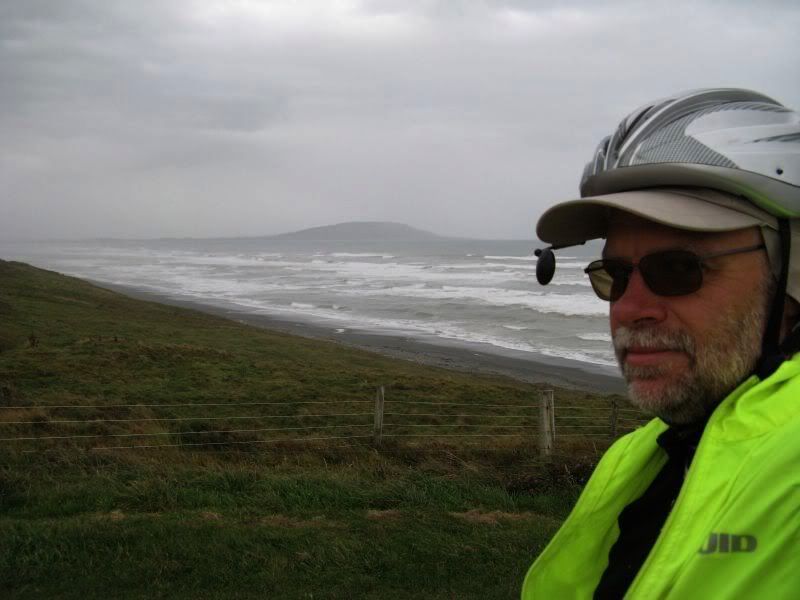 Not the sea - whipped into a frenzy by the winds.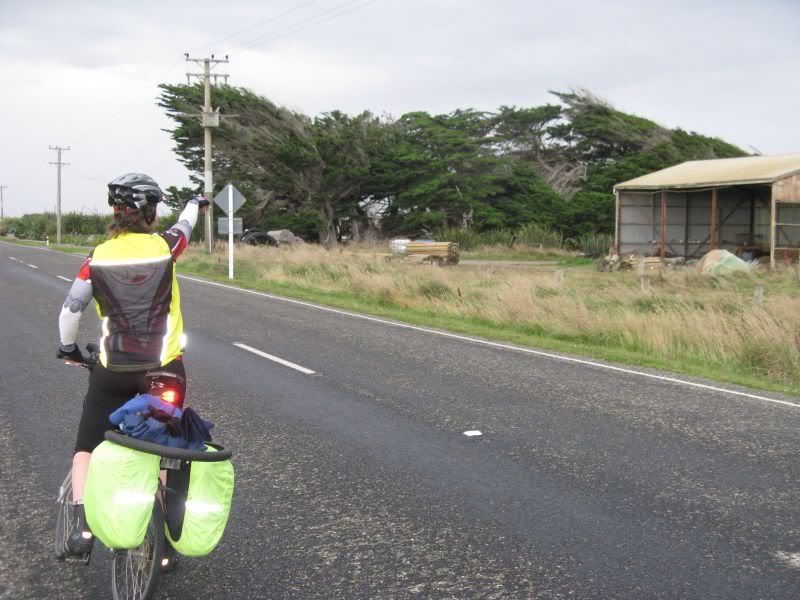 About 12km into the ride the storm caught us. These trees were shaped by constant gales - and showed the way they usually blow - along with our direction, heh heh.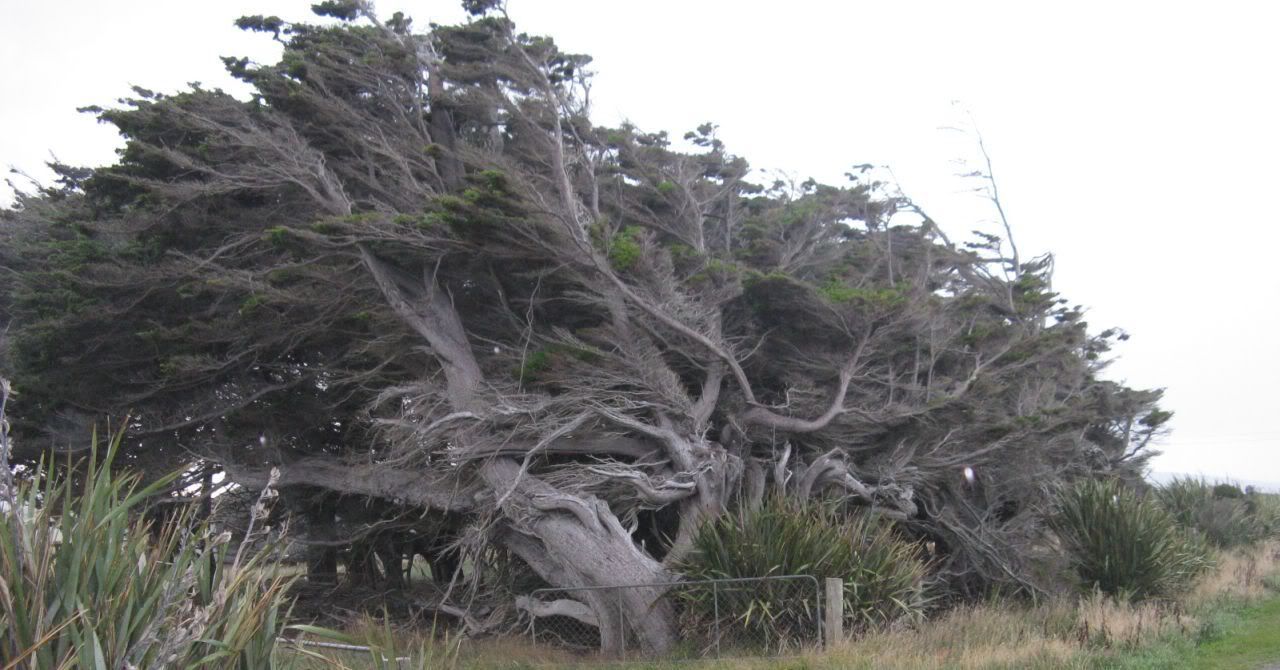 Another grotesquely wind-distorted tree. These were a common sight along the south coast.

With torrential rain beating against our backs, these cows were amazed at the keen cyclists riding in a storm.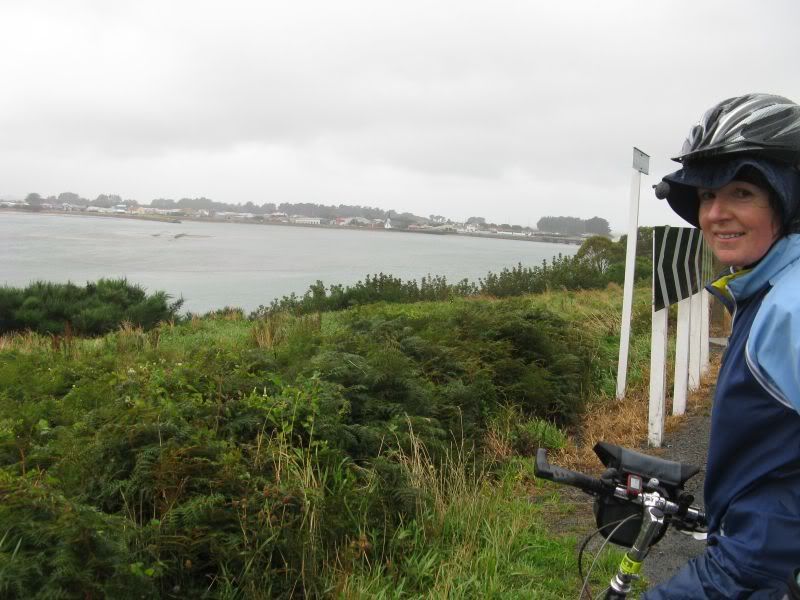 Riverton! With the gale-force tail-wind, I was in the unusual situation of drafting in front of Connie!

After changing into dry clothing, we made a quick visit to the local museum. Check out this penny-farthing's spokes - wires twisted together for tension.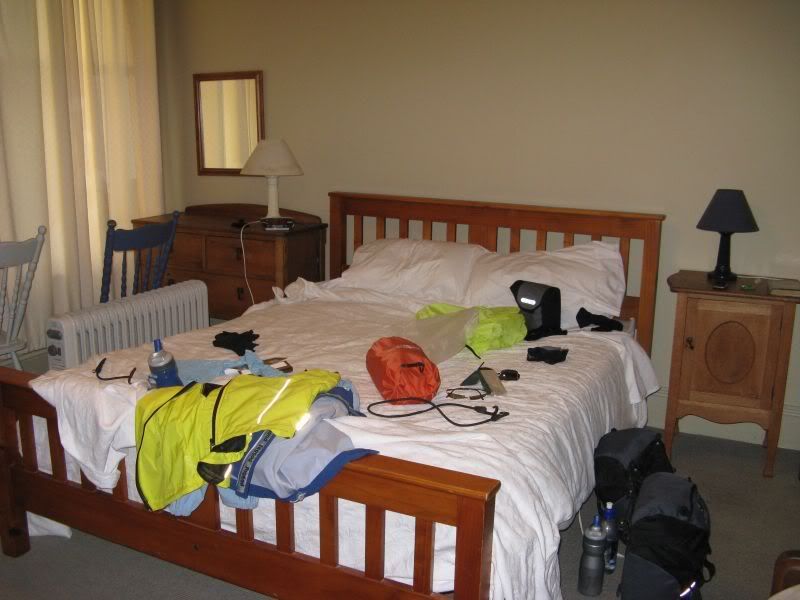 We had the nicest room on the tour for a measly $50, ensuite bathroom included.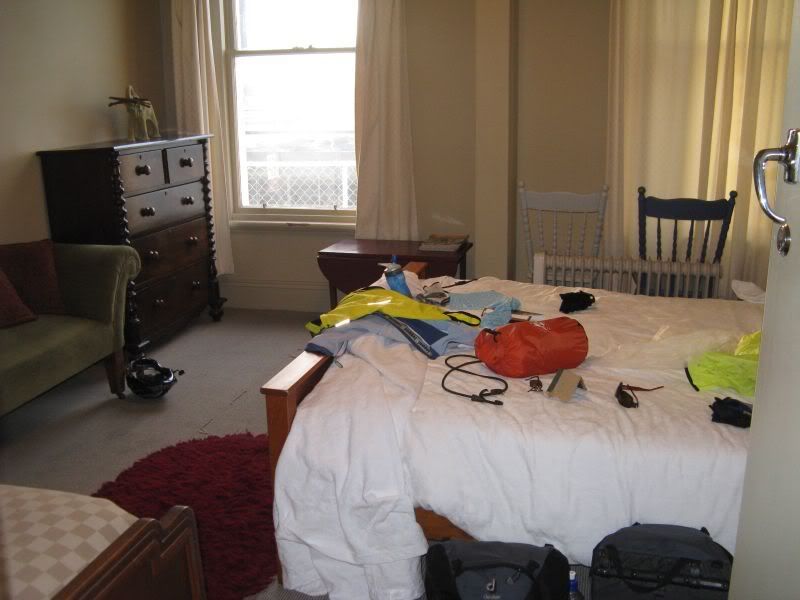 The backpackers was located in an old but well maintained hotel.
Day 14&15: Riverton to Invercargill (84km)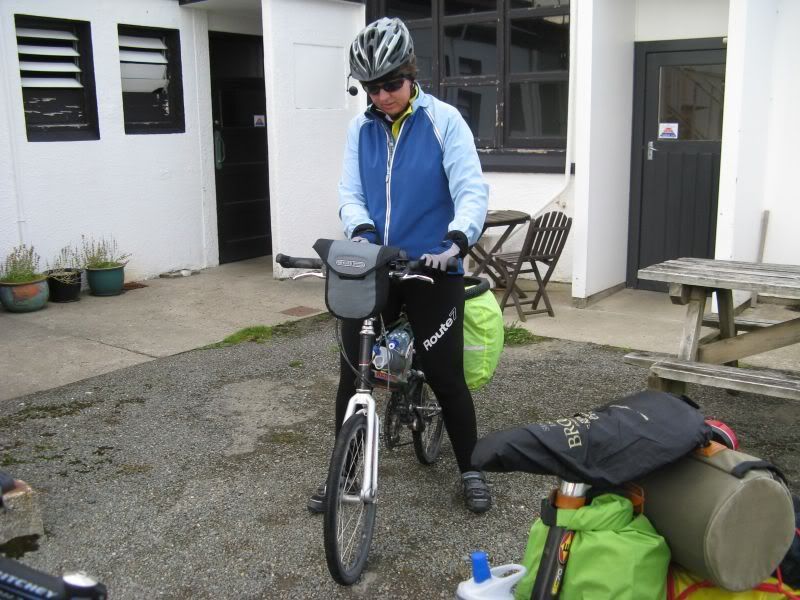 After a warm night in front of a roaring fire, we were ready for the leg to Invercargill. Just resetting the speedo for the day...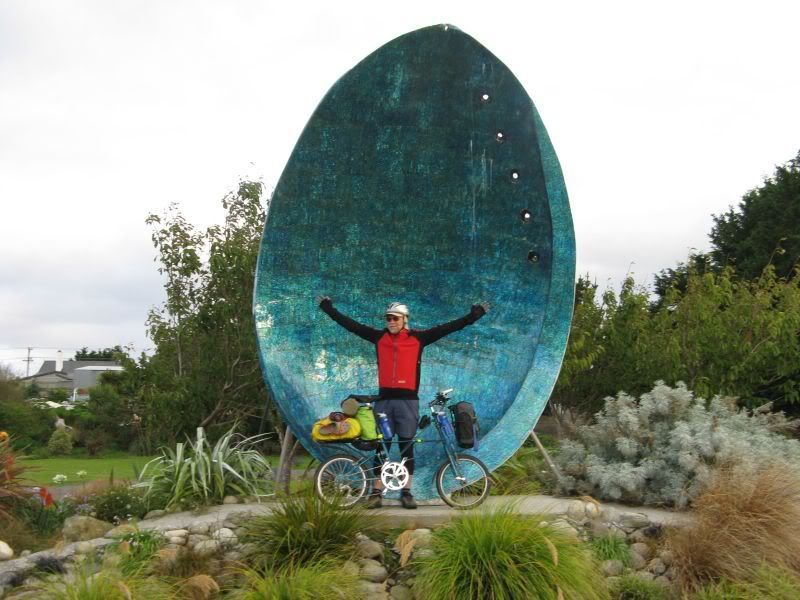 The world's biggest paua shell. Made from tiny mosaic pieces of genuine paua shell.

The Riverton estuary at low tide.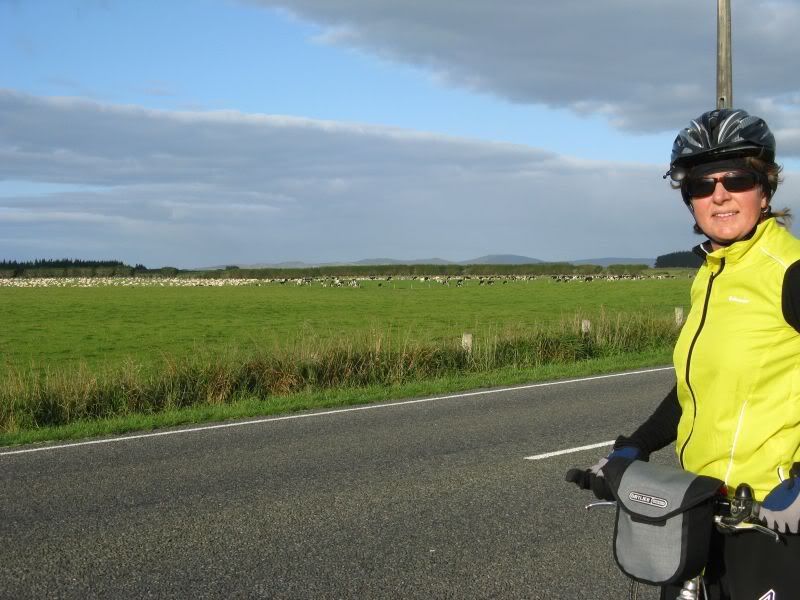 The sunny weather soon returned. Plus the strong tail wind was still there, pushing us along at top speed.

We dropped the luggage at the Invercargill camp and headed to town via Queens Park - an amazing piece of work of which we forgot to take pics.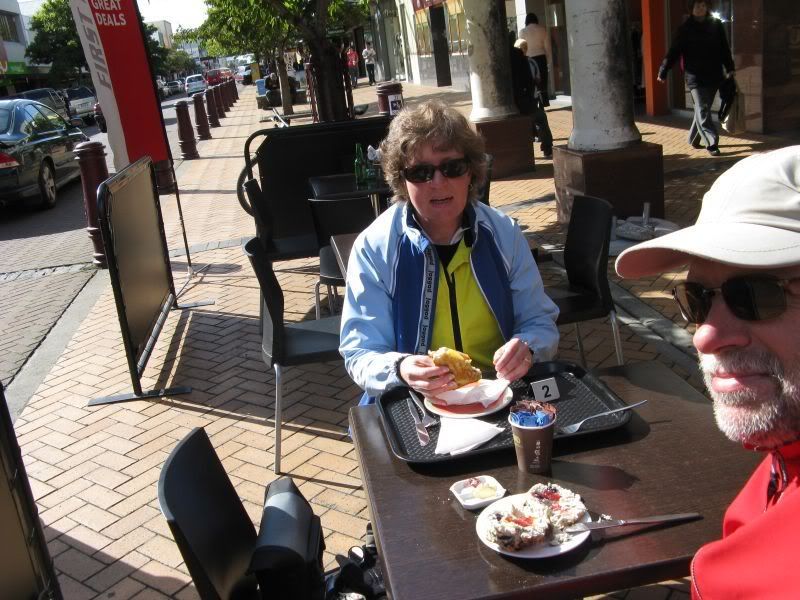 First stop - coffee of course!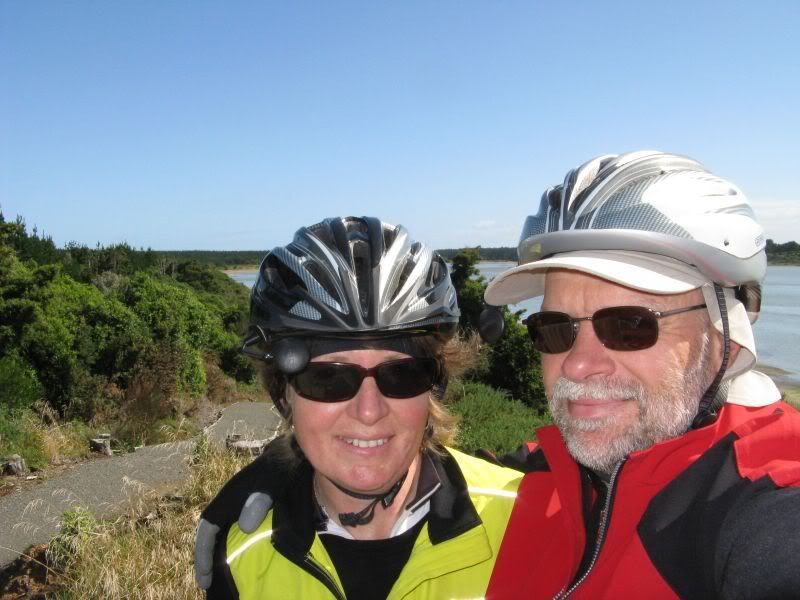 After coffee we toured around the estuary. Connie didn't think Bluff was worth the trip.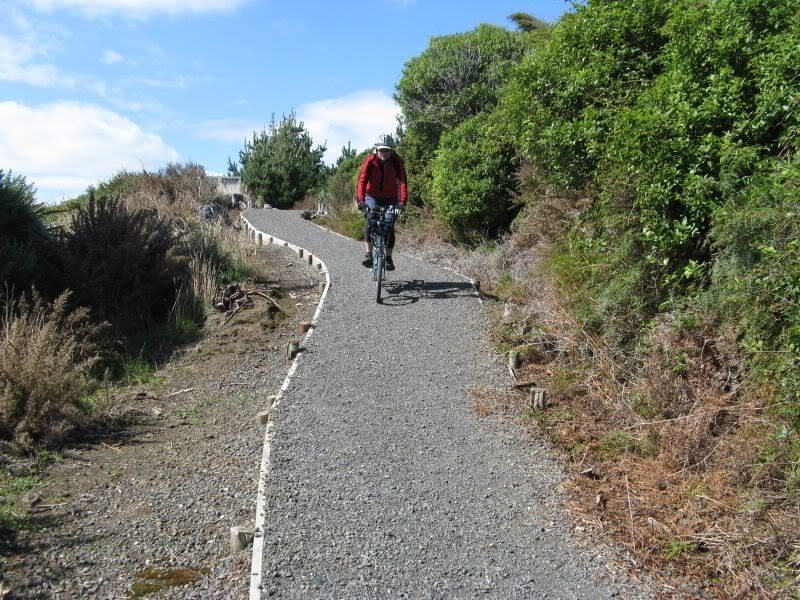 Hooning around on pedestrian-only walkways...

My bum was getting quite sore from the Brooks saddle not breaking in.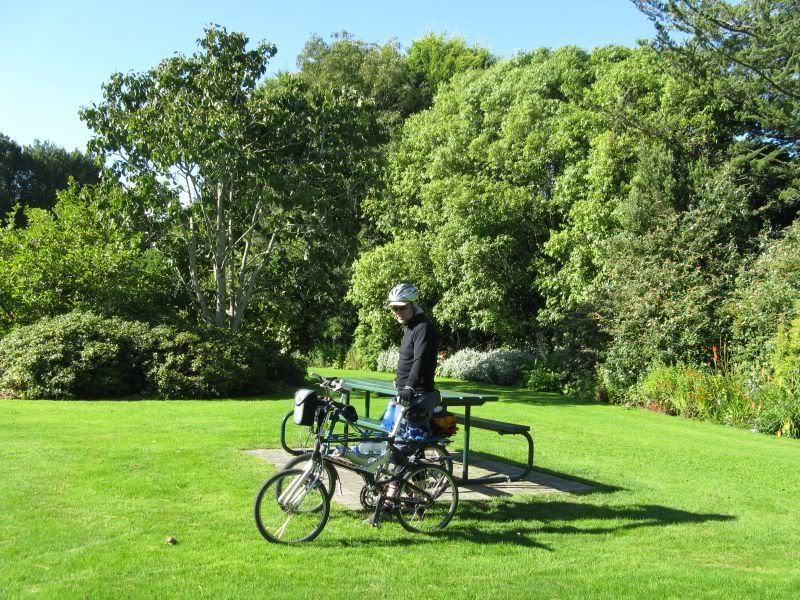 Back in Queens Park admiring some Dutch girls suntanning just outside the picture.

As usual we had fantastic weather. Connie always stops to smell the roses.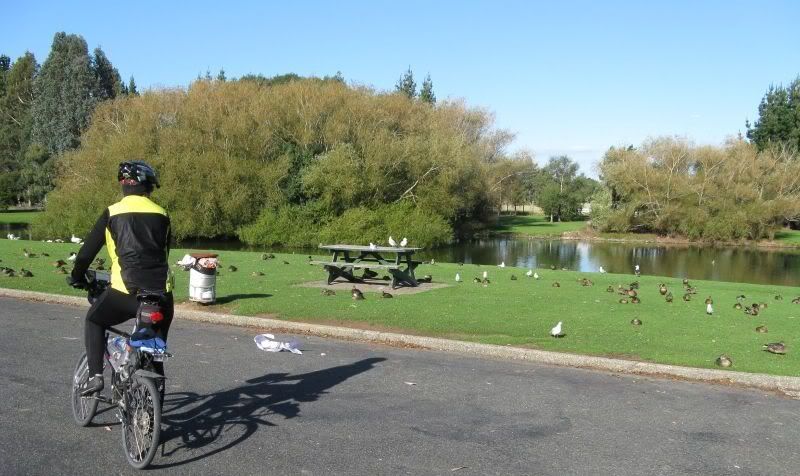 These gulls and ducks were having a nice pond-side picnic.
Day 16: Invercargill to Waikawa (106km)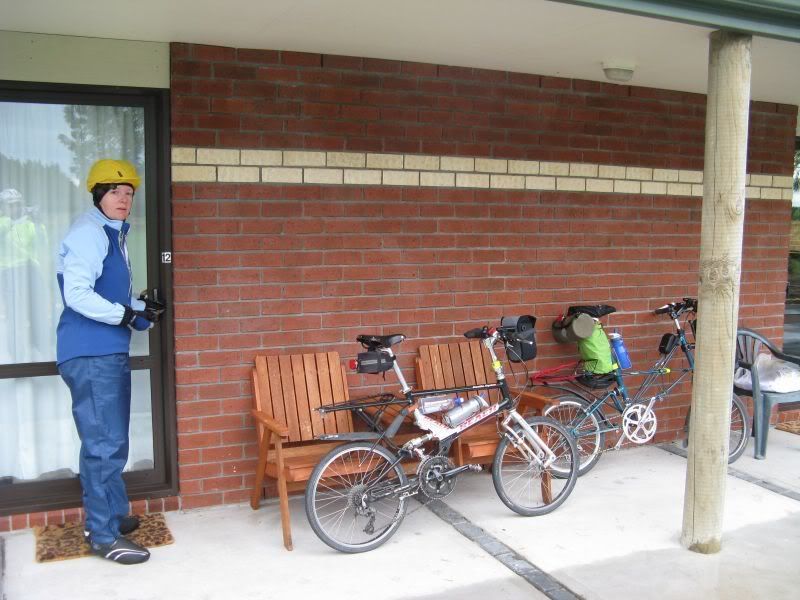 A cold morning after a wet night and Connie decided she wasn't going to freeze or get wet, donning all her stuff again including a rain cap.

Three paces of riding and she had to remove most of the stuff.

Riding south and the sun finally decides to rise.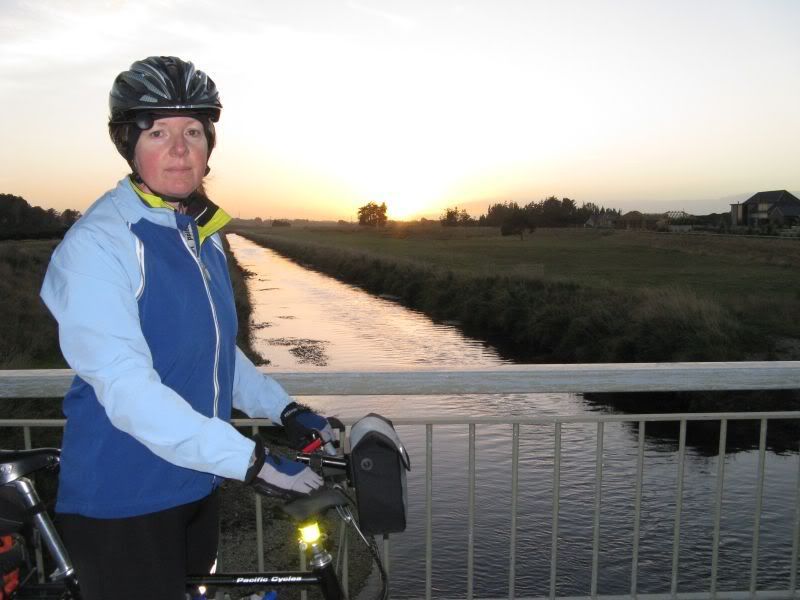 "Oh snap a piccie of me against the sunrise, Dear!"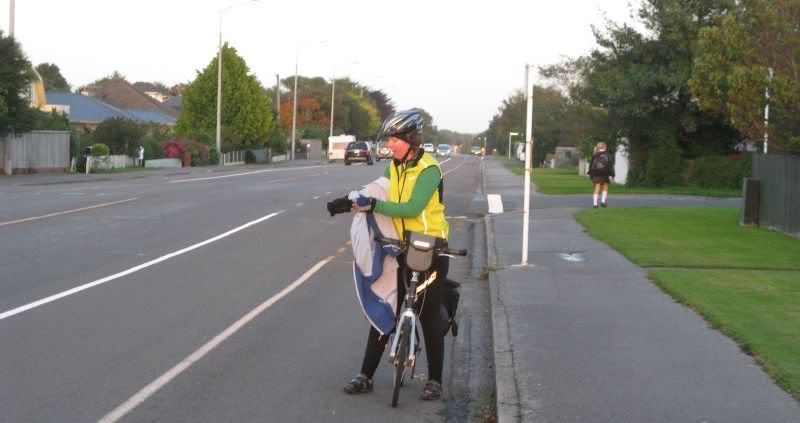 More layers go...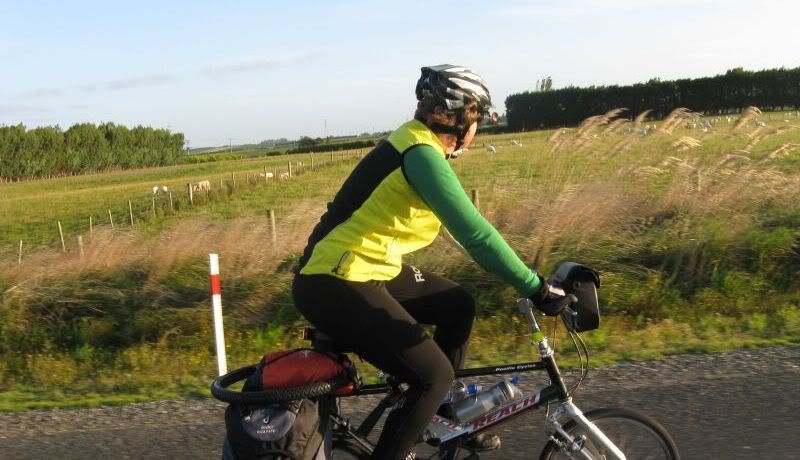 With the sun came the wind. Check it out, strong tailwind again! Woo-hoo!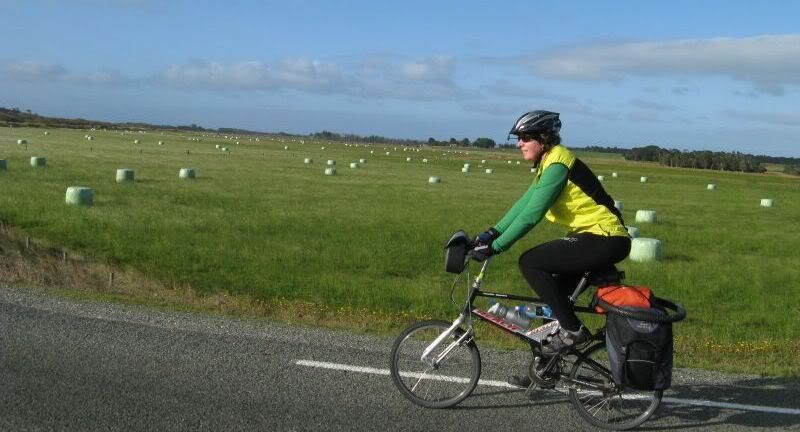 Connie thanked me many times for the careful planning such that we were going with the prevailing winds where it mattered most.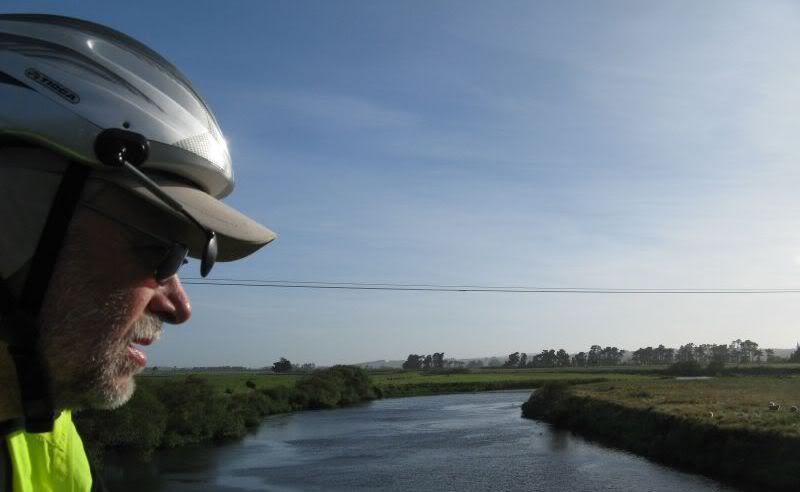 We saw a couple of cycle tourers going west against the wind. They weren't looking happy I tell you.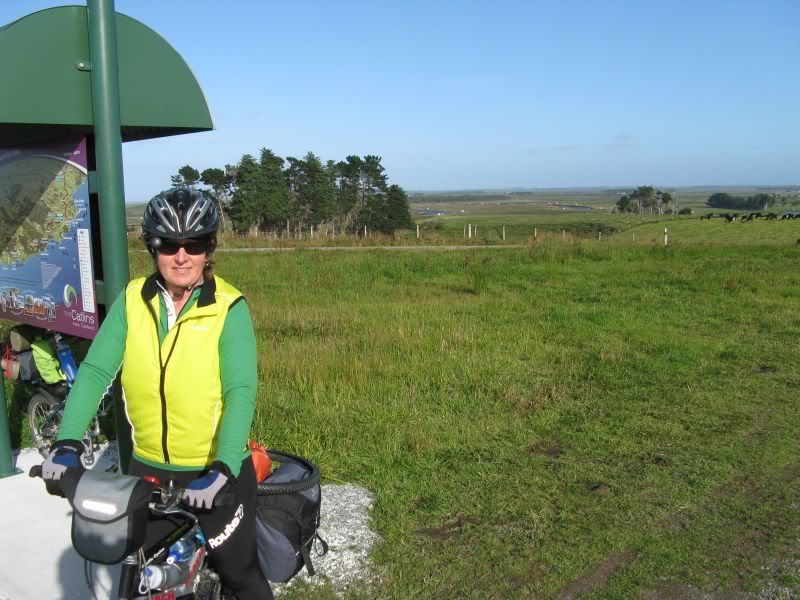 We have already reached Fortrose, "Gateway to the Catlins" before doing much work at all.

Coffee and a nice view of the gales at Stirling Tides.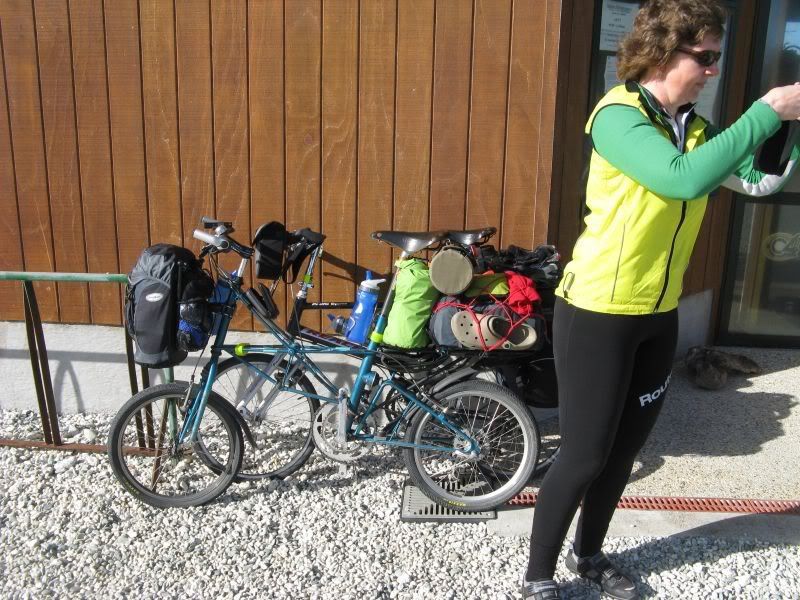 I was still tinkering with packing the luggage on the Moulton, improving every day. The elastic cargo net was very handy indeed - I could always add "just one more thing" under it.

Riding south at right angles to the wind for a short stretch along more distorted trees.

"Bring on those gales!"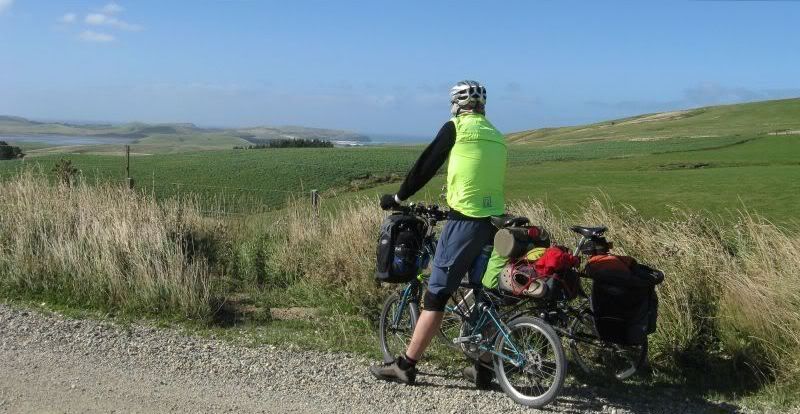 The road surface changed to gravel and we spotted our destination, Curio Bay.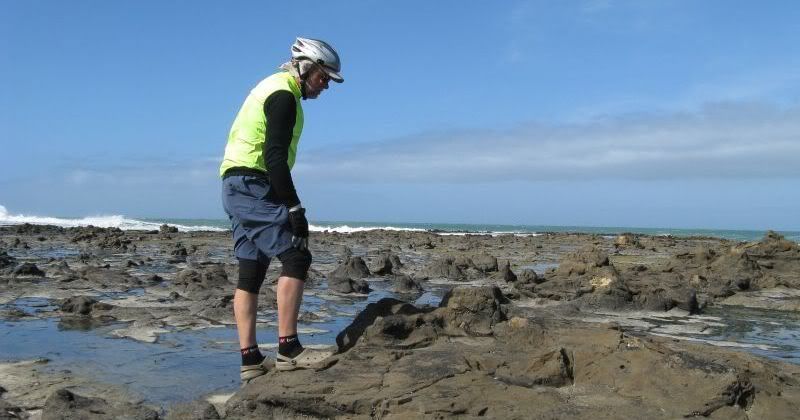 There is an amazing entire petrified forest here.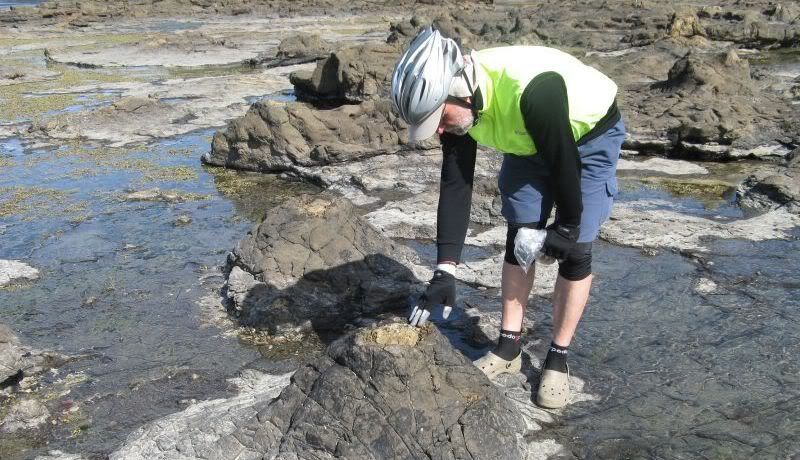 Unfortunately it is slowly being pilfered.

Even the most amazing petrified forest benefits greatly from a sunny flower...

Well mostly sunny. "Not another blooming pose..."

This was our most southerly location ever. Next stop just over the horizon, Antarctica.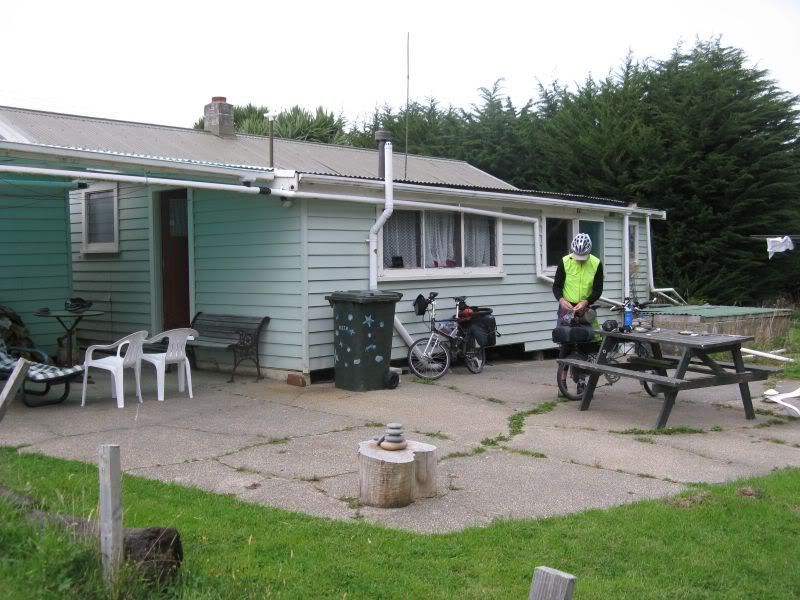 We overnighted at this backpackers in Waikawa, owned and run by a Japanese girl.
Day 17: Waikawa to Papatowai (50km)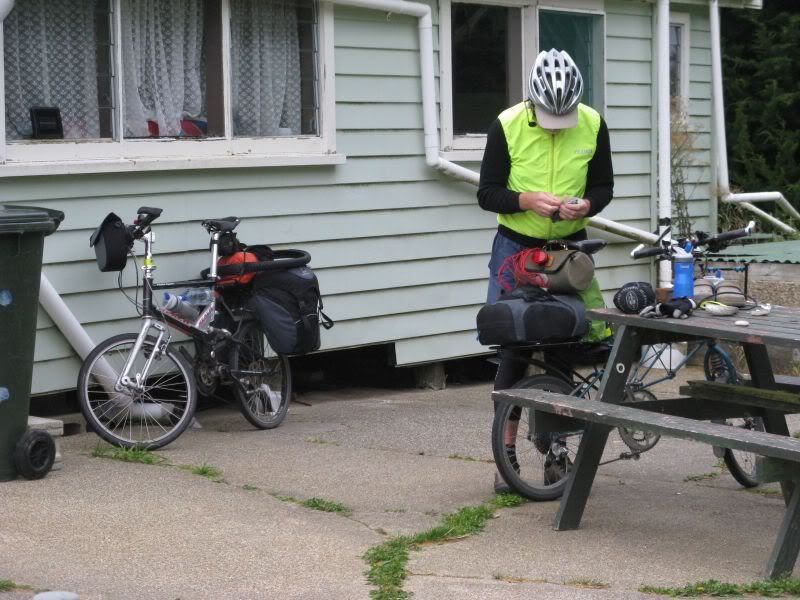 Some hills are on the menu today. None too bad...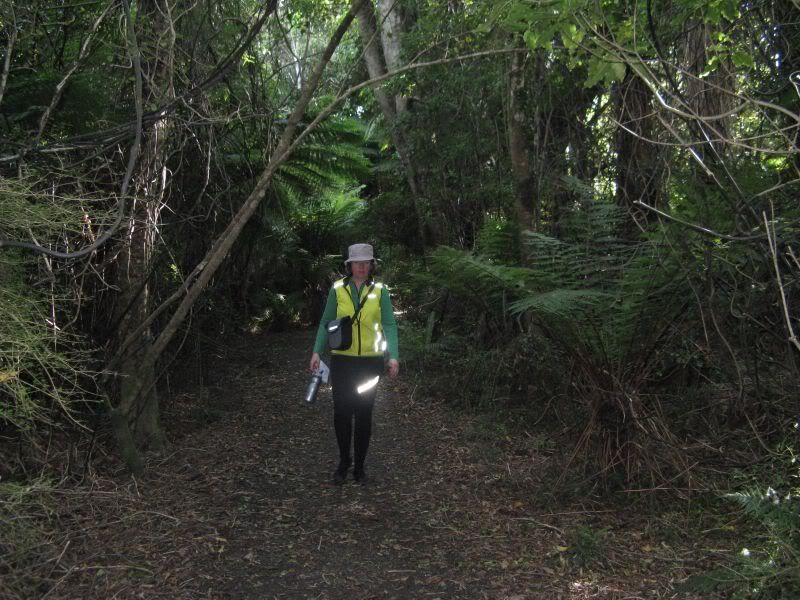 ...except for the hill on the way to Cathedral Cave parking lot which wiped the smile off Connie's face.

I had timed our arrival carefully to coincide with low tide, after the usual morning coffee at the Whistling Frog.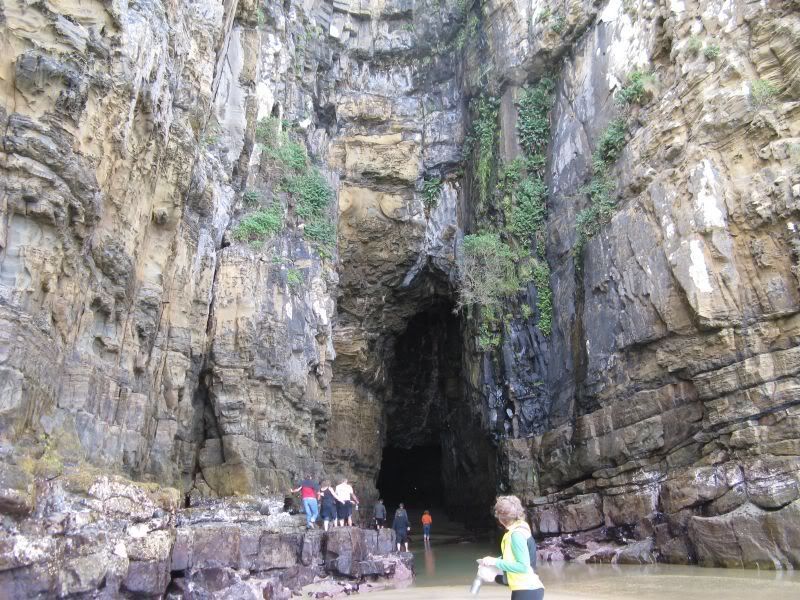 Even at low tide you have to get your feet wet.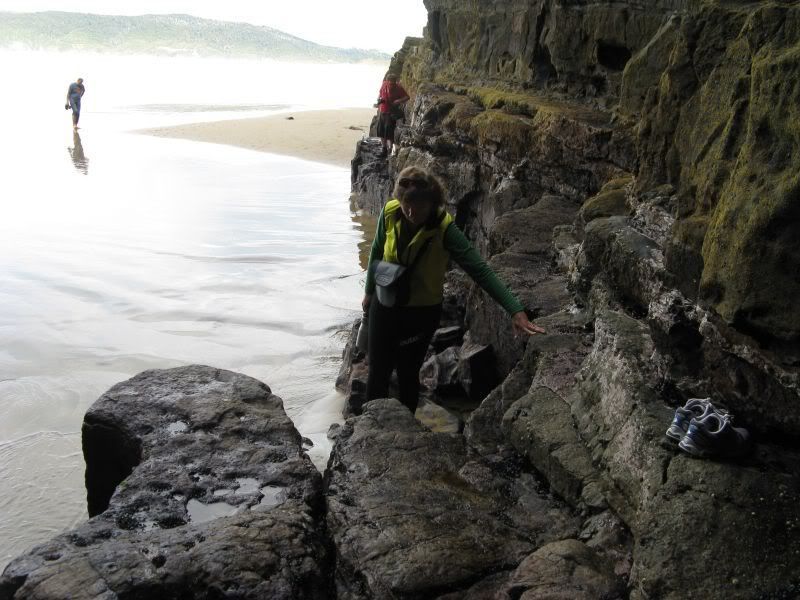 With a nimble little jump onto the rocks after my shouted warning, Connie avoids getting her sock soaked by a particularly intrusive wave.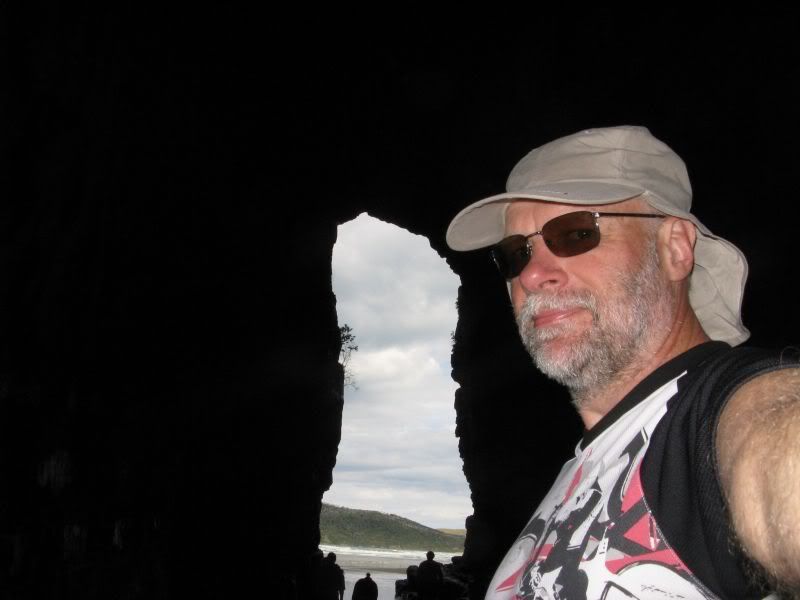 The two caves are linked at the back so here we exit the 2nd cave.

No choice but to remove shoes and socks.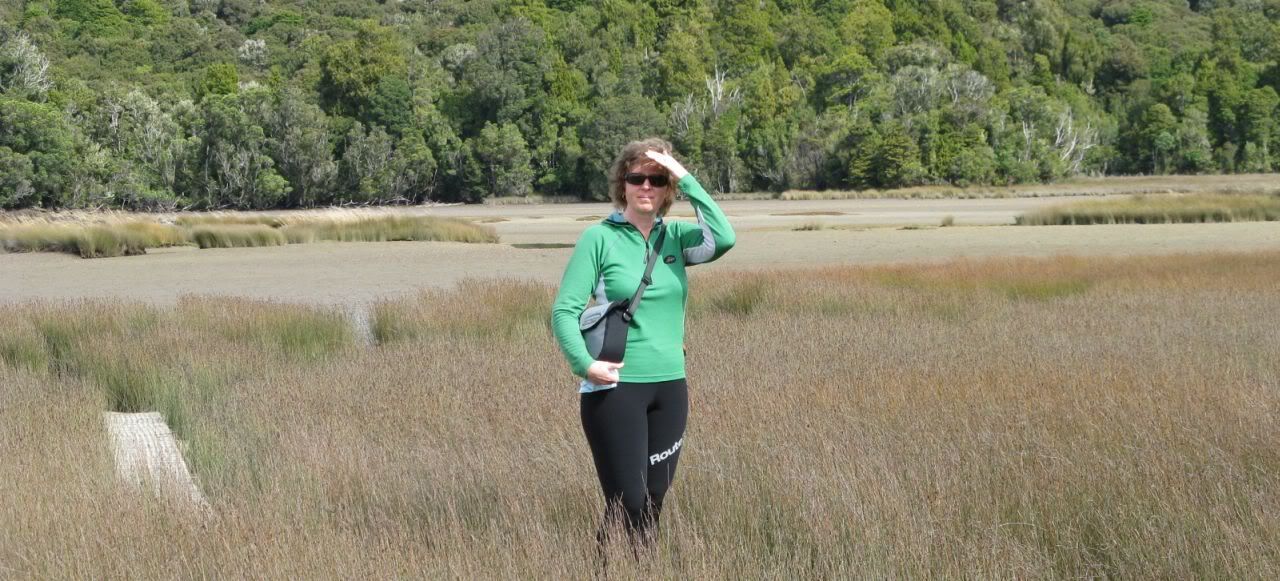 Doing her best, and succeeding, to improve the looks of a wetland estuary nearby.

Then there was lovely Lake Wilkie.

Pretty amazing...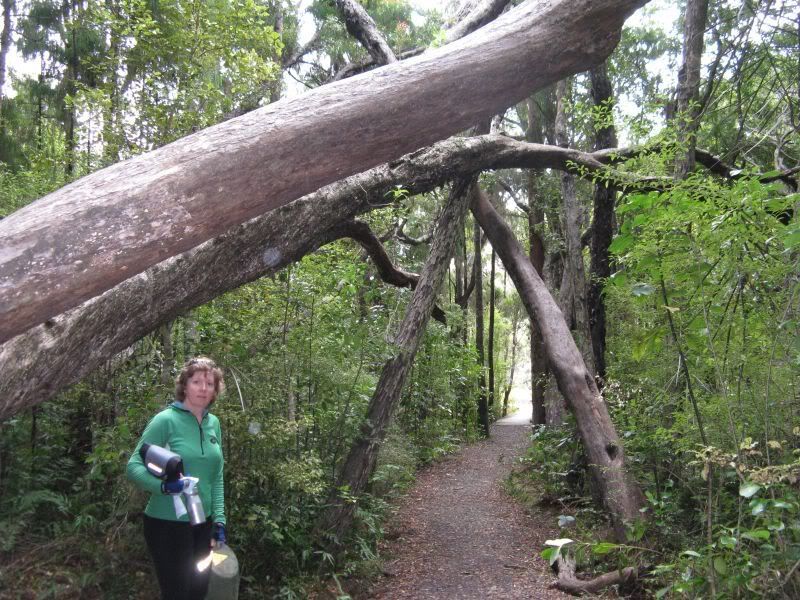 Tree jumble.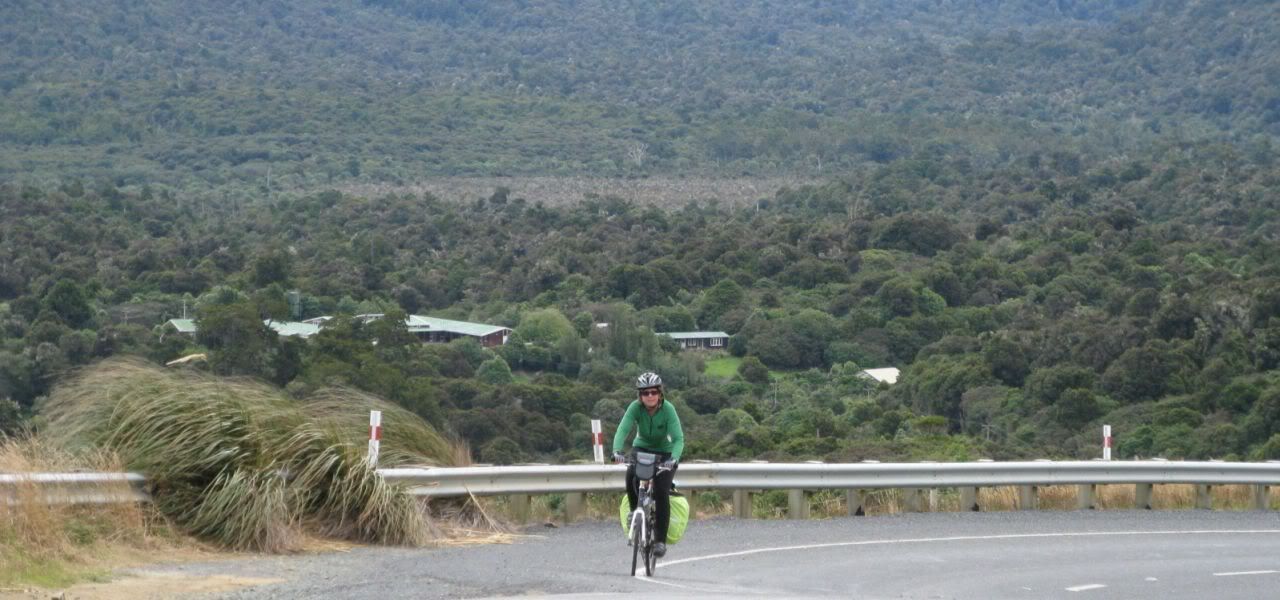 After a very steep little hill Connie arrives at a lookout.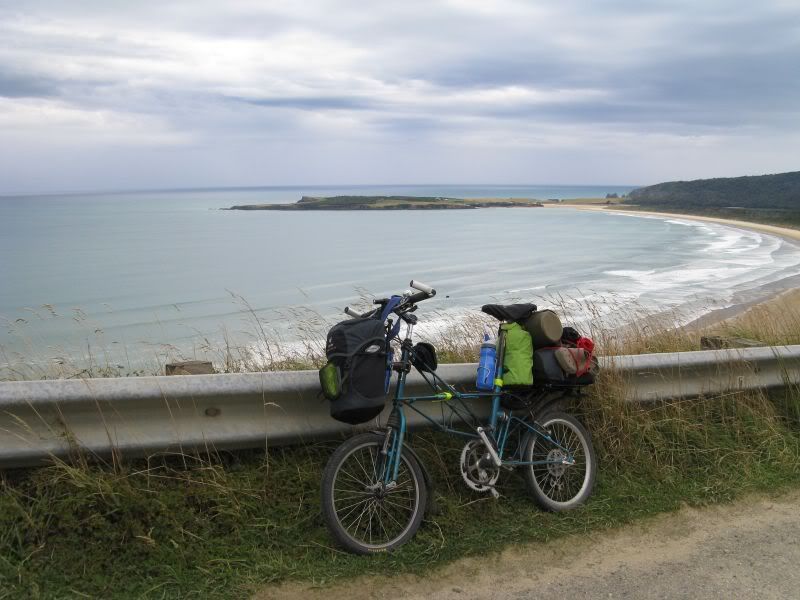 This is how I tried to pack the Moulton for the remainder of the trip. Sleeping bag pushed between seatpost and rear rack, all food and wet weather gear in the accessible front pannier, all other clothing in the rear pannier, plastic Crocs under the cargo net at the side. Any other odds and ends went under the net as well.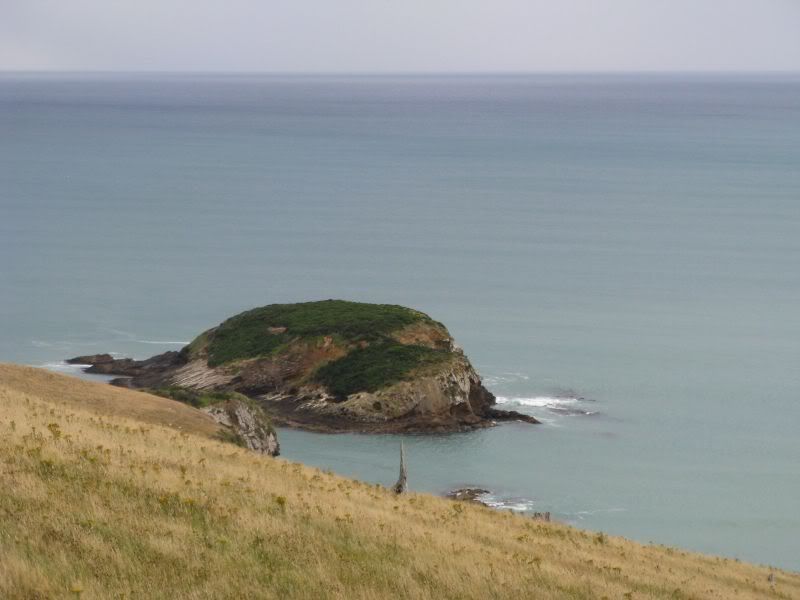 There wasn't much wind today. Just a week ago, while we were in Te Anau where scarcely a leaf stirred, there were extreme once-in-a-century wind-storms here.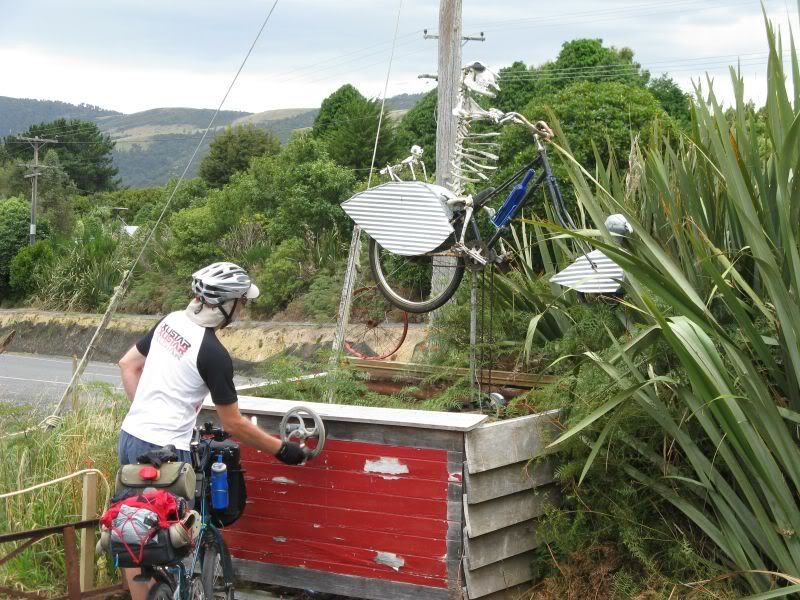 This guy in Papatowai has the most amazing collection of, well, tricks I have ever seen. Things that you turn handles of, press buttons etc etc etc etc. This sheep skeleton pedals the bike and makes a weird bleating sound. youtube video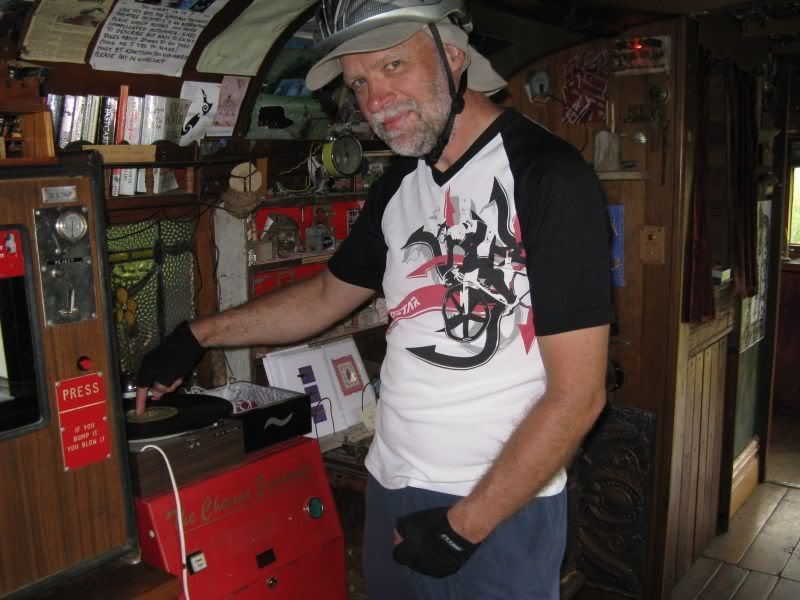 Inside his bus...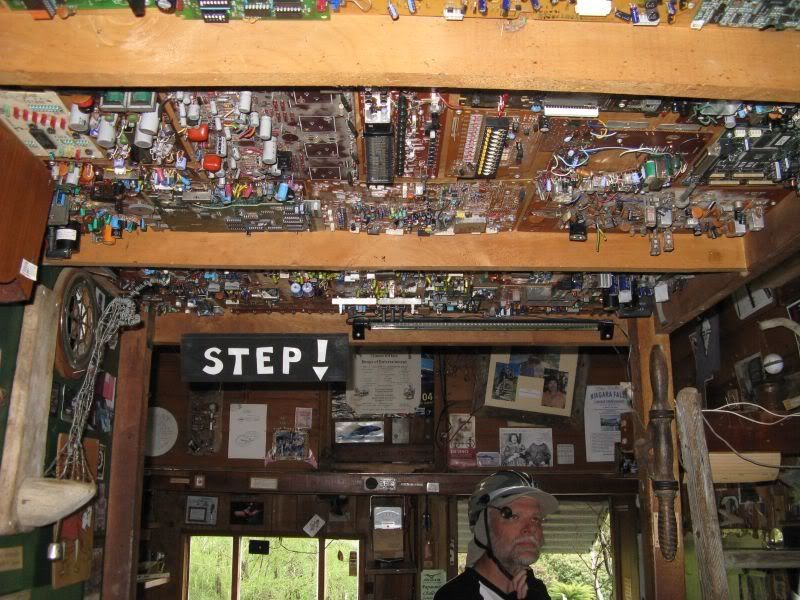 There is a theatre as well which we didn't see.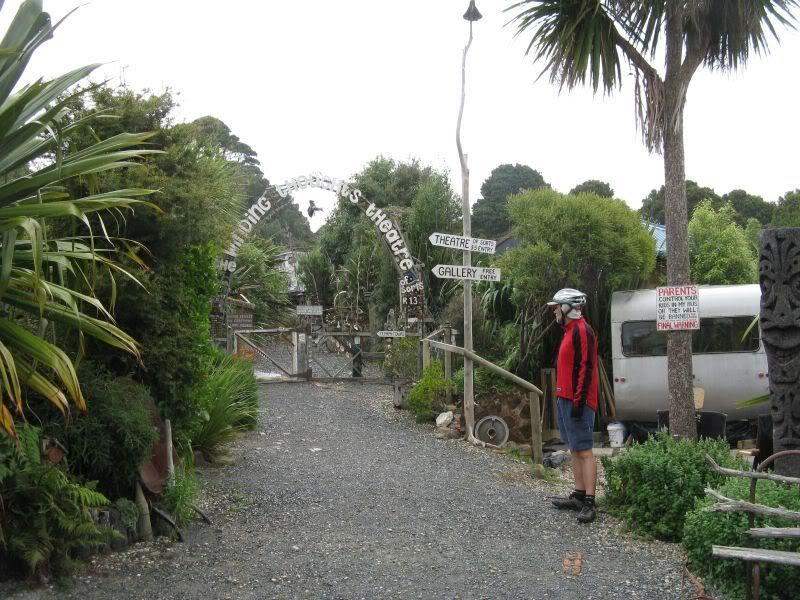 Sandflies were swarming outside something terrible.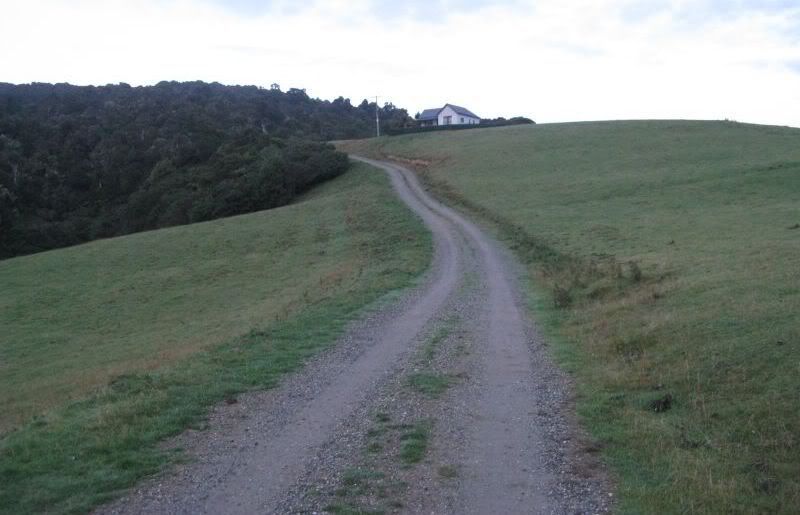 Hilltop Backpackers. Steep gravel climb - walking only. I often manage to pick our accommodation at the top of steep slopes.

Killer views the place has. Unfortunately we were in a dorm and were kept awake much of that night due to a snoring lady.


Just it was drizzling a bit and we didn't spend much time looking at the rain.
Day 18: Papatowai to Kaka Point & Nugget Point (64km) (Hard!)


Next morning I catch Connie as she eagerly dashes uphill, ready for the day's challenges after a sleepless night. And challenging they were...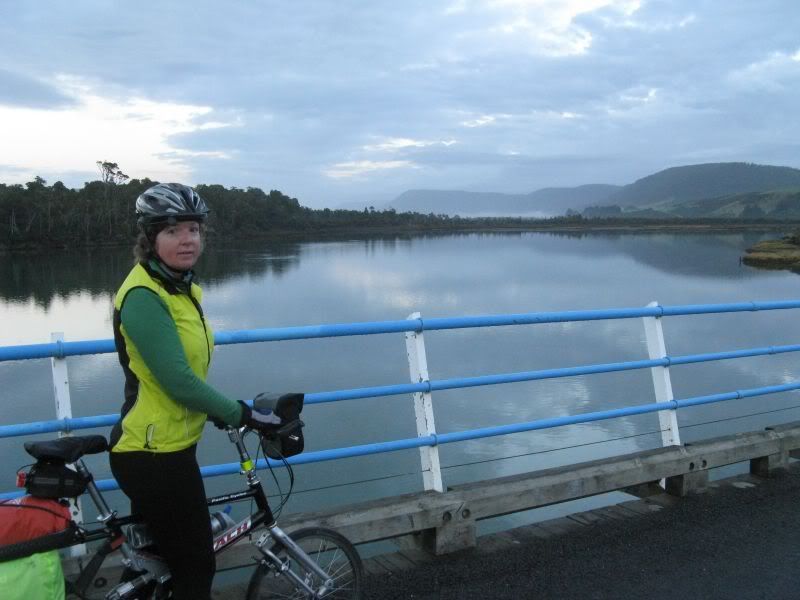 Crossing the estuary.

All the bridges in this region looked the same.

We elected to take a gravel road to the Purakaunui falls. I thought it would be picturesque. Unfortunately, it was freshly graded the very previous day!! Big loose gravel, very cycling unfriendly.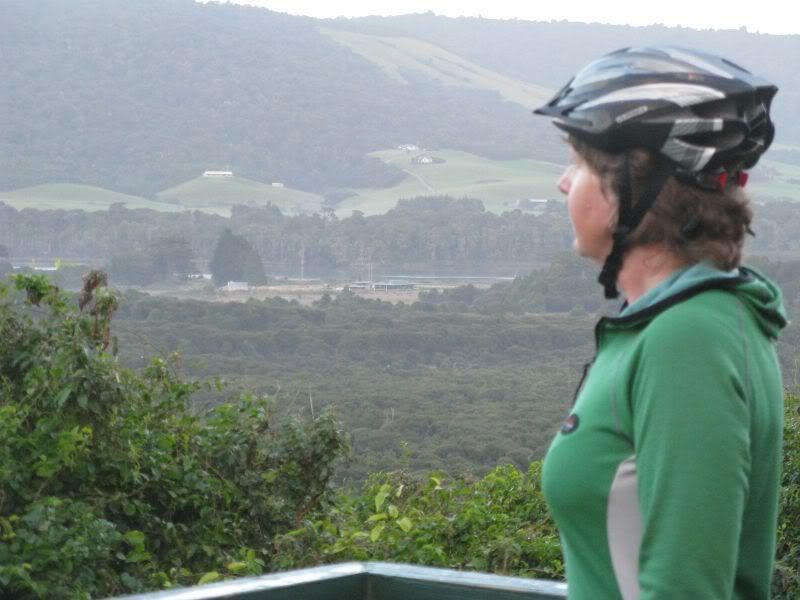 At a lookout point Connie spots our previous night's accommodation accross the valley on that hill.

I am not buying another Crank Brothers product ever again. This pedal is marketed as stainless steel! Dodgy Brothers...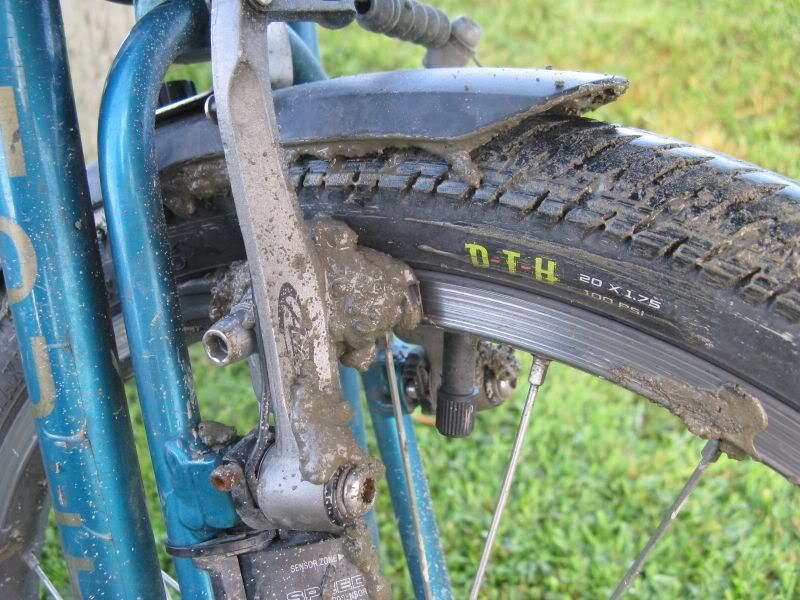 In some places the dirt road was damp from the previous day's drizzle and the mud clogged up the mudguards and brakes.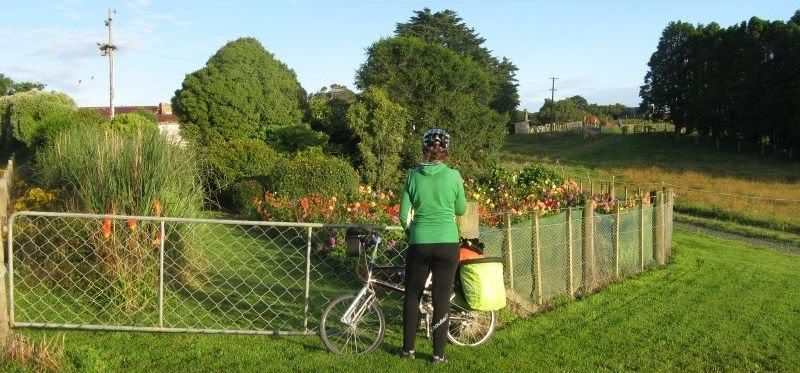 While her back is turned, enjoying the bucolic scene...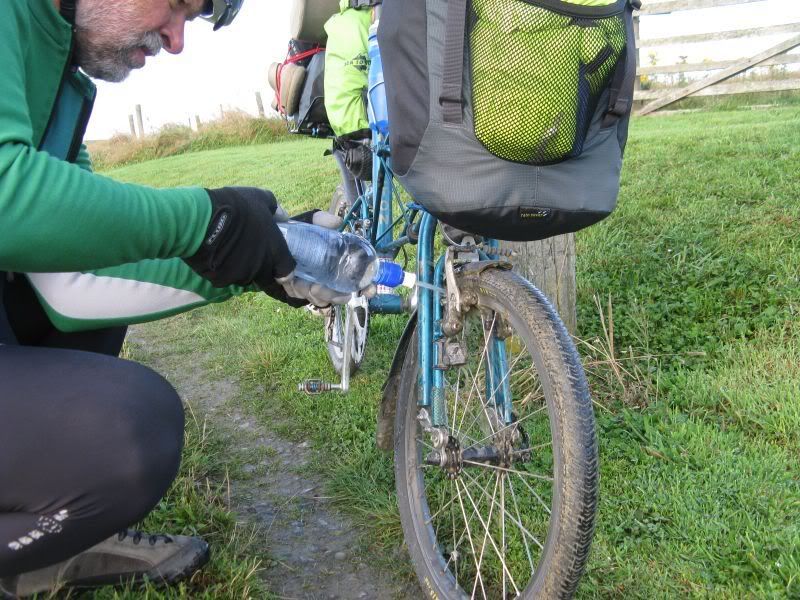 ...I sacrificed Connie's water to clean the muck off the brakes.


I stopped again due to clogged mudguards but she never noticed. There she is, a small dot on the left...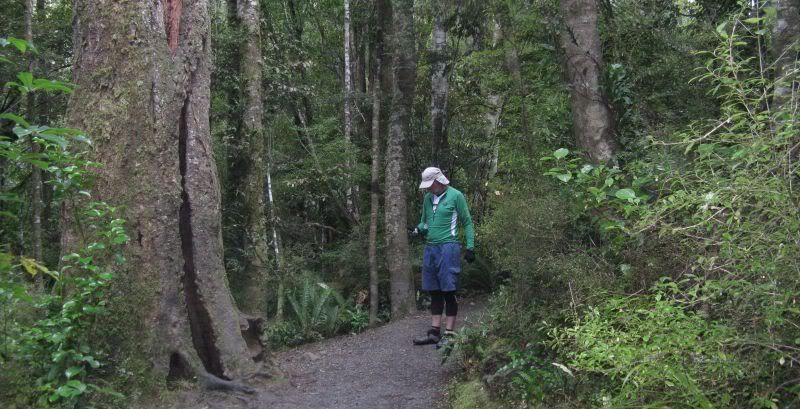 I finally took the mudguards off, they were dragging terribly. So we arrived at the falls, not without strife due to steep gravelled hills.

The place is not really blessed with spectacular waterfalls. I regard this a minor cascade. Lot of work we did for this modest prize...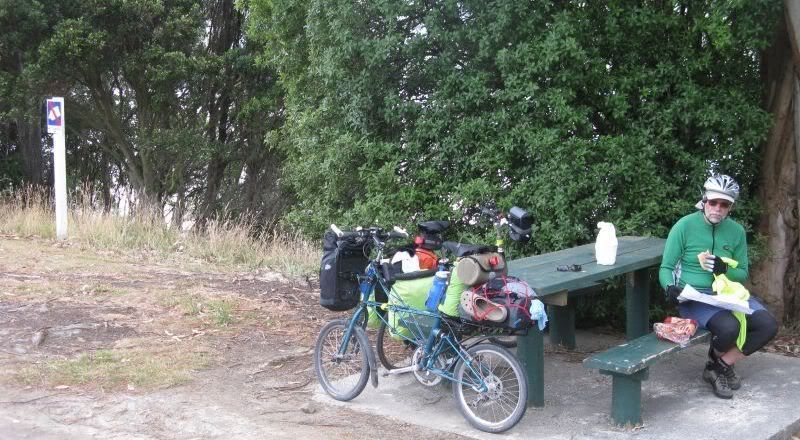 With the mudguards back on the bike and the bike back on the bitumen, time for a snack. We were strapped for cash to pay the backpackers but Connie did some very fancy begging tricks to get hold of some.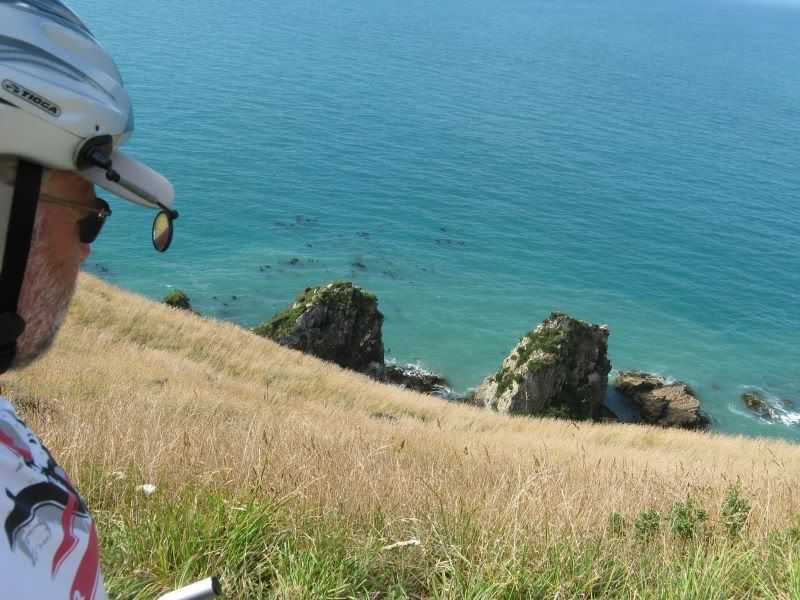 Fast forward... near Nugget Point which Connie said it is crazy to ride the extremely steep gravel road. She's right, it was rather steep and gravelly.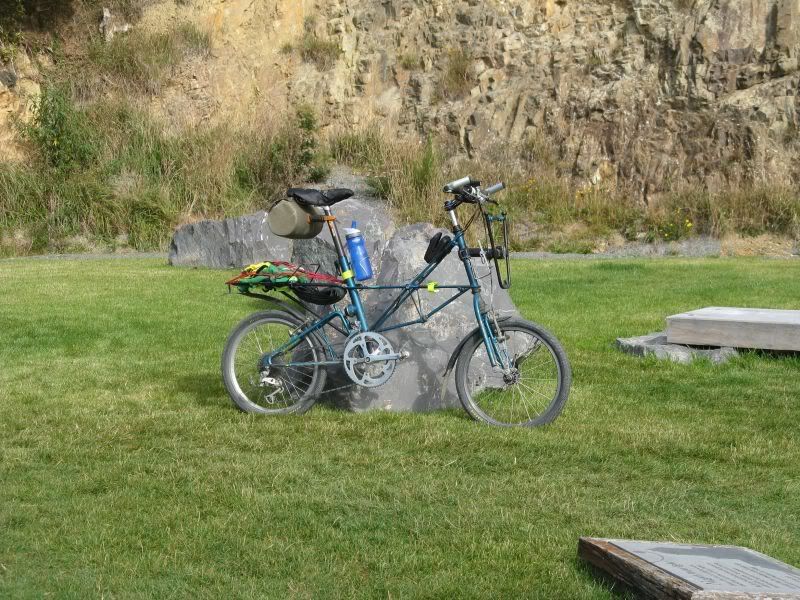 Parking the bikes, ready for a short walk to the lighthouse. We have already dropped the panniers at the backpackers in Kaka Point.

Putting the layers back on after shedding them all labouring up the track to Nugget Point...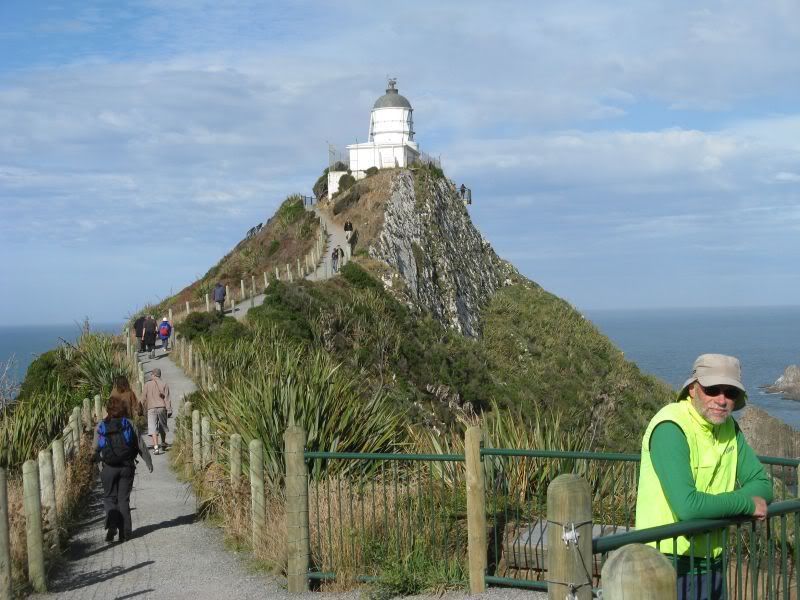 That's better.

The lighthouse is built on the most amazing rock formation, layers running almost vertically, resulting in these steep straight cliffs falling down to the water level in places.

As usual the weather is calm, mostly sunny and warm. This place can really cop storms.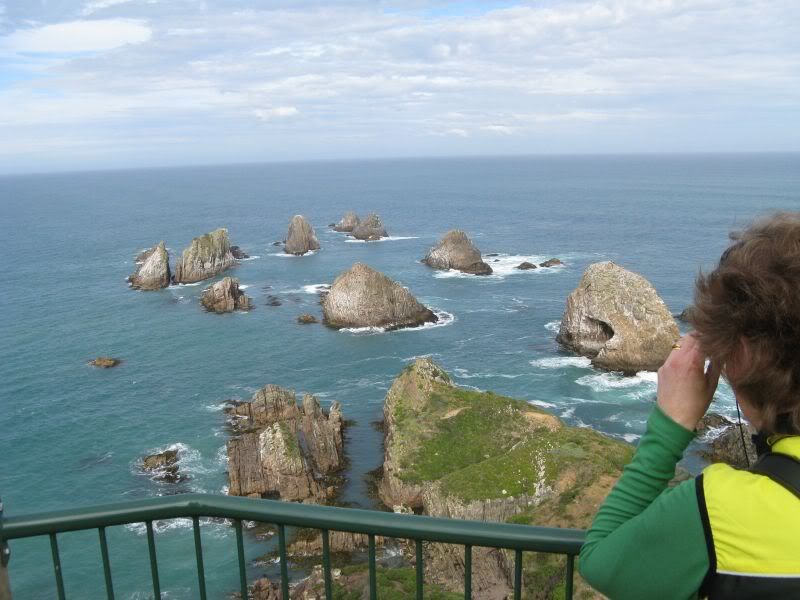 There were seals playing most delightfully in a square rock pool down there. Seals were to be found on every rock.

"Stand there and smile, dear..."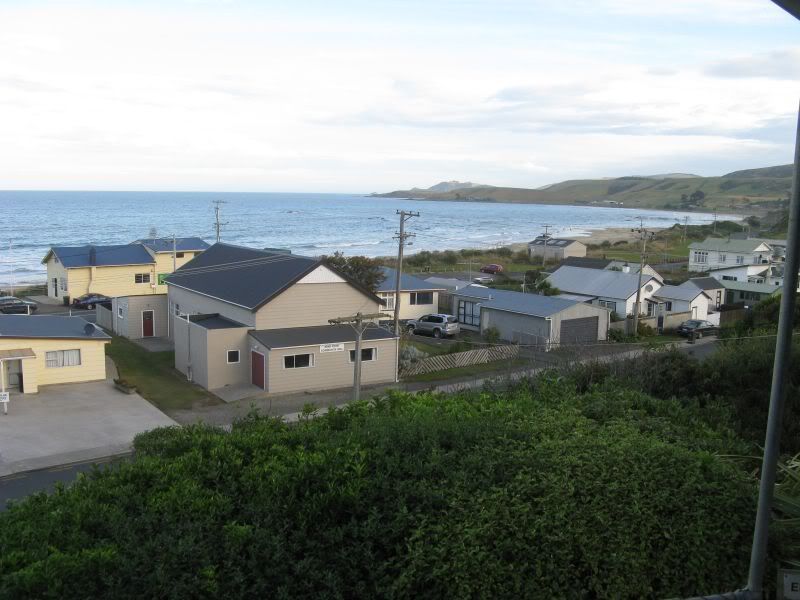 The view from our backpackers balcony. We had the entire house to ourselves.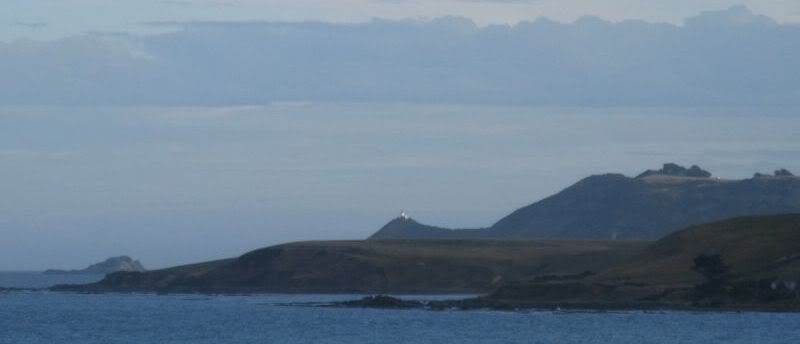 Nugget point was just visible.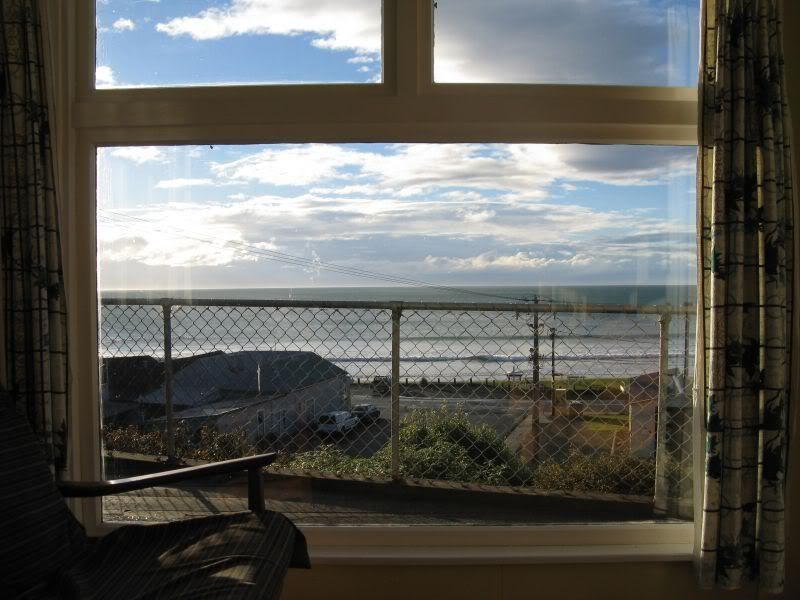 Sunset as seen from my spot on the couch. With a free washing machine Connie decided to wash everything, clean or not.
Day 19: Kaka Point to Waihola (70km?)

Next morning, a very scenic ride up the coast. That's it for the Catlins!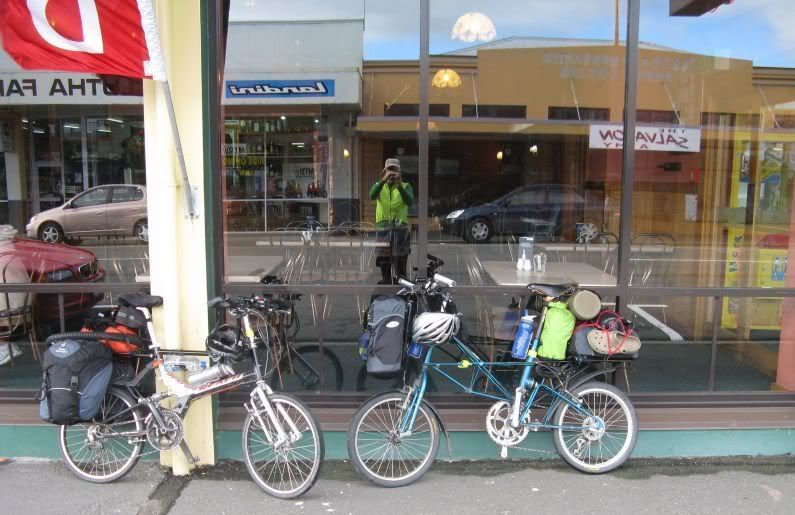 Coffee in Balclutha. Someone asked us about how we were handling the headwinds, but he mistakenly assumed we were travelling south. Not so - we had tailwinds (again!).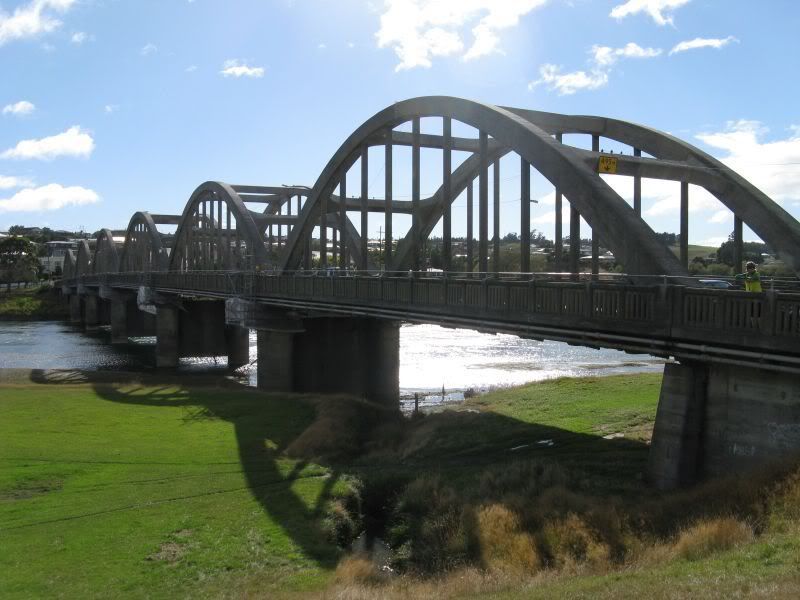 Bridge over the Clutha.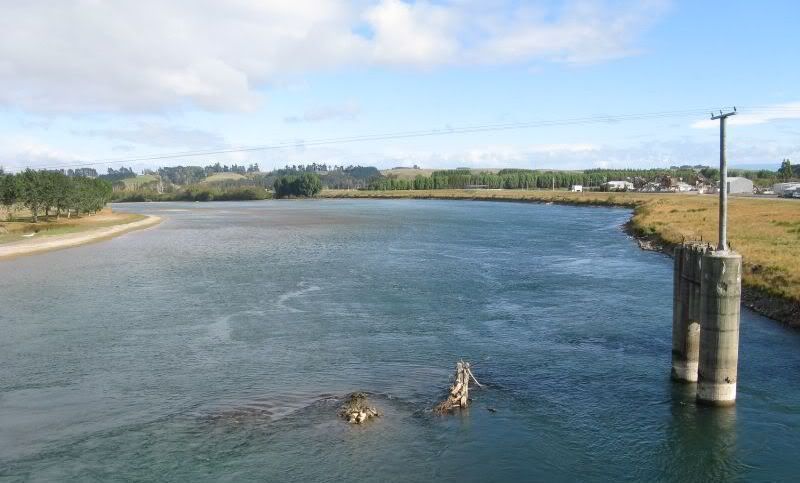 We last saw the Clutha at Alexandra some weeks ago.

Other side of Balclutha, there were some interesting moments involving side-winds.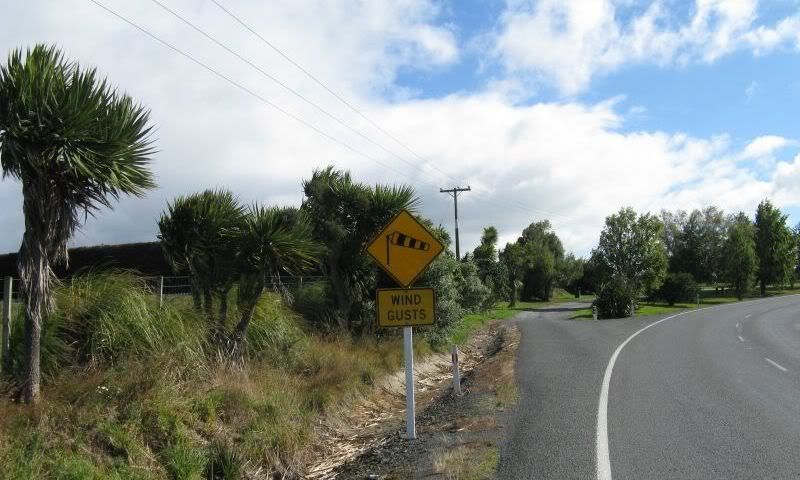 First, warnings like these.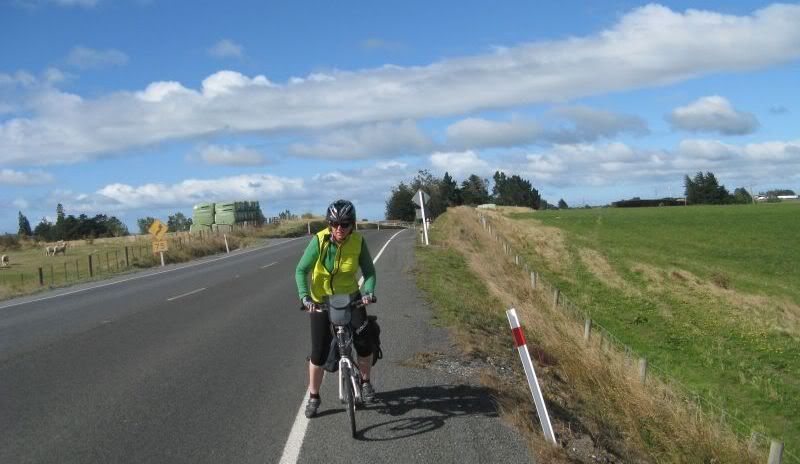 Riding over these crests, we came next to valleys which funneled very high winds accross the road. We were blown sideways and Connie just managed to prevent crashing off the bike.

She was leaning over to the left to counter the furious wind gust, and at the next moment had to quickly correct as she rode out of the wind funnel to avoid riding off the road.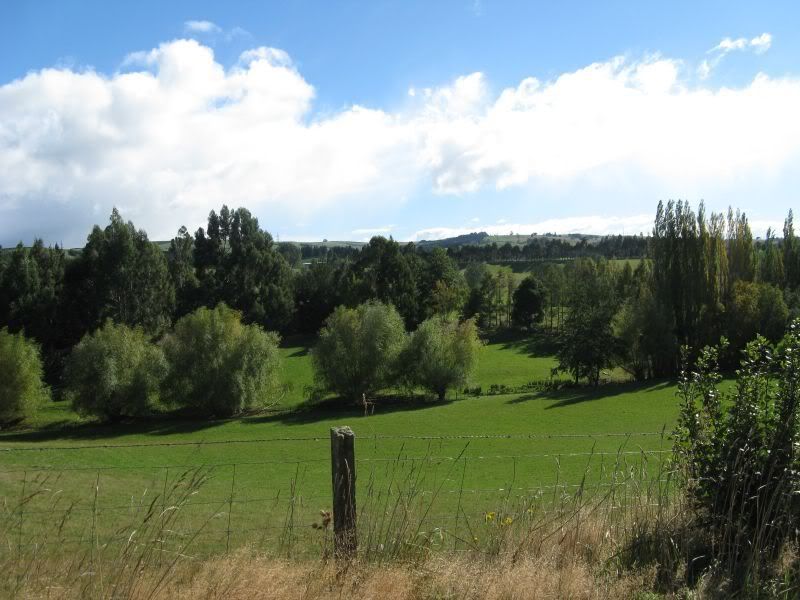 Down there was a deceptively quiet-looking valley.

However, soon we were out of those dangerous spots and were flying along with a very strong tail-wind. At one spot I was riding over 45km/h on the flat, and coasted for miles when I stopped pedalling. I actually had to brake to turn into this picnic spot. Amazing.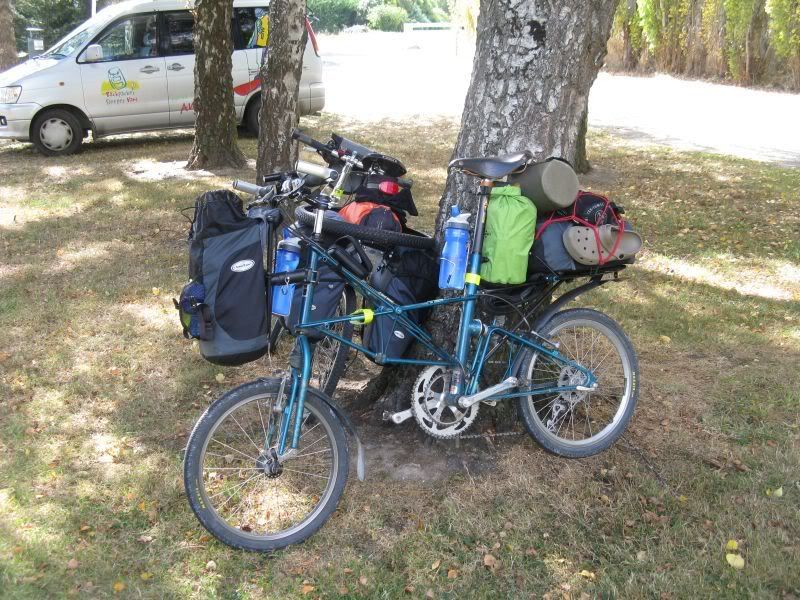 The Moulton didn't even break a sweat today with all that tailwind. We had six days of strong tailwinds! And only two with modest headwinds. The rest were quiet.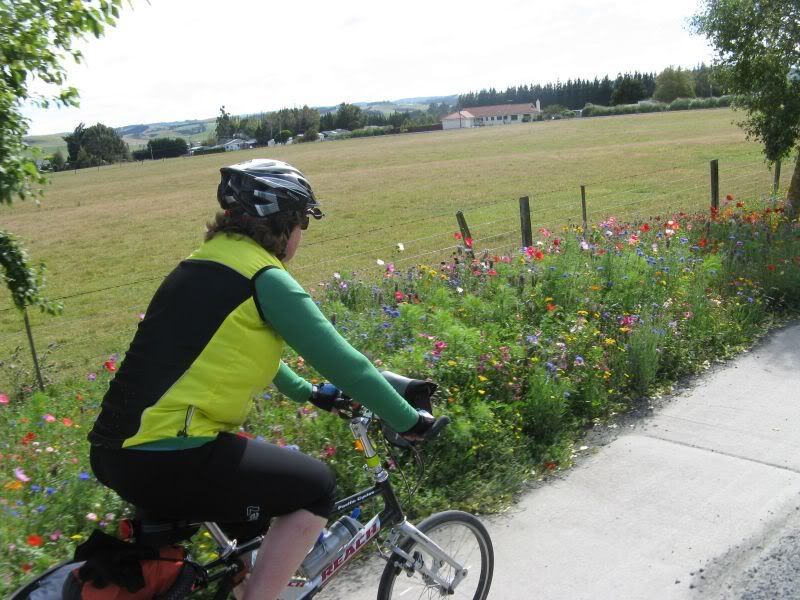 Yet again Connie spots the roses... well, poppies actually.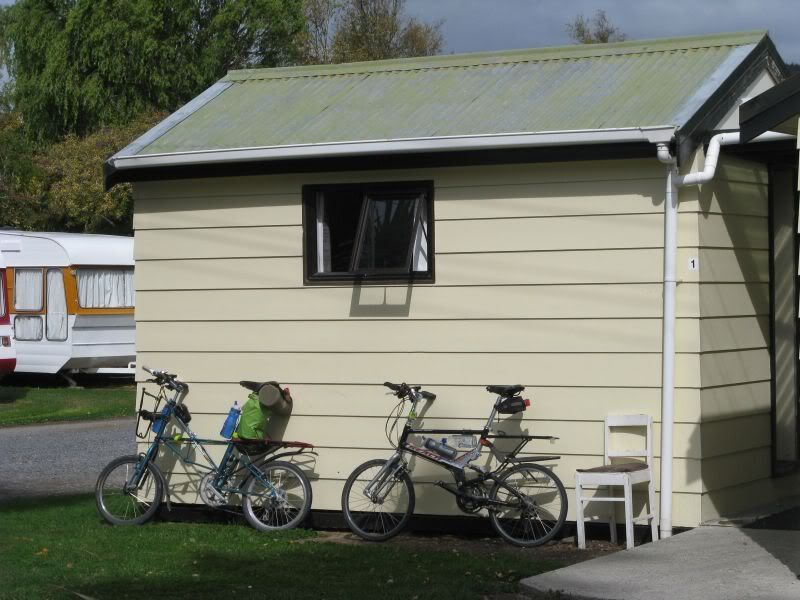 Again a modest cabin at Waihola next to the lake.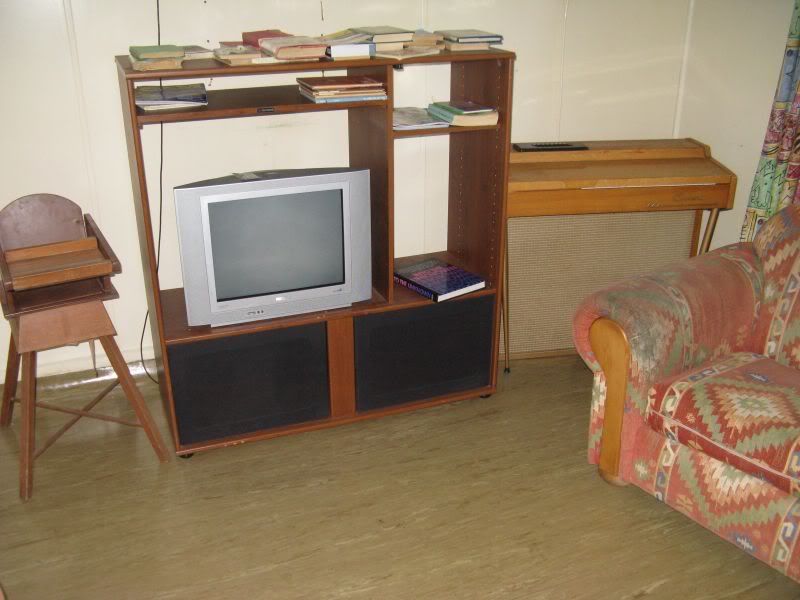 Many places felt like we were stuck in a time warp. Here it was the early 70s.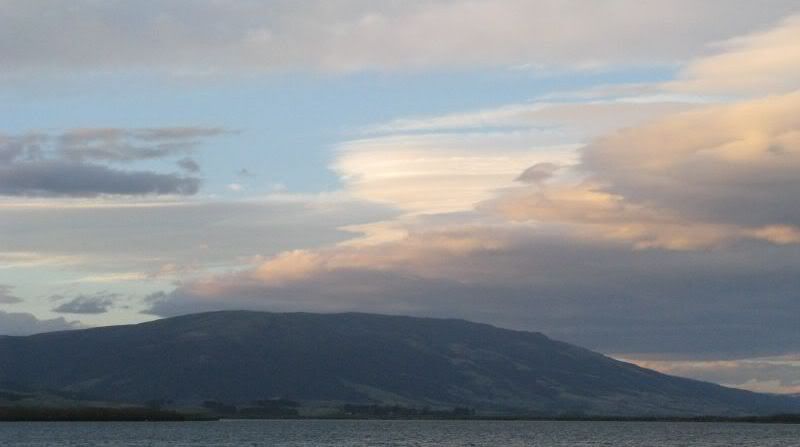 These lenticular clouds were often seen over the mountains.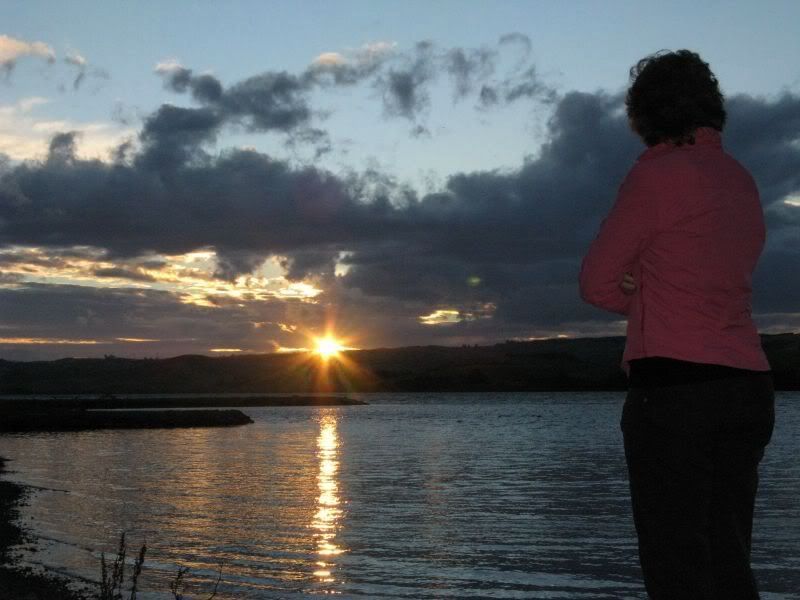 Sunset over the lake, and that's it for another sunny day with tailwinds!
Day 20

Today is the last cycling leg of our tour. Just a little hill to reach the Taieri Mouth, then flat all the way to Dunedin. Yeah right...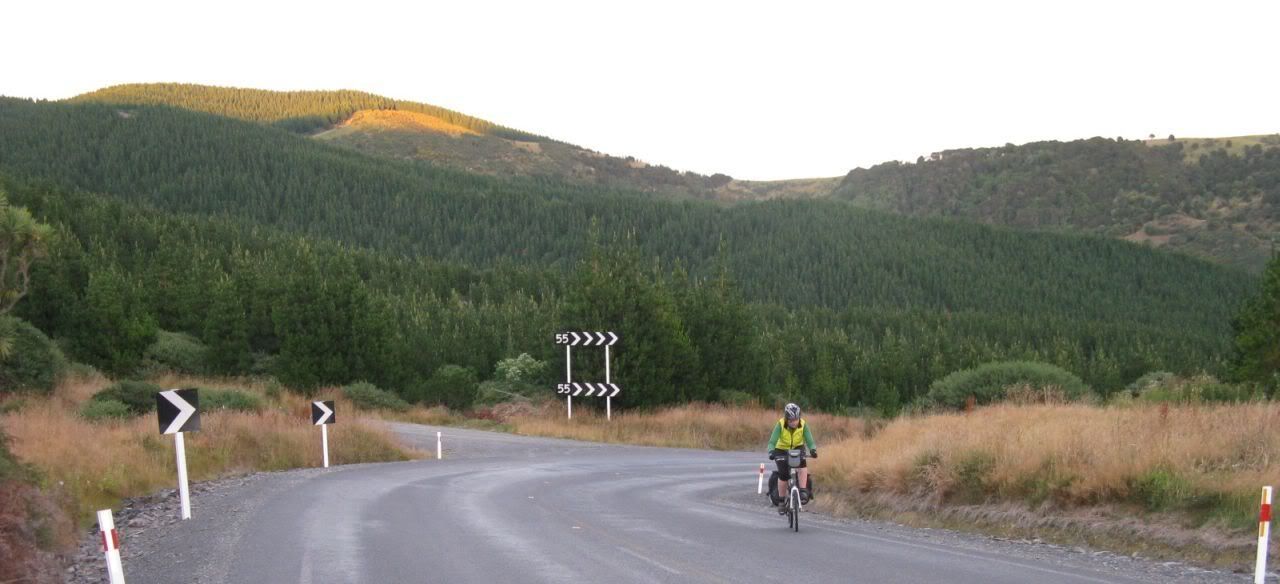 The little hill turned out to be monstrously steep.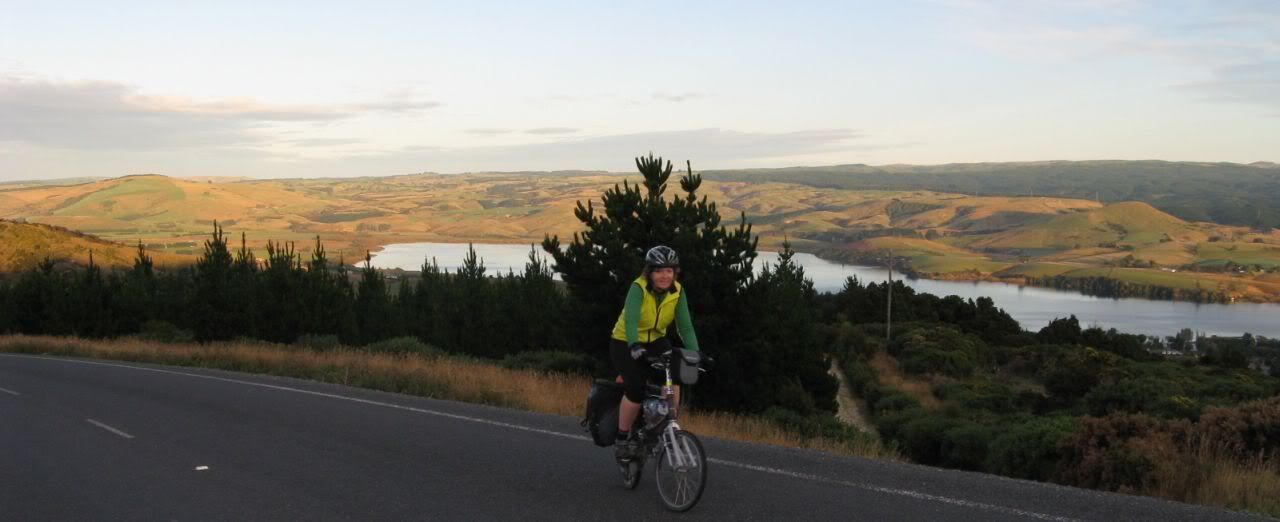 Not sure what I have to throw at her to wipe that smile...

I can see the coast at the left but for some reason the road builders perversely took the highest point that I could see to cross the mountain.

That's Dunedin there on the horizon.


The early morning sun made taking pictures both easy and difficult.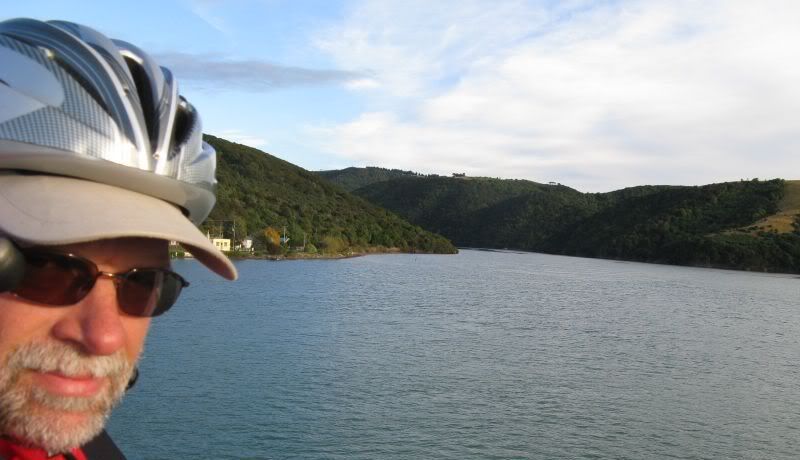 Taieri river, which we last saw while still on the rail trail on the very first day.

Right. Morning tea time!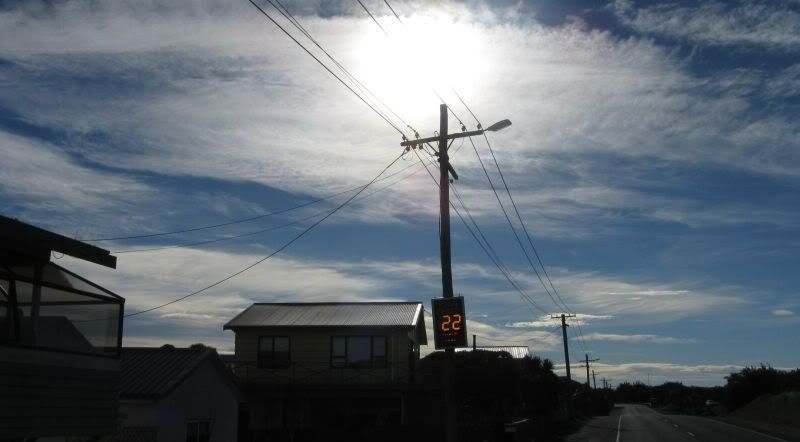 Not much wind, so our speed was a mere 22km/h.

Couldn't find a coffee shop anywhere, so we had elevenses here.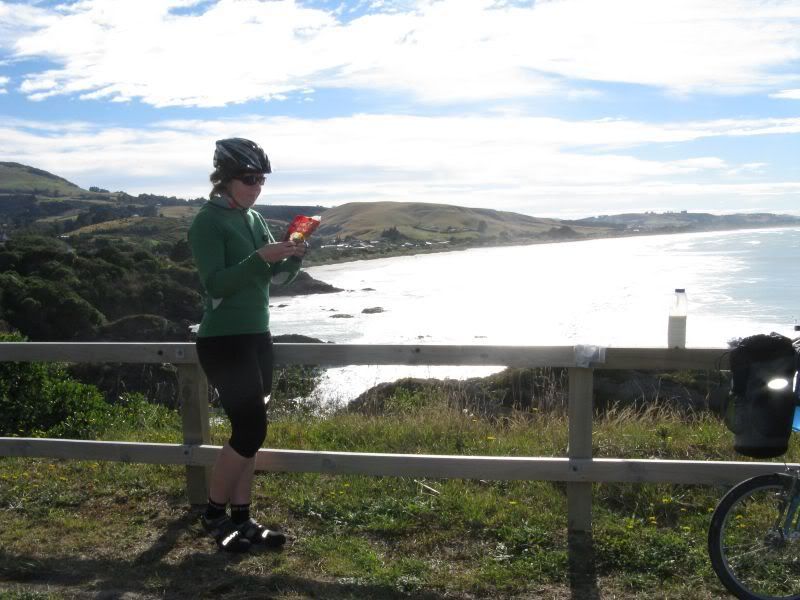 Coupla prunes for good, erm, tailwinds...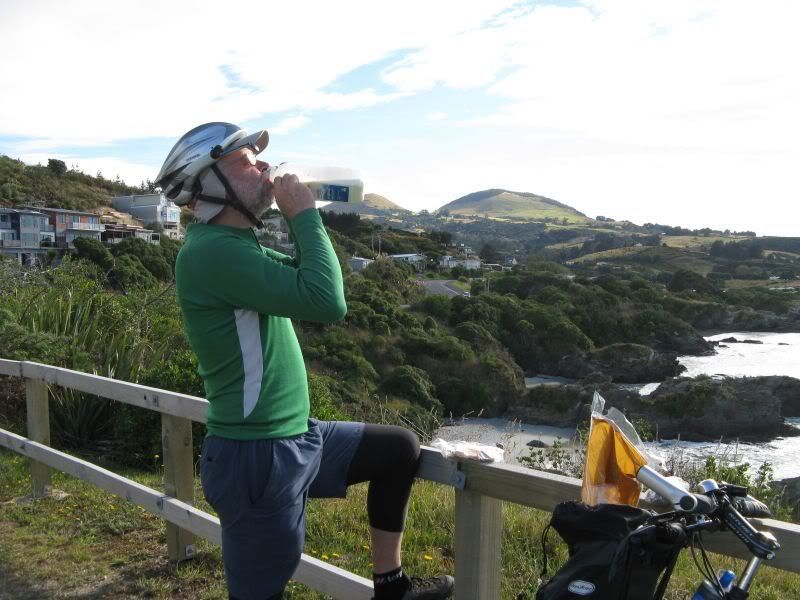 My mum tried to teach me not to drink directly from the milk bottle. I think she failed.

Connie almost screamed when she saw the last vicious hill to climb into Dunedin, just after this quarry. She walked up. I think it was the world's third steepest road.


Over the hill, riding down the world's fourth steepest street.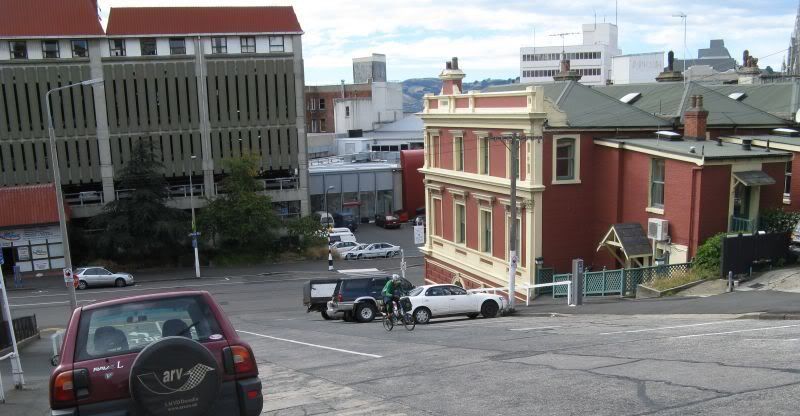 Back at Nextstop Backpackers. I wanted to ride up the world's second steepest street.

*puff puff* almost there...

Made it! (Then I had to do it again for the photo opportunity.)

Now to get the bikes back into the suitcases (which the backpackers kept for us).

Dunnydin from our balcony.

At the library next day I saw this very rare folding bike with top of the range equipment and very well-worn Brooks saddle. Obviously an expert.

Our plans to rent a car and drive to Auckland went awry when there were NO cars available for rent. So bus to Christchurch it is.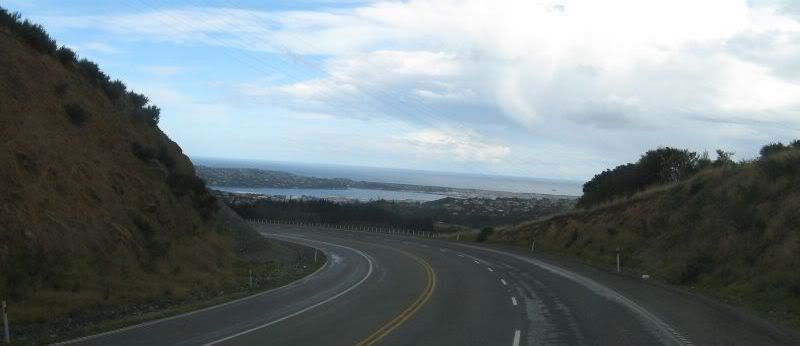 Goodbye Dunedin!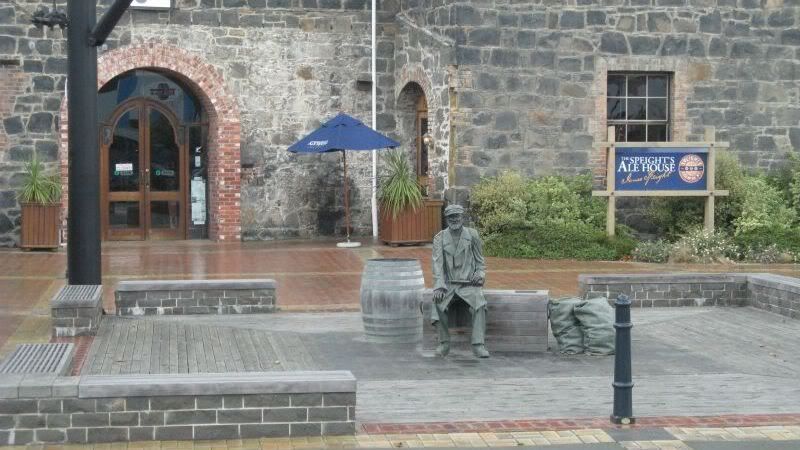 Care for a Speight's ale?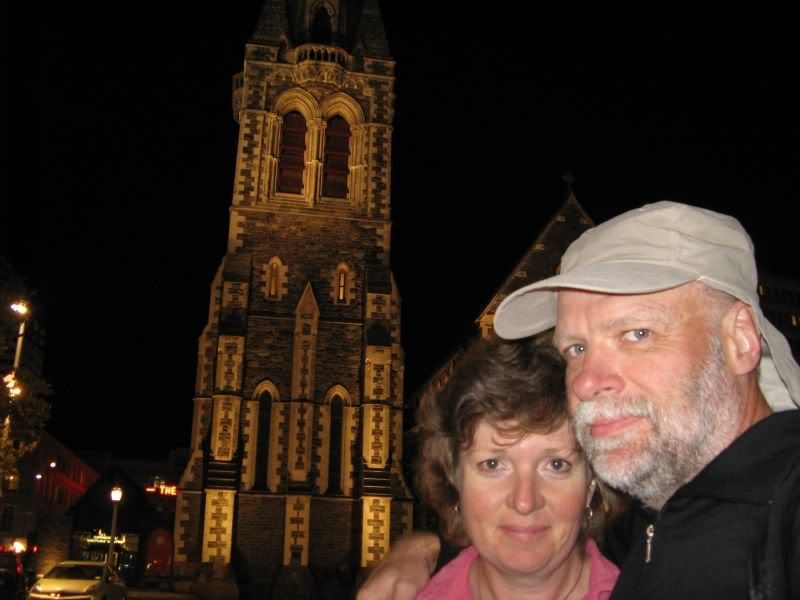 Overnighting in Christchurch.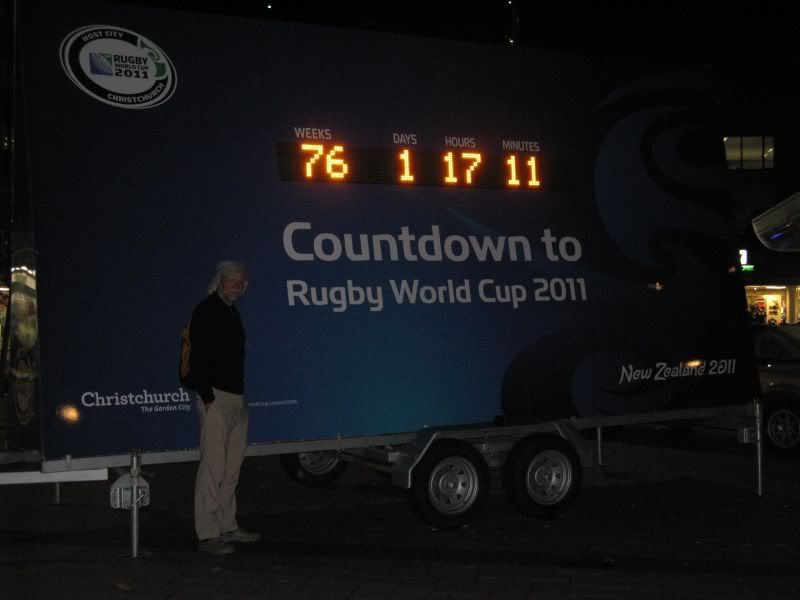 Me wanty!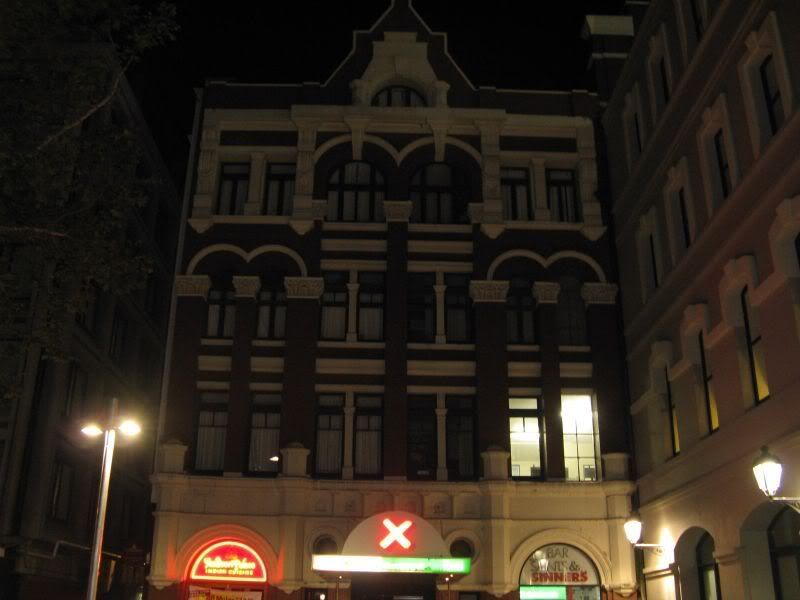 Our Base for the night.
Day 21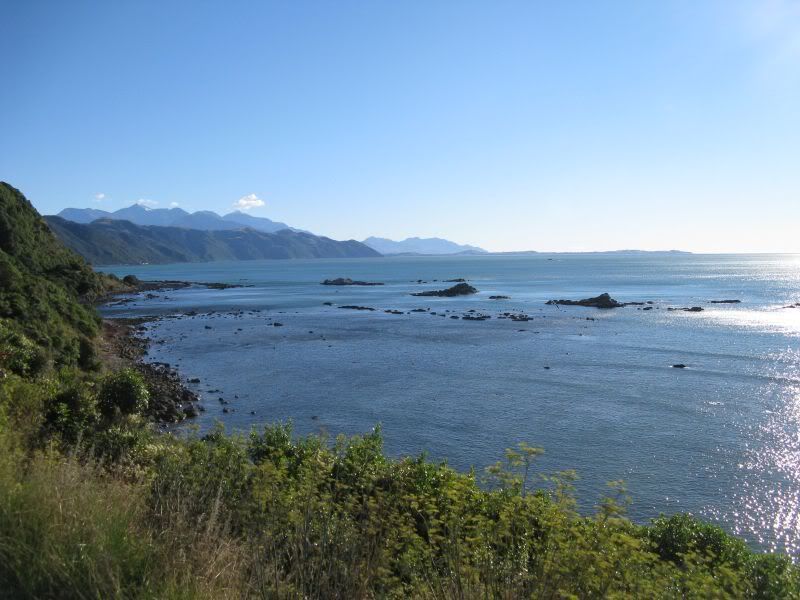 We took the Tranzscenic train north from Christchurch. It winds its way along the coast here at Kaikoura.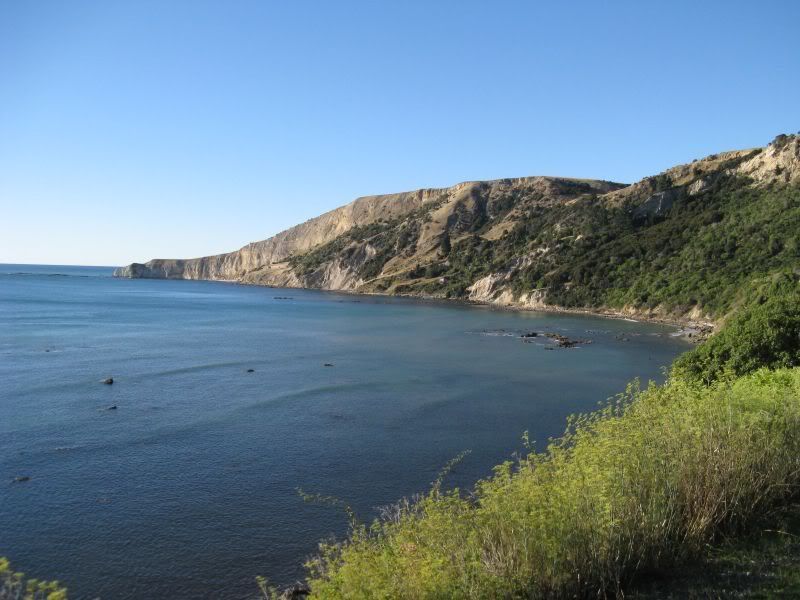 They hold surfing competitions here, but this was all the mighty Pacific could muster on this ultra-calm day.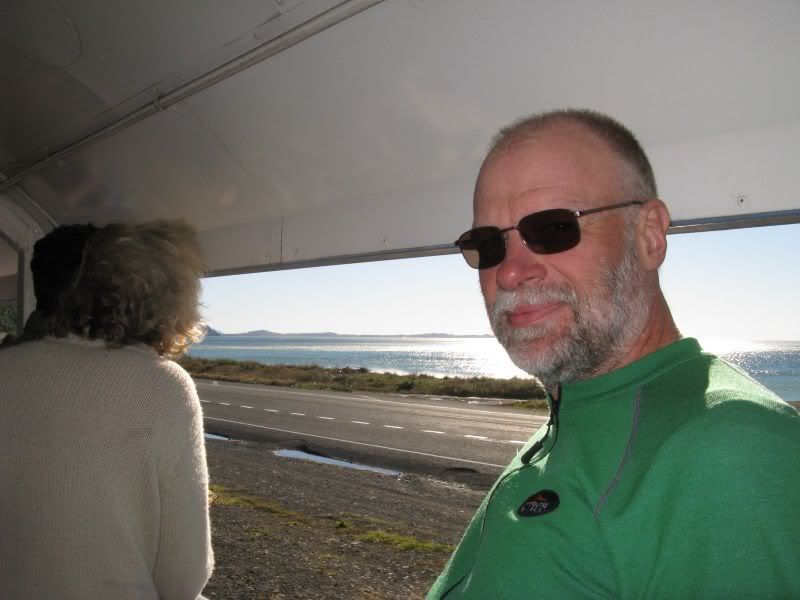 In the front observation car.

Connie trying to catch a few bugs...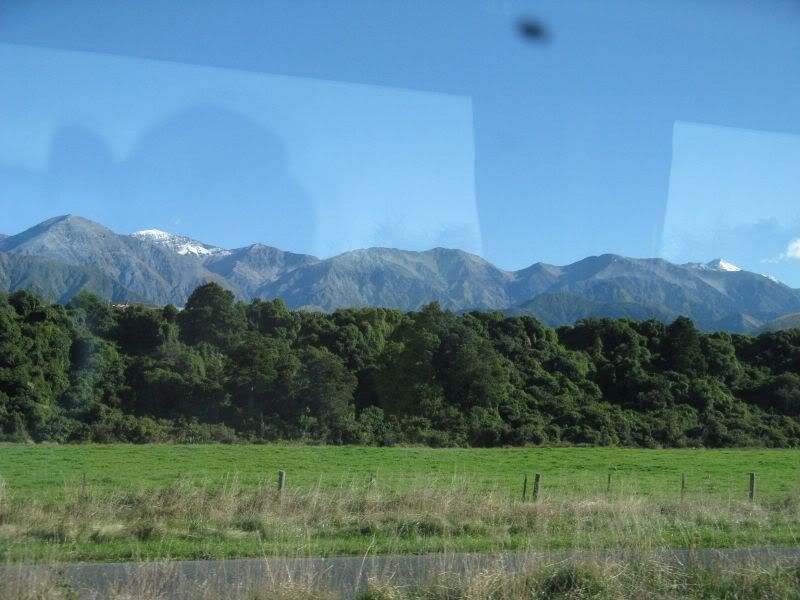 She resolutely snapped the snow-capped peaks every time they were visible.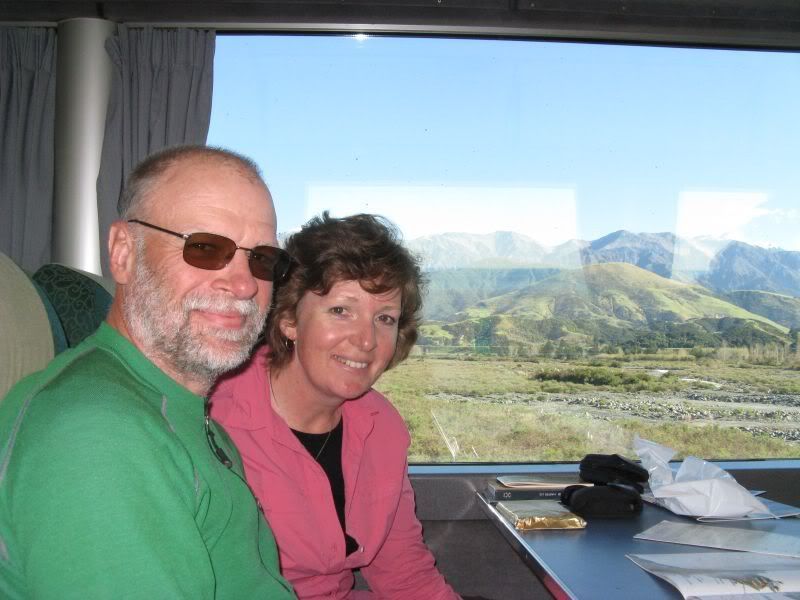 A kind fellow passenger then tried but missed the snowy peak.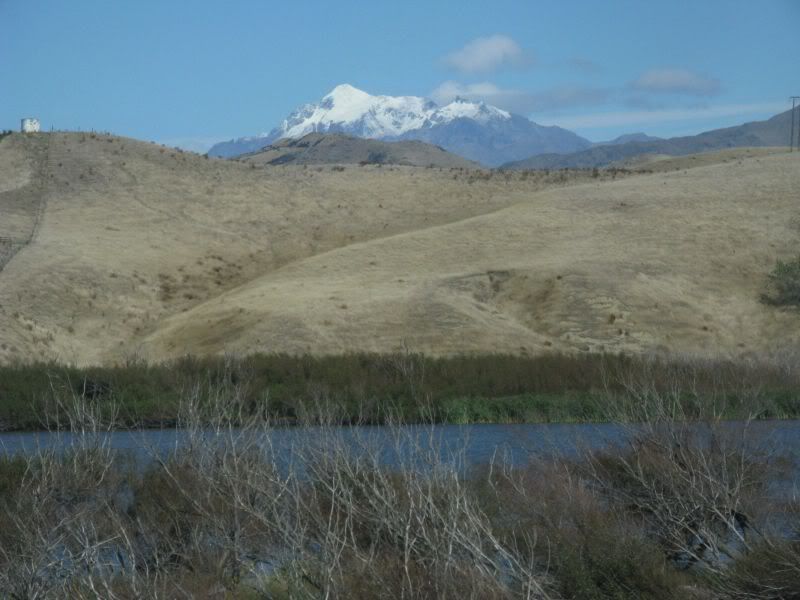 And again...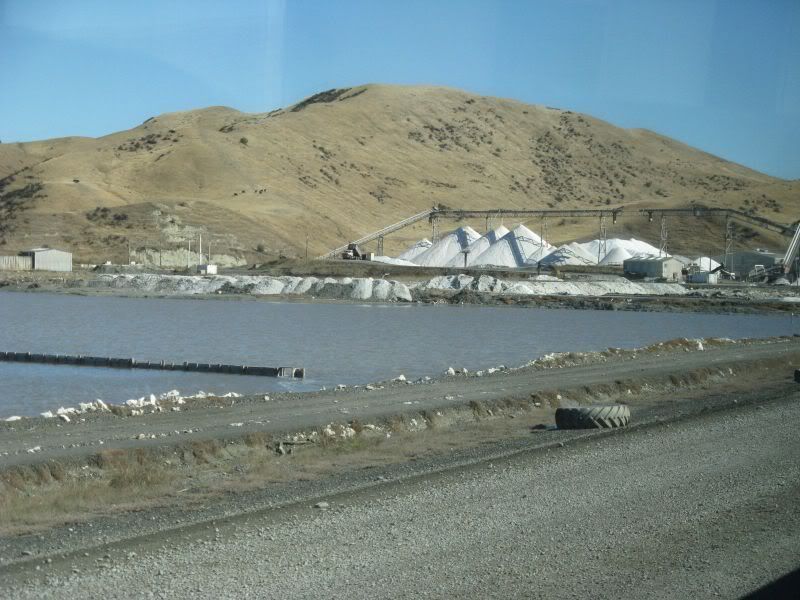 "Uh dearie, these are salt heaps, not snowy peaks..."

That's barely enough for a fish and chips meal for me.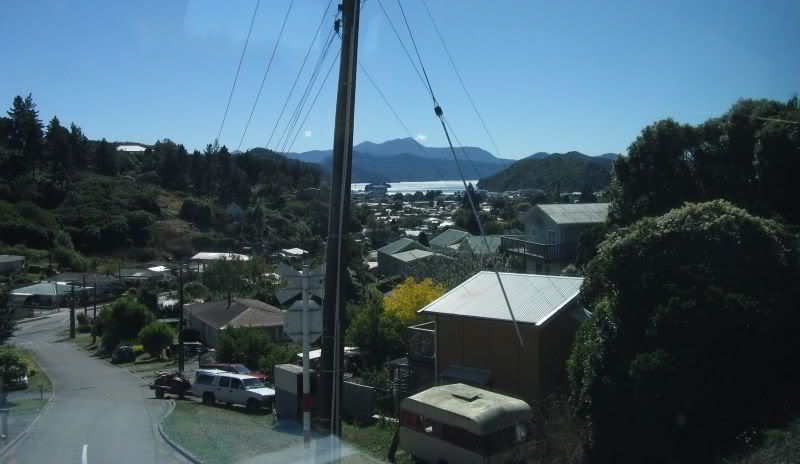 Picton at last. The ferry to the North Island departs here.

I am a bit more hairy than at the start...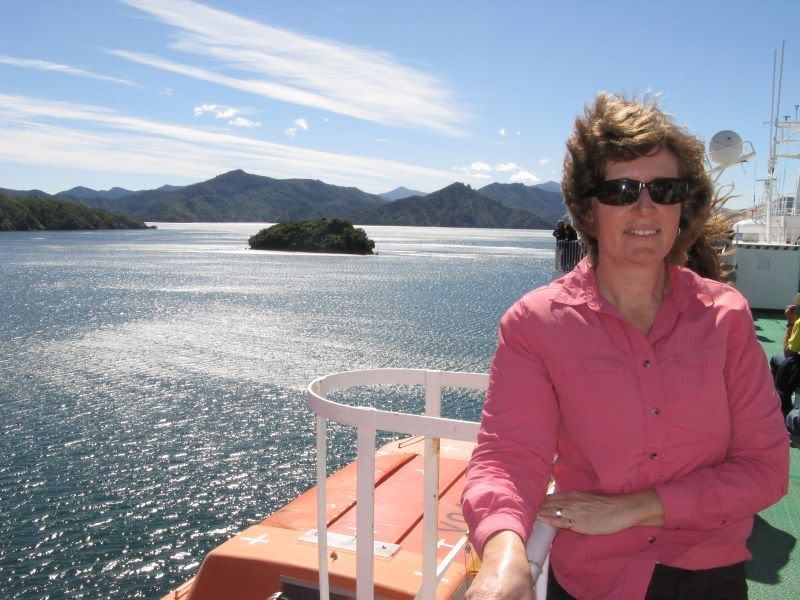 ...not Connie, smooth as ever.


She manages to snap the snow-capped peaks a final time. Goodbye South Island! Thanks for a stunning holiday!
Number of km cycled: 1,180km
Number of mechanical problems: 0
Number of puntures: 0.
Number of health problems: Maybe one, not cycling-related.
Number of days with headwind: 2, moderate to fresh
Number of days with tailwind: 6, strong to gales