Lakes Entrance Cycling Tour Holiday 8-10 March 2008
The Lakes Entrance Tour starts in Bairnsdale, follows the Bairnsdale to Orbost rail trail for 42km, then turns off on to the Mississippi Creek Trail which ends at Lakes Entrance.
Day 1, leg 1: Bairnsdale to Mississippi Creek Trail: 42km

Bikes packed in the Rav 4, ready to go.

We've arrived in Bairnsdale, time to unpack the bikes and unfold them.

My Downtube Mini's ready, now for Connie's Reach Offroad...

...just getting this doohickey right...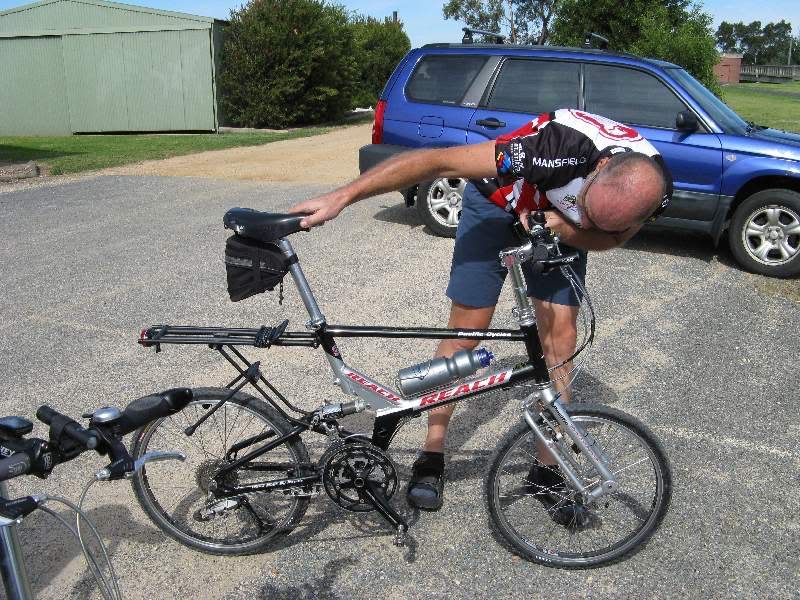 ...making sure the saddle is aligned...

...fiddle with the handlbars, and we're done. Finally!

Start of the trail!

We've barely begun and she's already thirsty.

Aha! First glimpse of the lakes!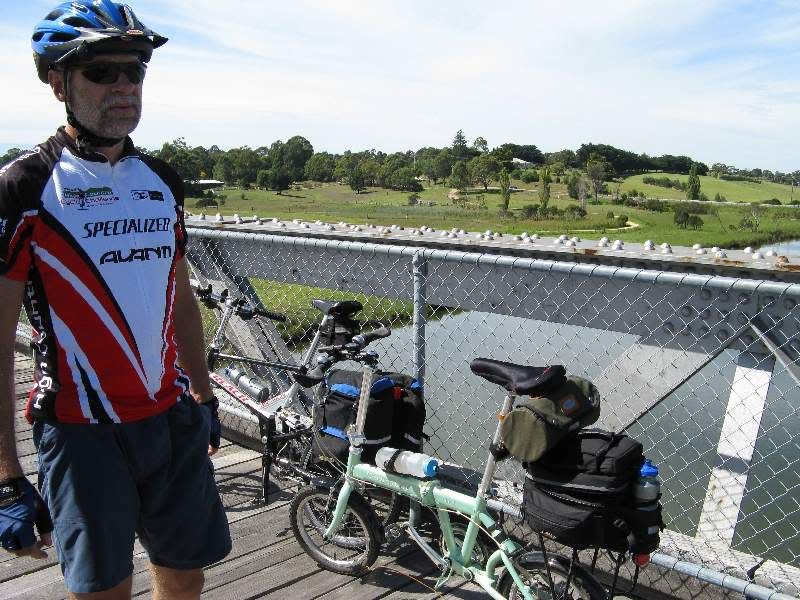 Pausing for some photos on the Nicholson River bridge, and Jur getting grumpy because she's making a production of it.

Now she's grumpy, too.

Grumpiness left behind, we arrive at a wayside farm. A bushfire looms in the distance exactly where we're going.

Resting to eat a snack. I was carrying all the food, tools, spares and sundry heavy stuff plus my street clothes, while Connie carried a spare set of clothes.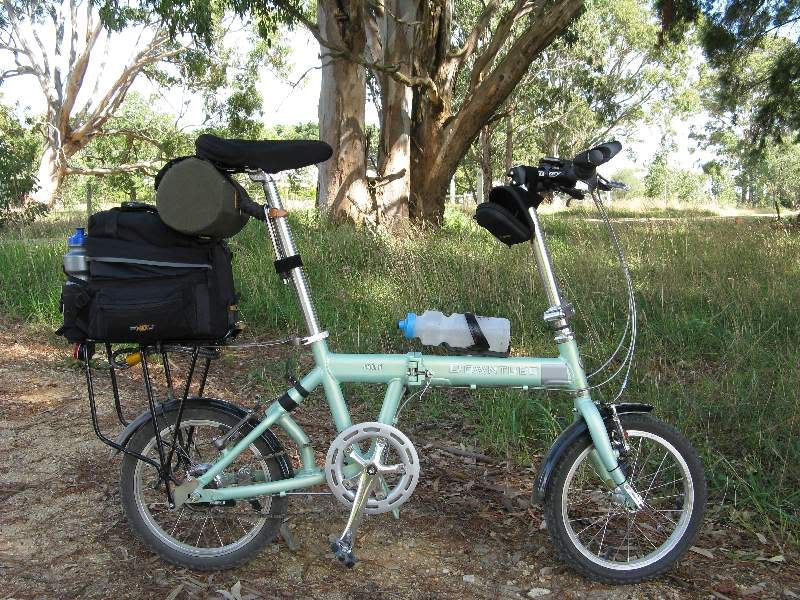 My Mini looking eager to tackle anything. You can't buy these in Australia, my boss kindly brought it from the US for me.
Widely regarded as the best value-for-money 16" folder on the market, it rides very well, has gentle rear suspension and an 8-speed Sturmey-Archer geared hub.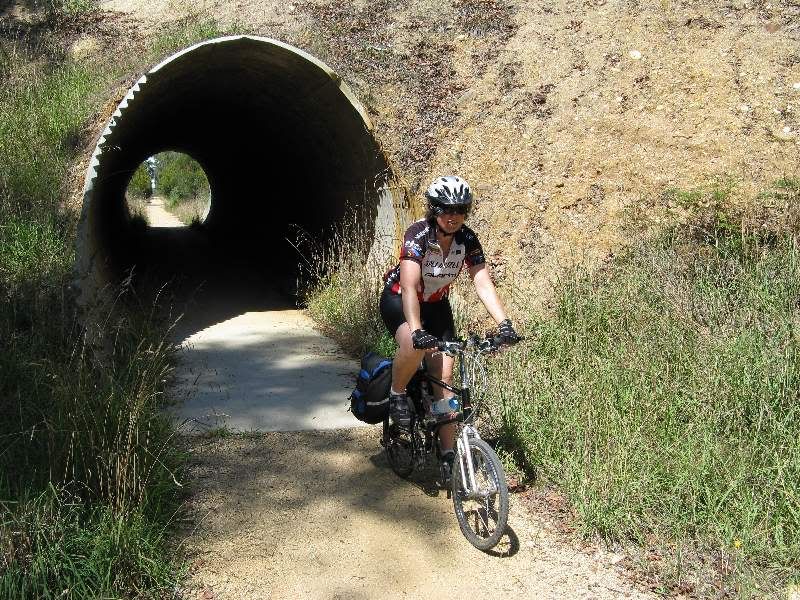 Did I mention this is a rail trail? Well, they have tunnels with cyclists emerging from them. Some sections in this vicinity were literally impossible to ride through -
deep loose sand with a thin treacherous crust giving the appearance of terra firma.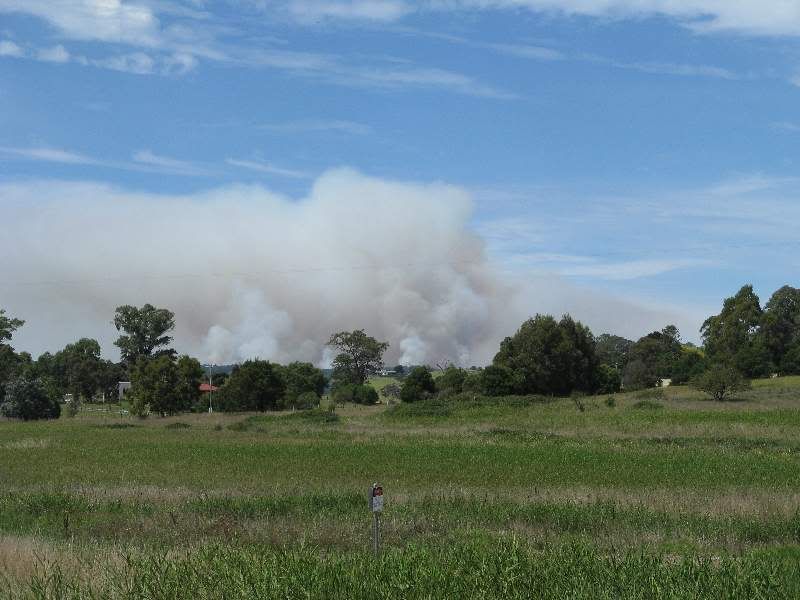 Ever closer to that bush fire.

The trail dips through a... errr, dip... with the original trestle bridge derelict. Pity.
Day 1, leg 2: Mississippi Creek Trail to Lakes Entrance: 26km

We have arrived at the Mississippi Creek Trail. The smoke was thick, causing this gloom, with ash falling from the sky. But there was not a breath of wind, so I thought we were quite safe.

Not a rail trail, it goes up and down with the terrain. It starts out flat enough.

Connie has arrived at Quarry picnic ground, site of an old disused granite quarry.

Jur's already there.

Man-eating croc... errr, no, wait...

Connie zooming away after another quick snack at the quarry.

Jur racing to catch up. The trail is now following an old quarry tram track...

... passing over the creek a number of times. The creek doesn't deserve its name, it doen't look like Old Man River, and doesn't even flow.

Log Crossing picnic ground.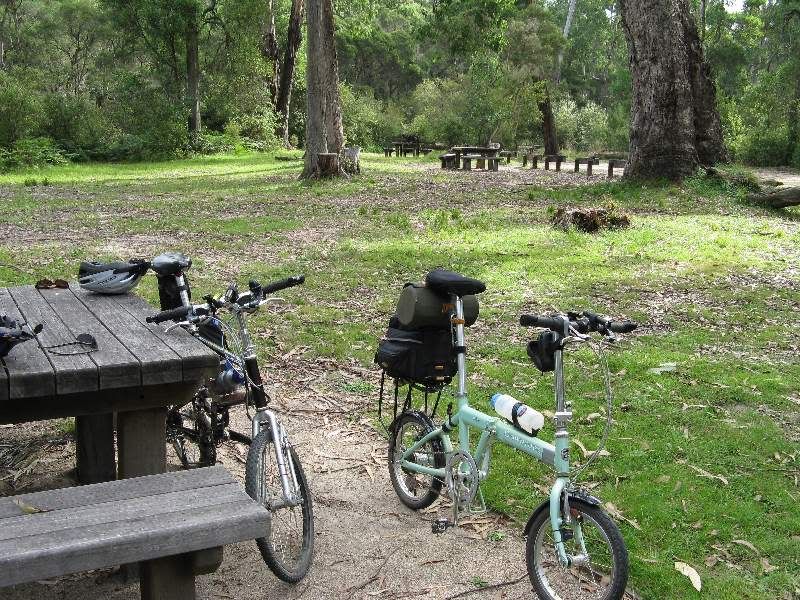 The bikes taking a breather...

... while Connie inspects the facilities.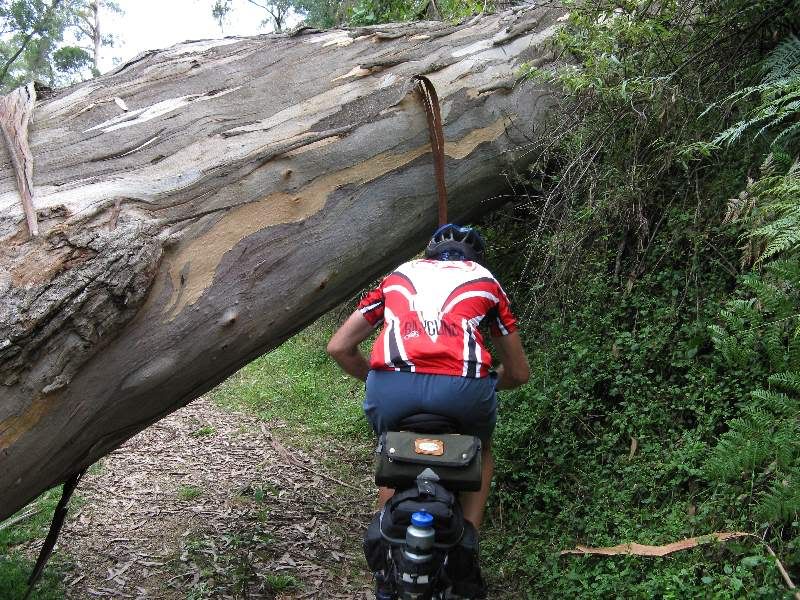 On our way again, Jur tries to ride through under a fallen tree...

... but after bashing his head against the tree and almost plunging into the undergrowth in the process, decides it's safer to walk through.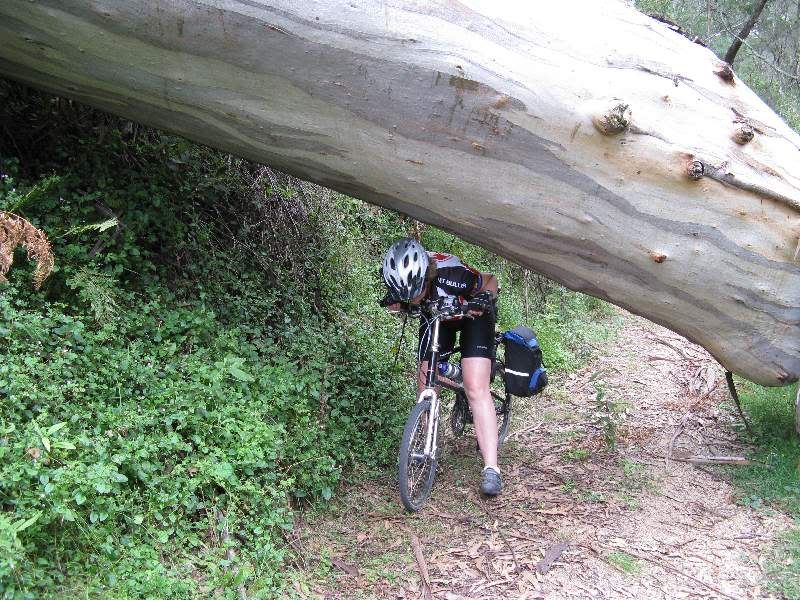 Connie, ever wise, didn't try to ride through.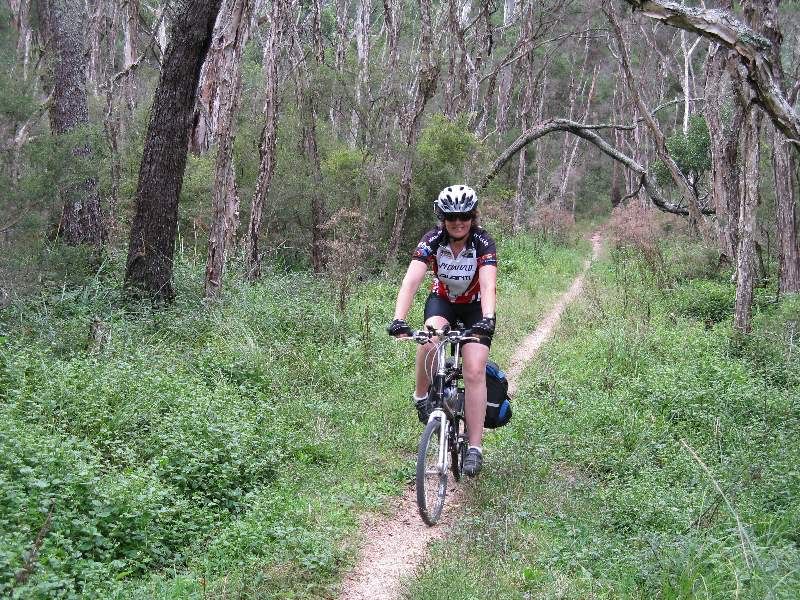 Nice scenery, huh? I must say, the DSE really nailed it with this track. Very nice indeed, rail trails are boring against this.

We're off the track on the last stretch of road, taking obligatory pics of horses.

First glimpse of the sea.
Day 2: Loafing at Lakes Entrance

Lord's day at Lakes entrance. After cycling to church we pedalled on to Lake Tyers. This is the beach on a long weekend! There was a surfing competition at Lakes, but as you can see, it turned into a bobbing competition.

Having a coffee...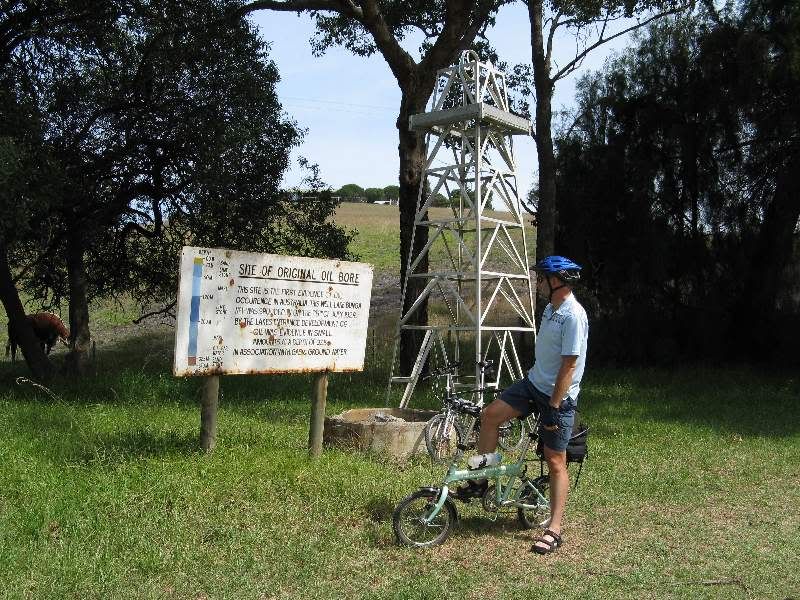 Just a boring old sign.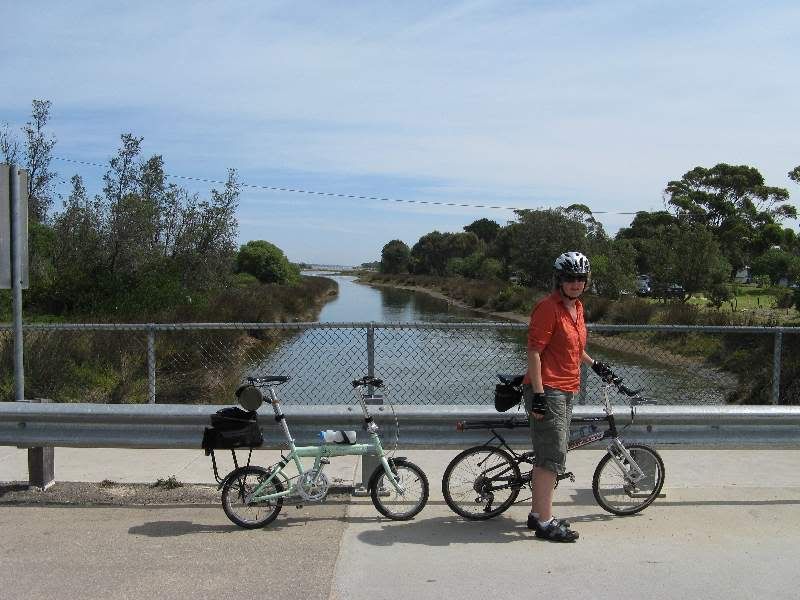 Crossing a number of small rivers.

Again...

Snacking time again, with a magpie hiding.

What are you looking at?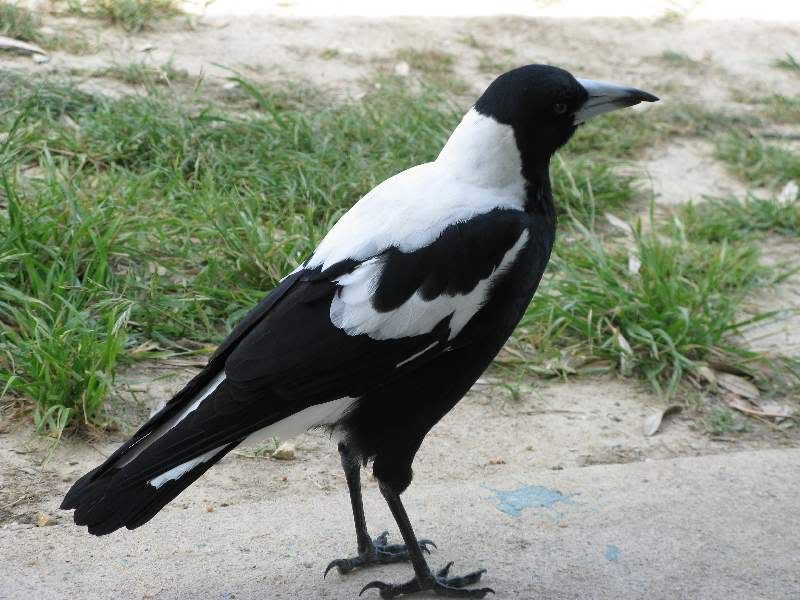 The magpie, dear...

At the fisherman's wharf these long-haired girls were unloading the catch of the day.

Lakes Entrance.

Spectacular place.

Fish & chips at the harbour with gulls looking on longingly.

And that's the end of the day.
Day 3: Back to Bairnsdale

Before first light we had the bikes loaded up.

Despite a very hot forecast for the day, it was quite chilly before dawn.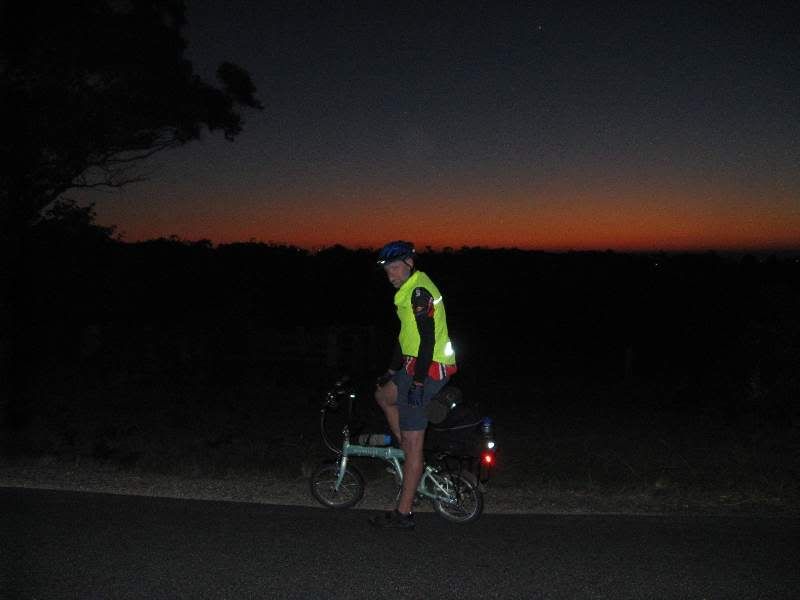 Just outside Lakes we spot first light.

Back at the start of the trail, still before sunrise. It has warmed up and we packed away the warmers.

Jur hooning down the trail in the dawn light...

...followed by Connie calling, "slowing!"

Tackling some steeper bits...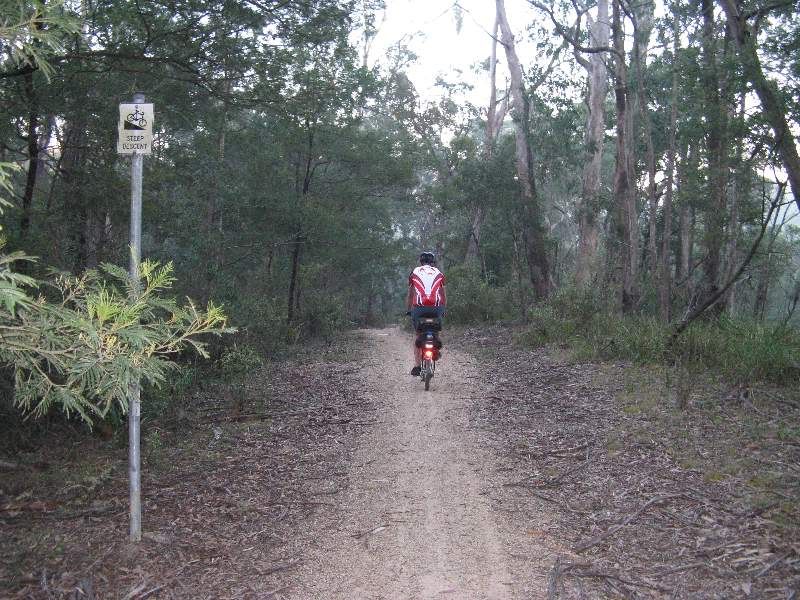 Doesn't look steep...

Aim between the poles, Jur!

The sun rises as last like a glowing fire through the bush.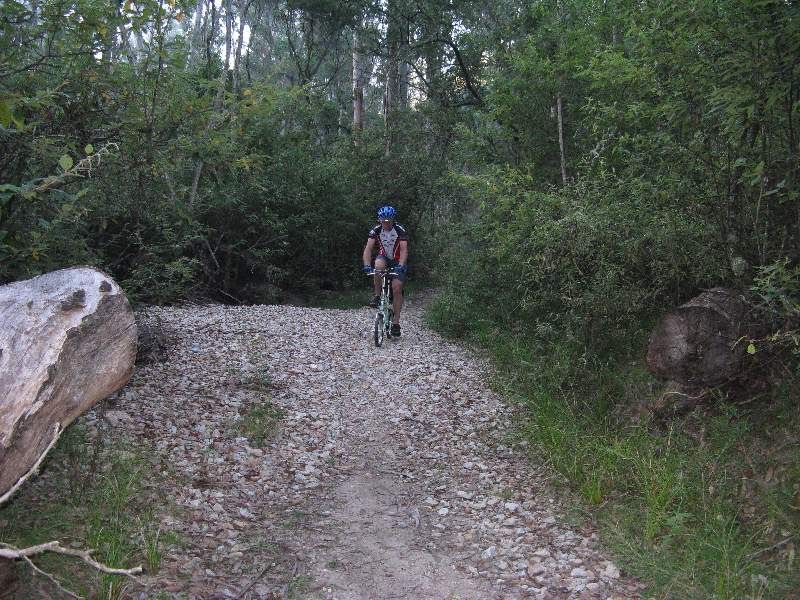 Tackling some more difficult bits, this time stony track...

...followed by deep loose gravel...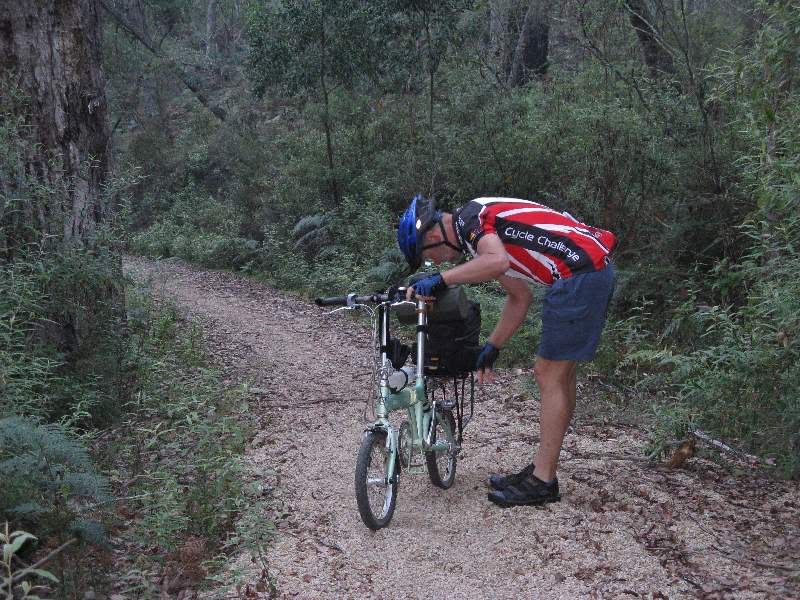 ...and having fallen over, inspects the bike for damage.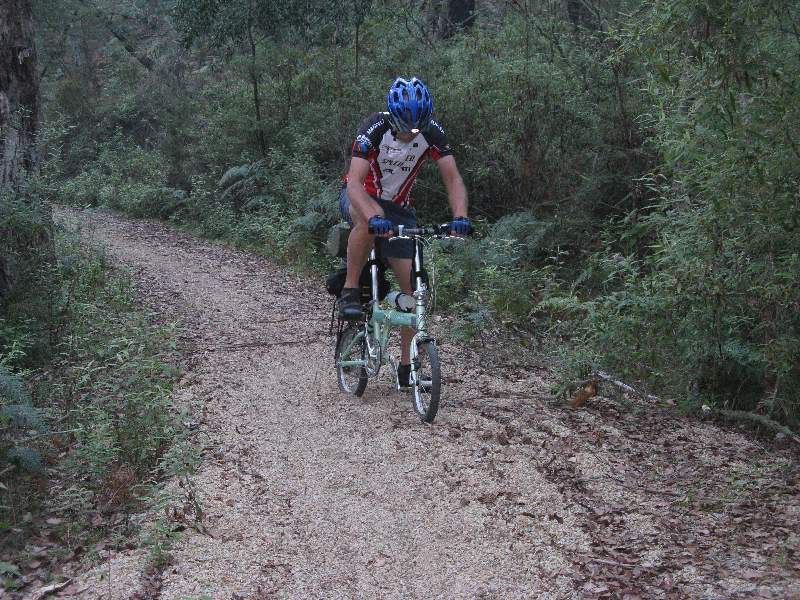 No damage, so try again.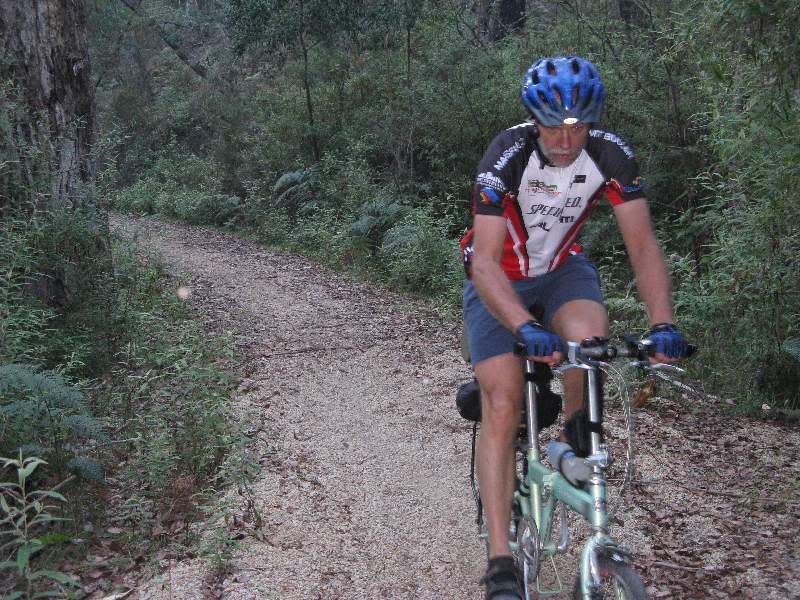 Brute force gets me through.

Connie is already waiting after picking up her bike over another fallen tree.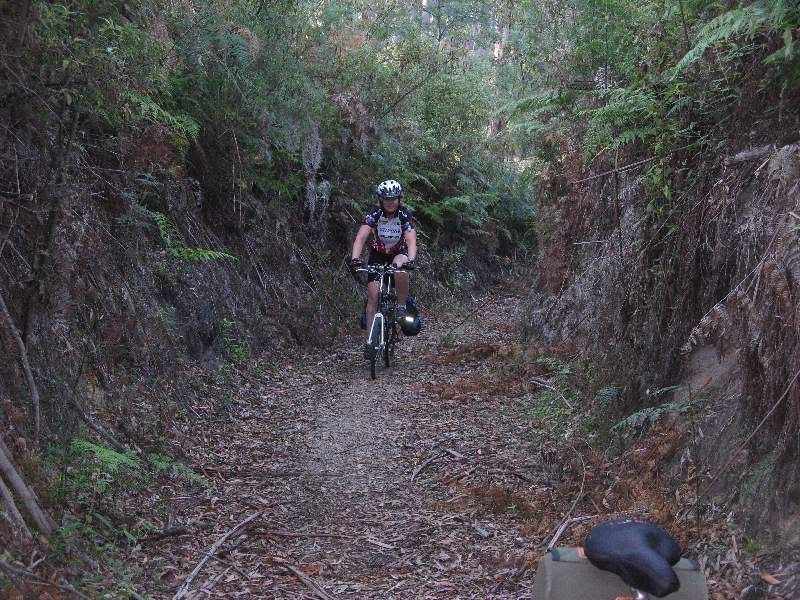 This cutting is a clear sign of the old quarry tram track. It was massive fun to ride.

Some bits were damaged by recent rain.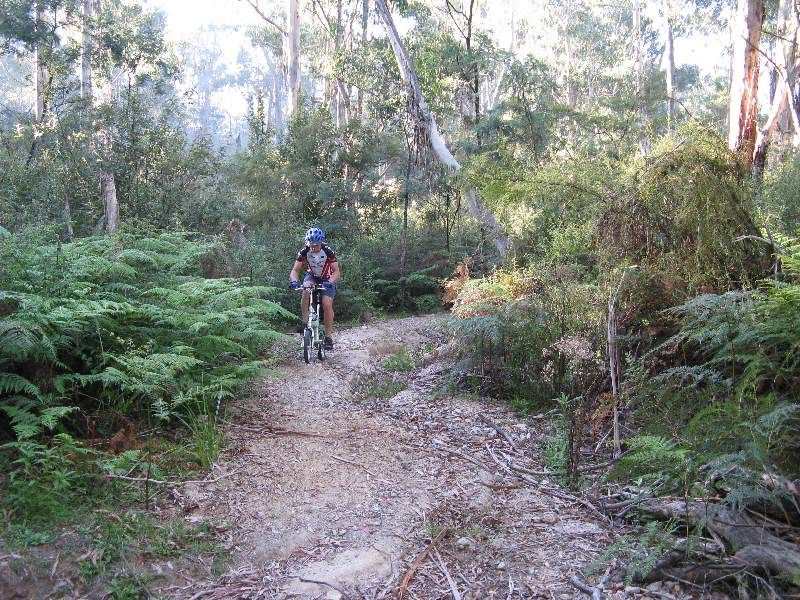 Jur negotiating some damaged bits...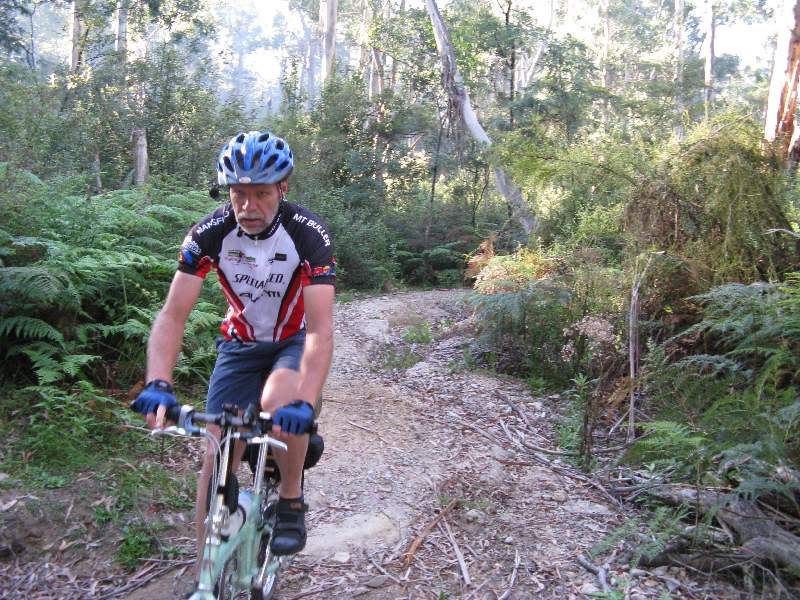 ... and looking rather relieved he made it without falling over this time.

"Right, dear, snap me as I effortlessly sail up this steep bit"

"D'oh! gears not low enough."

This was the view for much of the day.

Back on the rail trail with the weather hotting up.

"Nice view! What the... dear, your rear tyre's flat!" It was a BIG iron curl that punctured the tube on both sides.

Jur pressed into service to fix other people's problems. There were compensations.

Having morning tea at Bruthen, another magpie looks on hungrily.

See? Birds do have binocular vision. Shoo!

Hot hot hot. At the same wayside farm, we take a breather under the tree again. The temperature soared to 38*C.

Back at the Nicholson river bridge, these guys were having a pleasant loaf on the boat.

This time we managed to shoot some pics on the bridge without getting grumpy.

Back at the car. Journey is over. The temperature got to 40-ish.

Connie thankfully taking off the helmet for the last time of the day.

Jur checking that the bikes are secure before tackling the 4-hour drive back home.