My Xootr Swift Folding bicycle
I bought a Swift frameset directly from the designer, Peter Reich, and built it up using a judicious selection of compoenents which offered light weight, good quality and not the most expensive. I ended up with a folding bicycle that has comparable or better specs than the most expensive bikes out there, at a vastly lower total price.
Basics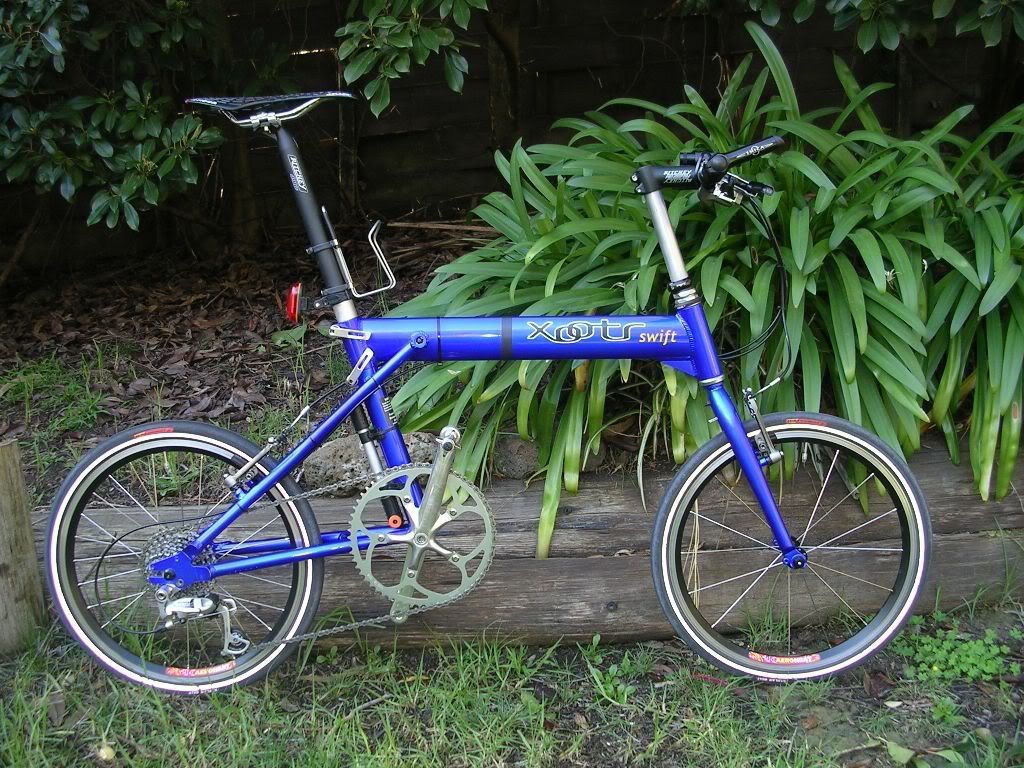 The frame is aluminium alloy, made under license in Taiwan for Xootr. The fully built up bike weighs 9.0kg. There is scope for dropping another 1/2 kilo by replacing the tyres with folding Stevios, putting in lightweight tubes, FSA crankset with American Classic ISIS bottom bracket, and Easton EC70 seatpost.
Seating arrangements

Seatpost: Ritchey Pro aluminium 31.6mm x 400mm (300g). A custom adapter was made from the original 34.0mm seatpost.
Saddle: Tioga Spyder (140g).
Bottle cage: Stainless steel BBB, mounted on the seatpost with tool clips.
Steering Details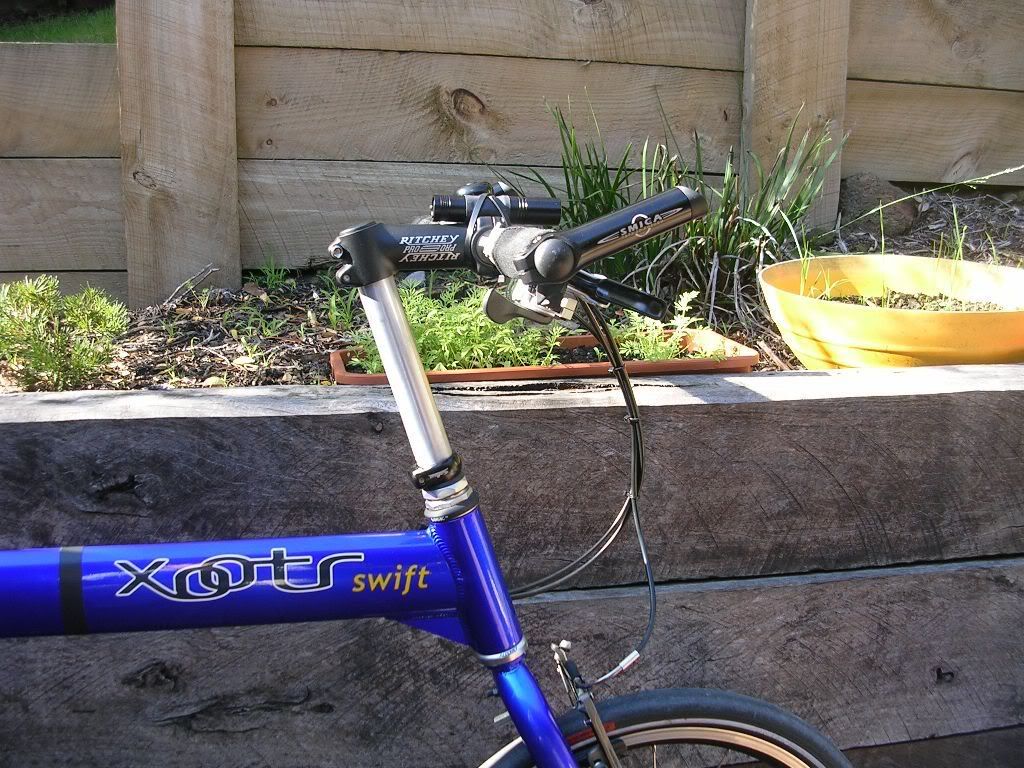 Handlebar: Titec Enduro XC flatbar
Stem: Ritchey Pro 100mm
Grips: Ritchey WCS foam
Barends: SMICA ultra-lights
Brake levers: Avid FR5
Shifter: Deore XT 07 9sp double action
Steering riser tube: Custom 28.6mm aluminium 6061 T6
Steering riser tube clamp: Salsa 28.6mm Liplock
Headset: Ritchey Logic 1 1/8 threaded
Drivetrain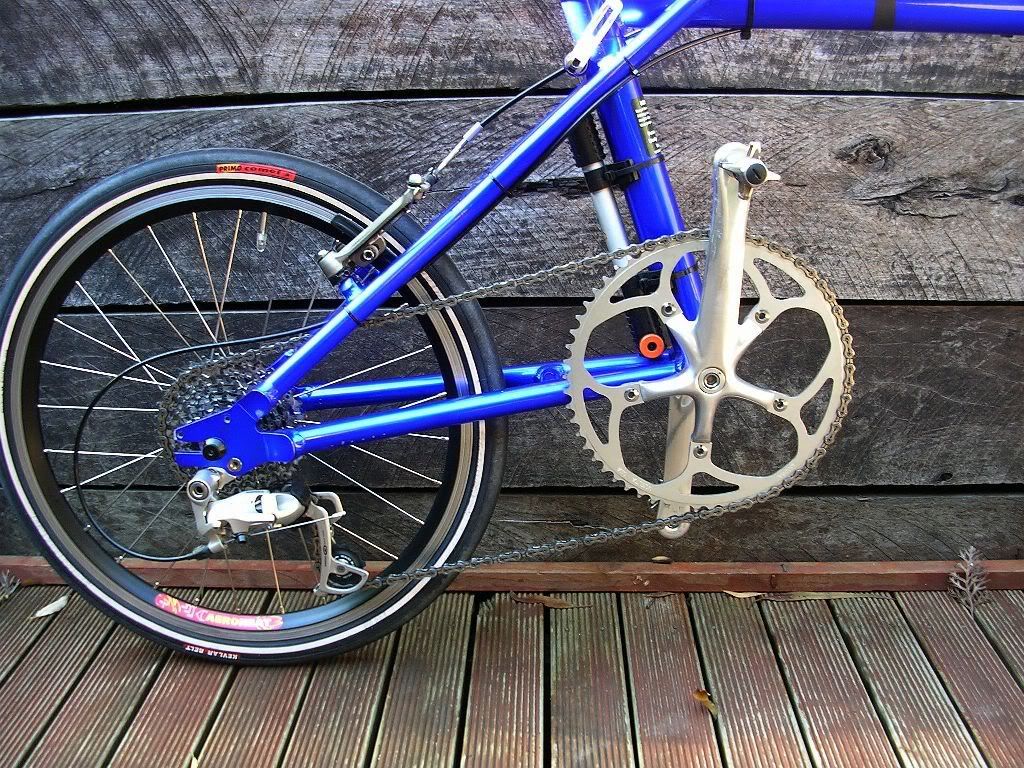 Crank arms: Ultegra 6500
Bottom bracket: Ultegra 6500
Pedals: Crank Brothers Eggbeaters SL
Chain ring: Vuelta 58T
Chain: KMC X10 SL
Cassette: Deore XT 9sp 11-34T
Rear derailer: Deore XT 07
Brakes: Avid SD7
Pump: SKS Airbuoy
Rim: Velocity Aeroheat 28H
Rear hub: American Classic RD205 28H, laced 2x drive side, radial left side.
Skewers: Generic bolt-on
Tyre: Primo Comet Kevlar 406-32
Front wheels specs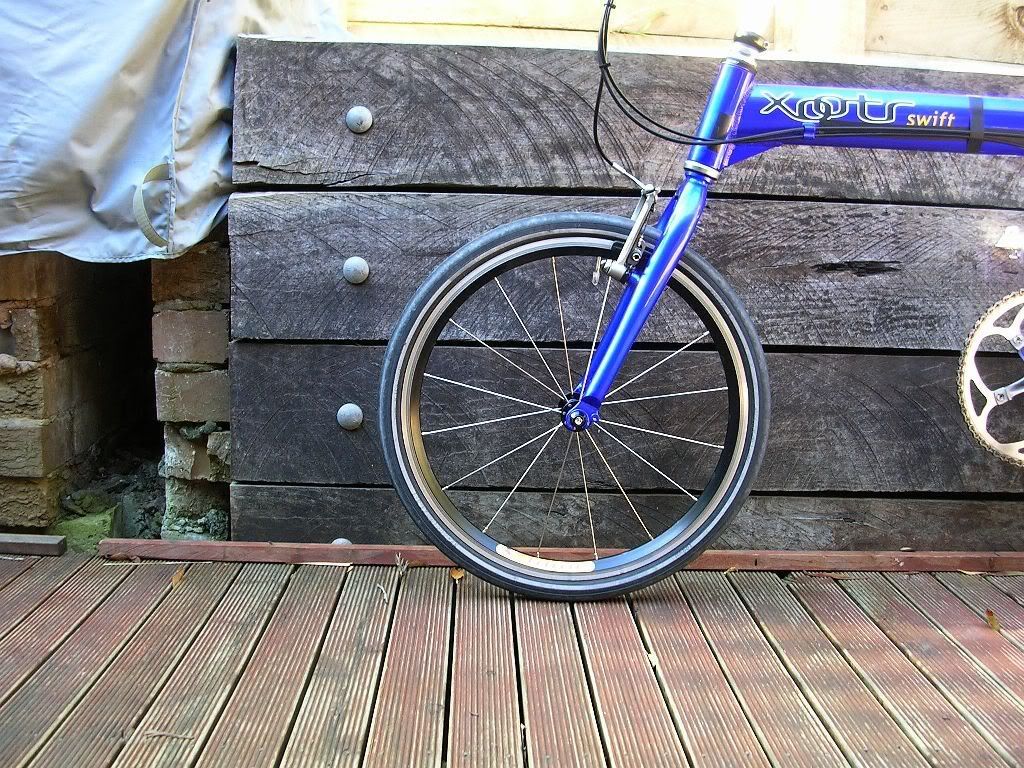 Rim: Velocity Aeroheat 32H. I used squares of "gaffer" cloth tape instead of rim tape. I have been doing this for quite some time on my wheels and have not had any problems with this approach.
Front hub: American Classic Micro 58 16H laced radial to every second spoke hole
Brakes: Avid SD7

I have the handlebars set quite a bit lower than the saddle; unexpectedly, I suffered no discomfort on long rides.

The bike is amazingly comfortable to ride.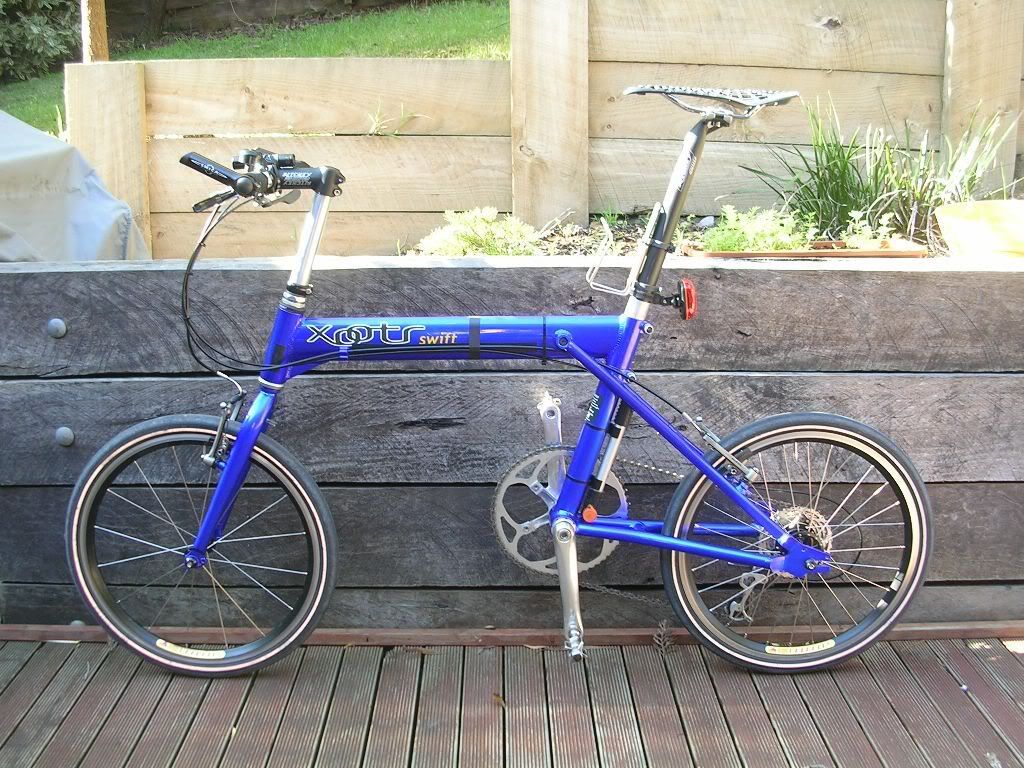 The saddle flexes under the sitbones and conforms to them; the foam grips damp road buzz very well; the barends give added hand positions and the aero setup of the bars is just right. The long wheelbase makes for a very stable ride and the frame soaks up rough road vibrations amazingly well without being flexy under torsion loads.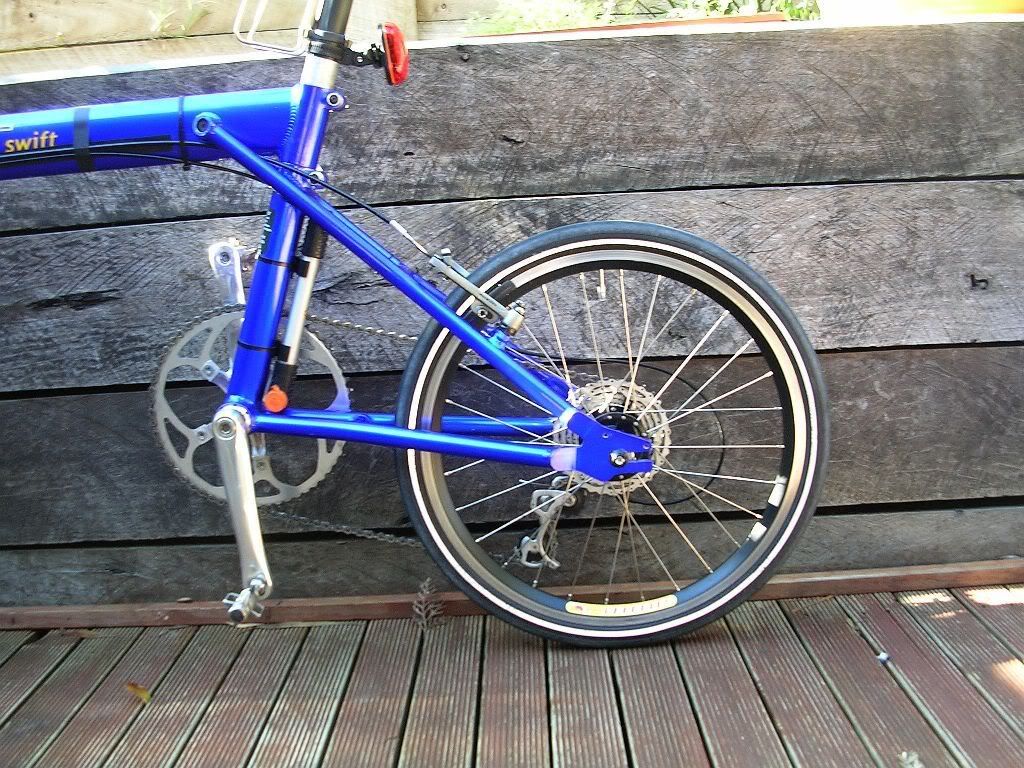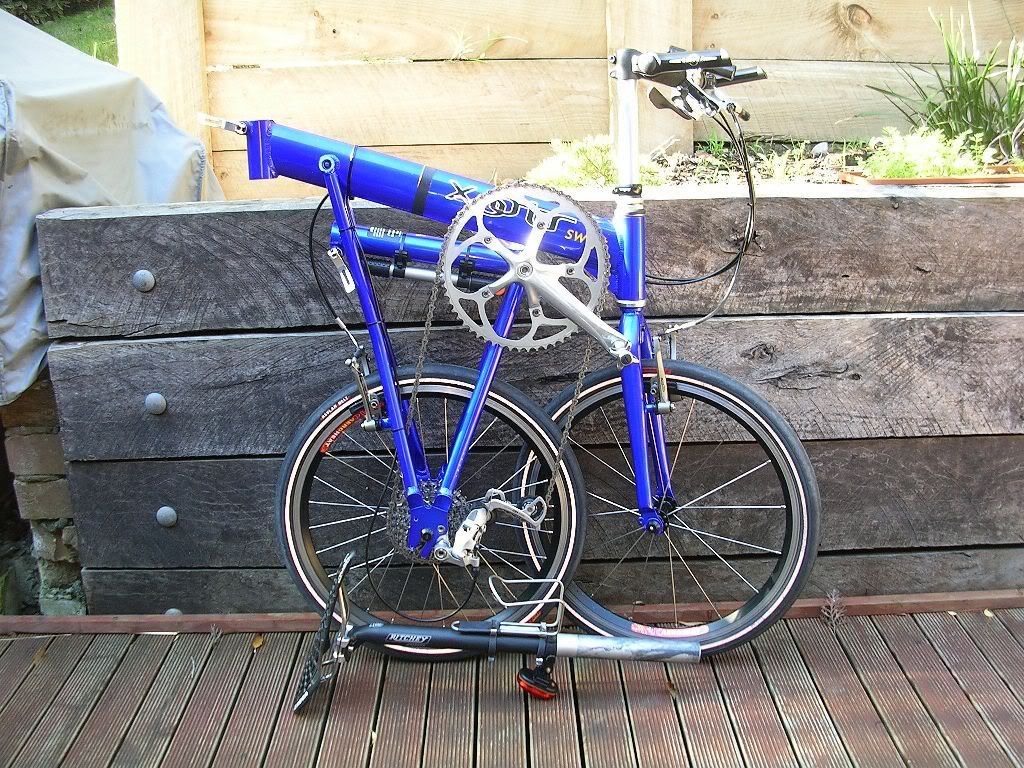 Here you see the seatpost adapter on the seatpost, it is a part of the original 34.0mm seatpost; the top section wall thickness was made 1.2mm on a lathe so that the 31.6mm seatpost slides in all the way to its minimum insertion mark and then bottoms out on the internal shoulder. The fit is tight: Tightening the seat clamp on the frame is enough to also lock the seatpost in place in the adapter, so no extra clamp is needed. Because the seatpost bottoms out on the shoulder in the adapter, it will not slide in further.