Tasmania Cycling Tour Holiday 6-27 March 2007
The plan was to fly to Hobart, cycle around the island state back to Hobart and fly back. So we flew Virgin Blue to Hobart, as they have a policy that bikes count only as 5kg of your weight allowance, regardless of actual weight, plus the best fares.
We used the Giro Tasmania as a starting point for our plans and modified it to suit our plans.
You can click on the day titles to see a map of the day's route, plus you can see an elevation profile by clicking show -> elevation profile on that page. (This last feature is buggy and may not always work.)
Day 0: Packing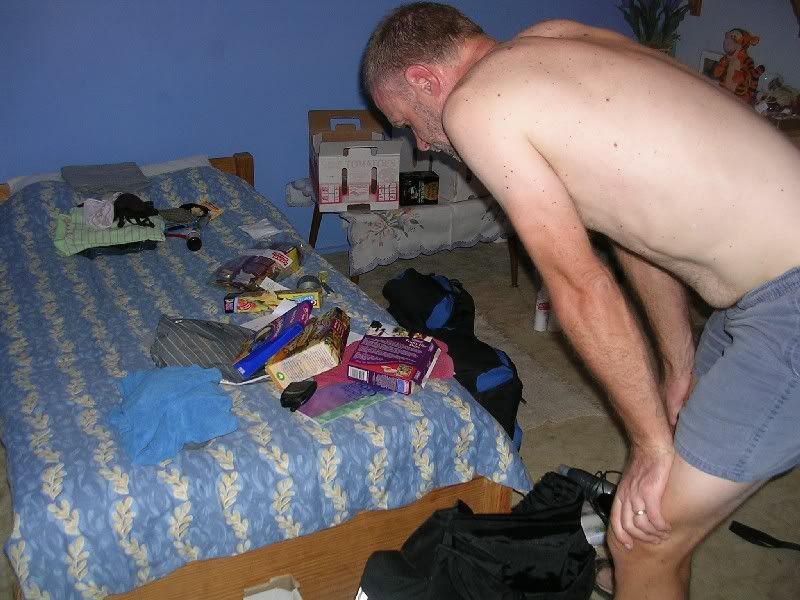 Panicked realisation: Not enough space! Leave some stuff at home. Decisions decisions...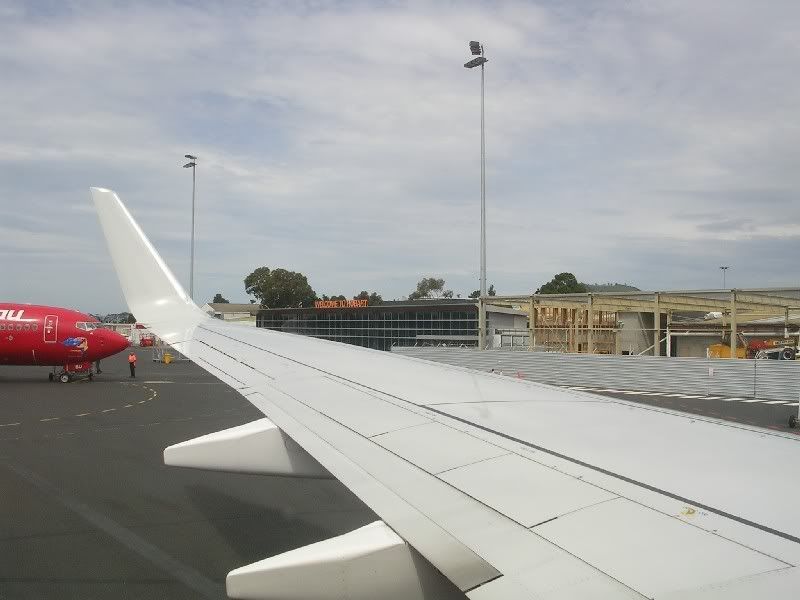 Welcome to Hobart!

Assembling the bikes outside the airport building. What is this yucky black stuff on my fingers?!

My Raleigh Twenty feeling up to the job. We packed like this for the first few days, but settled into a more efficient arrangement as we got used to things.

Here we are already at Richmond - the first stop on the tour after a paltry 18km.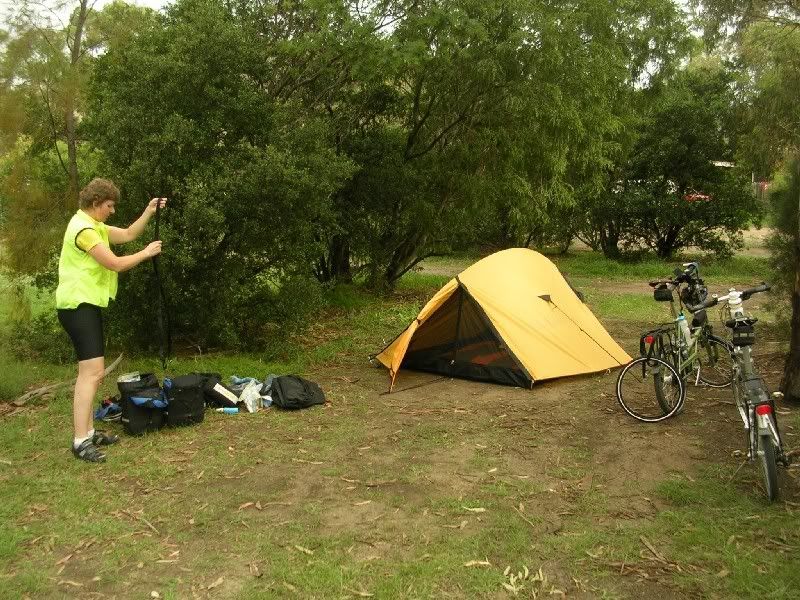 Camp Richmond. The place wasn't 5 star, oh no... but 1st day's ride was uneventful.

Enjoying the evening meal (fish & chips) at Australia's oldest bridge (circa 1823). A lovely spot.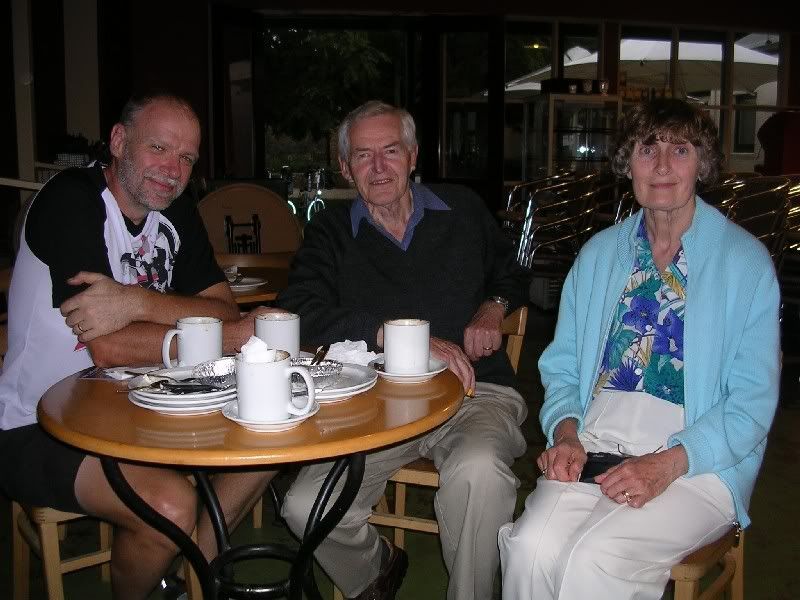 Having a cuppa with Melbourne friends John & Lorraine who also happened to be on holiday in Hobart.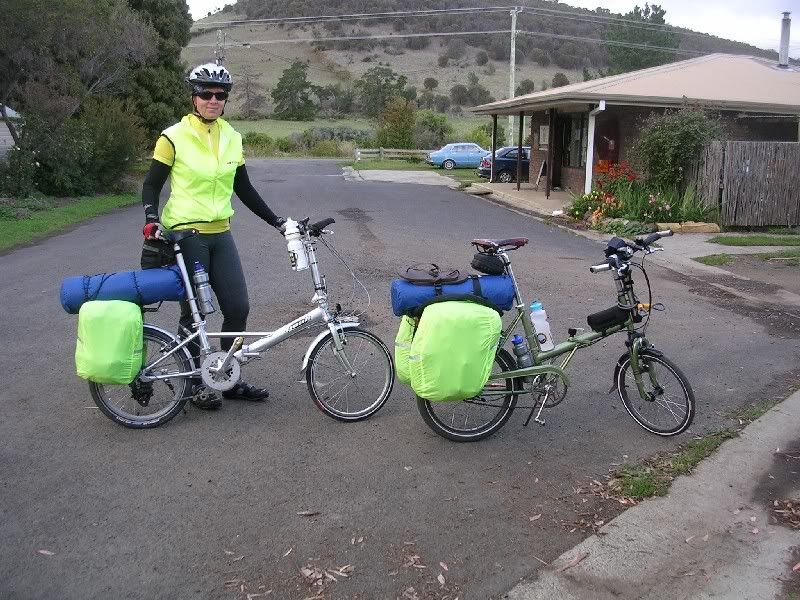 Ready to tackle the 1st day of big riding, including 2 nasty little climbs. It rained a bit in the night, heralding a wet holiday perhaps? As a precaution, we put the rain covers on the panniers.

Having a rest at the top of the 1st climb. It was a lot steeper than I anticipated; I thought about 5%, but it was more like 8%. In hindsight, a miscalculation on my part - I calculated the average over about 4km.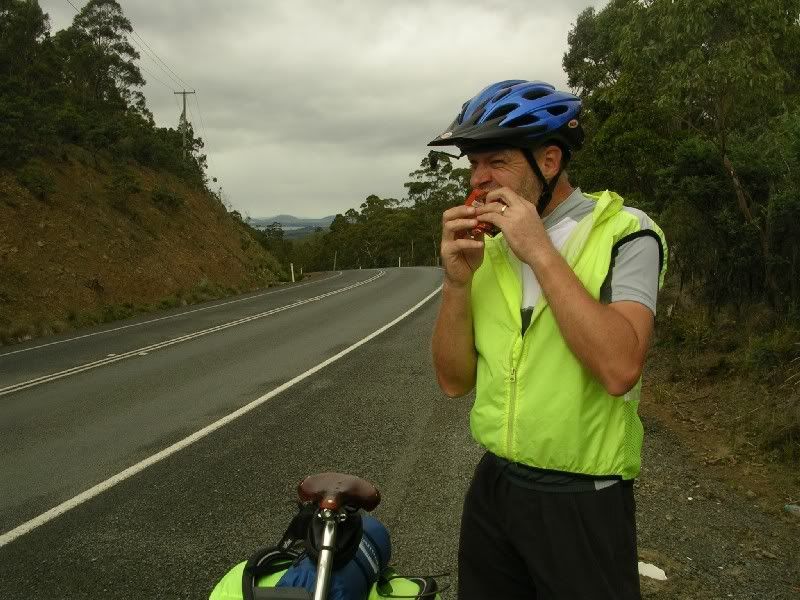 ...and wrestling with a muesli bar which had turned to an old shoe sole in the cold weather.

And having a rest at the top of Bust-Me-Gall hill, the 2nd climb which was even steeper than the first, perhaps 10%. Connie just shook her head when I asked her how she's doing on the way up. While recovering, a freezing squall swept in and we donned our cold weather gear for a toasty descent.

Relaxing at Buckland roadhouse for a toasted cheese sandwich and cappucino. If we loafed here for 10 minutes less, we would have made it in time for the ferry to Maria Island. Bummer.

Connie cruising next to the Prosser river on the way to Triabunna on the coast. It was narrow and with nowhere to go when log trucks thundered by, Connie found it nerve-racking at times.
Instead of camping on Maria Island, we stayed at the backpacker's lodge in Triabunna; Fran was the hostess there. An exceptionally hospitable place to stay at, highly recommended. Sorry, we forgot to take pics!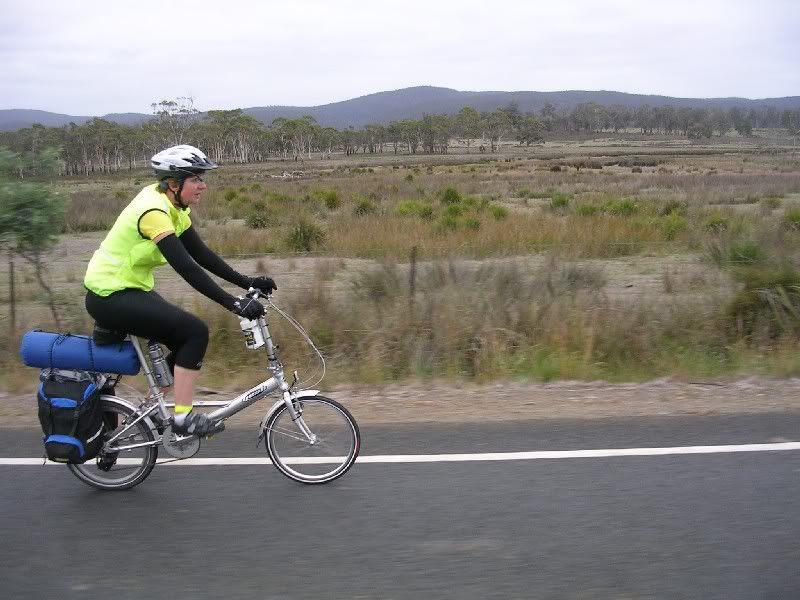 Connie feeling better with a nice shoulder on the road to retreat to in case of log trucks. Even on the 3rd day we improved our packing arrangement to make the rear light more visible under the bedroll, by supporting it with the camp pillow.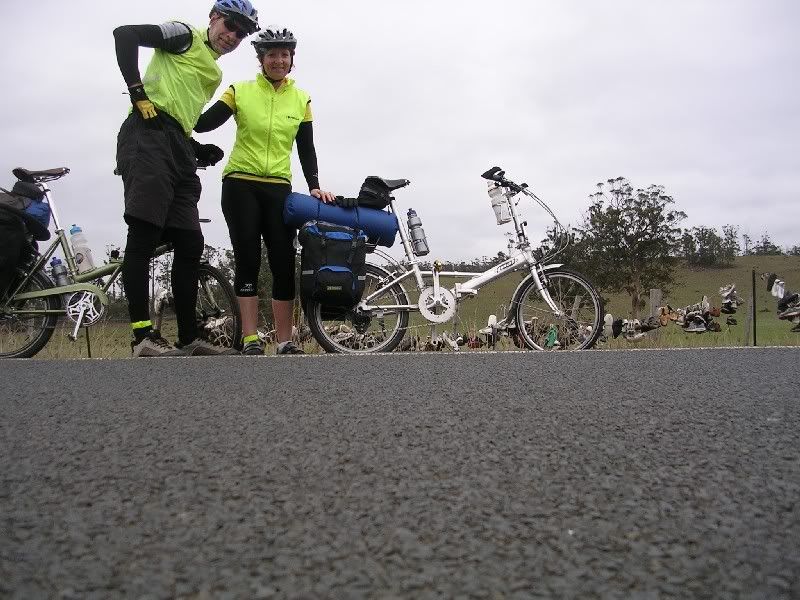 Check out all the shoes! They were out at the roadside of a hiking resort - presumably all the shoes people had forgotten there over the years... none were fit for use, so we left there with the same number of shoes we arrived with. (The camera was mounted on a dinky little flexible tripod perched in the middle of the road.)

Enjoying a break at a secluded spot.

Resting yet again at the top of the only serious climb of the day (or so we thought!!!).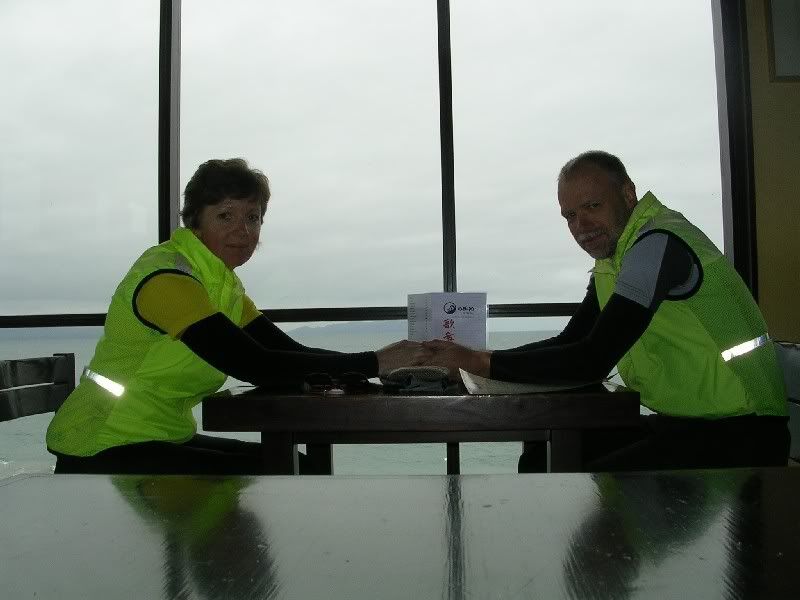 Morning tea at a Japanese guesthouse overlooking Oyster Bay with Freycinet peninsula in the background. (Using the dinky little tripod again after I found it still lying on top of the bedroll where I left it at the shoes exhibit! Lucky it didn't fall off.)

Spiky bridge, built by convicts. It still works. These convict dudes were good guys.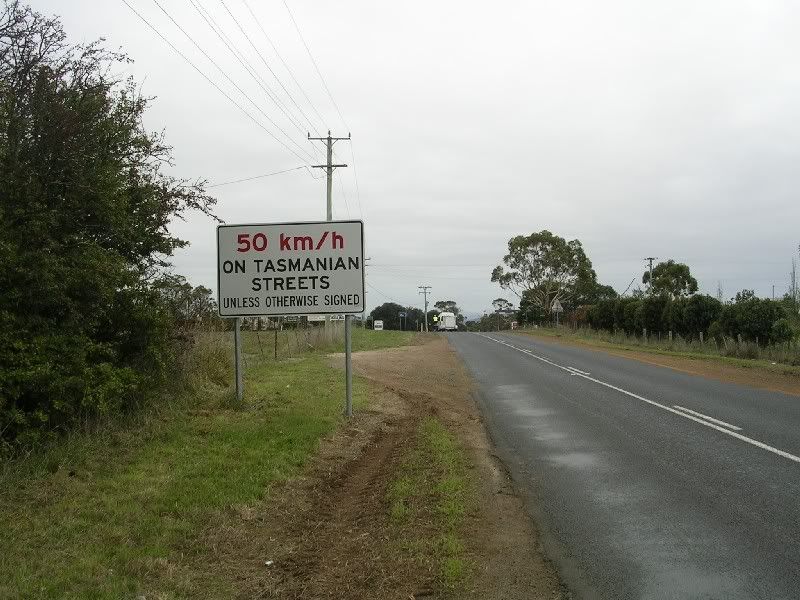 Rolling into Swansea where we phoned Kirk the ferryman to take us in his dingy from Dolphin Sands to Coles Bay, saving about 50km.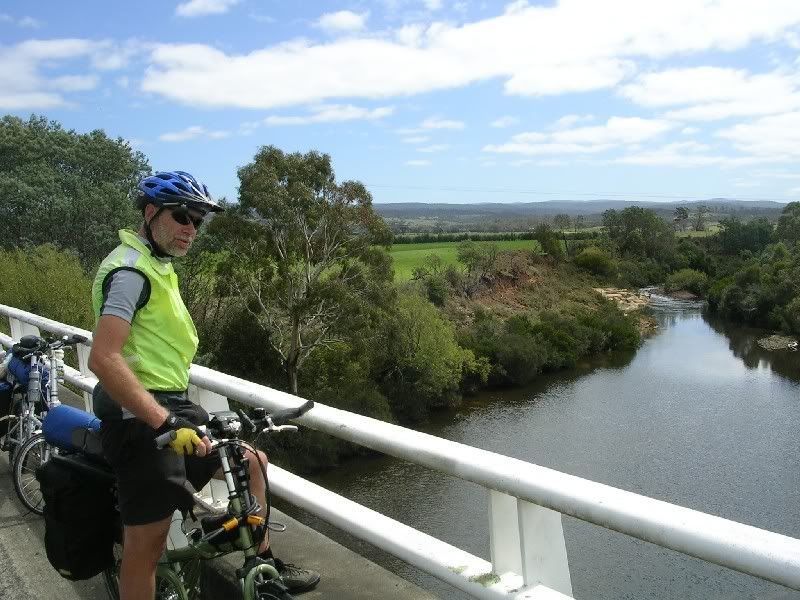 Rolling right on out of Swansea after Kirk the thickhead ferryman told us it was blowing a gale (which it wasn't, I promise) and therefore wasn't taking us accross in his crappy little dingy. He also informed us since it was a long weekend, we could forget about getting a camping spot. At which I patiently explained to him it was like a millpond outside, and that accommodation was not his problem, see?

So here we are, riding an extra 50km or so on top of our planned 70km, and taking in an unforeseen big hill to climb (Cherry Tree Hill). Connie's wrestling with Cherry Tree Hill, still feeling happy, although if Kirk was around near the top of Cherry Tree Hill, I would not have felt at liberty to vouchsafe his continued good health.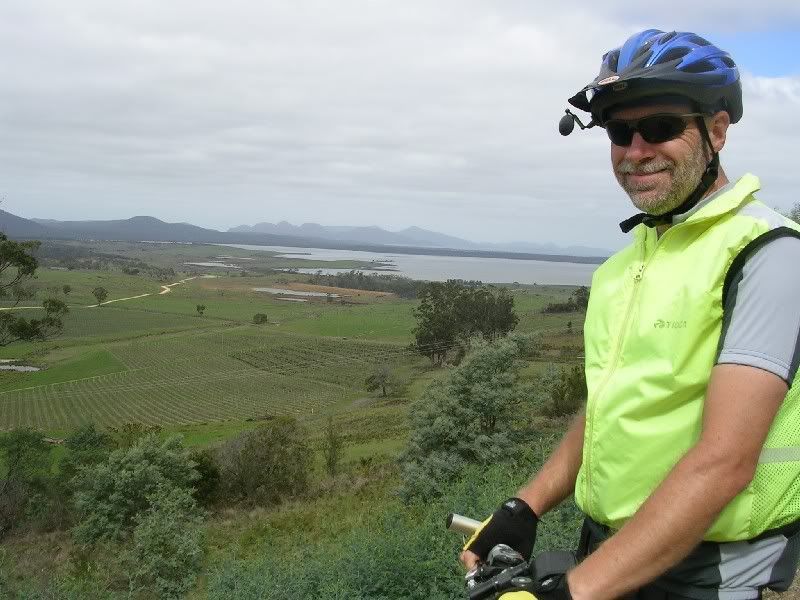 Jur pretending to smile while gnashing his teeth thinking of Kirk the thickhead ferryman and his crappy little dingy.

Finally, tiredly rolling into Coles Bay with the Hazards in the background. They had stage 3 water restrictions. On this day, Connie passed her 1st ever 100km, a metric century!! (Her previous max distance was 99km between Cape Paterson and Cowes and back again, she was too fatigued to add the last 1km for the metric.)

Camp Coles Bay. An excellent place to stay (Big 4). There was ample camping available despite thickhead Kirk's unhelpful claims.

Jur: "Luv, go and stand there and look beautiful?"
Connie: "Like this, dear?"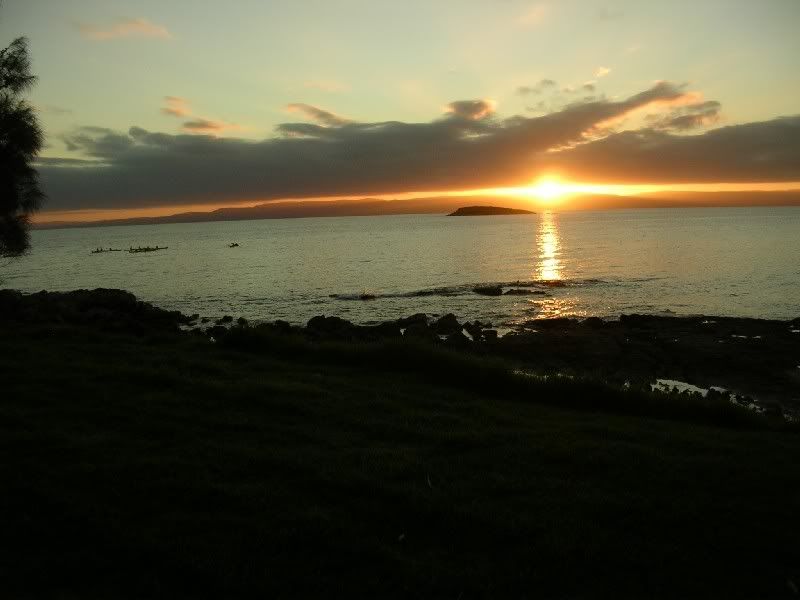 Sunset over the mainland (if you can call Tasmania that) seen from Coles Bay.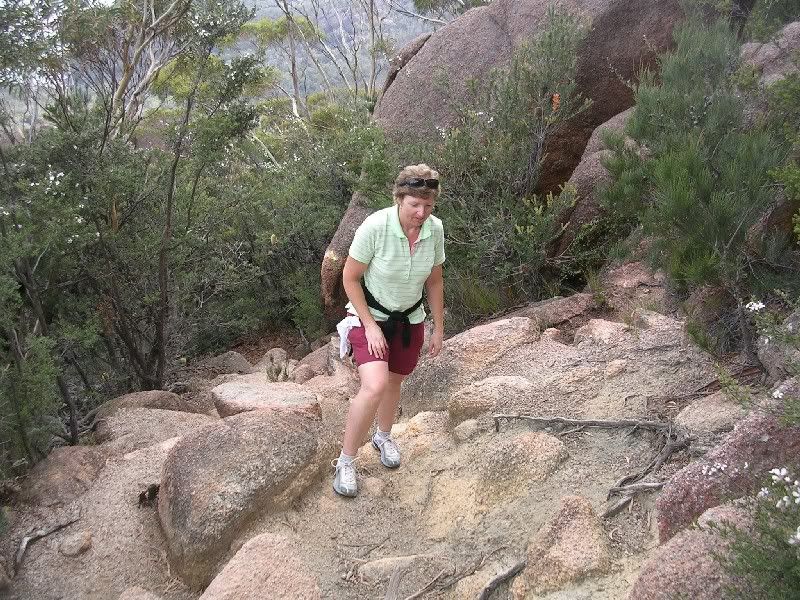 We first rode to Freycinet National Park and climbed one of the hazards, Mt Amos, for a view over Wineglass Bay. A very very tough climb that was (for non-rock-climbers). It required hands and feet and we were sorry not to have thought of keeping our cycling gloves with us as our palms were very tender at the end of it due to the sharp rock crystals.

That view was worth the effort. I climbed with my MTB shoes but had removed the cleats before the climb.


How about this panorama, hey?

That one idiot climbed that big rock and made my blood freeze. I couldn't bear to watch this and we got out of there fast. And got lost.

Back at Coles Bay again. Connie making lunch before tackling the road to Bicheno in strong wind. She was very tired after yesterday's 120km and today's big climb and she had to dig deep for the ride to Bicheno.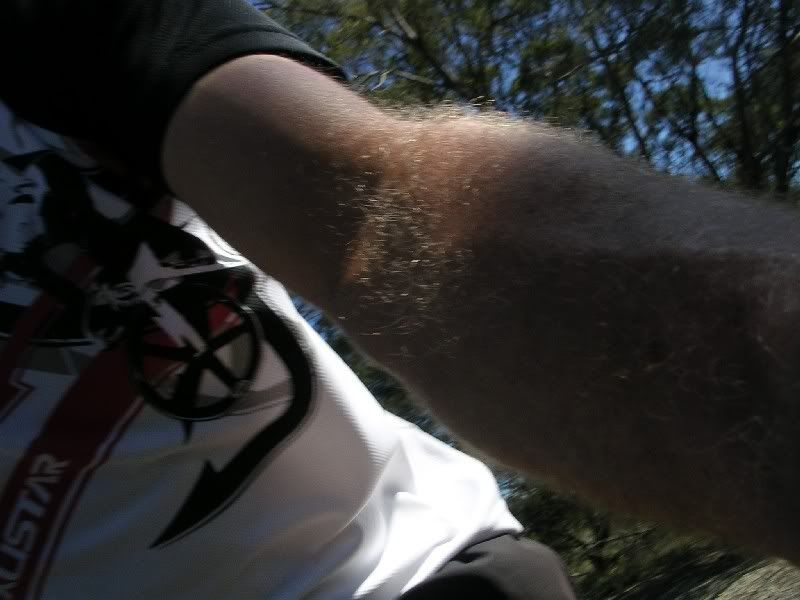 A shot of my hairy arm...

... of my shadow after aiming at some horses and hitting my shadow instead...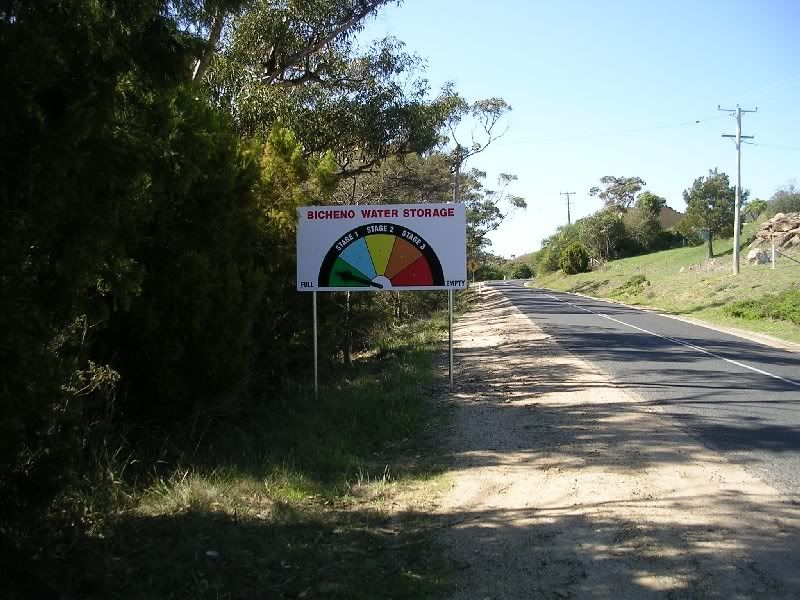 Hello Bicheno! No water problems here. Except we were required to boil the water for 3 minutes before drinking it. Which we didn't, really.
No pics of camp Bicheno. Seems we forgot more than just a few. We met 2 other cycling couples in that camp, 2 Canadians and 2 Americans. The Canadians were carrying 42kg each on their bikes! The woman was surprised to hear we were carrying about 26kg (excluding food & water) between the 2 of us. No doubt she had a few words to say to her husband after hearing that...?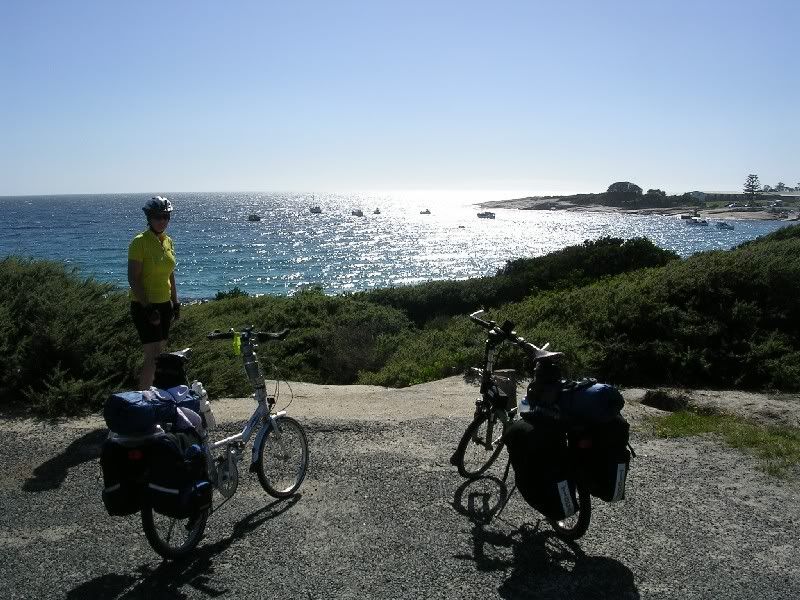 Departing out of Bicheno rather late that morning. Connie's shoulders were painfully cramped up, and I had to massage them which relieved the tension and stopped a headache from developing into a migraine. No doubt the pain pills also helped. (Before you jump to conclusions that the shoulder pain/cramps were caused by riding flat bars, forget it. She gets them regularly, riding or not.)

The journey between Bicheno and St Helens has to be one of the most spectacular. (We were of course travelling from right to left, ignore the bike directions.) (And yes, Connie IS wearing underwear under her knicks, she never gets chafing problems and prefers it this way.)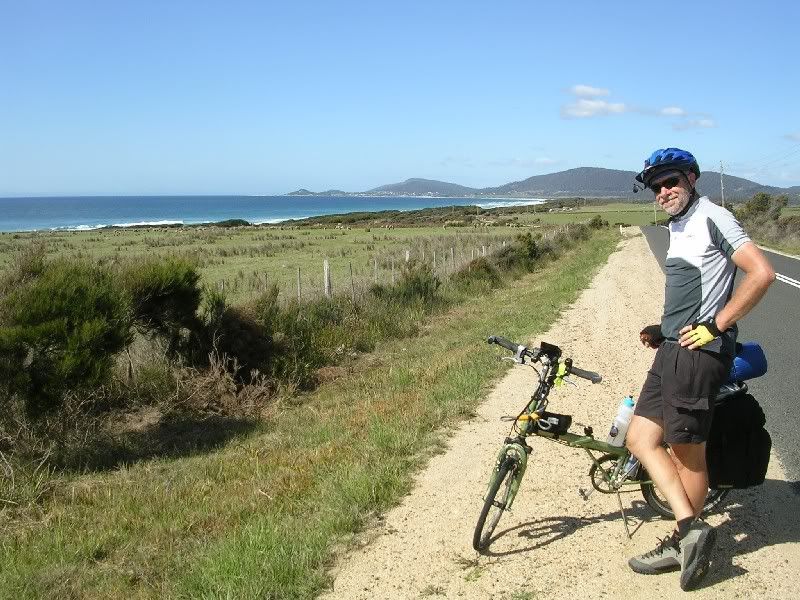 Meet Sir Chafe-a-Not. Jur sporting Coolmax underwear under his boardies. No knicks needed, I never get chafing problems. I brought 2 pair knicks with me just in case but never used them. As for padding between me and the saddle, with a Brooks that is simply not needed.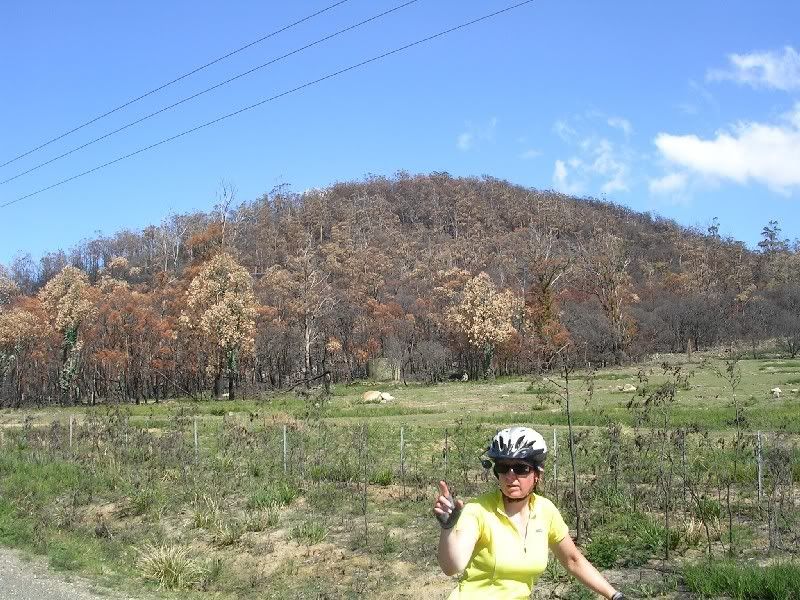 Burnt-out bush near St Marys, from the Jan 2007 bushfires. Connie telling me to photograph the other side of the road instead.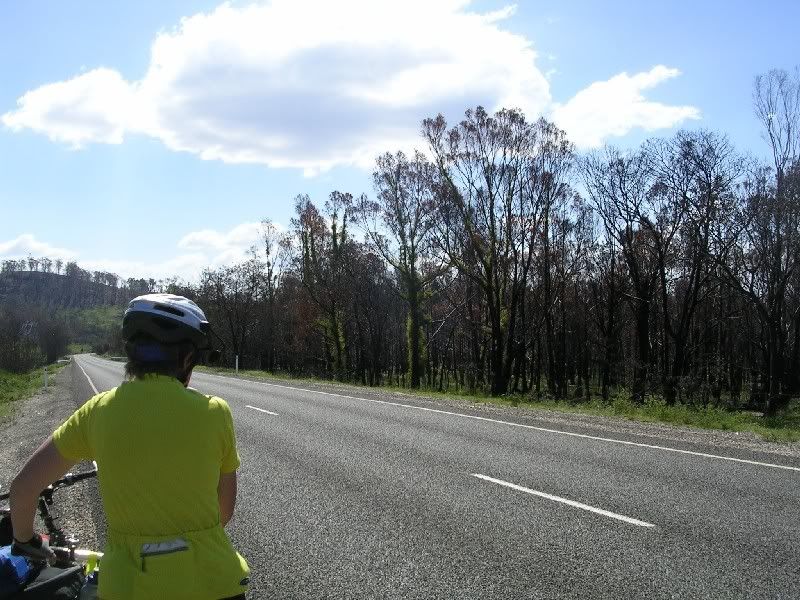 Which I then did.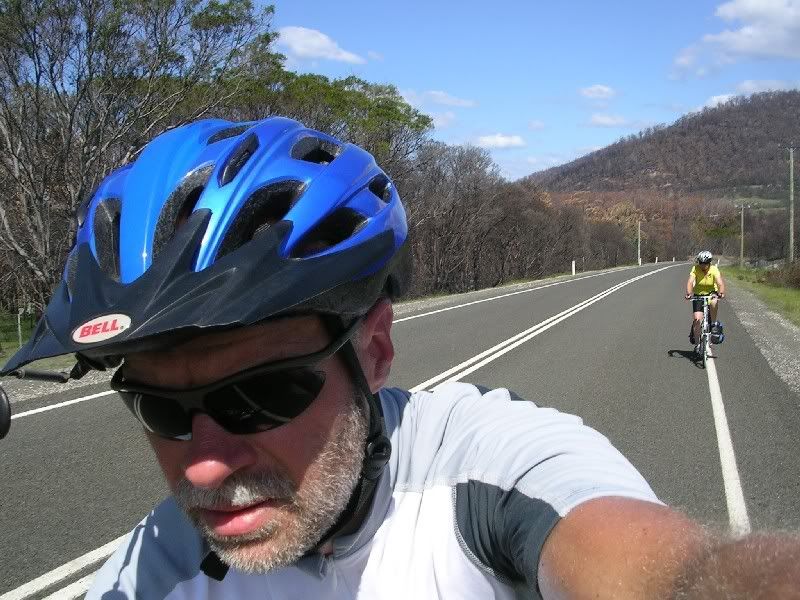 There was quite some wind that day, a strong north-westerly.

The wind blew the tops of the surf backwards.

Hello Camp St Helens! The bikes taking a break while Jur pitches the tent again. Connie asked for a pillow at reception to try and avoid those cramped up shoulders again. I think it worked.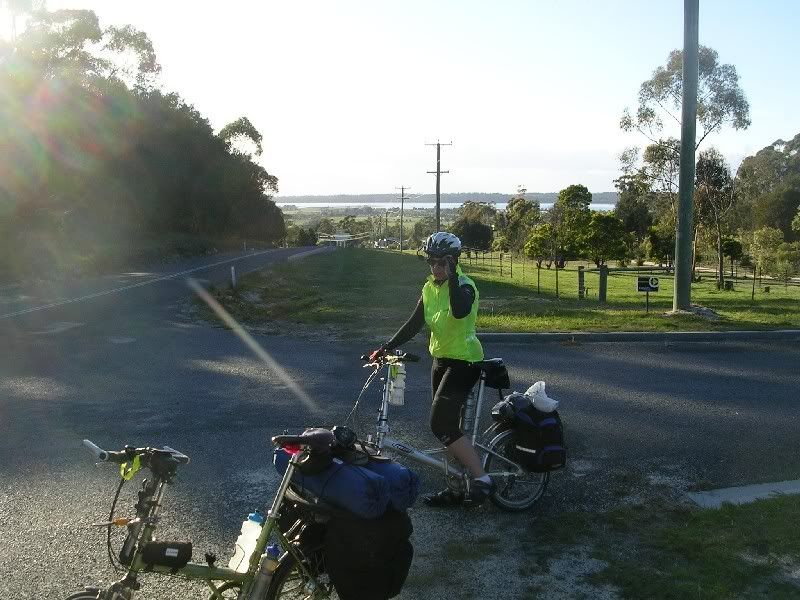 Goodbye to the east coast: A last glimpse of the bay at St Helens before heading inland to...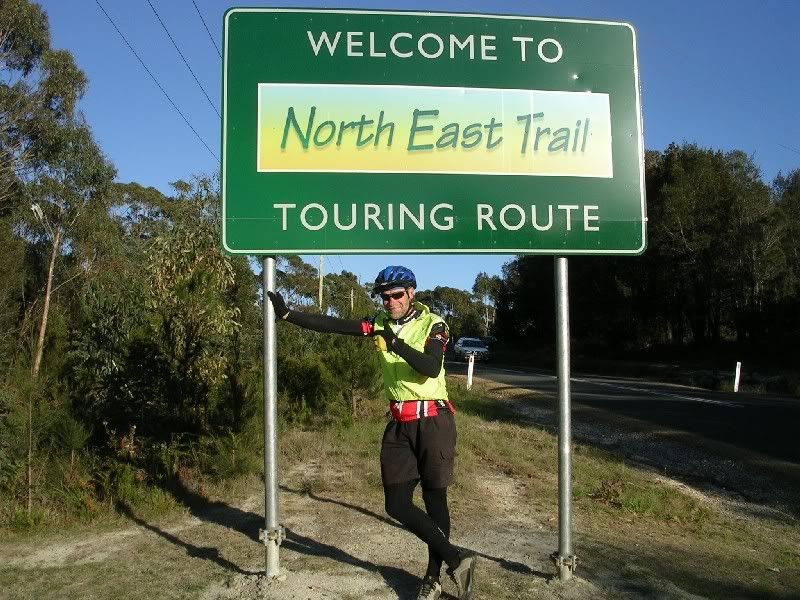 ... the North East Trail. Bring on those mountains! A monster climb looms today, Weldborough pass. Many, many people asked us, "Do you know there's a big climb?" Which we thoroughly did from all the preparations and planning.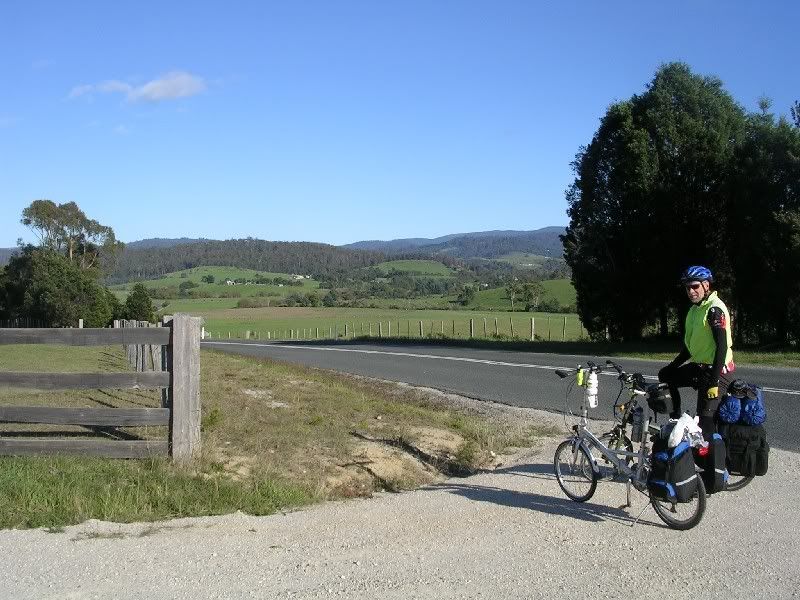 Yet another beautiful day in a beautiful place. This place was named Goshen; one could imagine the European settlers thinking of themselves as under voluntary exile (like the Israelites in Egypt of old) and calling this their Goshen, after the region the Israelites lived in Egypt.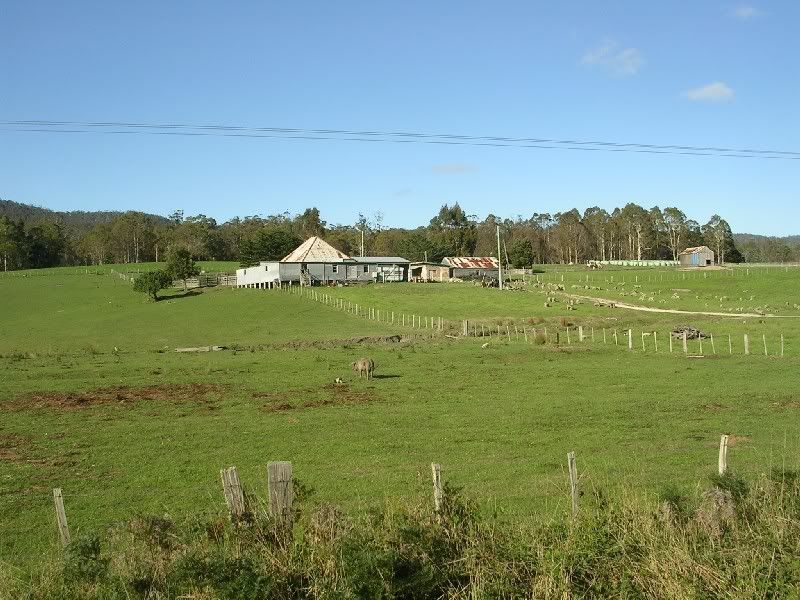 There was no end to the pretty views.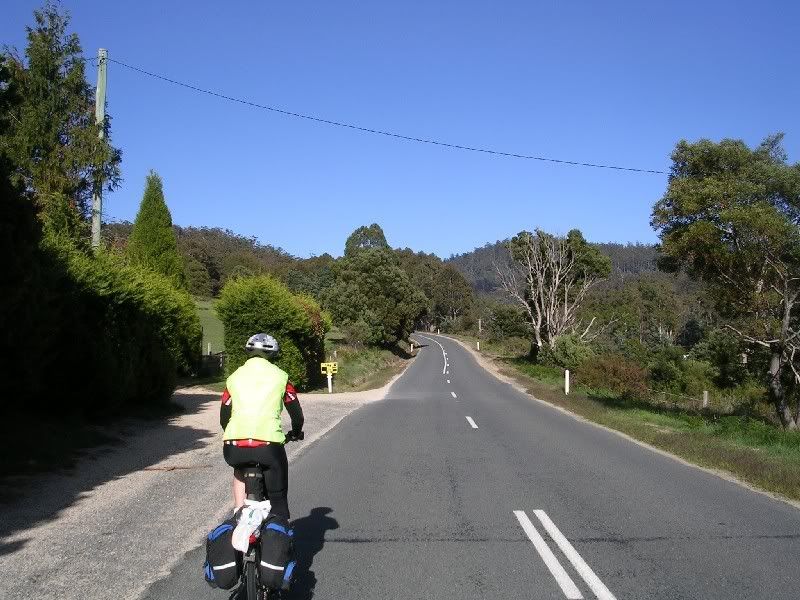 We decided to have moring tea at a Pyengana cheese factory down this side road, the Holy Cow. We got much more than we thought we would...

As we got at the cheese factory, we saw their shed was burning down! This pic taken after I made the alarm and sprinted back. As I got there, this guy was trying to remove an oxy-acetylene bottle set from the shed, but it was too hot and he suffered burn wounds to his arms. You can make out the bottle set's wheel if you look really carefully, in the door of the shed. In the pic, he is running off with a fire extinguisher which he managed to get off the shed wall, but they couldn't get it to work.

I sprinted ahead and ran into the shop to call the alarm. The lady behind the counter ran out to look and said to me, No, that's just John burning off behind the shed." I said, "No, the flames are coming out of the shed's roof! Call the CFA!" Which they promptly did. The CFA took ages to arrive (from St Helens).

Guests at the Holy Cow had a grand stand view of the fire until the local CFA guy chased everyone away on discovering the oxy-acetylene bottle set. We continued watching, the fire got worse, and I expected the oxy-acetylene bottle set to explode in a huge explosion, which it didn't. There were several smaller explosions, paint or fuel cans perhaps.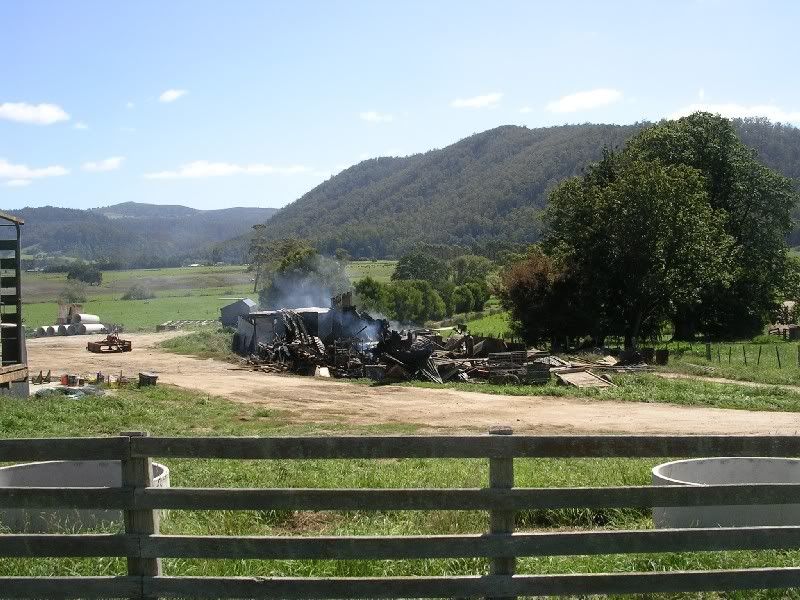 The smouldering remains of the shed after the CFA left. You can make out the oxy-acetylene bottle still standing in the wreckage.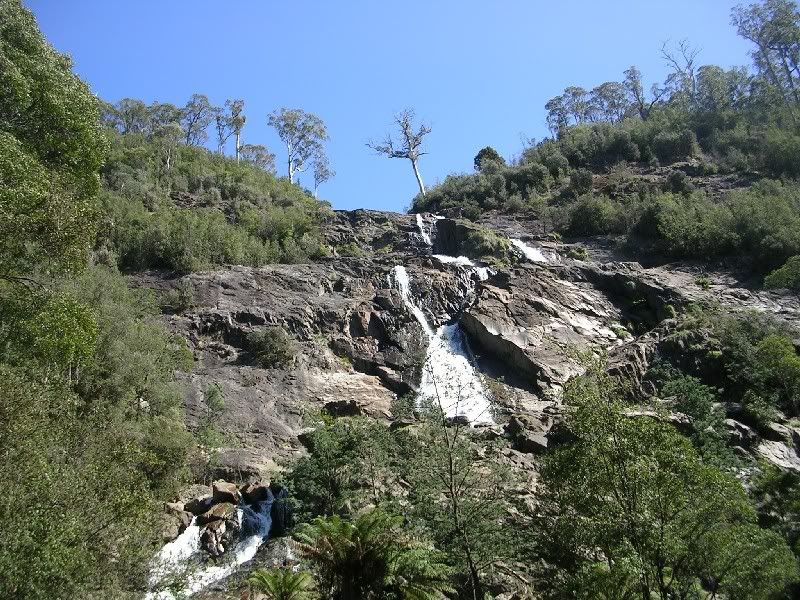 On the distraught lady behind the counter's advice, we rode on further down the road to the St Columba falls, "just 7km (it was 10km) down this road, all made, and flat" (it was a 5km climb).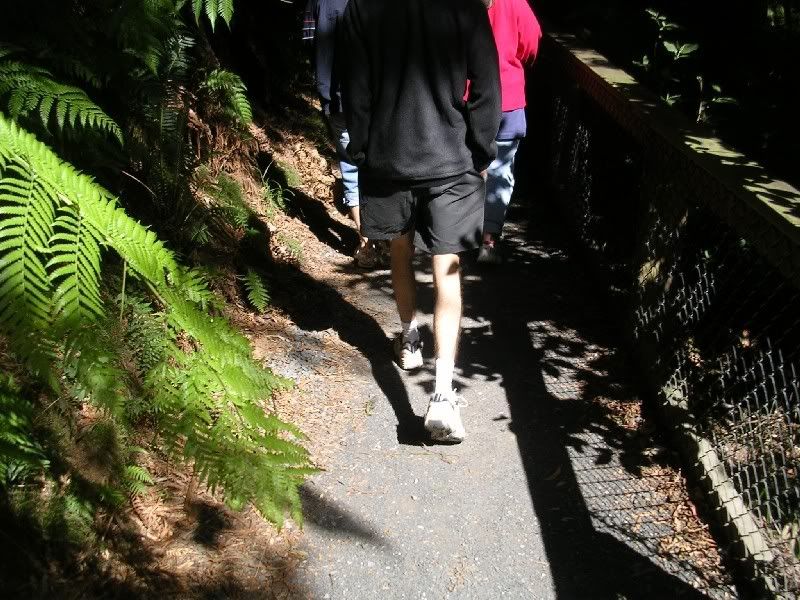 Walking to the falls, we were behind this guy with the skinniest legs in the southern hemisphere.

Lunch at the falls picnic tables. We met a Danish couple there, whom we met again on the other side of Tassie in an obscure town's supermarket. This sort of thing happened several times.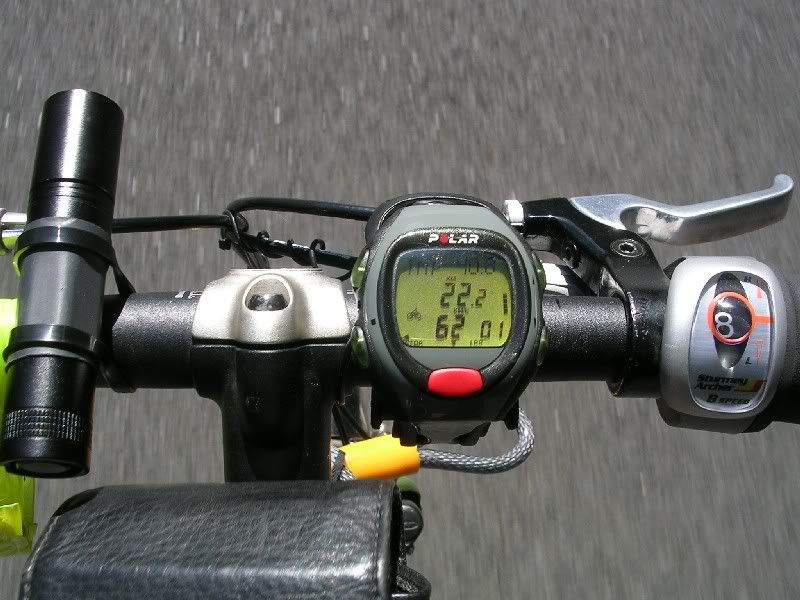 Ahhh, cruising downhill from the falls... 8th gear, 22km/h, 62bpm... The side trip to the falls added 20km to the day's total, and that even before the monster climb which we headed to now.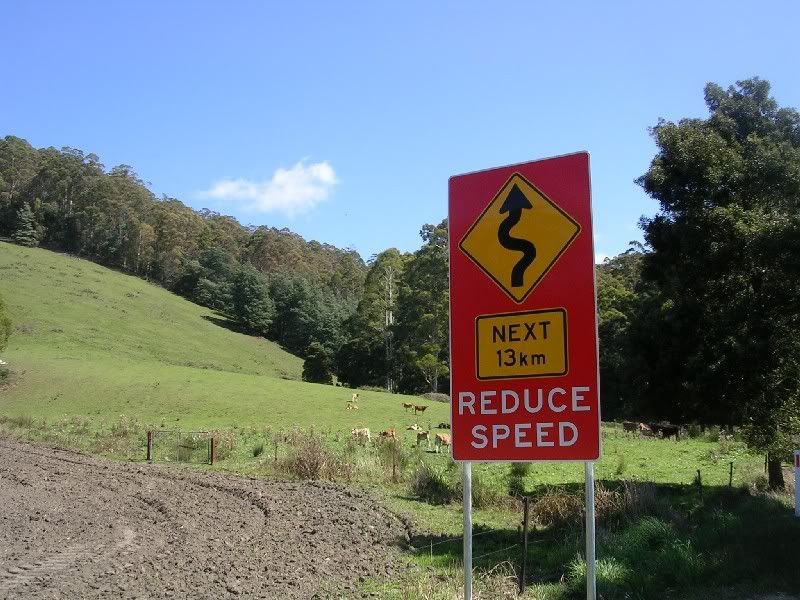 Right. This is the start of the Weldborough pass. 9km of climbing, the first half very steep. I wonder what they mean by reduce speed... if I go any slower up here, I will fall over...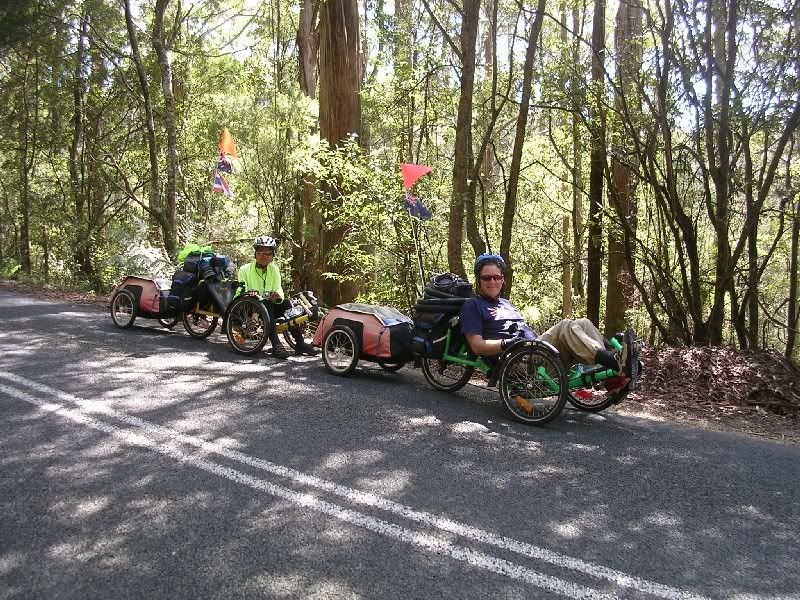 About half-way, we saw this couple on Greenspeed trikes coming downhill. They had cycled from Perth. They were towing about 40kg each.

After having a short talk with them, we rode on and pulled off to have a rest and a muesli bar.

Nice scenery followed us everywhere.

At this photogenic shed we enjoyed the view and some bananas. From day 6 I also carried both bed-rolls (in which the tent was also rolled up) in an effort to equalise our climbing speeds. Connie was left with about 7kg, me with the remainder of 20kg, excluding food and water. Carrying the mattesses like that meant it was a hassle accessing anything inside my panniers.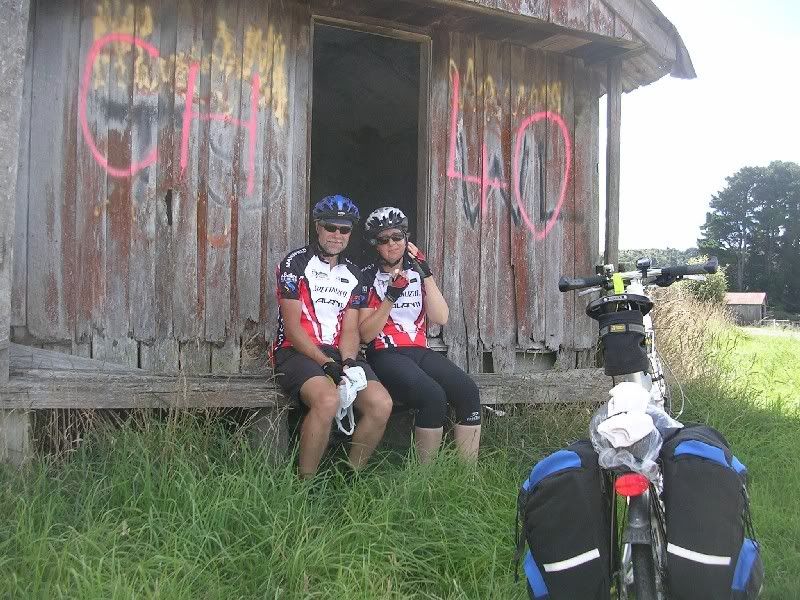 I think we make a nice pair...

Finally! The top of the pass! The first really big climb under her belt, Connie is radiant with good spirit.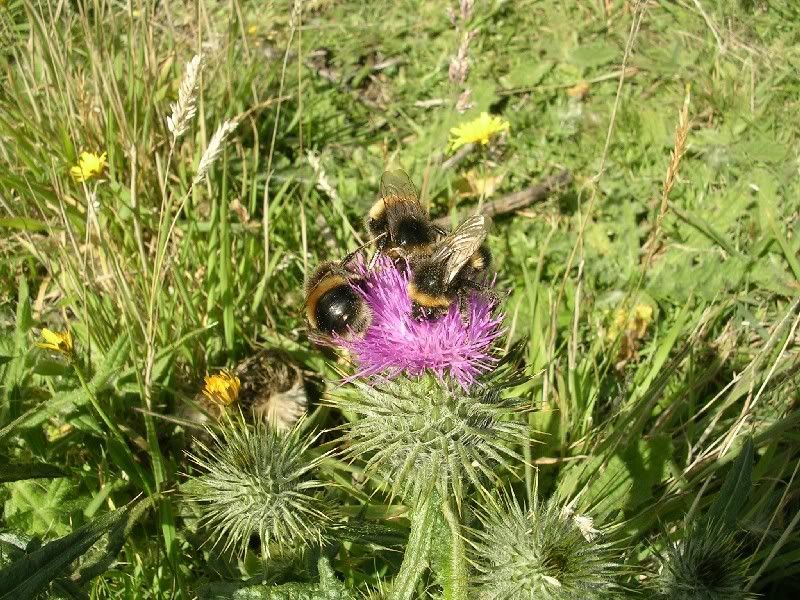 These bumblebees were having a great time in the thistles too.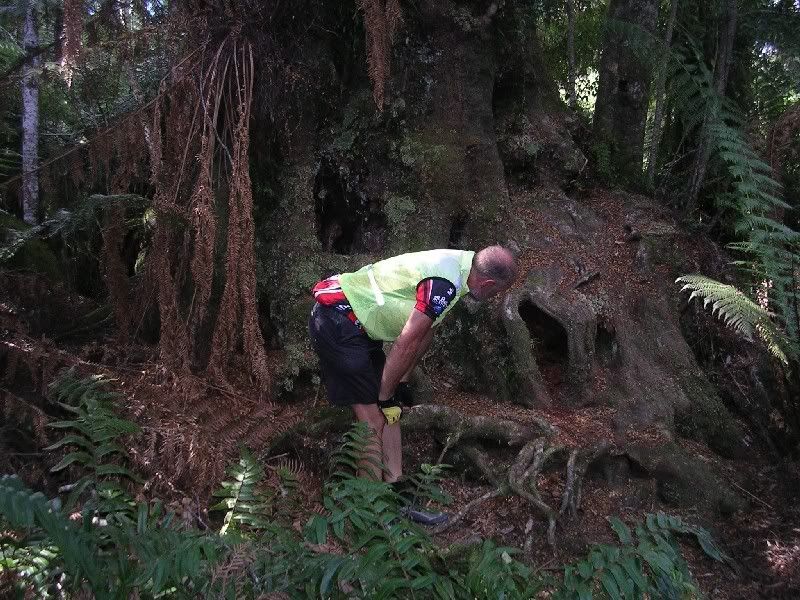 Then there was a nice walk in the rainforest somewhere on the downhill section...

... before gently rolling into Weldborough. We headed for the famous pub for perhaps the final meal of the day...

... but got a cold reception there. "No, the kitchen is closed." So on we rolled past this sign...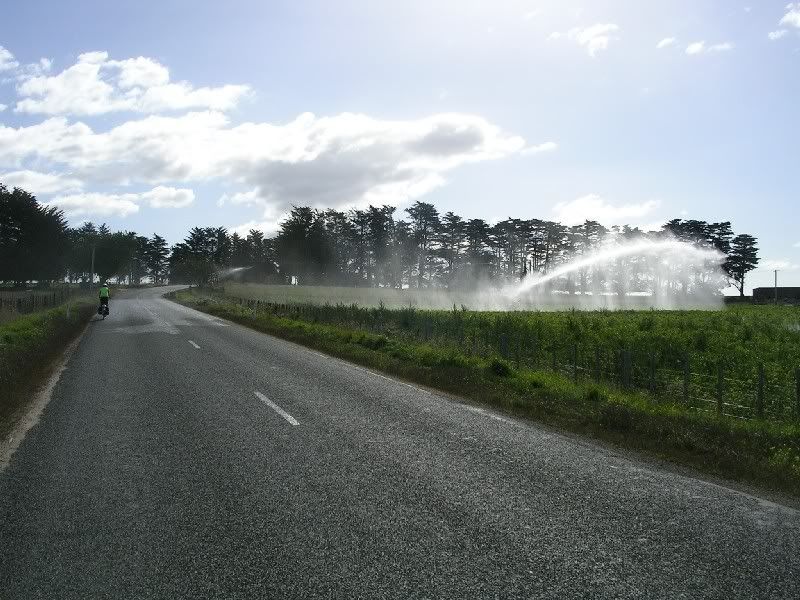 ... which meant we had to carefully time our ride past this spray to avoid a cold drenching. Connie gets it right.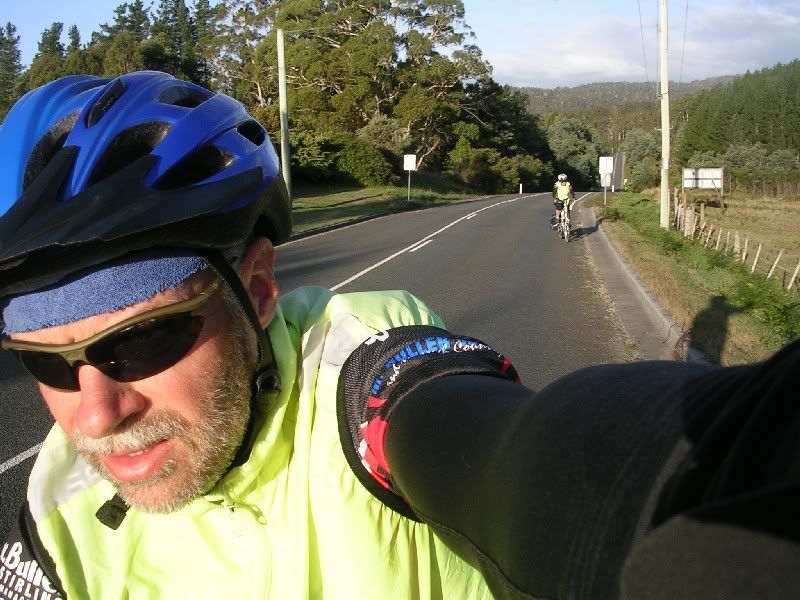 We rode on through Derby and finally to Branxholm which had the steepest climbs into it!

Connie puffing up the steep little tester pretending it's nothing, really. This at 100km, a monster day for Connie.

With the camping grounds looking a bit bleak, and the late hour, we booked into this quaint pub.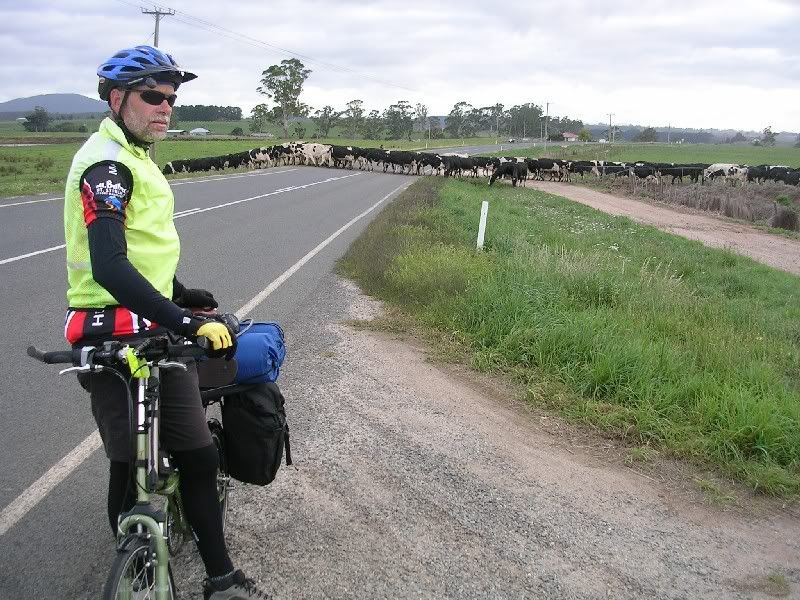 "Hmmmm... I wonder if the farmer will give me a glass of real raw milk..." I was tempted to ask, illegal or not.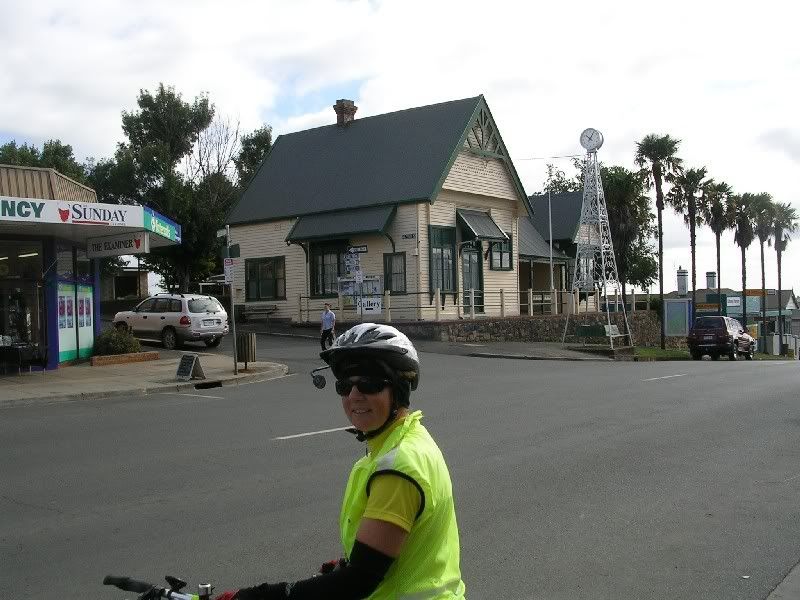 Instead we carried on to Scottsdale, which wasn't in a dale at all, it's on a blooming hill, a steep one to boot!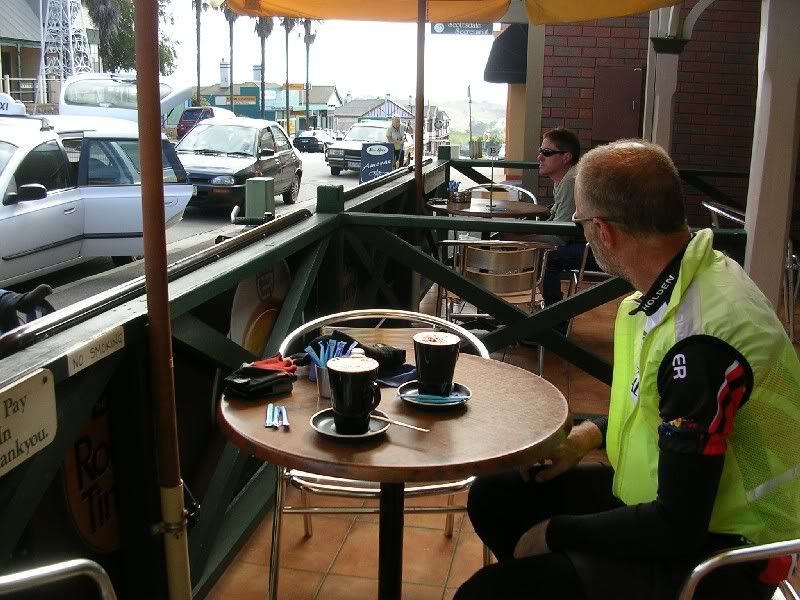 So here we had morning tea, sorry no raw milk today.

Rolling out of Scottsdale, there was a steep downhill. I was trying to see how fast I can go down it, the speedo was reading over 50km/h when suddenly the bitumen ended and I stormed onto rough gravel, in a corner, with a concrete wall coming at me. I fought to retain control and managed to take the corner without falling or crashing into the wall, thinking why the heck don't they post a warning sign?! Way behind me Connie was thinking, what the heck is that maniac doing, rushing into that gravel corner at a speed like that?! Turns out, there WAS a warning sign but dumb-and-dumber was eyeing the speedo instead!

Our water was almost gone on this hot day after another steep long climb when we rolled into a tiny hamlet with a loaded apple tree by the post office.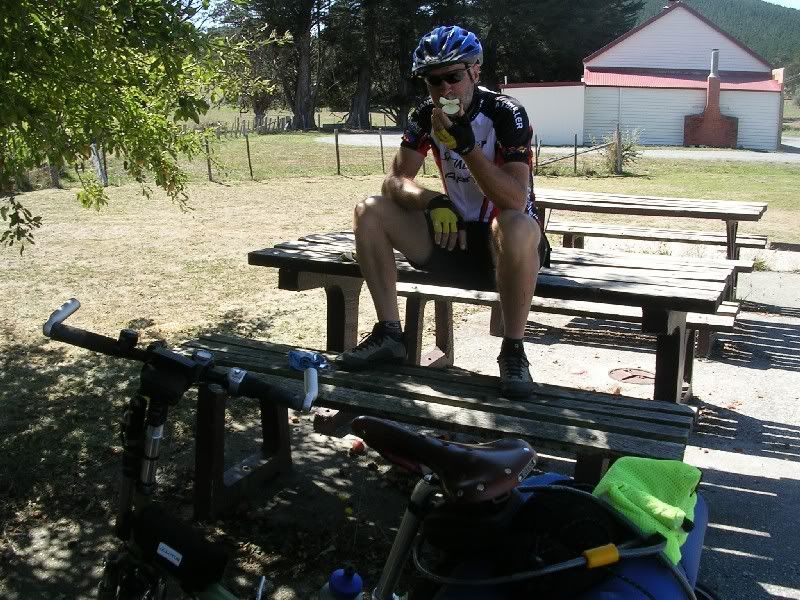 Success! My first ever apple directly off the tree. Hmmmmmmm! The lady in the post office was also the first ever non-cyclist to really, really accurately describe the final climb before Lilydale.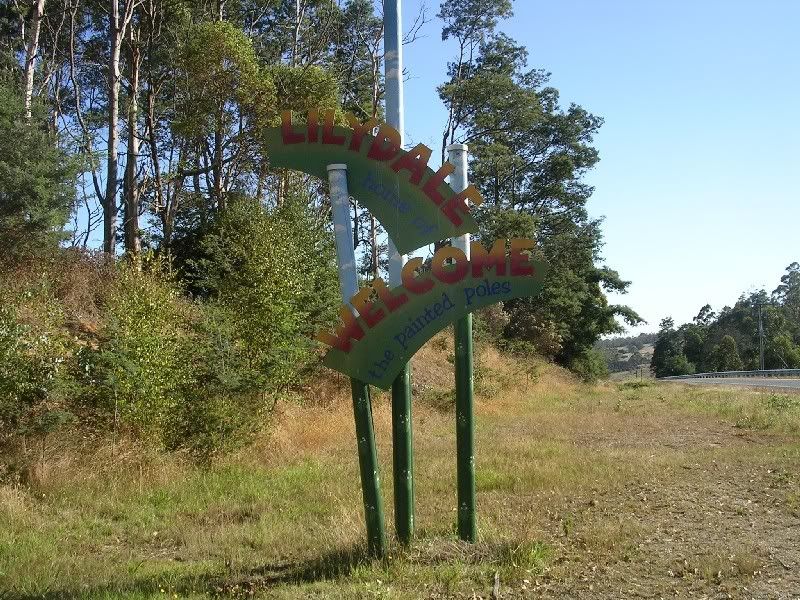 We're there! Today was a really tough day, lots of little steep climbs, they seemed to make us more tired than one long brutal one.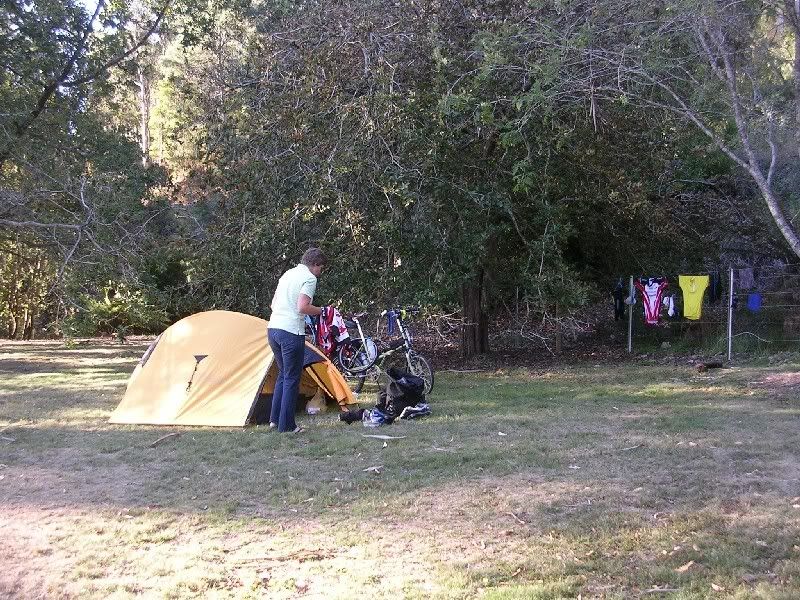 Camp Lilydale, hot showers behind us and clothes washed. The fence served as washing line. A nice camping spot, pity about the log trucks thundering past in the dead of night with exhaust brakes going full tilt. Woke me up with a start a coupla times.

Meet the matt black assassin! My plan is to kill my enemies with laughter. It was 2degC that morning.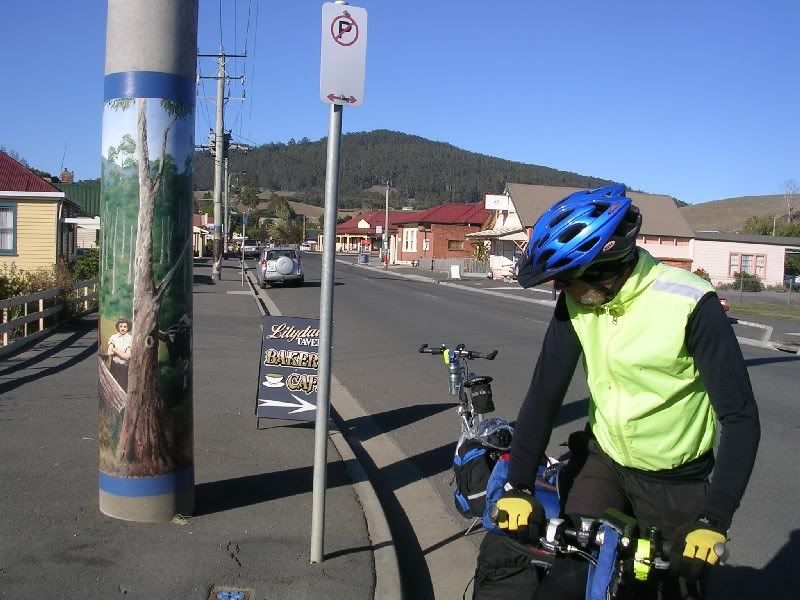 So that's what they mean with painted poles...

Launceston!!

Jur wondering about where to go next after stuffing himself at the local bakery.

Well, before anything else, there's Cataract Gorge... gorgeous, isn't it?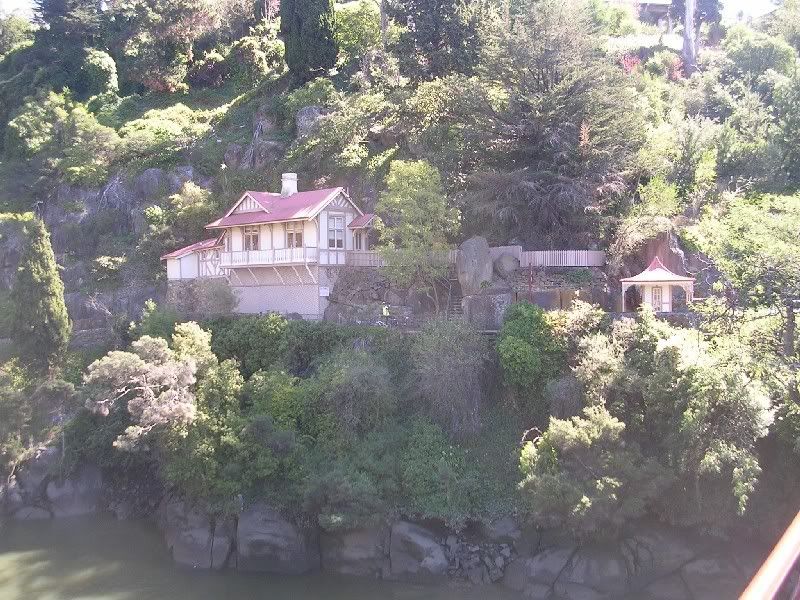 With this quaint house clinging to the cliffs, Connie is a tiny fluoro spot against the backdrop.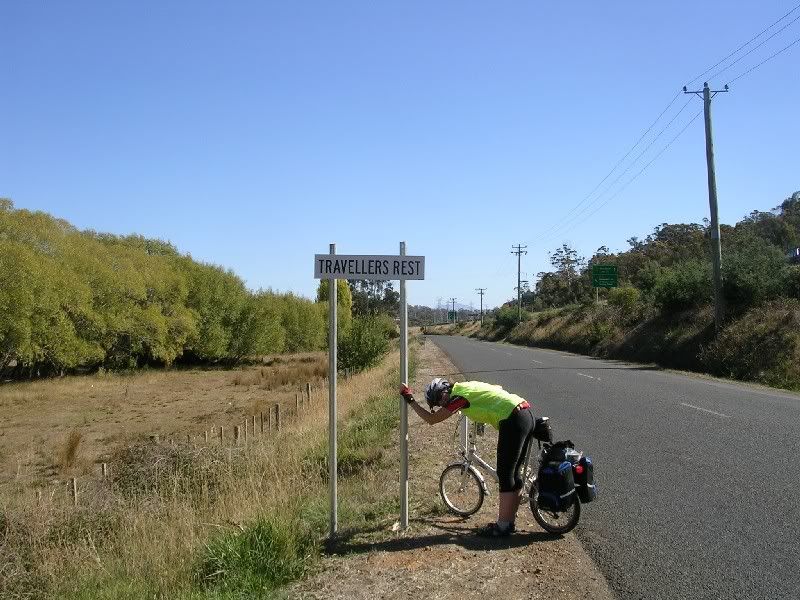 We left Launceston behind us by way of a long, stiff climb in the hot sun. "No dear, we can't rest here just yet, Camp Hadspen is just ahead..." (Again no pics of Camp Hadspen, rats!) With no rest day yet, we altered our plans to have a shorter ride the following day. Nice, slow, flat, no hills. We were originally going to Evandale, but opted for Hadspen instead.

So today is short flat. Sounds like a type of coffee...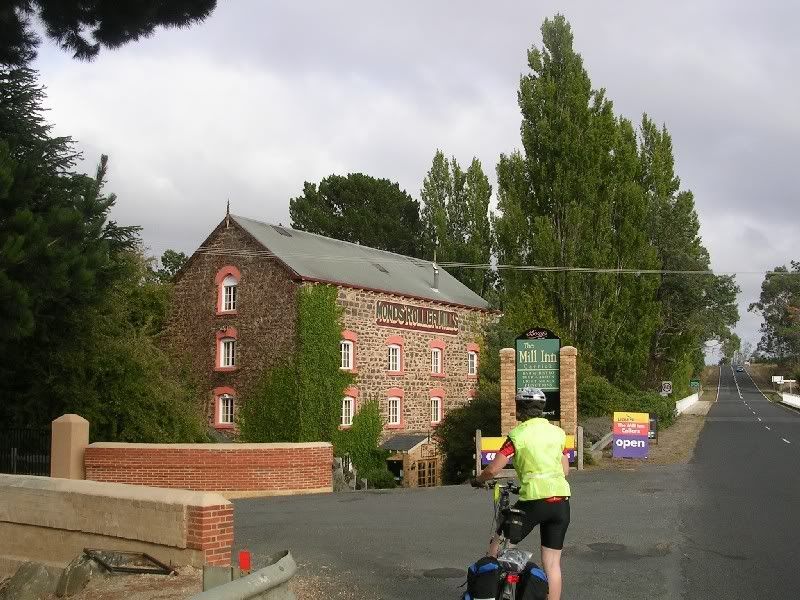 Lots of historic buildings.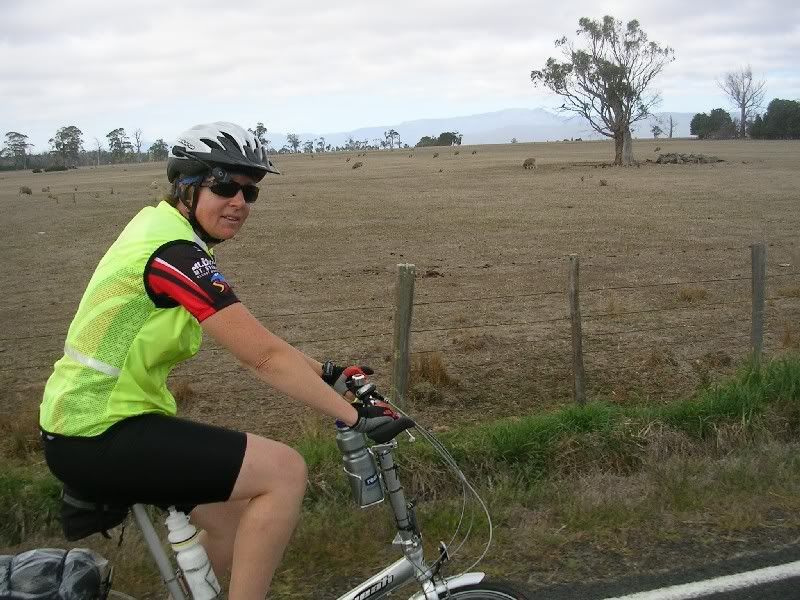 Connie ignoring the beckoning great Western Tiers, hoping they will go away...

Aha! We're in Westbury! And that means Andy's Gelato! (who is open 24/7)

The bikes taking a breather outside Andys Gelato (who is open 24/7) while we are having morning tea in Andy's Bakery (who is open 24/7)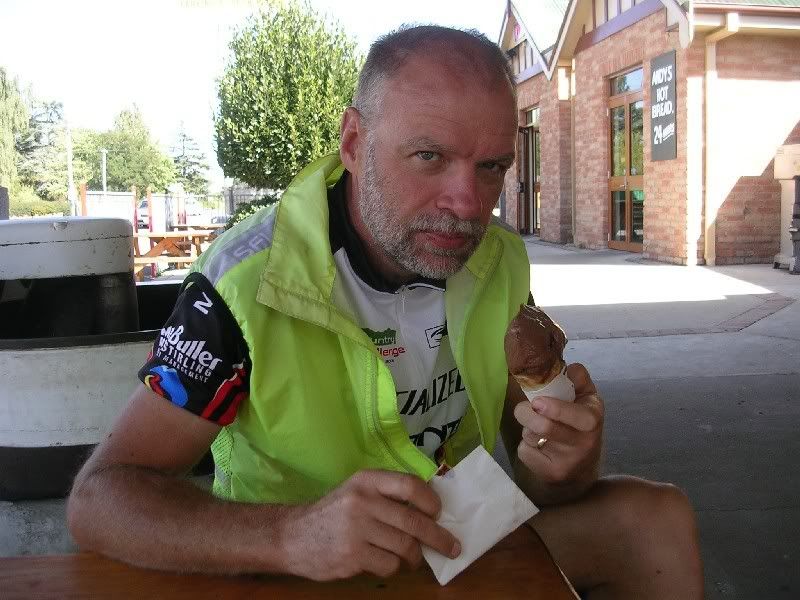 Me making short work of a monster 'death by chocolate' gelato ouside Andy's Gelato (who is open 24/7)

The old churches really had style, unlike today's utilitarian ugly structures. Musta costa plenty, though...

Apparently we were following the Onion Trail. There were onions by the roadside for days. Even from before Lilydale.

Camp Deloraine. We liked Deloraine.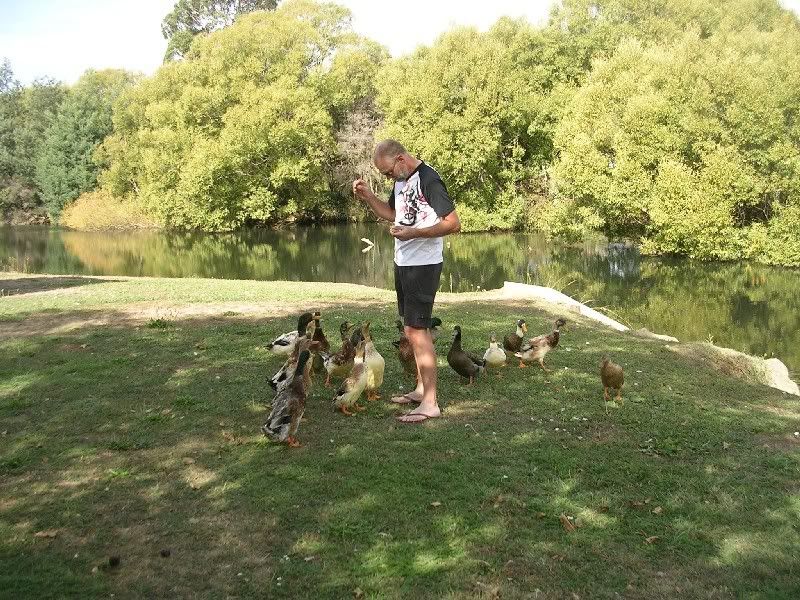 Jur single-handedly defeating survival of the fittest by feeding the weaker ducks more than the others.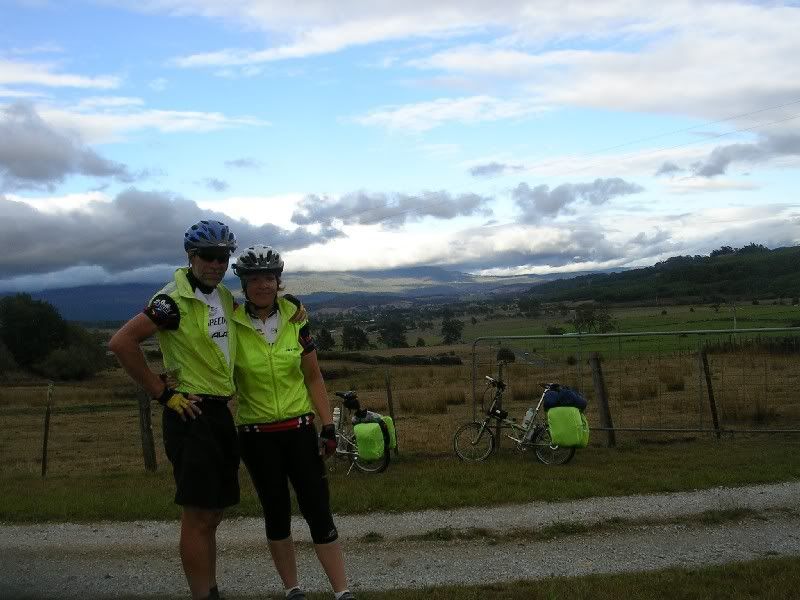 On to Moles Creek! Today contains 2 big climbs. The camera perched on a fence pole, since I lost the little tripod on day 4.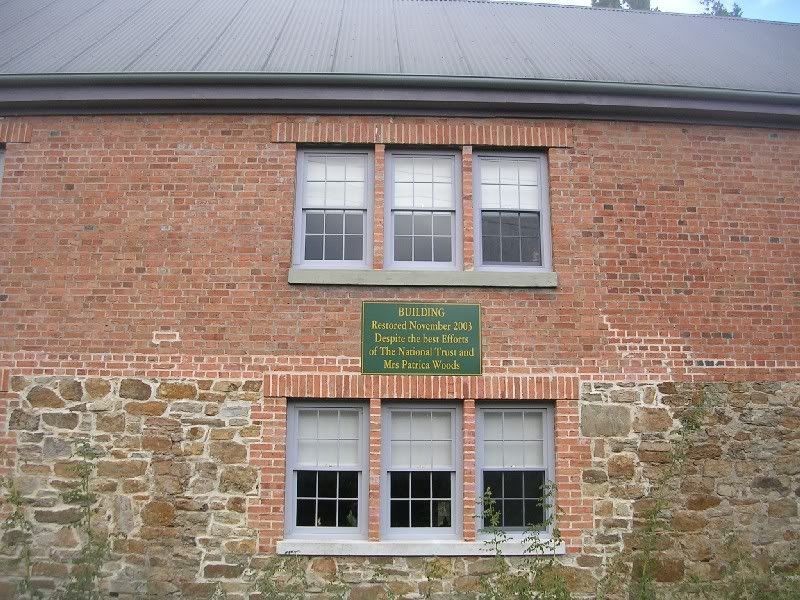 "Building Restored November 2003 Despite the best Efforts of the National Trust and Mrs Patricia Woods"

Who needs honey if he's got his honey riding with him!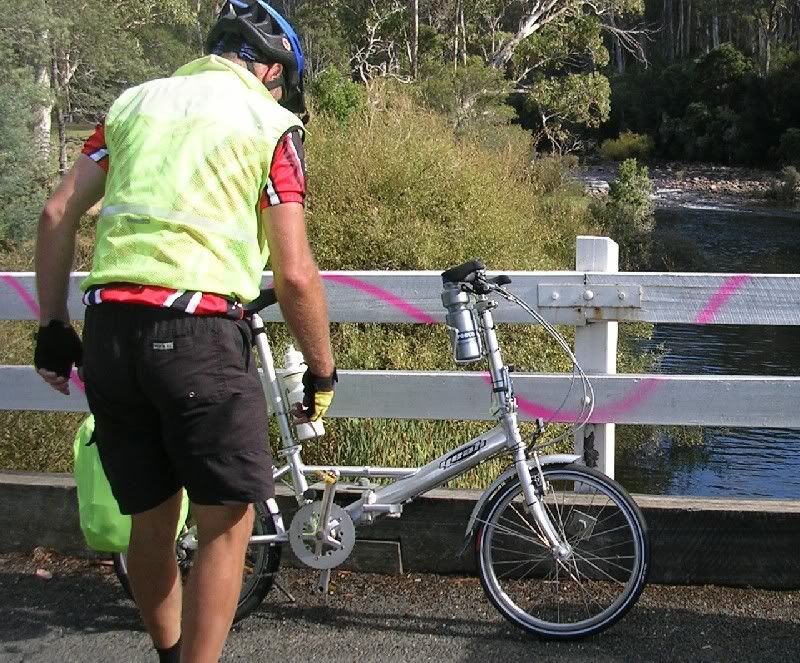 Jur admiring his handiwork after manually derailing Connie's bike's chain onto the cunningly hidden smaller chainwheel. Reserved for special climbs. Today is one of those special days. The Gog range looms ahead after crossing this the Mersey river.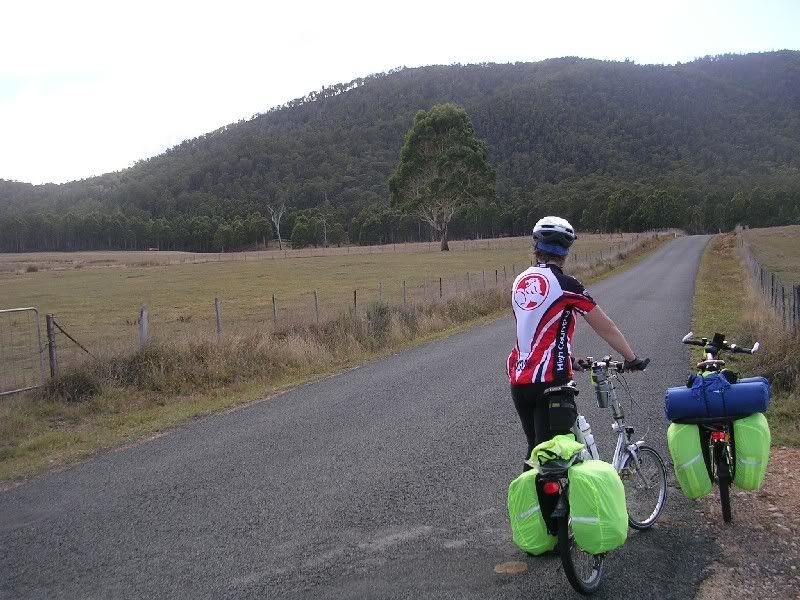 Connie contemplating the Gog range which contained the steepest climbs af all the Tassie tour, unbeknown to us.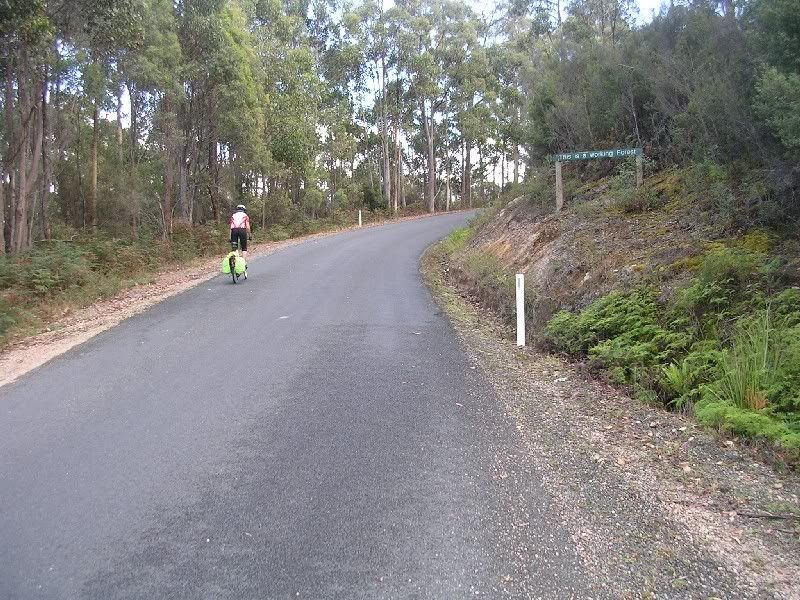 "This is a working forest" and that is a working cyclist. Connie heading up the first climb for the day, a 2km tester climbing 200m (average slope 10%). A bit later I followed; it got ever steeper and when my heart rate got to 171bpm with the end not in sight, I knew I was beaten. I bailed and walked. (Connie being the wiser, had gotten off and started hoofing long before.)

Connie picks a plank and sticks to the one next to it.

Right. The first nasty climb is behind us. I am suffering psychologically for having to walk. Oh! The shame! (To my credit, my lowest gear is 35 gear-inch. And that slope was perhaps 20%. And my load was 21kg. And my bike is 16kg. And I was tired from taking all those photos.)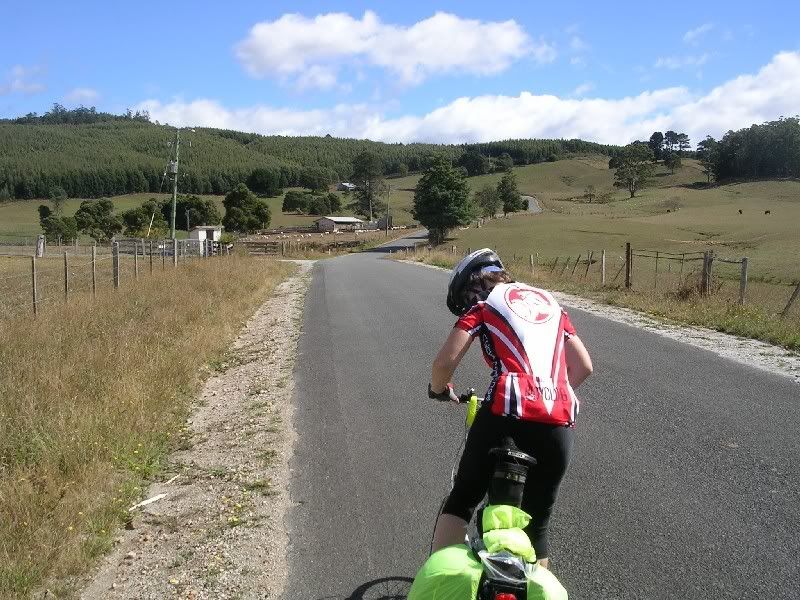 Pausing in the valley for a bar, we spotted the road ahead going past a sheep farm up into the clouds again. The second climb.

In the valley we rode past all these freshly-shorn sheep. Then Connie heard a buzzing sound issuing from the shed nearby...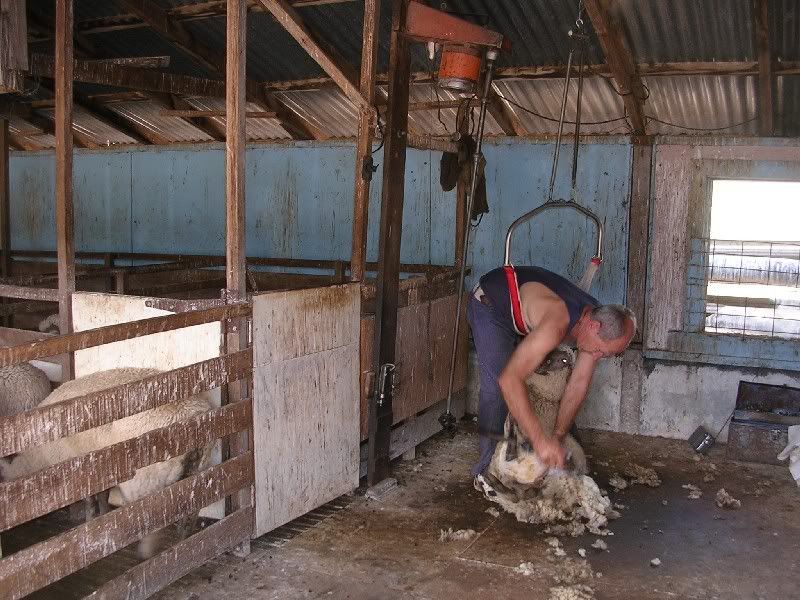 Hah! We witness our first shearing!

After some small talk with the shearer and the farmer, we headed off to the climb. I was determined not to walk again, but my heart rate skyrocketed again, and I bailed when it reached 174bpm (97%). Looking back, there is Connie walking up.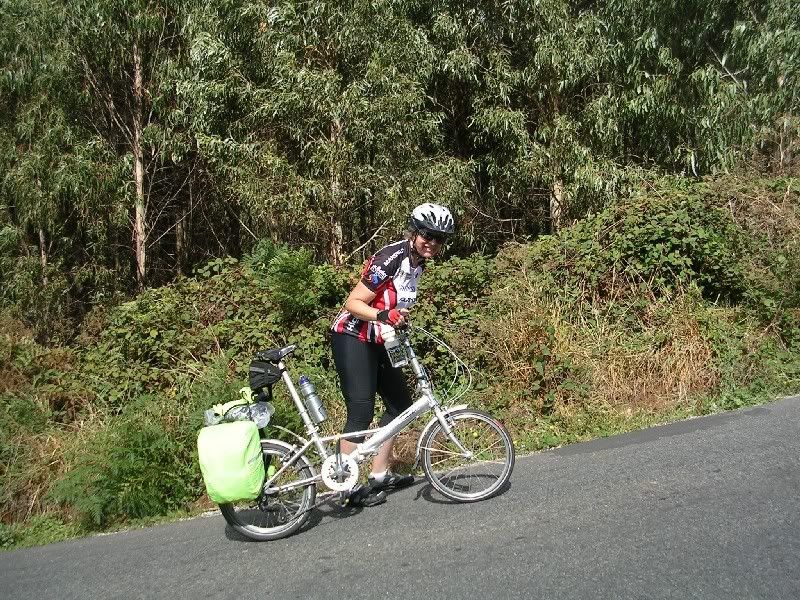 "Tell me again, why are we doing this, dear?" "To get to the other side, honey." (Allowing for some parallax error in the photo, I calculated 20%.)

Back in the valley again, in a place called Paradise. The scenery is fit for a paradise. Mount Roland forming the perfect backdrop for a working cyclist.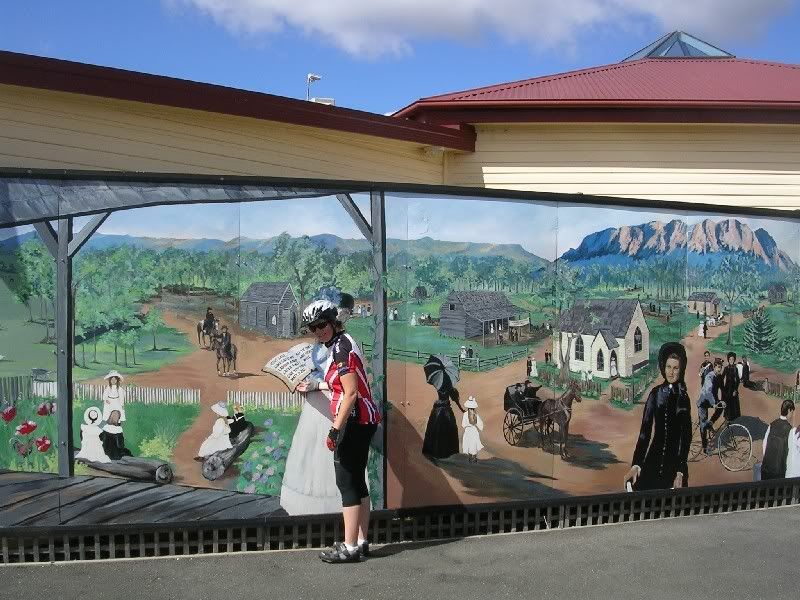 We have arrived in Sheffield, town of murals. The Bible text in that mural says, "Come unto me all ye that labour and are heavily laden and I will give you rest." Well there you are! That was us two heavily laden cyclists labouring up those Gog climbs earlier today!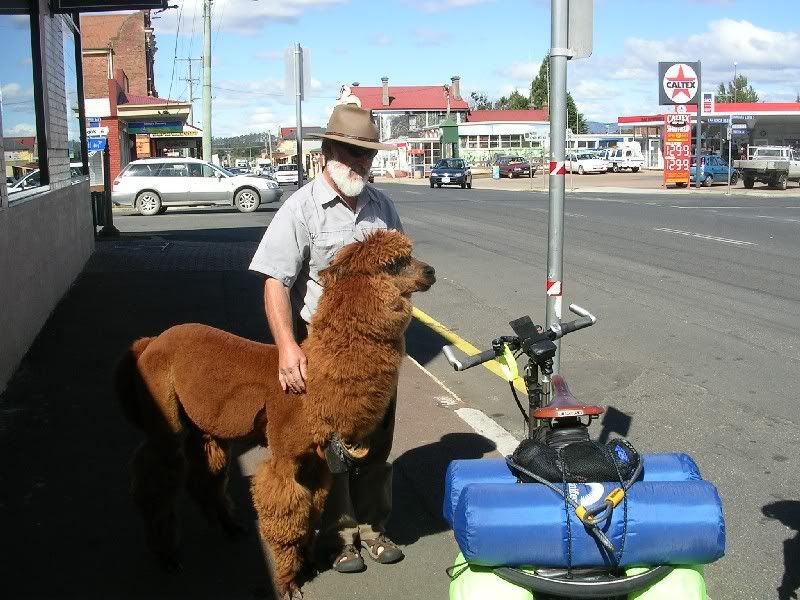 Then suddenly appears a well-groomed man with a well-groomed el paca. He offers to take our picture next to the beast.

...sniff sniff... I wonder what deodorant he uses...? Well, at least the beast wasn't sniffing my crotch...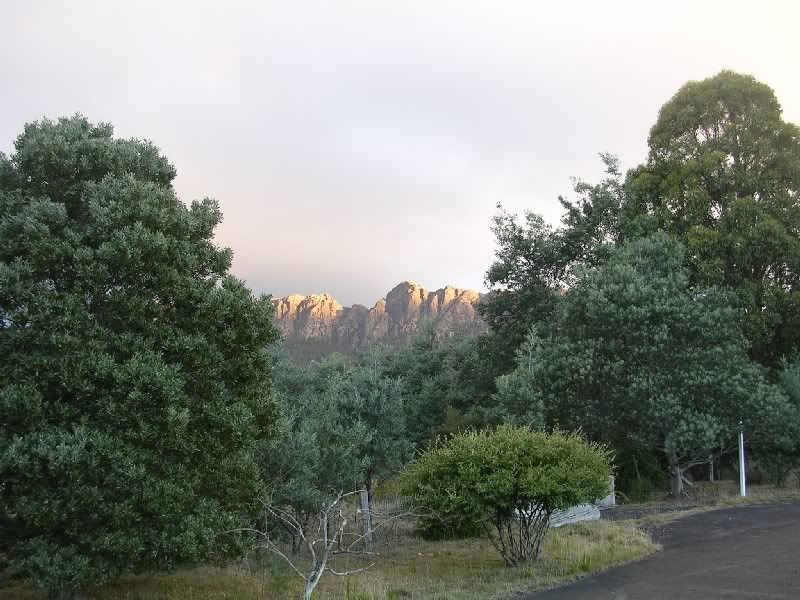 Heading to dinner at a dilapidated structure called the 'Weindorfer', we spot a nice sunset on Mt Roland. This at Gowrie Park after striking out with accomodation at Sheffield, having no caravan park.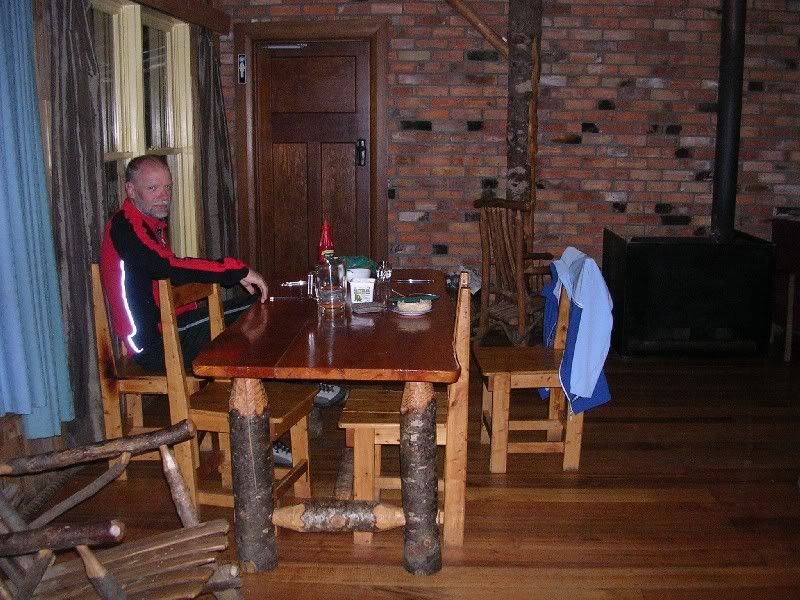 Inside the Weindorfer. Dunno why my eyes are funny.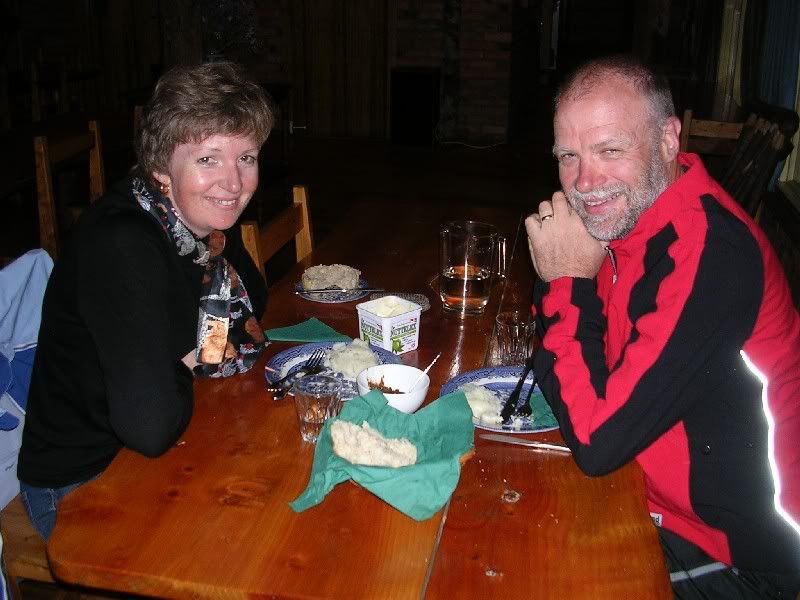 The cook taking our picture. Dunno why my eyes are funny.

With Mt Roland seeming to erupt like a volcano, today I go on alone while Connie takes the bus. We will meet again at Cradle mountain. She gave the hill climb profile one look and decided, perhaps wisely, to give this one a miss. More than a 1000m of climbing, of which more than 500m is a steep unrelenting climb with average slope more than 10% out of the river valley, lies ahead.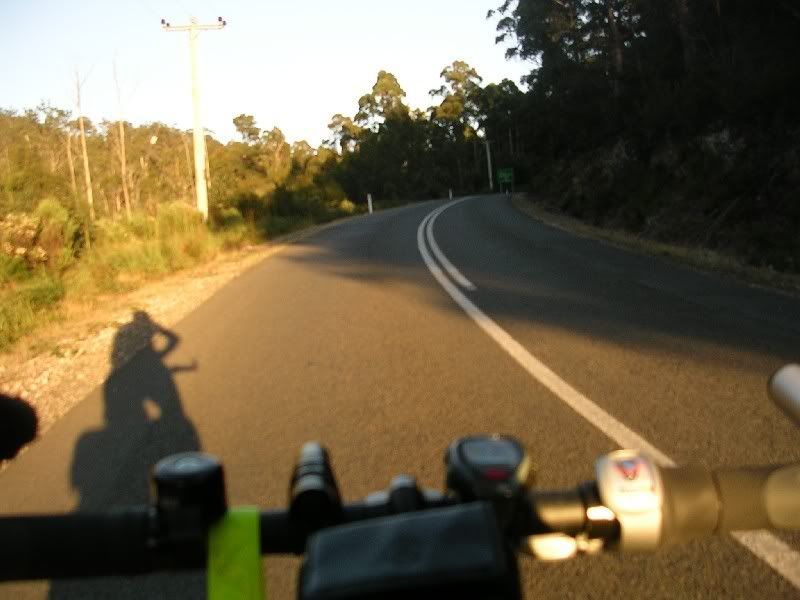 I wonder how I got everything out of focus in this one.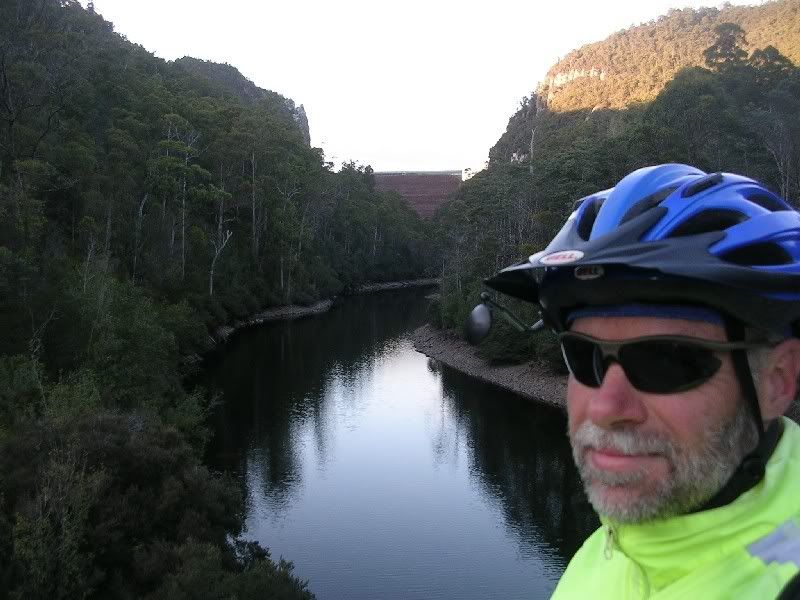 Pausing on the bridge over the Forth river before the 530m climb to Moina.

Somehow the scenery on the climb looked better than in this artsy (fartsy?) pic.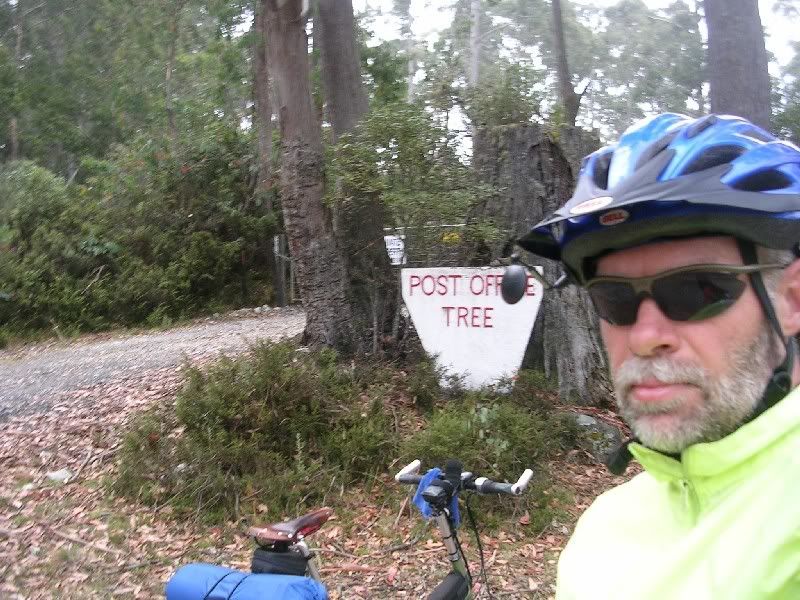 Between Moina and Cradle mountain, I stopped at this historic post office tree to put on all my warm gear as the temperature suddenly plummeted.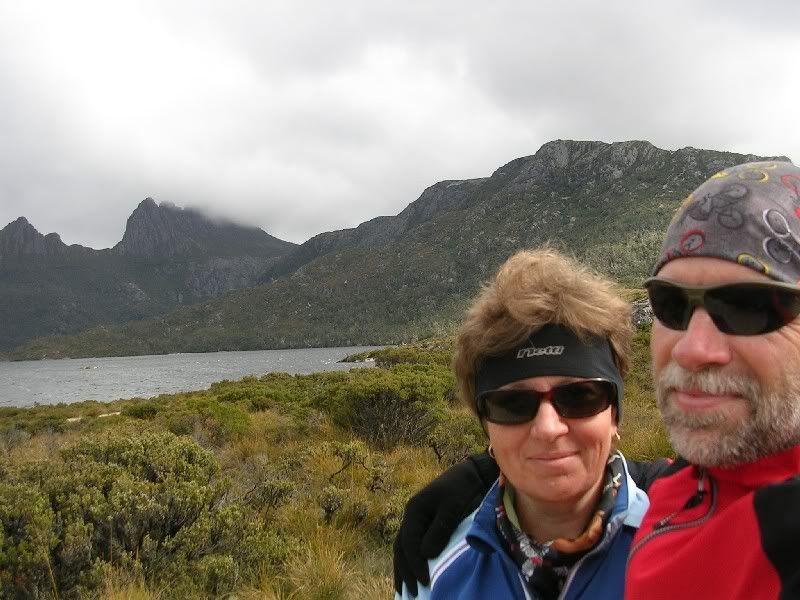 Cradle mountain! Happy to be reunited with Connie.

Walking around Dove lake. This is Glacier rock. I wonder what hooligan scratched this rock like that...? Jur sporting his buff in pirate style. It was seriously cold and windy.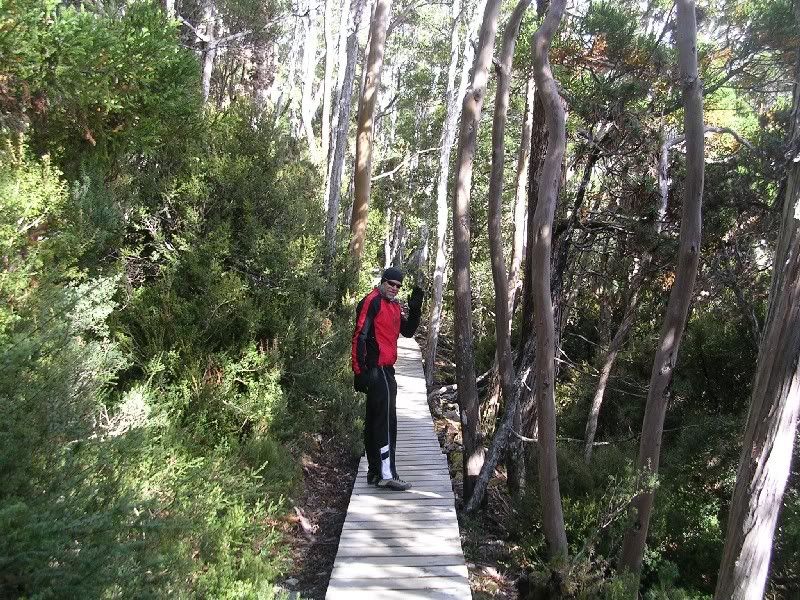 Walking on, Jur now sports his buff as a scarf and donned his cycling skull warmer instead.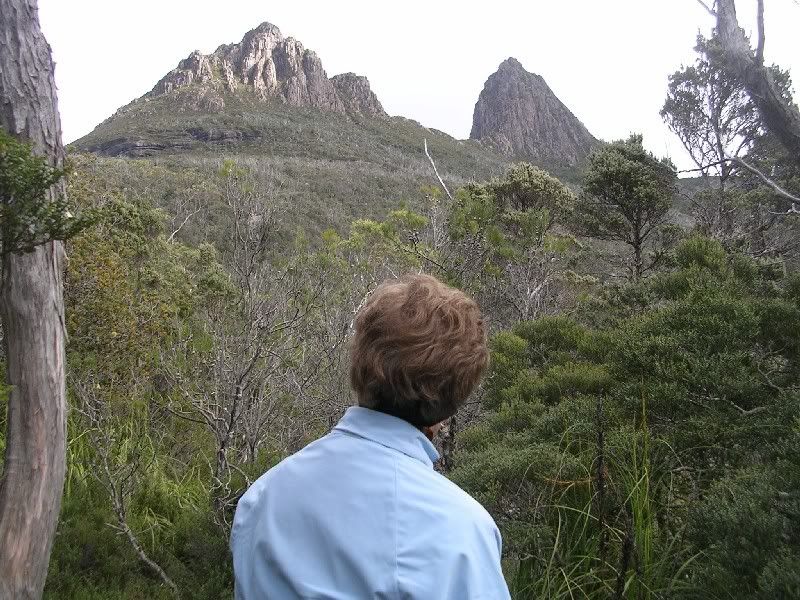 Right under Cradle mountain's peaks. That place has some wicked scenery.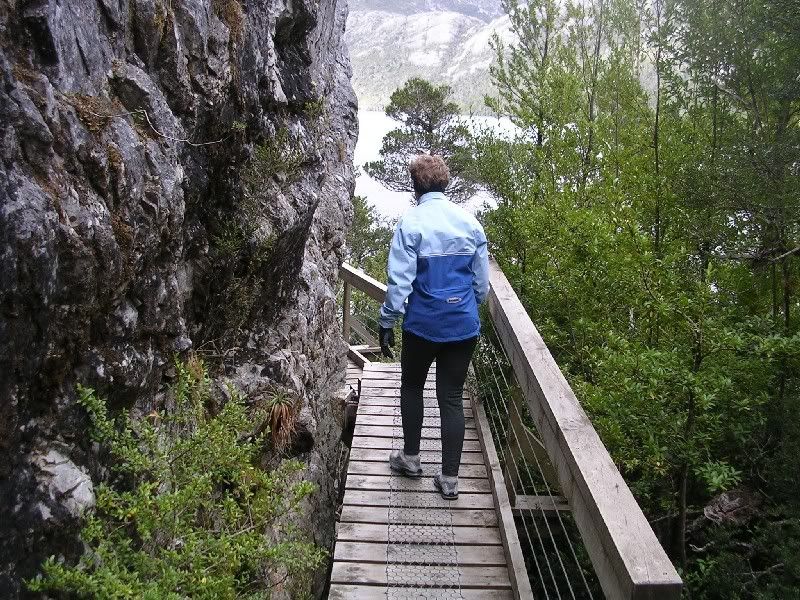 "Take a pic of me on these steps, dear!" Which I did.

"Oh look, there is Glacier rock on the other side! Take a pic of it, dear!" Which I dutifully did.

The old boathouse on Dove lake. Told you, we saw everything.
Day 12: Cradle Mountain: Rest day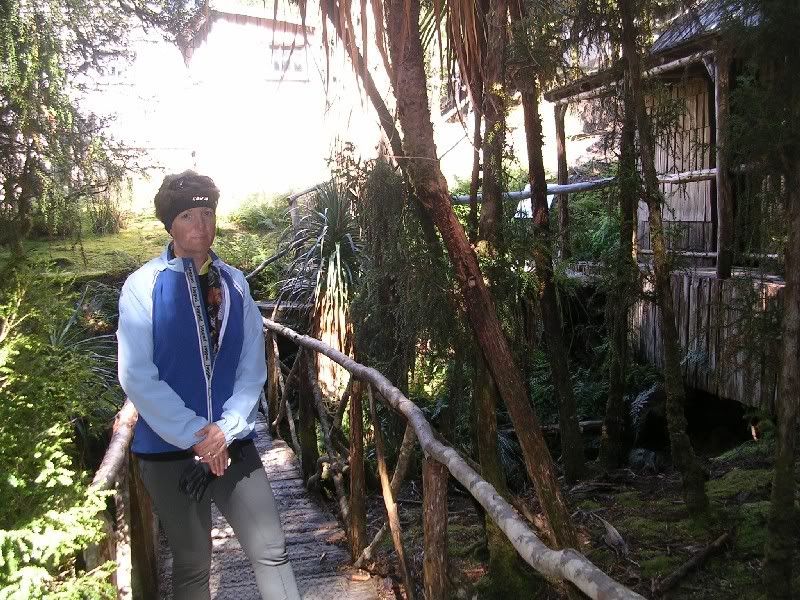 Despite the improved weather, Connie is thankful she doen't have to take a bath in the old Waldheim lodge's bath house, where they had to break the ice on top of the water before taking a bath.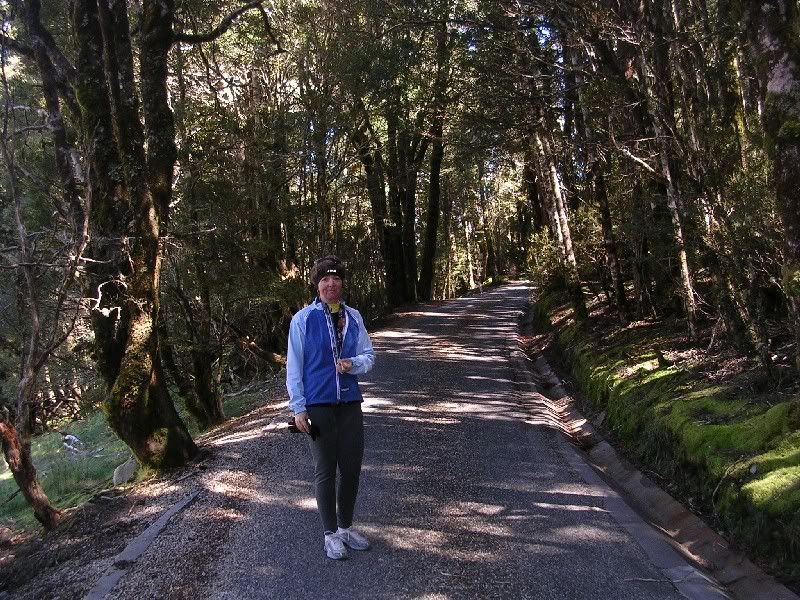 Connie disrobing, but alas stopping at that stage.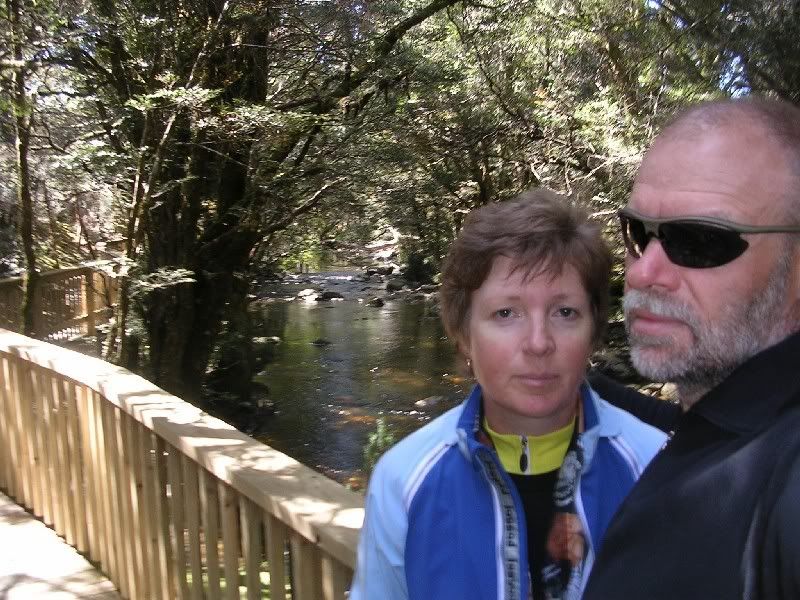 You get tired posing for all these pics.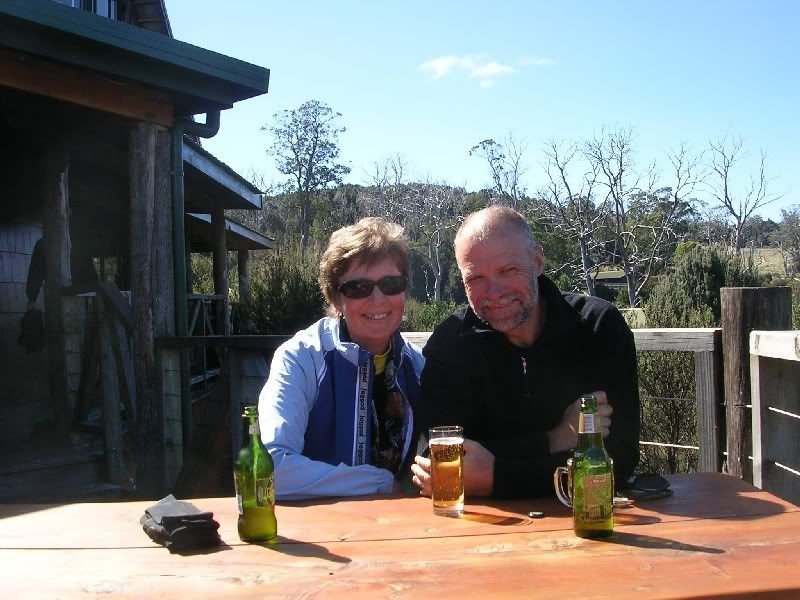 Relaxing with a beer at the local tavern after that walk, trying not to laugh our heads off after the girl who took our picture first tried to do so holding the camera back to front.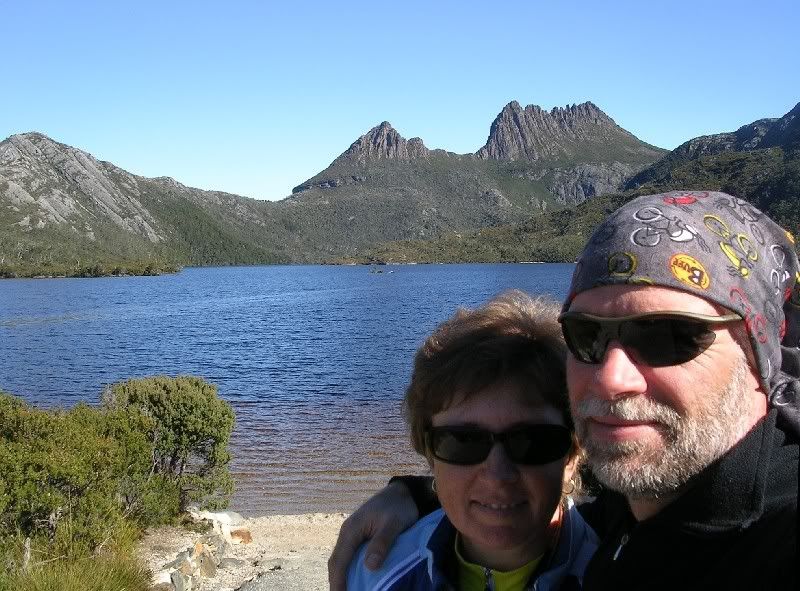 Since the weather was perfect, we headed back to Dove lake for some more piccies of THAT mountain.

If you can't take nice pics here, well that's your own fault.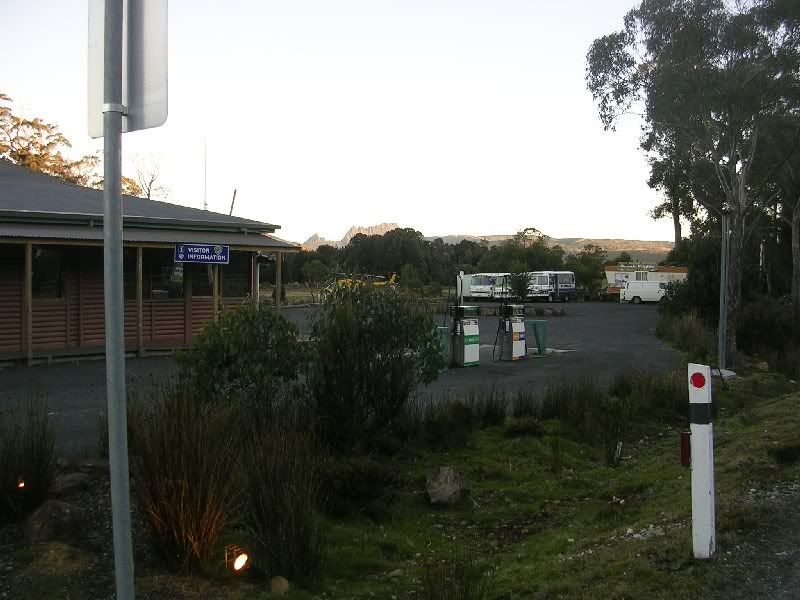 A final view at sunset of THAT mountain, cunningly trying to hide behind a bush with the same shape.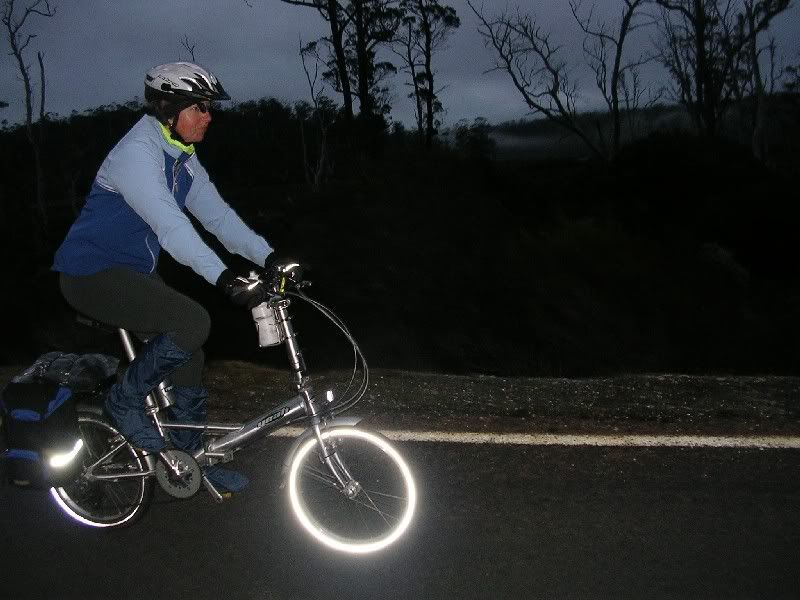 We're off at first light (we wanted to do so every day but only got it right today). Temperature hovered near 0 deg C for much of the ride. Connie is wearing her home-made rain booties to cheat the wind.

Fog hid much of the glorious scenery but a stiff little climb looms ahead.

* puff puff* She makes it to the top. Check how the road just falls away behind her into the deep.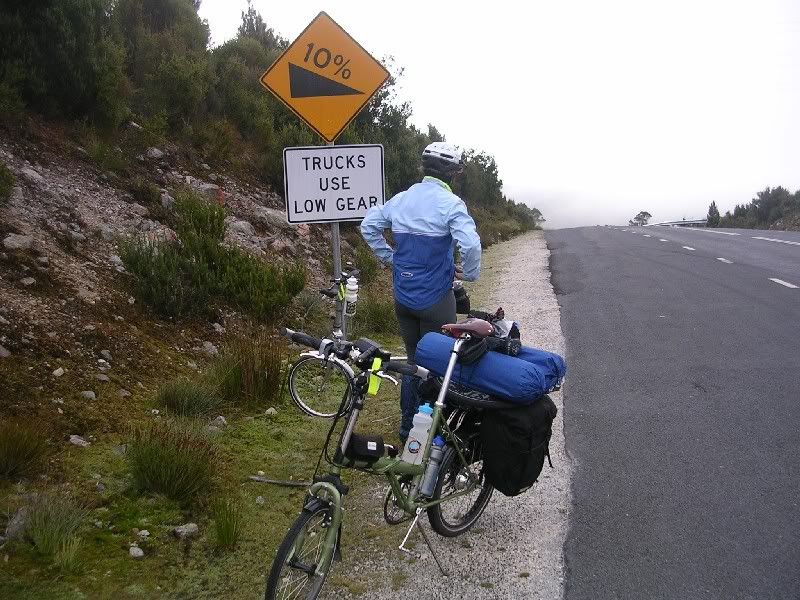 Turns out both sides were 10%. She dons her warm jacket again after that climb.

"Ooooh, take a pic of me racing into the fog, dear!" The downhill longer than the up, I set a new speed record for the tour here - 65.5km/h without trying anything fancy.

The fog burnt away by a warming sun, our next general touring area comes into range. Bring it on!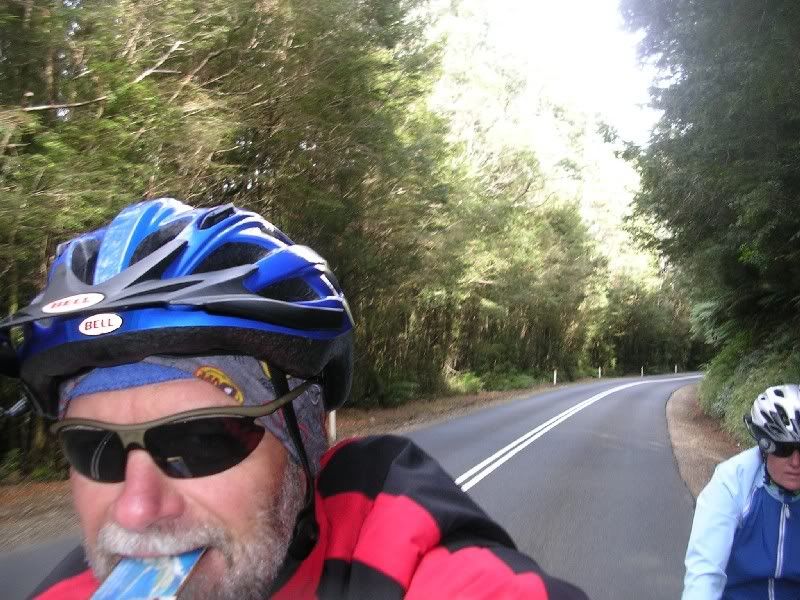 That's a fridge magnet thermometer clamped in my teeth. That's how I knew the temperature all the time. Of course I lost the thing that very day pootling to the supermarket at Rosebery with it stuck to the chain guard from where it fell off.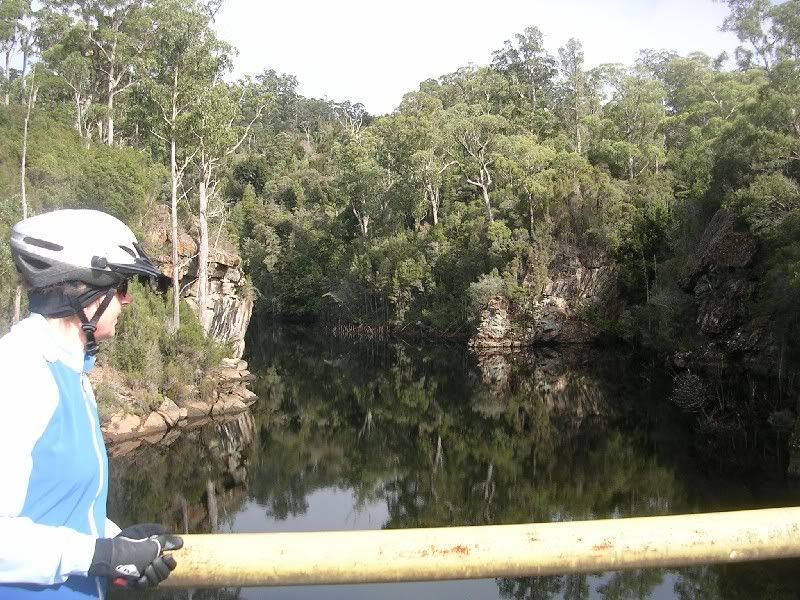 Crossing lake Rosebery with stunning reflections.

Jur admiring some more stunning reflections...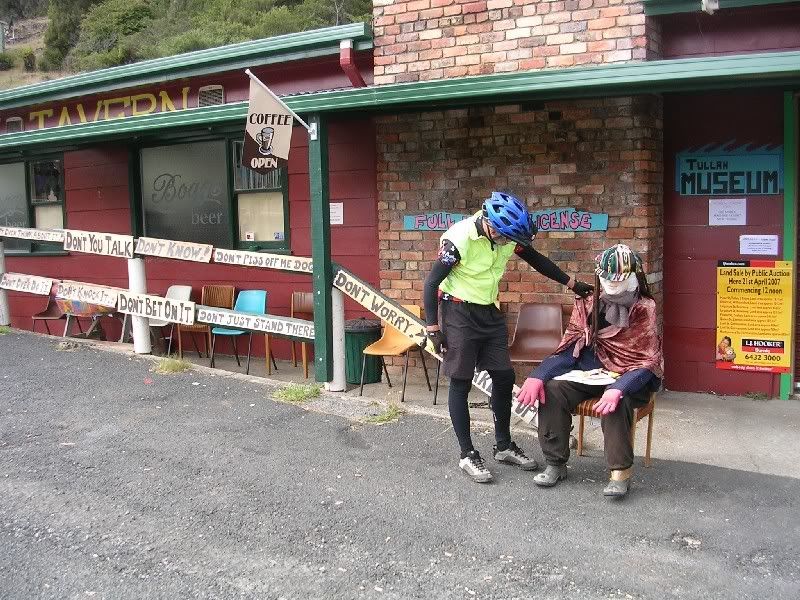 "Are you right mate? You look a bit pale...." Stopping for morning tea at Tullah pub. Inside there was a draughts set. Over a cup of coffee I explained the rules to Connie and she promptly beat me at it!!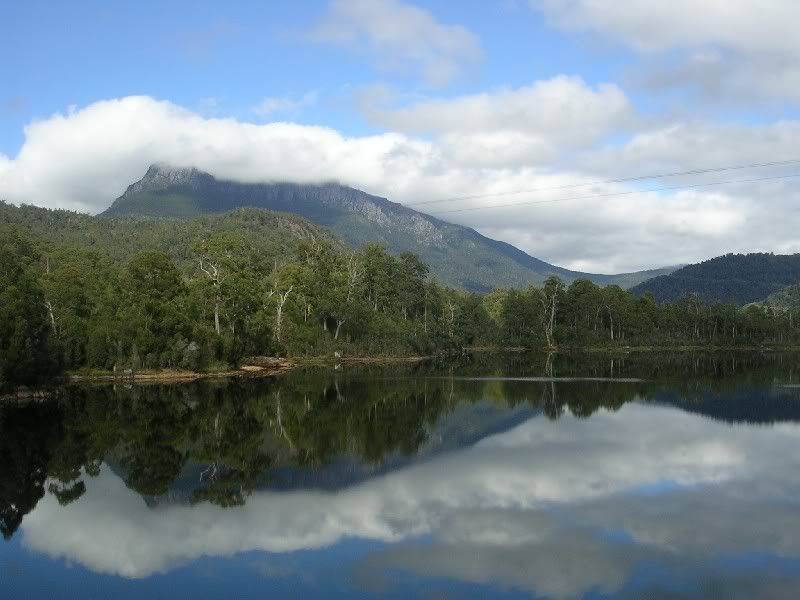 We were stunned many times by the reflections... seems the west coast area has more than its fair share. That there is Mt Black... we have to cross it via the gap just to its left.

Of course there's always one more climb. This is the one between Tullah and Rosebery over Mt Black's gap. Not too steep, perhaps 6-7%.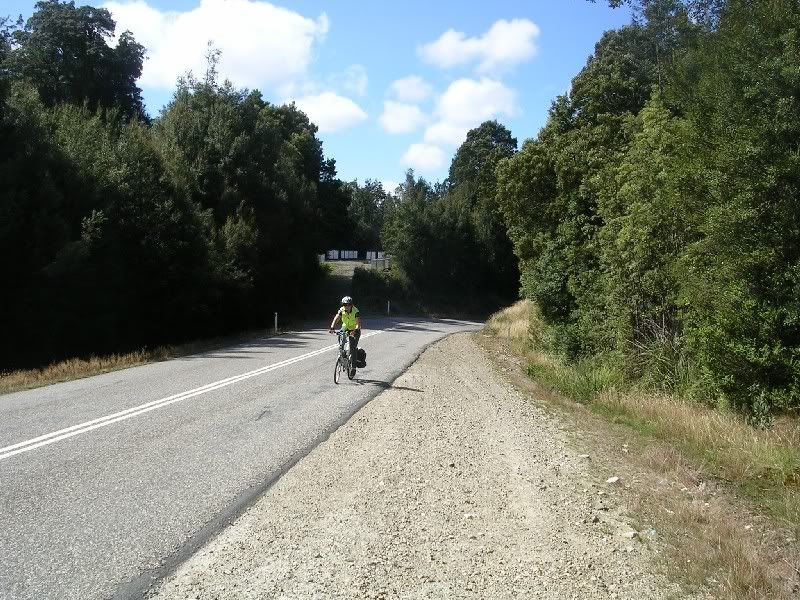 Connie makes it to the top once again. Bee hives off to the left of the road on a level clearing gives an idea of how the road drops away.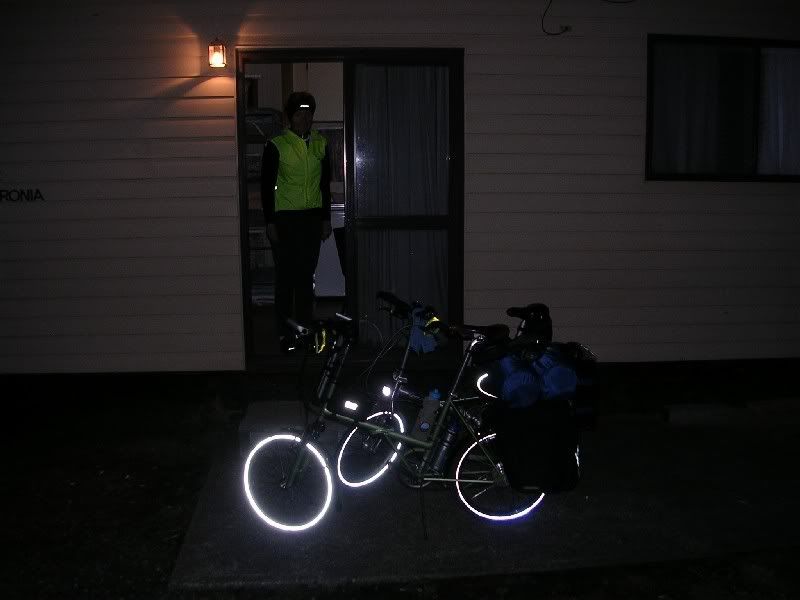 Camp Rosebery! We used a park cabin on this occasion.

A shot of me and my trusty treadly, a dirty railing and some ugly mine buildings. Connie assures me she took it for those fog-shrouded mountains off in the distance.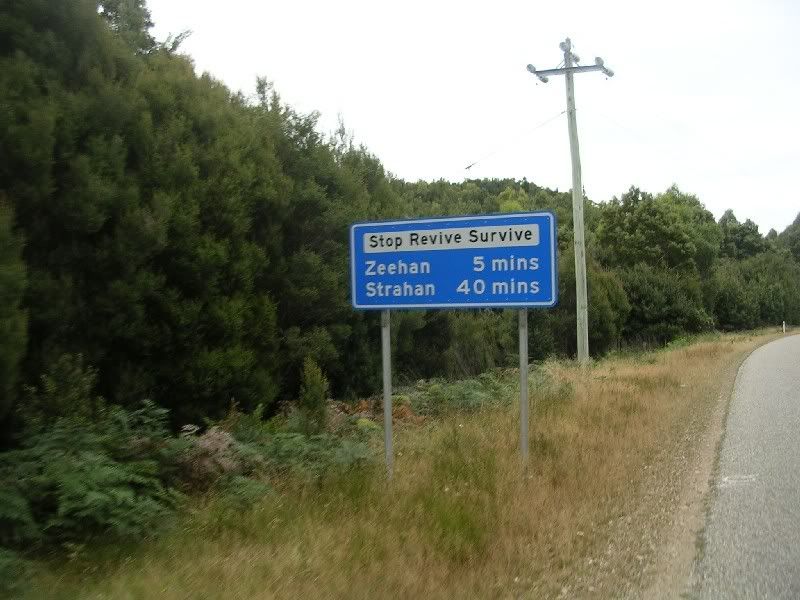 Apparently Zeehan is only 5 minutes away.

Well after pedalling on for another 20 minutes, still no Zeehan!

Zeehan at last. A bit of a dump mostly, but they are putting in a big effort to restore the old buildings.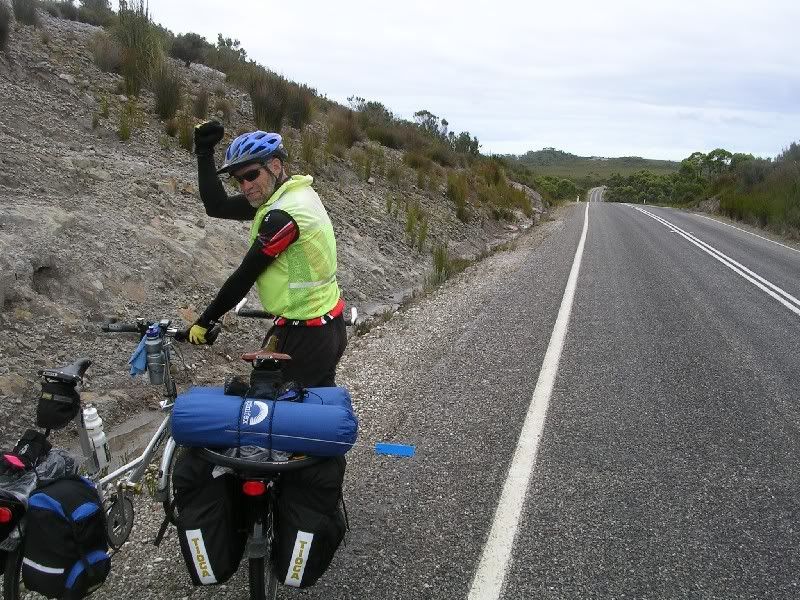 We made it!!!!!!!! I can see the first glimpse of the west coast with southern ocean!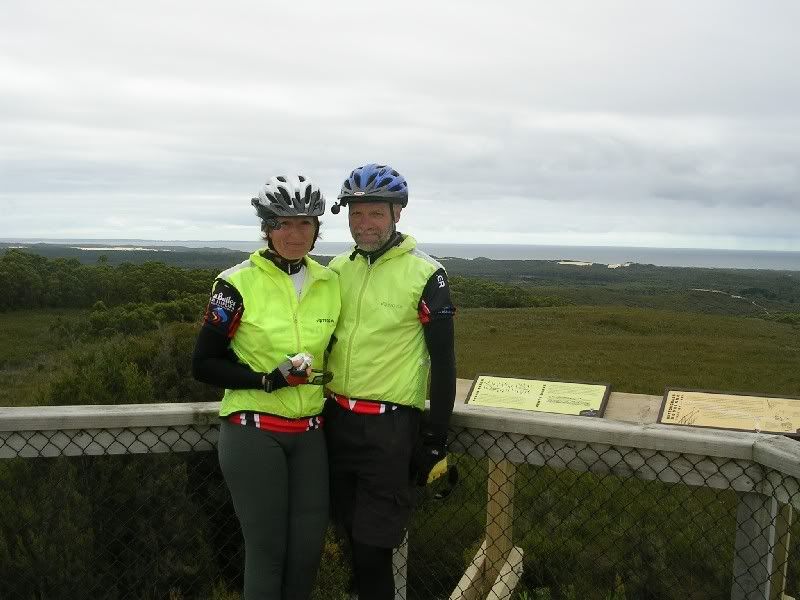 There it is.

The best pick-a-plank bridge of our tour. Connie wisely decides to walk over.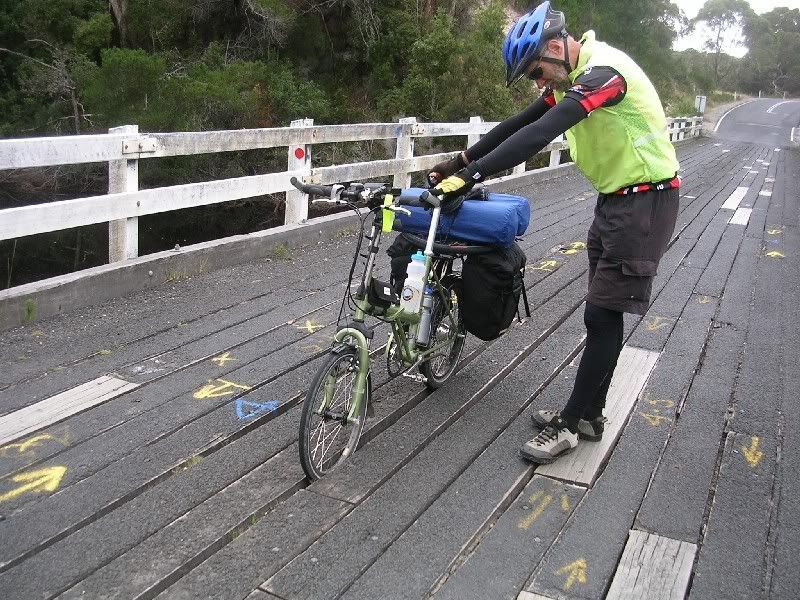 Even my fat tyres were swallowed whole.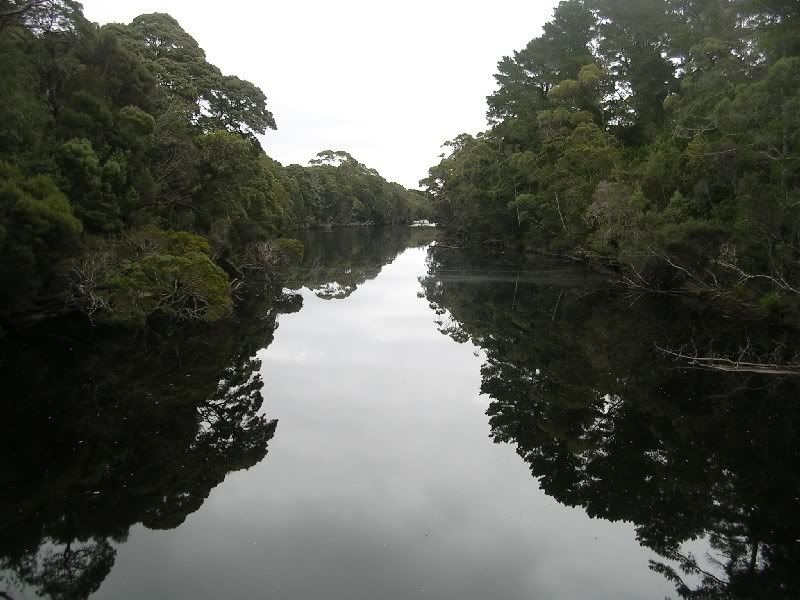 The bridge crossed yet another mirror-like west coast river. Yep, we were stunned...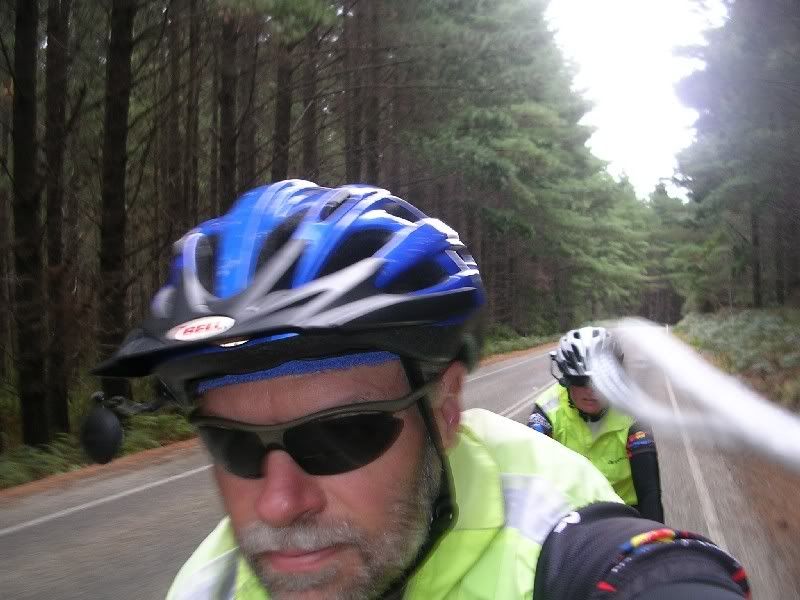 Racing into Strahan, me effortlessly capturing the camera lanyard as it flaps in the wind...

...effortlessly capturing my handlebars...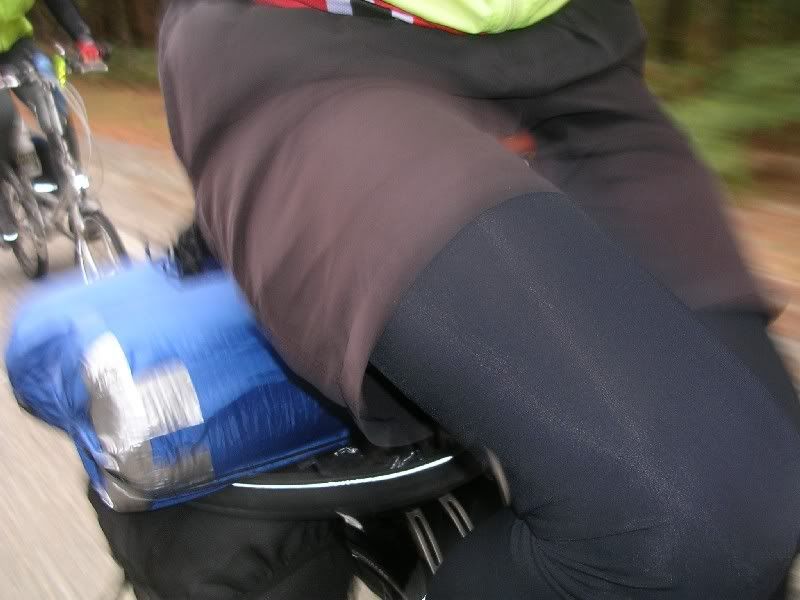 ...well-turned thigh clad in super-roubaix...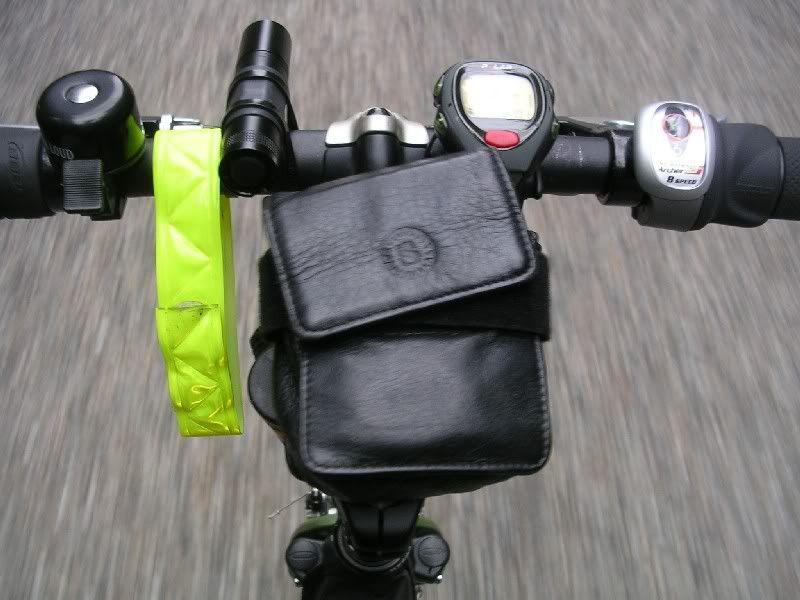 ...cockpit...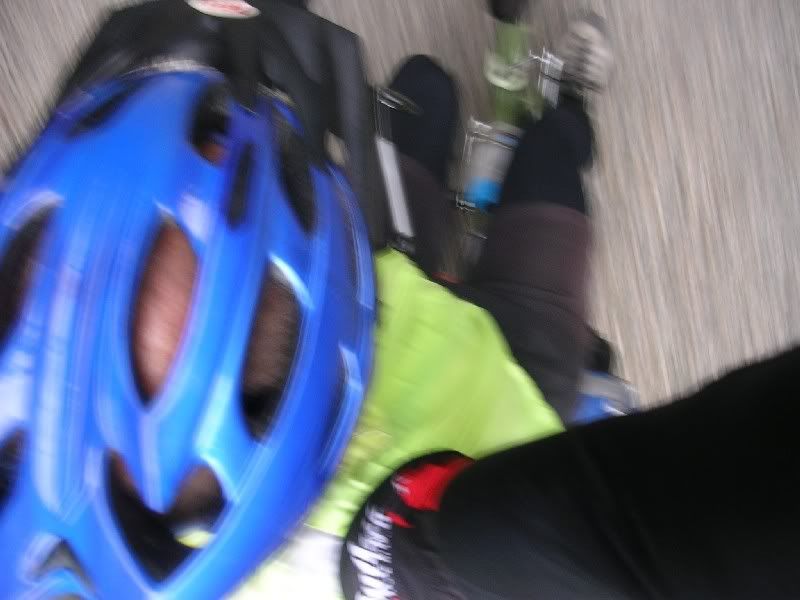 ...cold air in, hot air out...

The world is my urinal.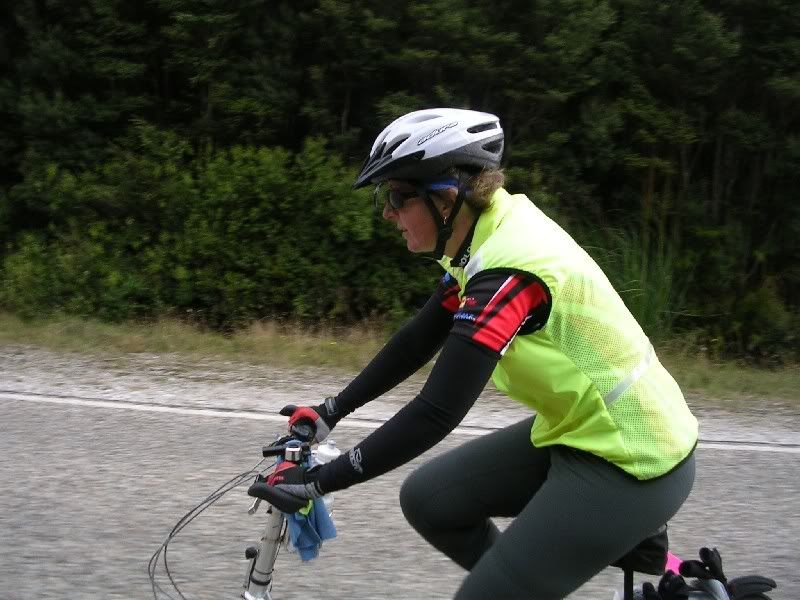 Not mine, it isn't! I have to wait till we get to Strahan.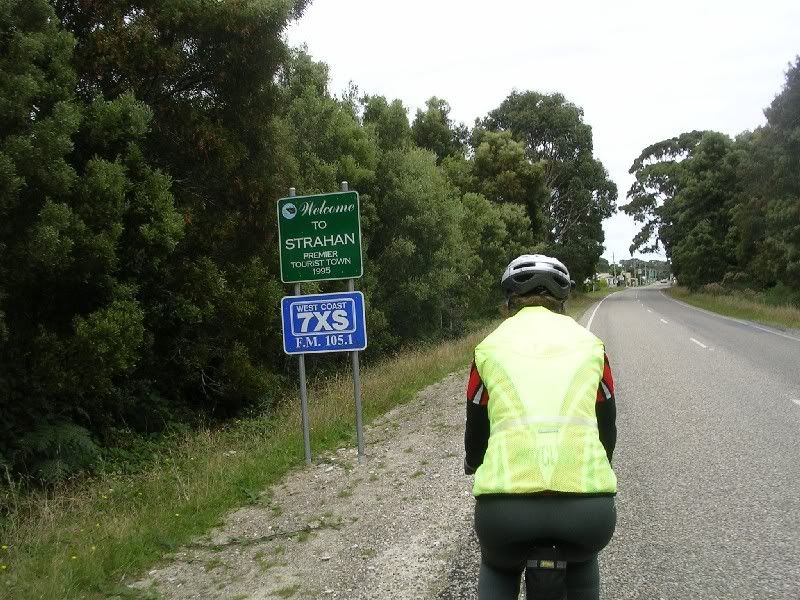 Ahhhhhh, at last!

Jur making camp while Connie bolts for the facilities.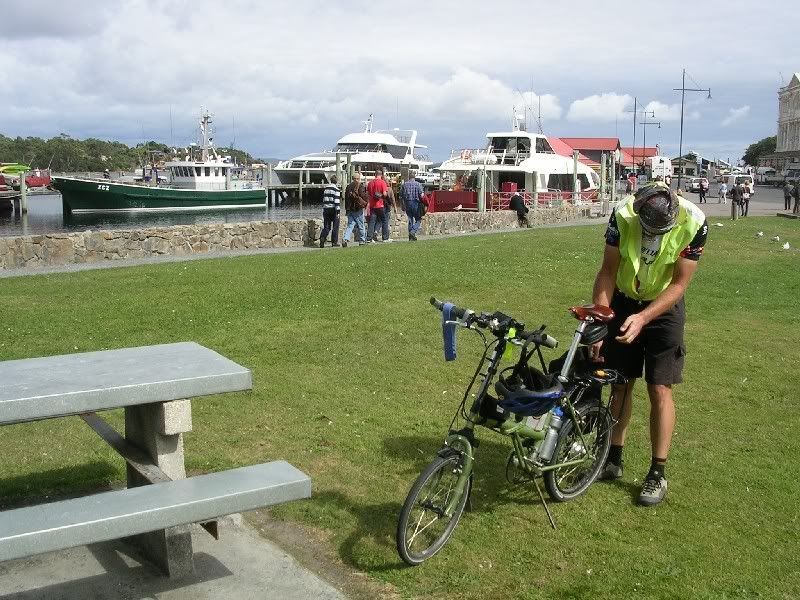 Promenading past the decks... these boats take you on tour to the Gordon river. For a nominal fee, of course.

Resting after promenading some railway tracks...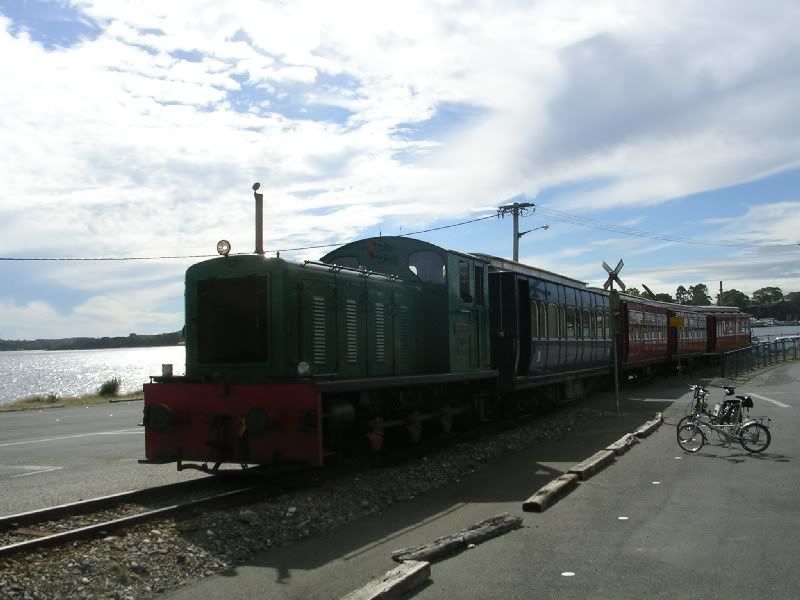 Well lookee here! We booked a ride on this restored historic train between Strahan and Queenstown for tomorrow, and made the trip a part of tour leg. We were fortunate to get the very last 2 tickets available.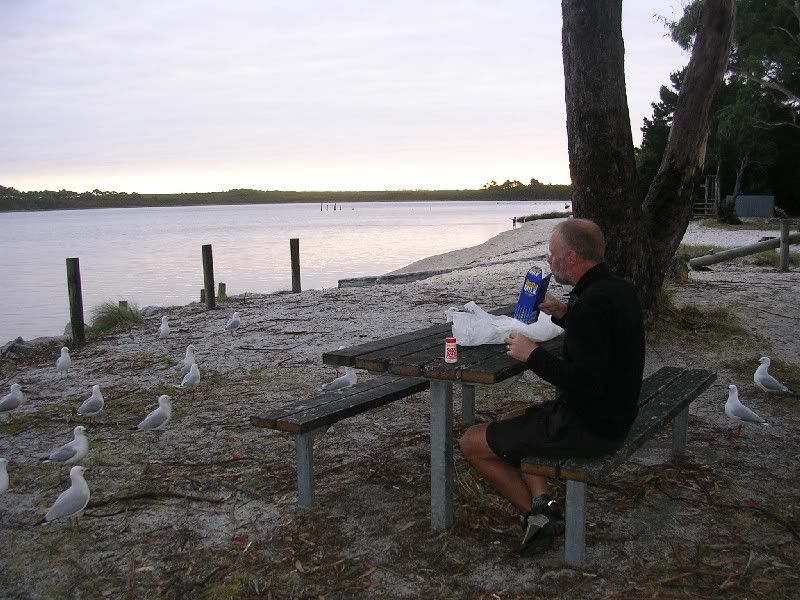 Enjoying some fish & chips in Strahan and messing with the gulls by throwing a handful of batter crumbs, resulting in a splendid gull-fight. Then I chucked them the lemon piece and got a chuckle out of the reaction. Cruel, huh?

The bikes neatly folded awaiting the coach for Queenstown. We took the train journey while the luggage and bike went on the coach. At the bus terminal we met another cycle touring couple from Adelaide with exactly the same idea as ours.

Walking to the railway station, we are snapped in joyful mood against a, yep you guessed it, stunning harbour backdrop.

On the train underway. We do make a nice couple, don't we?

The journey was mostly along the King river, a dead river, from copper mining tailings dumped in it for almost a century. We were informed not even a microbe lives in the water. All the "soil" on the banks are really tailings deposited by the river over the decades. This practice has been stopped several decades ago, but still the river suffers. The water is no longer like thin concrete, but dead nevertheless.

The environmental catastrophe that followed includes this delta of mining tailings deposited at the river mouth in Maquarie harbour.

Locomotives were switched halfway along the journey. This old steamer will haul us up the "2nd steepest railway in the southern hemispere," at a grade of 1/20. We Aussies are fond of emphasising our importance in the sceme of things.

While locomotives are shunting away, Jur enjoys some of the rainforest stuff around.

Michael and Jenny, the other cycling couple we met just this morning. They were really pleasant to be around, and we swapped many a cycling yarn.

Connie sitting primly in her allocated seat while Jur lounges at the back of the carriage...

...enjoying the King river gorge. They were unable to build the railway through this gorge, so here the rail turns away from the King and up another King tributary to climb over the mountain, hauling the train up by a rack-and-pinion system. Steel wheels can't get enough grip.

Having just peaked the top of the climb, we start rolling down this side, the "steepest railway in the southern hemispere," with a grade of 1/16. That's about as steep as Mt Donna Buang. In the middle between the rails the rack system can be seen by which the loco hauls the load up.

My Raleigh Twenty looking gorgeous against a backdrop of green and red.

Right, we're setting off in Queenstown. Ahead on those dead hills snakes the climb of the day. Many people (car drivers) are mistaken that the climb out of Queenstown is brutal, steep and long, one of the worst in Tassie. I think this is only because you can actually see much of the road from the bottom. It isn't all that steep or long. It's sorta mild in the Tassie scheme.

Connie derails the chain manually onto that cunningly hidden smaller chainwheel before tackling the climb.

And she's off! Racing uphill! That gal was brilliant, I tell you. She rode all those thousands of climbs stoically, one pedal after another.

Looking back down at Queenstown. All trees were chopped down for the mine smelters, even the stumps were uprooted when there were no more trees to burn. Sulphuric acid in the air killed off all remaining plant life. These dead hills are all that remains of what was once truly breathtaking scenery. Some grass and stunted trees are slowly taking a hold in the hills again.

Jur checking out Lake Burbury, surrounded by hills on all sides.

Camp Burbury. No showers here. Since we had just a short ride today, we just tumbled into bed that evening.

Making toasted cheese sandwhiches on the BBQ plate which initially didn't work. We spoke to the overweight caretaker, who after a while drove the 20 paces in his ute, got it going and drove the 20 paces back to his house. No wonder he is obese.

Sunset at Burbury.

And sunrise at Burbury. We had unbelievably good weather the whole tour.

Ooooh. I hope she didn't see this sign...

We have reached the famous Franklin-Gordon Wild Rivers National Park. Signs everywhere wasted no opportunity to inform us this is a world heritage area.

The first climb of the day and Connie keeps up effortlessly. What a girl!

Nelson Falls. Just a short walk from the road - no side trip required.

Resting yet again at the top of another climb...

Grainy image of Jur stalking through the forest on the way to...

an incedible view. Frenchman's Cap in the distance. Looks more like Jur's Buff to me. And what on earth can Connie be peering at down there?!

Riding on, we come to the Franklin river. Lunch at the riverside is called for.

We enjoyed the tranquillity of this place while making lunch.

Just 5 minutes later we were slapping and cursing those blood-sucking flying monsters. We wolfed the food and bolted out of there.

Can you guess what lies just around the bend...? Big climb of the day, of course! And it was a whole lot longer than just this 5km of winding road.
Day 17: Lake St Clair: Rest day

Here we are finally at the destination, Lake St Clair having a rest day. Checking out the local scenery, and finding it acceptable. Jur sporting his buff beanie-style, and toting his Audax Alpine Classic water bottle for effect.

We tried snapping this piccy about 20 times.

Platypus bay on Lake St Clair, "the deepest and highest freshwater natural lake in the southern hemisphere" or something like that. Dude, what do I care! I just like the place! Even though we didn't see any platypuses (platypussys? platypi?).

Raleigh Twenty checking out the spokes on some nice vintage cars at Derwent Bridge...

... and on spotting me behind the wheel of one of them, falls over in a fit of jealousy, just outside the picture. Although Connie assures me its was merely due to having only one pannier heavily laden with food. I dunno...

Back at camp, having lunch. Why is it always Connie making it? Because I'm taking the picture, stoopid! I did make the hot chocolate.

Goodbye camp Swampy! It rained heavily overnight at Lake St Clair. I am very happy with this tent, it is a snap to pitch, withstood the heavy rain without a drop getting inside, is light etc etc. That glowing ring isn't my halo that I forgot to put on this morning, it's my spare tyre.

It's no fun breaking a sodden camp, so we carried all the stuff through the pouring rain to the camp kitchen (at 5am) and here's me fastidiously drying the flysheet, with the gas heater going full blast right next to me.

Derwent Bridge marks the start of the Rivers Run touring route.

Connie resplendent in full rain gear labouring on a dirt road. The only dirt road on our tour cut off a steep climb and 11km off our day's journey. It was no advantage though: 20km took us 2 hours, the mud sucked the wheels and it was very hard work pedalling through it, so in hindsight the longer bitumen with its climb would have been faster and less exhausting. Plus Connie's bike's derailer caught mud and I had to clean it off when we got back on the bitumen. Live and learn...

It rained for most of the day, but the sun broke through right here in this important place: The 1000km mark! No numbers on a speedo to show, because mine had played up early in the journey and I had to do a reset, losing all the data. But we kept track of every day's total distance, and that is what is given in every day's heading.

At last: The end of the dirt road! Whoopee!

As we were having a bite who do we see coming down the very same dirt road? Hello Michael and Jenny! They had spotted our tracks on the dirt road and opted to follow us instead of doing their intended longer run of 40km dirt road to Ouse.

It was real karate kid weather: Rain gear on, rain gear off. Rain gear on, rain gear off.

Michael decided this is a good spot to whip up some coffee. The sun was shining nicely. We continued on having packed away all our rain gear laboriously. Not 2 minutes later, the blue sky suddenly closed up and pounded us with rain while we frantically pulled out all the gear again. For the last time of the day, because this time the rain kept going heavily. Our gear worked very well: We were bone dry.
Our tempers didn't fare so well. These flared up from time to time and we arrived at Ouse and booked into the hotel, meeting Michael and Jenny again. But no photos were taken. Sometimes you forget.

At least we have a piccie leaving Ouse. The skies had cleared overnight and we had our customary sunny weather again.

Jur gazing at his heart rate monitor while Connie appreciates the scenery.

Apparently I had a very good rest. Heart rate sitting at 45bpm. (In case you're wondering, that is real. My resting rate is 38bpm.)

Jur more than ready to climb the highest hills the day can offer.

But first there is this lake, painted in watercolour...

Stiff climbs here on the way to Mt Field, the road absolutely littered with road kill. The stench was hard to bear.

A quaint little church with graveyard in front. This seems deeply appropriate to me, if the church is central in your life, it's there at the start and finally at the end.

Connie making lunch yet again at Mt Field. She is always at it, isn't she?

I am boiling water on my esbit stove for a nice cuppa.

A quick bite and then a walk to Russell falls, which ain't Russell's at all, but some other bloke whose name I forget. What is she staring at?

Oh. Him again. "Come down from there, fool!"

I just can't leave you for a single moment or you break something.

Jur looking for Frodo and Sam...

...but finding Russell's Falls instead, which ain't his anyway.

We're back on the bikes and approaching New Norfolk. Very pretty route, all next to the Derwent.

Breakfast in Camp New Norfolk. Muesli, fresh banana, fresh raspberries, yoghurt. Mmmmmmm! I made coffee this time.

View of the Derwent at Camp New Norfolk. We liked New Norfolk. Except for that hoon who cruised endlessly up and down the main street, for what I wouldn't have a clue.

We're getting close. The bridge over the Derwent on the Midland Highway.

Hobart is there somewhere, nestling under Mt Wellington (the one with the clouds).

On the way to the final campsite, we made a quick detour to the Cadbury factory for a tour and some choccie.

The tour was a disappointment. All we saw were the Freddo frog line (which was stationary) and how they coat Turkish Delight with chocolate. For $12.50 a person, they are making a killing.

Connie making a beeline for Hobart city after we dropped off our luggage are Camp Berriedale. The plan is to go up Mt Wellington, I on my trusty treadly, she on the bus. Perfect weather (as usual).

We stopped on the way to buy lunch and consumed it in the botanical gardens. We continued on to Hobart CBD but got lost in the queen's domain. A local helped us get back to the right path. By the time we were in Hobart, the time was too far gone (15h30) for me to ride up Mt Wellington and back down and reach camp before dark. We had forgotten that daylight savings had ended and to bring our bike lights. This was THE biggest disappointment in the entire tour for me.
Day 21: Berriedale, Hobart to Hobart airport: 35km

Jur & Connie ready for the ultimate leg of the journey. Goodbye camp Berriedale, where we bunked in an onsite van.

That's where we are headed, the Tasman Bridge. Perfect weather as usual.

But first some coffee at fisherman's wharf in Hobart.

"There, there, my trusty Twenty, I'm not thinking of getting a boat, calm down..."

At the middle of the Tasman bridge. The shared walkway/cycleway is too narrow for a loaded bike. We rode some of the way but I soon lost my nerve and walked.

Contemplating Mt Wellington, and when will I get another opportunity to go up there in this sort of weather?

The end of a long journey. Packing the bikes into bike boxes. The folded Dahon Yeah looks tiny in that big box...

My trusty Twenty in the box, not folded.

Packing the panniers before checking in and after having a refreshing bird bath in the bathroom.

I kid you not, we were able to identify Bust-Me-Gall hill! It's that slinky bit of bushland in the middle, with the road in the middle of it, not that straight bare line further to the right, but the just discernable line further to the left near the middle.

Goodbye Tasmania! Thanks for all the good times and the good weather!

Hello Melbourne! Ag moer! Holiday's over.
Total distance cycled: 1220km
Number of puntures: 0
Number of mechanical problems: 0
Number of health problems: 0
Number of rainy days: 1